Feminism
7 New Non-Fiction Books To Read During Women's History Month
This content contains affiliate links. When you buy through these links, we may earn an affiliate commission.
March is Women's History Month, and perhaps not-so-coincidentally, there are several new books out this month that highlight the vital role of women in history and today. These books delve into the lives, careers, and contributions of some truly fascinating figures—from forgotten authors of the past to world famous icons. Some also explore the ongoing fight for gender equality in the context of today's political and societal landscape.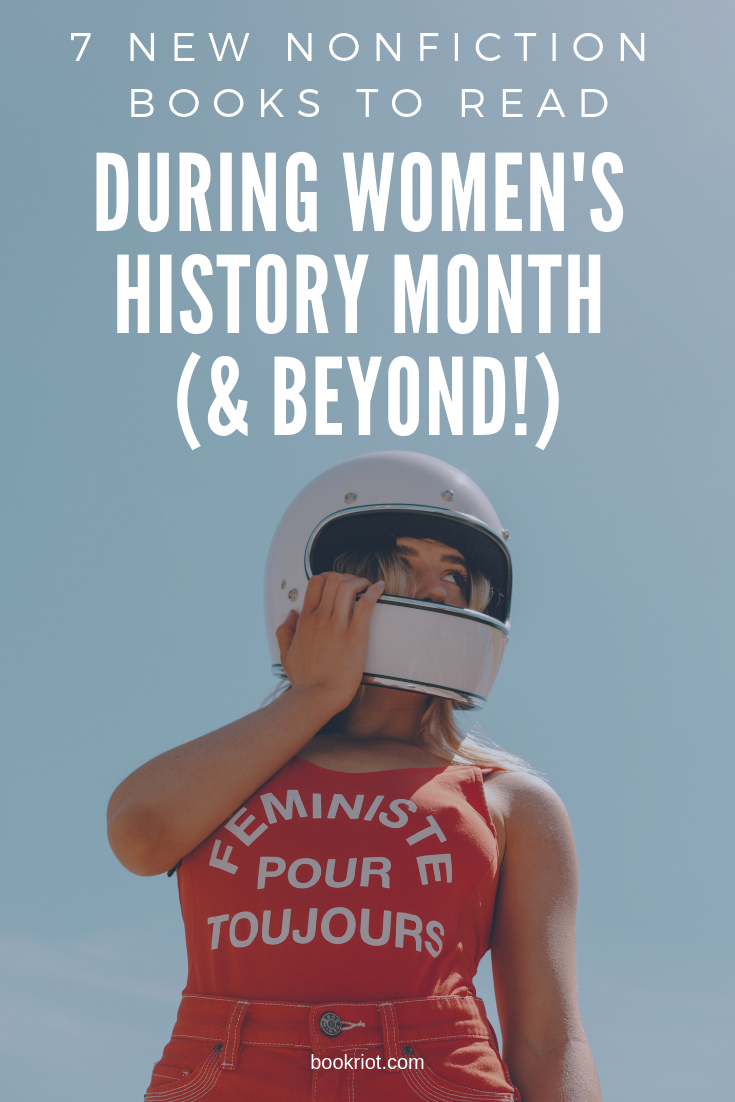 Whichever you prefer, these new non-fiction titles are guaranteed to make this year's Women's History Month all the more enlightening.
What better way to kick off Women's History Month than with this biography recounting the story of poet Letitia Elizabeth Landon? Landon, often hailed as the "female Byron," earned both loyal fans and fierce critics with her short stories and sentimental poems. But after her career ended in controversy, the divisive author became largely forgotten. Delve further into her fascinating life with Lucasta Miller's impeccably researched book.
Another history-making woman who you may never have heard of, but should definitely know about? Milicent Patrick, who is known not only as one of Disney's first female animators, but also as the only woman to create a classic Hollywood monster movie, Creature From the Black Lagoon. Sadly, very little was known about Patrick—until now. Author Mallory O' Meara dishes out some credit where it was long overdue in this book, which explores Patrick's many artistic accomplishments and the fascinating life that led her to them.
In recent years, actress Amber Tamblyn has become an outspoken advocate for women's rights, battling against the misogynistic culture in Hollywood and serving as a co-founder of the Time's Up organization. This "Era of Ignition," as she calls it, follows a time of personal upheaval and self-reflection for the star. In this manifesto, Tamblyn examines the evolution of feminism both through the lens of her own experiences and the pivotal women's movement happening across America today.
Whether you love her or hate her, you have to admit that Beyoncé has already established quite a legacy. Between being one of the best-selling artists of all time and the most-nominated woman in Grammy's history (not to mention, a 23-time winner), there's no denying her status as one of the most powerful figures in entertainment. In this book, New York Times editor Veronica Chambers compiles a collection of essays from a slew of all-star writers (including Lena Waithe and Fatima Robinson) that explores the lasting impact of Beyoncé not just as a celebrity, but as a feminist, businesswoman, and musical icon.
Andrea Dworkin is known as one of the most controversial feminist writers in history. This new anthology aims to put some of her most polarizing ideas back into context, with a collection of excerpts from her wide body of work. Last Days at Hot Slit, named after the original working title of Dworkin's book "Woman Hating," turns snippets of personal letters, speeches, non-fiction stories, and novels into a cohesive portrait of the widely misunderstood author.
Feminist advocate Caroline Criado Perez takes a close look at the cause of gender inequality in research in this thought-provoking book. Using information from hundreds of studies conducted in the U.S. and around the world, Perez highlights the effect that biased data can have on every aspect of women's lives, from work to healthcare to economic status. Armed with an abundance of fascinating (and sometimes disconcerting) facts, Perez makes a thorough and uncompromising argument for greater inclusion in institutional data.
Round out Women's History Month by revisiting the life and career of iconic chef and television personality, Julia Child. The first woman to ever be inducted into the Culinary Institute of America, Child lived her life in a manner that seemed well ahead of her time—from her modern marriage to the launch of her own cooking show. This volume compiles selected interviews of Child's that reflect her personality and encapsulate her no-nonsense philosophies. Helen Rosner, food critic for The New Yorker, pens the introduction to the book.
____________________
Want some more great reading for Women's History Month? Check out 100 biographies and memoirs of remarkable women and 100 books about women's history.