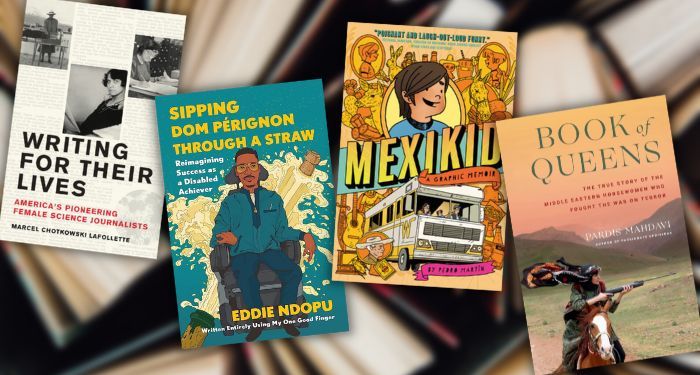 Nonfiction
8 New Nonfiction Books Being Released in August
This content contains affiliate links. When you buy through these links, we may earn an affiliate commission.
It's August, and while some people see this as summer winding down, I see it as plenty of time to keep enjoying the sunshine and longer days, and of course, more time to keep reading! Especially when it's super hot out and you want to avoid the hottest parts of the day? Perfect time to stay inside and dig into a new release! Lucky for you (everyone, really), there are so many great nonfiction books coming out this month to keep us busy — and you'll find eight of them in this list.
There's a graphic memoir about a family road trip to bring a grandfather home; memoirs exploring disability justice, family conflict and history, and the model minority myth; an exploration of America's culture of toxic achievement; historical nonfiction about Middle Eastern horsewomen, and much more. This summer has been fabulous for nonfiction releases, so if you haven't read some that came out earlier in the summer, it's not too late! I recommend The Supermajority: How the Supreme Court Divided America by Michael Waldman, From Here by Luma Mufleh, Quantum Supremacy by Michio Kaku, and The Heat Will Kill You First: Life and Death on a Scorched Planet by Jeff Goodell.
Grab your favorite cold drink and snack, and read on to discover some new nonfiction!
(And don't forget — you can always check out the New Release Index to stay up-to-date with what's coming out soon. It's organized by date and genre for easy browsing!)
With so many amazing nonfiction books coming out this month, which one will you choose first?
If you're looking for more nonfiction, check out these queer science and nature books, and these must-read essay collections!