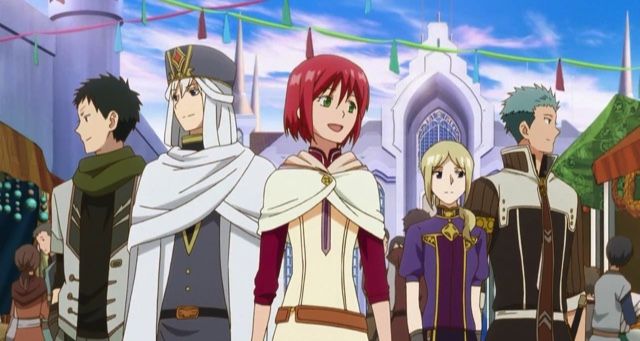 This content contains affiliate links. When you buy through these links, we may earn an affiliate commission.
How are we only a few months away from the end of 2019? It seems like we were putting together our reading resolutions just yesterday! In terms of manga, several new series have been published this year. Maybe you're still looking to complete the Read Harder task for manga. Maybe you simply want to explore the medium beyond what's included on this must-read list. Regardless of your purpose, let me highlight the best new manga 2019 has to offer. (So far.)
I first heard of this series via the anime adaptation that aired in 2015. Series heroine Shirayuki quickly won my heart. A character who wants to become a palace herbalist? Awesome. And in case you're wondering about the title: Shirayuki's name means Snow White and she has, surprise surprise, red hair.
I love that more North American publishers are licensing classic manga and introducing them to a new generation of readers. Moto Hagio is a manga icon who heavily influenced modern-day shojo manga, so it's wonderful that more of her works are becoming available in English.
The Poe Clan focuses on two siblings who are turned into vampires. Immortality may sound lovely, but it makes their lives complicated because they were transformed as young teenagers. Before you ask: Yes, the characters' names are inspired by Edgar Allan Poe. (Want more vampire manga? We have a list for that.)
A cozy yakuza comedy sounds like a contradiction, but that's what this series aims to do. Fearsome gang member Tatsu left the criminal world behind to turn over a new leaf and become a house husband. Alas, living as a yakuza doesn't prepare you for the realities of being a stay-at-home husband.
This series also explores what it means to be an "unorthodox" couple, in which the man stays at home while the wife works, in a traditional society. (If you want a more classic take on the criminal life, check out this list of crime manga.)
Shinya Sugiki and Shinya Suzuki are rival ballroom dancers, with Sugiki being the reigning king of Standard Ballroom and Suzuki specializing in Latin Dance. Both aspire to win the upcoming 10-Dance competition, but doing so means having to learn the other's dancing style. And, of course, they choose to learn from each other because if you want to be the best, you need to learn from the best. But along the way, they discover their rivalry may be masking something more. I recommend this one to fans of the anime Yuri on Ice.
Anthropomorphic characters may not be your thing but hear me out! This series follows Legoshi, a timid grey wolf who lives in a modern society of anthropomorphic animals. To no one's surprise, there exists a cultural divide between the carnivores and the herbivores. Things become worse when an alpaca is murdered and eaten at the academy Legoshi attends.
Aoi Tsubaki can see spirits, a gift she inherited from her grandfather. One day she's kidnapped by an ogre, who takes her to the spirit world. The ogre, Odanna, tells her that her dead grandfather owed him a massive debt and she must marry him to fulfill it. If she refuses, she'll be eaten. Not keen on either option, she makes a third proposal: she'll work at the inn Odanna owns to pay off her grandfather's outstanding bill.
What would happen if Jesus Christ and the Buddha came down to Earth and lived as regular people in modern-day Tokyo? That's it. That's the premise of this slice-of-life manga. (Already read Saint Young Men and want more titles along this vein? Here's a list of the best slice-of-life manga.)
Shouko Komi may look like your classic Japanese beauty. That's certainly the impression her classmates have. Unfortunately, being considered attractive by your peers doesn't mean you know how to make friends. In fact, Shouko has extreme social anxiety, making it difficult for her to communicate with others.
Ironically, this trait makes her classmates think she's stoic, complicating her attempts to befriend others. When an "average" student discovers this, he agrees to help her achieve her dream of making 100 friends.
When high school student Tasuku Kaname is outed by his classmates, he plans to end his life. But before he can carry out this intention, he discovers a drop-in center where LGBT people gather to discuss their problems. Easily one of the best new manga this year, this series gives us a realistic portrayal of what it means to be LGBT in modern-day Japanese society.
I discovered Spy x Family earlier this year when I was experiencing terrible flight delays and searching for something to distract me. It features one of those premises that can only exist in manga: a spy fake marries an assassin and together they raise a psychic daughter to preserve the fragile peace between two countries.
Spy x Family recently won the Tsugi ni Kuru Manga Award for the web manga category in Japan, which recognizes titles on the verge of a breakthrough. Considering the success of this new manga series, 2019 may just deliver on that promise.
---
With a few months left in 2019, more new manga series are sure to be published before the end of the year. Despite this, I hope you found these selections as intriguing as I do. If you'd like to keep abreast of more new releases, manga or otherwise, be sure to check out our Comics and Graphic Novels coverage.