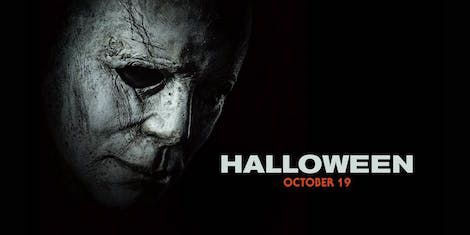 Horror
He Came Home: 7 Books While You Wait For the New HALLOWEEN Movie
This content contains affiliate links. When you buy through these links, we may earn an affiliate commission.
Hold onto your butts, horror fans…last week, we got our first look at the promo materials for the upcoming Halloween reboot, out in October of this year. (For the most part, I'm skeptical of horror reboots, but John Carpenter has said that this film was created as though the sequels never happened, which I am 100% here for.)
Halloween was one of the first legitimate horror movies I ever saw, and even as a 13-year-old I was in awe of the movie's stylish simplicity. The fashions may not have aged well, but the scares are still enormously effective. I don't know that the new movie will maintain the same "less is more" philosophy, but I'm cautiously optimistic.
If you don't want to wait until October to reunite with Michael Myers, I've pulled together a few books to help fill that scary slasher movie void. Enjoy!
Halloween by Curtis Richards
Yep, there's a novelization for Halloween. It was first published about a year or so after the original movie was released, so it might be difficult (erm…extremely difficult) to snag a copy for cheap, but lots of horror fans have said that this is a pretty darned good novelization.
The title of this book pulls from slasher movie jargon, referring to the "final girl" who is left alive at the end of the killing spree. In the book, the "final girls" are three women (Lisa, Sam, and Quincy) who each survived horrific massacres and have been given their collective nickname by the media. Quincy, the most recent "final girl," believes that she's finally put her trauma behind her, until Sam suddenly shows up on Quincy's doorstep shortly after learning that Lisa has killed herself. Now Quincy has to dodge the media frenzy, decide how much of what Sam has told her is a lie, and face the trauma of what really happened when Quincy's college friends were butchered in a cabin the middle of the woods.
This book takes the best elements of the best slasher movies and turns them into an adrenaline-pumping psychological suspense novel. Trust me when I say that you will want to read this when you have a long chunk of reading time, because you will not want to put it down.
Makani Young has a dark past that she's trying to leave behind her when she moves from Hawaii to Nebraska. And when she meets the enigmatic Ollie Larsson, she starts to believe that she might have finally escaped. But then, one by one, the students at her high school begin to die in a series of increasingly gruesome murders and Makani is forced to confront her secrets. Stephanie Perkins gives the teen slasher genre a romantic twist with her latest novel.
*Trigger warning: rape*
There's a killer on the loose who tortures and murders lone women, and his surgical skills have led police to believe that they're looking for someone with a medical background. Detectives Thomas Moore and Jane Rizzoli learn that Dr. Catherine Cordell, a brilliant physician, may actually be linked to the case: two years ago, Dr. Cordell was brutally raped but managed to kill her attacker. Or at least, she thought she did…There's some pretty heavy violence in this story, but it makes for a breathtakingly fast thriller.
Penance by Kanae Minato
As children, Sae, Maki, Akiko, and Yuko were tricked into separating from their friend Emily by a mysterious stranger. Hours later, Emily was found murdered. Emily's mother curses the survivors, vowing that they will pay for her daughter's murder, and from that point forward, the girls' lives are irrevocably altered. This is a dark exploration of human nature, and a look at the psychological repercussions of trauma—what happens to the survivors after the movie ends?
Halloween kicked off a massive wave of slasher films, and horror has never been the same since. This is a comprehensive history and analysis of the slasher subgenre, along with its cinematic devices, tropes, and most influential films. The book was published over 15 years ago, so it's not the most up-to-date history of horror, but it did spawn an equally fascinating documentary by the same name.
If you're looking for a more comprehensive (and more updated) perspective of horror movie history, this book should do the trick. It's part film analysis, part love letter to the horror genre, and it delves into the reasons our collective love of horror just never seems to die.
What other books would you add to the list?
Want more scary stuff? How about checking out our horror archives? You'll find plenty of books here to keep you up at night!
SaveSave
SaveSave