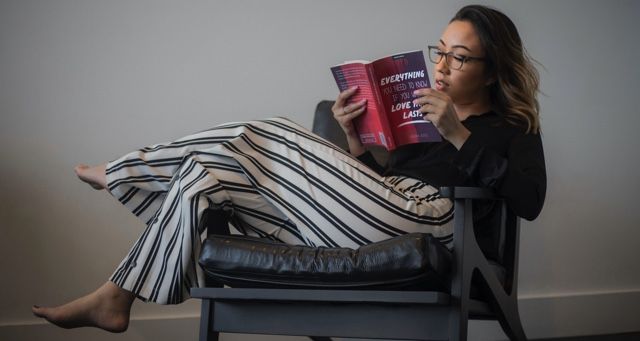 Lists
8 New Books You Won't Be Able to Put Down
This content contains affiliate links. When you buy through these links, we may earn an affiliate commission.
As the new year begins, many book lovers are embarking on ambitious reading goals for 2020. What better way to get started than to pick up a new book that will keep you on the edge of your seat from start to finish? Check out these eight new books you won't be able to put down. From romance to fantasy to historical fiction and more, these books will start your reading year off with a bang.
Alix is a privileged white blogger, influencer, and mother. Emira is a Black twentysomething trying to figure out where her life is headed and how to afford health insurance. While babysitting Alix's daughter, Emira is stopped by a grocery store security guard who accuses her of kidnapping. From there, a string of good intentions and bad behavior spirals their relationship into something that can't be repaired. This book has some of the most cringe-worthy scenes I've ever read, and the downward spiral set off by Emira's encounter at the grocery store is so messy and dramatic you won't be able to look away.
In this hilarious and refreshing memoir, comedian Chloe Hilliard takes on diet culture and the way society teaches us to think about our bodies. From junk food to the meat industry to standards of beauty, Hilliard has a lot to say, and I loved every word. This is the perfect combo of memoir, humor, and hard-hitting social commentary to keep you engaged from beginning to end, and it will absolutely help you kickstart your 2020 reading.
Chloe lives in her parents' home, follows a very carefully calibrated routine, and loves spreadsheets. After an accident causes Chloe to consider her own mortality, she decides it's time to get a life. And what better way to do that than by making a list? After moving into her own apartment (that's one item checked off the list), she decides her bad boy building manager is the perfect person to help her live life on the edge, and before long, they're both smitten. This book is so adorable, and Hibbert's very British sense of humor kept me laughing the whole way. The dialogue is so clever and engaging, and the chemistry between Chloe and Red is perfection. If you're looking for a romance to lose yourself in, this one will win you over!
Domestic abuse is a taboo subject, and that's especially true in queer relationships. In this earth-shattering memoir, Carmen Maria Machado breaks the silence. In the Dream House is a primal scream. It's nothing like anything I've ever read before. It's poetic, surprising, heartbreaking, and completely unexpected. By drawing parallels between her past relationship and classic horror and fairytale tropes, Machado paints a grim and powerful picture of domestic abuse. This is a devastating, upending, stay-home-"sick"-so-you-can-keep-reading-it kind of book. I'm stunned by Machado's talent, bravery, and genius, and I'm so incredibly glad that this book exists.
The Deep by Rivers Solomon with Daveed Diggs, William Hutson, and Jonathan Snipes
Deep in the Atlantic Ocean live mermaids descended from pregnant Africans thrown overboard slave ships. Yetu is one of these creatures, chosen as a historian, tasked with remembering the traumatic history that led to their own survival. But is the burden of remembering too much for Yetu to bear? Based on a song by clipping., this is an imaginative, nuanced, and dynamic mythos that imagines a more empowered ending for those kidnapped as slaves. Rivers Solomon has a great gift for layered storytelling, and their writing added such beautiful detail to the concept introduced by clipping. It's atmospheric, dark, and painful, but also hopeful. The Deep is a stunning story that will take you to another world.
The small town of Golden Cove on New Zealand's west coast is seemingly peaceful. But behind the facade lies a big secret: several years ago, a string of young women went missing. While the citizens of Golden Cove prefer not to talk about their dark past, the secrets come to the surface when another young woman goes missing and a police officer new to town won't let her be forgotten. The atmosphere of A Madness of Sunshine is so strong; the wildness of nature and of human beings creates a vivid picture of the dangers of the New Zealand coast. And the beachy backdrop is a nice break from bleak January weather. There's nothing like a good mystery to keep you on the edge of your seat!
Riot Baby by Tochi Onyebuchi (Jan. 21, Tor.com)
Kev was born in 1992 amidst riots in Compton and later ends up incarcerated for being a black man in America. His sister Ella has a strange power to see the future and channel others' suffering into action. Through in-person and supernatural communication, the siblings plan to fight against racism and injustice in the apocalyptic future Ella sees coming. This is a short novel, but it packs a real punch, following Kev and Ella through almost 30 years of rioting. Riot Baby is a true nail-biter that will have you holding your breath through all 176 pages.
Lindy West is mad. As she explains in the book, it took her awhile to get here; getting mad about the state of politics and inequality has been sold to us as something only humorless, uncool people do. But Lindy West is funny, cool, and mad as hell. In this essay collection, she looks at some of the most toxic yet unsuspecting parts of our culture—Adam Sandler movies, Twitter, internet famous cats, etc.—and unpacks how they explain our current political situation. Many of the essays start with an endearing, funny story that becomes a cultural takedown that will leave you angry, too. West's unique perspectives on racism, sexism, climate change, and more are so necessary, and this collection is a call to action that can't be ignored.
---
We hope these new books will help you start your new year of reading with a bang! If you're looking for other ways to read more in 2020, check out Book Riot's 2020 Read Harder challenge, or check out our list of the most anticipated books of 2020.