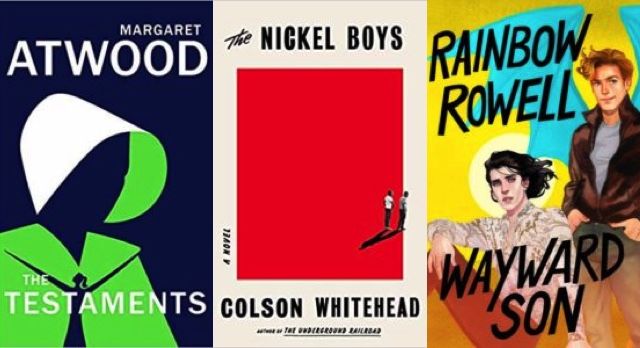 Lists
New Books By Your Favorite Authors Coming Out This Year
This content contains affiliate links. When you buy through these links, we may earn an affiliate commission.
What's better than a new book? Finding out about a new book from one of your favorite authors! I'll admit I'm a habitual peruser of Goodreads (gotta stay up to date on all the new books coming out, am I right?), but one of my absolute favorite things is when I see the name of an author I love on the cover of an upcoming book. And if you feel the same, then you're definitely going to want to check out these new books by your favorite authors coming out this year!

Middle Grade
The first middle grade novel from the author of YA best-sellers Pride and American Street. Ebony Grace has an imagination as big as the sky, but it's easier to daydream about sci-fi fantasies than find her place amidst the hip-hop explosion of 1980s Harlem. If only real life were as easy as dreaming of spaceships.
Some Places More Than Others by Renée Watson (September 3, 2019 from Bloomsbury Children's Books)
The Newbery Award–winning author of Piecing Me Together and Betty Before X (along with Ilyasah Shabazz) is back with a middle grade novel about family, identity, and history. Amara has always longed to visit her father's hometown of Harlem, and when he agrees to bring her along on a business trip, she finally has her chance. Except the family and the magical places she was expecting are all a little more complicated than she thought. But the more Amara learns about the crowded streets of Harlem, the more she realizes there is more that connects her to this place and her family than she realized.
Dear Sweet Pea by Julie Murphy (October 1, 2019 from Balzer + Bray)
Julie Murphy—the much beloved author of Dumplin', Puddin', and Ramona Blue—is tackling her first middle grade novel with Dear Sweet Pea. Patricia "Sweet Pea" DiMarco's newly divorced parents move into houses on either side of Miss Flora Mae, the famed advice columnist behind "Miss Flora Mae I?" It seems kind of like the best of a terrible situation. And when Miss Flora goes out of town and asks Sweet Pea to forward her mail—all letters for the advice column—she's shocked to recognize the handwriting on one of the letters. How she decides to deal with it will set Sweet Pea and the "Miss Flora Mae I?" readers on a path none of them could've suspected.
Young Adult
After being dumped by his (now) ex-girlfriend, Ashish Patel agrees to let his parents set him up in a moment of weakness. Bad choice. Sweetie Nair is the perfect Indian American girl—or at least she would be if she wasn't fat, which, to her parents, is the kiss of death. She's determined to show them, and everyone else, that her weight doesn't define her. Because who she is is already completely awesome. Ashish and Sweetie are both out to prove something, but maybe they'll discover something special along the way, too.
This companion to When Dimple Met Rishi sounds totally adorable. And I love some body-positive rep!
The Revolution of Birdie Randolph by Brandy Colbert (August 20, 2019 from Little, Brown Books for Young Readers)
Birdie Randolph does everything she can to be the perfect daughter. She even quit soccer to please her parents and is set to graduate at the top of her class. But then she meets Booker. He has a troubled past and is exactly the kind of boy her parents won't approve of. As her relationship with Booker grows and her estranged Aunt Carlene returns to Chicago, she longs to spread her wings and finally assert some independence. But long-buried secrets may change everything she thought she knew about her life.
This sounds like an awesome new book from the author of Little & Lion, Finding Yvonne, and others.
Pet by Awkwaeke Emezi (September 10, 2019 from Random House Children's)
The town of Lucille has gotten rid of monsters. Jam's mother and father still remember them, but to her generation, evil is a thing of the past. But when Jam accidentally frees Pet, a monster hunter, from one of her mother's paintings, she learns two equally terrifying things: 1) the monsters aren't gone and 2) the real monsters look just like everyone else. But with her parents still in denial and her best friend and community in danger, will Jam be able to track down the monster? Especially when no one is even willing to admit they still exist?
This YA novel from the author of Freshwater is as imaginative as it it impactful.
Wayward Son by Rainbow Rowell (September 24, 2019 from Pan Macmillan)
It probably isn't a surprise to many people at this point that the fan favorite Carry On is getting a sequel. That's right, Simon and Baz are back with all-new adventures! In a funk after his victory, Simon's friends decide what he needs is a change of scenery. A road trip to the American West seems like the perfect choice. But of course, this is Simon and Baz and Penny we're talking about, so it's not going to be an ordinary vacation. Enter vampires and dragons in this story about what happens to the Chosen One after he saves the day.
I'm a fan of so many of Rowell's books—Fangirl and Eleanor and Park to name just a few—not to mention the upcoming Pumpkinheads which I'm also very excited for. I'm absolutely thrilled to see two new books from her coming out later this year!
Adult
The Bride Test by Helen Hoang (May 7, 2019 from Berkley)
It's no secret we were big fans of The Kiss Quotient here at Book Riot, so of course the news that Helen Hoang has written a companion novel (and has a deal for several more) is pretty much the best thing ever. And this book is the perfect sophomore novel, totally living up to the hype and adoration the first book received. Khai, Michael's cousin, has never been interested in romance. But when his mom flies to Vietnam to find him the perfect bride, she meets Esme, a young mother working hard to provide a good future for her daughter. She agrees to come to America for the summer to meet Khai. But Khai has no idea she's coming and no interest in a girlfriend, much less a wife. Of course, when sparks begin to fly, even the secrets they're both keeping won't be enough to keep them apart.
Middlegame by Seanan McGuire (May 7, 2019 from Tor.com Publishing)
Roger and his twin sister aren't quite human—and not quite gods, either. And their creator, Reed, a skilled alchemist, isn't quite their father. But he does have a plan for them: raise them up to godhood and ascend with them to claim their power as his own. Let's just hope he doesn't succeed.
Fresh off her most recent book in the Wayward Children series, In an Absent Dream, Seanan McGuire is bringing us what sound like another truly fantastical and intriguing read.
The Nickel Boys by Colson Whitehead (July 16, 2019 from Doubleday)
Colson Whitehead, author of the Pulitzer Prize winning The Underground Railroad and many others, is back with a follow-up about two boys sentenced to a reform school in Jim Crow–era Florida. The school, which claims to see to the moral, physical, and educational needs of its students, is actually a house of horrors. Torture, abuse, and corruption run rampant. And one innocent mistake from almost-college-bound Elwood Curtis is enough to send him there and alter the course of his life forever.
The Wedding Party by Jasmine Guillory (July 16, 2019 from Berkley)
The only things Maddie and Theo have in common is their best friend Alexa, their hatred for each other, and bridal party responsibilities for Alexa's upcoming wedding. But one mistaken night together later, they find themselves in an uncomfortable situation. Especially as they're thrown together more and more. But as the wedding draws nearer, are they really ready to be done with each other yet? Or are their complicated feelings for each other about to get even more complicated?
Although this book has some tie-ins to Guillory's other books, The Wedding Date and The Proposal, it stands on its own two modern romcom feet.
The City We Became by N.K. Jemisin (MARCH 31, 2020, pushed back from September 5, 2019, from Orbit)
[Editor's note: We have been notified that this title is pushed back, but are leaving it on this list because we're still excited about it.]
A new contemporary fantasy novel by the bestselling author of The Fifth Season, The Killing Moon, The Hundred Thousand Kingdoms, and others. Every city has a soul, but every city also has a dark side. And when an ancient evil threatens their city, five New Yorkers must come together to save it. Anyone who's read the short story "The City Born Great" from Jemisin's phenomenal short story collection, How Long Til Black Future Month knows just how incredible the premise of this story can be. A sentient city and its guardians in the hands of a storytelling master? Yes, please.
The Testaments by Margaret Atwood (September 10, 2019 from Chatto & Windus)
For everyone who loves The Handmaid's Tale, a sequel is finally coming our way. The Testaments picks up fifteen years after that van door was slammed shut on Offred. What was waiting for her beyond it? The testaments of three women from Gilead are woven together to explain everything else we've wanted to know about The Handmaid's Tale and Gilead.
Ninth House by Leigh Bardugo (October 1, 2019 from Flatiron Books)
Leigh Bardugo may be known for her Grishaverse books like Shadow and Bone, Six of Crows, and King of Scars, but she's venturing into entirely new territory with her first adult novel. After waking up in a hospital bed as the sole survive of a multiple homicide, Alex Stern is offered a full ride to Yale. But why her—a school dropout with a string of drug dealing boyfriends—and what's the catch? She's tasked by her mysterious benefactor to spy on the school's secret societies. But these groups' occult activities turn out to be far more sinister than Alex—or anyone—could've ever imagined.
---
Know of other great books coming out this year by favorite authors? Let us know in the comments! And here are some of our most anticipated books of 2019 if you want to find more great reads for your TBR, or if you want to push outside of your comfort zone, check out these 50 must-read books by debut authors.