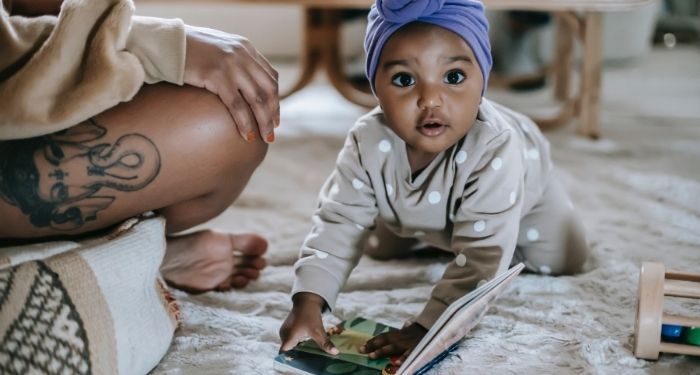 Children's
Little Hands Love New Board Books for 2022
This content contains affiliate links. When you buy through these links, we may earn an affiliate commission.
There's surprisingly little information on the internet, outside of highly focused children's book blogs/social media or publishing catalogs, about board books. It's not a huge market, and though some libraries hold them on shelves, not all of them do. It's not as profitable a format as picture books are, and more, many board books are developed in-house at publishing imprints as a cost-saving measure, rather than are acquired by independent writers and artists. These books are pricey to produce, and the return on them is low, given the price point that makes them attractive to buyers.
All of these things are worth knowing, and explain why a periodic roundup of new titles is beyond warranted. These books appeal to young readers, of course, but because they're the books most often purchased for those little hands by parents, caretakers, teachers, and librarians. Board books are sturdy and meant to withstand a lot of rereads, a lot of teeth marks, and a lot of being left in places where they could weather the elements.
Because authorship on board books is tricky to track down for above-mentioned reasons, not all of these books have an attributed author beyond the publisher. That makes it nearly impossible to know how inclusive they are when it comes to authorship. What's great is that this particular roundup of board books hitting shelves in the first half of 2022 appear to include an array of diverse characters in and within their covers (including disability representation, a topic I'm going to circle back to later this spring, as there has been improvement in this arena).
Included here are a range of board books publishing through the end of June. They're broken up into three broad categories: standalone titles, which may include series books that aren't connected by a character or theme and instead are called series by the publisher for their own purposes; series books; and finally, picture books that have been brought into board book format. There are going to be franchise books included here, but for the most part, I've avoided including books by or featuring licensed characters. I wanted to make this list as broad in interest as possible, and while those books sell especially well, they're going to get on a purchaser's radar without much additional help necessary.
This isn't comprehensive but is a pretty thorough look at early 2022 board books. You'll note the short descriptions for each title because, well, you don't need a huge description of what a concept like a book about trees or a counting book might entail.
2022 Board Books for Little Readers, January–June
Standalone Titles
Series Titles
New in Board Book Format
Because most of these are beloved characters or well-known stories, there aren't descriptions. These are previously published books in picture book format, now made available in board books. In some cases, the text has been shortened but in others, the difference is simply in the format. Note that you may need to toggle to the board book when clicking the link to access that format.
---
You might also be interested in these cuddly cloth books, indestructible baby books, and soft books for babies.