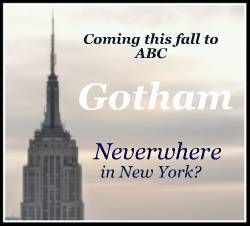 On Wednesday, The Hollywood Reporter announced that ABC has ordered pilots of several hour-long dramas from high profile TV writers like Marc Cherry, creator of Desperate Housewives. One of those new shows comes from the same people who brought NBC's Heroes to TV:
Gotham revolves around a female cop who discovers a magical world that exists within New York City that is unseen by normal humans and reinvents popular landmarks in a magical otherworldly manner.
Michael Green and Erwin Stoff will executive produce the series, which is being compared to the "magical procedural" 17th Precinct, a show that NBC passed on, presumably in favor of the popular Grimm. To one person reading this news, Gotham's premise seemed familiar.
@neilhimself This new show sounds awfully similar to Neverwhere, except the cop bit. https://t.co/CjCs0IwJ

— Brian Dunster (@BackTo1988) February 23, 2012
I tend to agree with him. I am not sure if this is a good thing or a bad one. Neverwhere was the first novel by Neil Gaiman that I ever read, and it is the one that sucked me in. I bought the DVD of the BBC series, and, though the production value did not live up to my expectations, I could definitely see how well-suited the story was to a TV series. I later found out that the TV series actually came before the novel. Richard Mayhew was, it seems, actually made for TV.
There is not really enough information to say that there is anything more than a passing similarity between Gotham and Neverwhere, but it does make me wonder just how much what we read and watch influences what we create. I would be really interested to know whether or not Michael Green has a copy of this book on his shelf or if he has ever watched the BBC series (a 15th Anniversary DVD box set was just released). If so, does he recognize how similar his basic premise is to that of Neverwhere?
I am very intrigued to see just how Gotham plays out. If I were to purposefully adapt Neverwhere for the American television viewing audience, then I would choose New York or Boston. They have the most history to work with. I would also stick with the male protagonist. Richard Mayhew has to be the one who stumbles into this other world that most of are blissfully unaware of. Making him the one that gets rescued on the street that day just would not work. He is much better suited to the role of accidental savoir than damsel in distress. Also, I admire Door's resourcefulness too much to have her part played by a man. We need to see more strong female characters on television. Maybe that is why Green's protagonist is a cop?
Of course, Michael Green is not adapting Neverwhere for American television viewers. Or, if he is, he forgot to mention it.