Fiction
Nerd-Out: THE MARTIAN by Andy Weir
Andy Weir's debut novel, The Martian, has been a favorite behind the scenes at the Riot for several months now. In the beginning, it felt like it was something special, something that only we knew about. Well, we and the other people who (booksellers, librarians, reviewers, bloggers) had gotten their hands on early. It spoke to us. From that very first sentence, we were hooked.
It turns out that we weren't really all that special. The book existed out there in the world before it made it into Crown's hands and, now, to our shelves. Weir released the audiobook last year, and it's been hanging out on Audible ever since. While I'm sure it's not unheard of, this is the first time that I've seen an audiobook reach an audience before the print copy did. I am curious as to whether this, in any way, had something to do with getting a publisher for the print.
The Martian is a very intriguing mix of science and adventure, all centered around the perfectly average, and highly amusing, Mark Watney. He's caught in an impossible situation, stranded on Mars after his fellow astronauts assume he's been killed during their hurried return back to the ship. What follows is the story of the lengths Watney goes to to survive and what NASA goes through to try and get him back. Potatoes are integral to the plot. Obviously.
There's more to be said about the book, but I think its more important that you read it. And, if you're anything like me, you're going to find that you just want more. More space. More Mars. More Science. So, to feed that urge, I'm going to point you to a few of the things that helped to quench my Martian thirst.

Books
I have long been a fan of The Martian Chronicles, and my reading of the The Martian sent me right back to its waiting pages. This time, I came out it with a new favorite story – "The Million Year Picnic." I'm not sure what it was that made this story stand out this time around, but I think that Mark Watney had something to do with it.

If it's more of the "one astronaut against the universe" itch you need scratched, then check out James Smythe's The Explorer. It's the first book in a series, and its hero is similar to Mark Watney in temperament. The main difference is that this astronaut isn't really an astronaut. He doesn't have the scientific training that Watney has. He's just a journalist along for the ride, meant to document their historic voyage. He's forced to rely on his wits.
Movies
[youtube]https://www.youtube.com/watch?v=OiTiKOy59o4[/youtube]
In that same wheelhouse, you'll find one of the fall's big screen favorites, Gravity starring Sandra Bullock. It's got some real issues in terms of scientific accuracy, but it definitely hits the same notes in terms of emotion. There isn't as much humor (not by a long shot), but the desperation is spot on. It's the first movie that I've seen in 3D that seemed to have been made for 3D. If you don't go into it looking for something realistic, you're gonna have a great time.
[youtube]https://www.youtube.com/watch?v=F6JiCJ5x3Qw[/youtube]
I haven't seen this one yet, but after catching the preview in the theater a few months back, I've been on the look out. The Last Days on Mars looks to take the same basic premise, but adds an element of suspense and/or mystery that The Martian lacks. And Liev Schreiber. Hello.
Stuff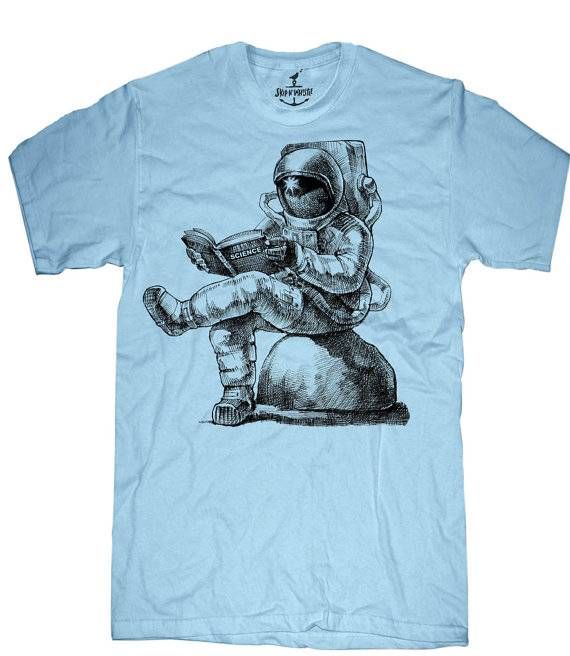 I'm a firm believer in commemorating particularly satisfying reading experiences with a trinket of some sort. For this one, I'm going with this super awesome t-shirt.
If you need more Mars in your daily life, check out the Twitter feeds of Bobak Ferdowsi (@TweetsOutLoud) and the Curiosity Rover (@MarsCuriosity). And here's a little article about some of the candidates for the first manned mission to Mars.
Any other Mars or space-related goodies out there to nerd-out over? Leave me a comment!
________________________
Sign up for our newsletter to have the best of Book Riot delivered straight to your inbox every week. No spam. We promise.

To keep up with Book Riot on a daily basis, follow us on Twitter, like us on Facebook, and subscribe to the Book Riot podcast in iTunes or via RSS. So much bookish goodness–all day, every day.