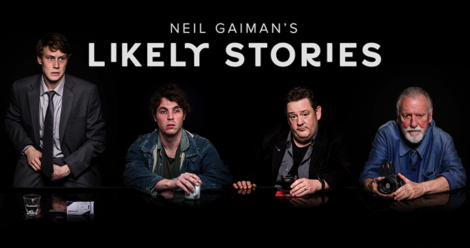 Neil Gaiman is joining the ranks of Ray Bradbury and Roald Dahl—again. He's already a well-loved writer of stories that are a little off the beaten path, strange in all the right ways. The three writers have that in common. Now, Gaiman is solidifying his place among them with the launch of his own anthology series, Likely Stories, on Shudder.
Likely Stories is now available on the streaming service. The four episodes originally aired in the UK on Sky Arts in in 2016. Each episode shares a cast and the same feeling of eerie possibility, but each story stands alone. This is not unlike American Horror Story, which has proven that the formula works.
Nerdist describes Likely Stories as "lush campfire tales." I was a huge fan of Are You Afraid of The Dark? as a kid, so my hope is that this series is like that one, but for grown ups, with less campfire talk at the beginning and more genuine creepiness throughout.
This series will help fill the gap between the conclusion of the first season of American Gods on Starz and the premier of Good Omens on Amazon Prime next year. A subscription to Shudder costs $4.99 a month or $47.88 for the year.
The Ray Bradbury Theater
The Ray Bradbury Theater aired a total of 6 episodes on HBO in 1985-86, and 3 seasons on USA Network in 1988-92. Bradbury adapted each of the 65 total episodes from one of his existing short stories or novels. He introduced each story from his office, and would occasionally offer an additional bit of narration. Many familiar faces, including William Shatner, Jeff Goldblum, and Drew Barrymore appeared on the series.
https://www.youtube.com/watch?v=gJjFFgc_w-E
Tales of the Unexpected
Dahl's Tales of the Unexpected aired in the UK from 1979-1988. Dahl is known to most of us as a children's author, though his stories do often have a touch of darkness to them. The stories in his series were based on his anthologized short fiction. Each episode takes place in a realistic setting, with no paranormal or supernatural elements, but each has a sinister tone and a twist ending. Like Bradbury, Dahl introduced his stories, explaining what inspired them.