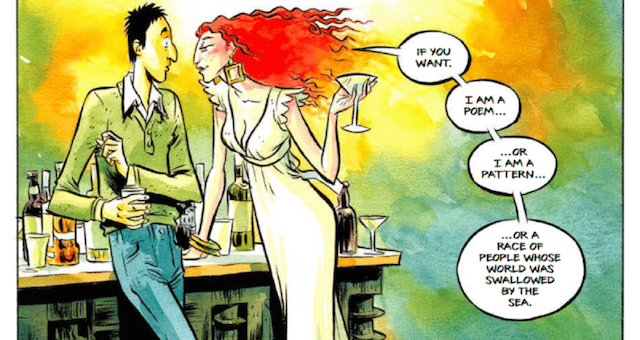 This content contains affiliate links. When you buy through these links, we may earn an affiliate commission.
Particularly after the announcement of Dark Horse's Neil Gaiman Library Collection (the first volume is out May 2020), I found myself drawn to the section of my bookshelf that has his words done all up in art. I don't mean the illustrated novels, nor the stories he wrote for the comics/graphic novel format, although I adore them all; although they are all hoarded on my shelves like gold.
We're pleased to announce that the comic adaptations of @neilhimself's short stories will be collected in our new Neil Gaiman Library Collection! Volume 1 will collect 4 stories in 1 hardcover, May 2020. Details & pre-order info: https://t.co/gyN4QPQWpL
Cover art: @fabiomoon pic.twitter.com/SNc5VUtueP

— Dark Horse Comics (@DarkHorseComics) October 5, 2019
No, there's a special category that for me has always spoken to what is so special about artistic collaboration. Neil Gaiman is prolific: he has written poetry, short stories, fairytales, myths. And some incredible artists have taken his words, magical and provocative as they are, and crafted them into works of visual art. It is the most incredible coming together: a pile of books, all gorgeous in their own different styles and ways, and they are all united by a love for one author's words; they all leapt off Gaiman's imagination into their own, and together the two minds crafted what is ultimately in every case a new world and a new story.
Here is a list of many, though not all, adaptations of Gaiman's poetry and short fiction that sit happily on my shelves. I recommend every single one.
How to Talk to Girls at Parties, art, adaptation, and lettering by Fábio Moon and Gabriel Bá, edited by Diana Schultz
Expressive, wide eyes; deep vivid reds complemented with greens and yellows in ink and watercolor; Moon and Bá bring alive this story about two teen boys who crash a party with a friend only to discover that the girls there are much more than they appear. An unsettling story about young adulthood, nostalgia, and strangeness.
In strange, vivid full-color art, with muted greens and blurred faces and deep darknesses, Eddie Campbell brings to life a story about greed and treasure, love and violence. A frightening story set in the green expanses and mountains of Scotland.
This is one of my favorites of all of them: this glorious retelling of "Sleeping Beauty" twisted into a "Snow White" tale, all told in small text adorned with drop caps. Detailed black-and-white illustrations by Riddell lie beside the text in tall panels, and full-page illustrations are incredibly detailed line drawings that are accented and framed in gold.
Neil Gaiman's Likely Stories by Neil Gaiman and Mark Buckingham, illustrated by Mark Buckingham and Chris Blythe
Four fantasy stories portrayed in vivid, odd fashion: "Looking for the Girl," "Foreign Parts," "Closing Time," and "Feeders and Eaters." Ghosts, a woman feasting on raw meat, venereal disease, obsession. This graphic novel was used as the inspiration for a 2016 BBC miniseries that was compared to Black Mirror.
I cannot stop raving about how beautiful this book is. Colleen Doran illustrates this dark, horrific adult version of "Snow White" (where the stepmother is our protagonist, trying to keep her kingdom safe from a dark evil), in art nouveau fashion, crafting gorgeous, free-flowing, cinematic scenes of blood and darkness. The dresses alone are enough to enchant: I want to hang the cover on my wall.
Creatures of the Night, art by Michael Zulli and lettering by Todd Klein
A vivid and rich horror story about a cat who protects against something invisible and monstrous each night ("The Price"); a lavishly painted story of an orphan girl that features owls in a way that will leave you…very unsettled ("The Daughter of Owls"). This double feature is rich and beautiful from the front to back covers.
A group of friends, accompanied by the prim, annoying Miss Finch, head into a subterranean circus; a story of twists and caverns ensues, and they discover they've lost their stern companion; and it has all been adapted with luxurious illustrations from Michael Zulli framed on black pages, with the expert lettering and adaptation of Todd Klein.
P. Craig Russell knows Gaiman well. He has adapted Coraline and The Graveyard Book, among other works of the author's. And so the style and approach of his comics seems to fit seamlessly into Gaiman's words; his all-caps lettering is evocative and familiar.
A Study in Emerald, art by Rafael Albuquerque, Rafael Scavone, Dave Stewart
What if you were to take a Sherlock Holmes story…and pull it squirming into a Lovecraftian world? And then have a talented artist portray the tale in rich colors and moody mists, with its lettering on what looks like scraps ripped from a piece of parchment? It would result in this fantastic, spooky graphic novel perfect for October reading.
Instructions illustrated by Charles Vess
I get this book often for graduates. It's a book that holds advice for someone growing up: while it's all fantastical, about wolves and strawberries and giants, it also carries real lessons in a poetic justice of sorts ( "if any creature tells you that it hungers, feed it." or "Trust your heart, and trust your story.") A gift to reread again and again, and illustrated by the fantastical and dreamy style of Charles Vess.