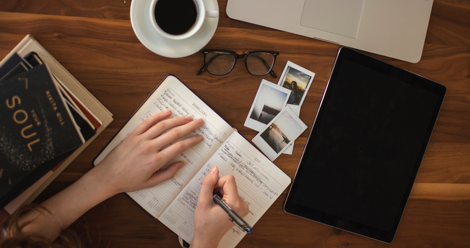 Need Some Writerly Inspiration? Try These Classic Journals
I buy journals with nearly the same abandon that I buy books. At any given time, I have a dozen brand-new notebooks just waiting for my words. It's a compulsion I will never give up, because I love scanning my office shelves for the next book to fill up with my mad scribbling.
As a writer, one of the best creative inspirations can be others' words. My favorite journals have literary themes, from the fun and playful to the dramatic and serious. One company in particular, Novel Journals, offers soft covers with gorgeously designed quotes, and the lines of the inside pages are made from the text of each book.
What a way to get inspired! And these books make great gifts for the word wrangler in your life.
Jane Austen
From Pride and Prejudice to Emma, Austen boasts perhaps the most book-to-journal adaptations, especially on Etsy. I love Austen's fierce quotes and the intricate artwork her books often inspire.
Alice's Adventures in Wonderland
Hands down, Alice gives us some of the most creative artwork. I use these notebooks when I really need a dose of creativity, curiosity, and out-of-the-box thinking.
Peter Pan
Peter Pan is a magical book, and the art on these Moleskine limited editions is A++++. Moleskine is my favorite journal-makers; I've taken them on reporting trips around the world, and bent them into all kinds of shapes, and I've never once had a binding break or pages fall out. (Plus, Ernest Hemingway used them!)
Other Classics
There's no shortage of classic authors to get your creative juices flowing, whether your muse is Charlotte Brontë, Charles Dickens, F. Scott Fitzgerald, or someone else.
Now get out there and get your own classic started!