This content contains affiliate links. When you buy through these links, we may earn an affiliate commission.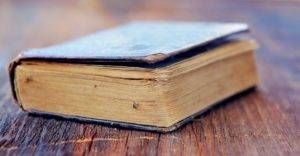 A few years ago, I bought a used copy of Joshua Ferris' Then We Came to the End. It looked like new, which is rare for used books. When I finished, I asked my wife to read it so that we could discuss.
One morning, she carried it to work in her bag along with a mushy banana she hadn't gotten around to eating for breakfast. When she removed the book from her bag, I saw to my horror that the lower half was smeared with a dark gray, potassium-rich paste. Suddenly loaning her my book seemed like a very bad idea.
I have a thing about needing books to be in perfect condition. I love a brand-new book, straight from the bookstore, with pristine covers and pages yet untouched. Similarly, I shy away from books with marks, folds, dents, rips, or any other signs of use, no matter how small. Nothing infuriates me more than price tags that leave behind a sticky residue on the top corner of a book jacket. Can bookstores just all agree to stop using those?
I'm not sure why I have this obsession with needing books to be in pristine shape. It doesn't carry over into other areas of my life – my desk at work being a prime example. It may be because I was taught by my mother from an early age that "books are my friends," and I should treat them with respect and dignity. It was considered the height of incivility to lay a book down on its face, pages splayed open and spine cracked. I was always supposed to use a bookmark, and never turn down a page corner in order to keep my place. I was never, ever allowed to write or highlight in any book.
If I followed these rules, my books were supposed to have a long and lasting life. And many of them did. But many of them also sat on my shelf unread because I was afraid to read them. I'm sure we all feel a twinge of sorrow each time we draw a book out of a backpack or purse and notice that the cover is bent or some of the pages got crumpled. No one likes seeing new things – anything – grow old or worn by use.
But can't there be a case made for how books are supposed to be dog-eared, bent, and written in? Isn't that a sign of books that are well-loved? I suppose books are unique that way. They can sustain frequent use without their inherent quality getting diminished. Still, I can't help but get upset when a new book starts to look careworn. Maybe it's just my natural desire for all things in my life to appear put together.
And yet: the most well-worn book I have on my shelf is my copy of Watership Down, the same copy I read and fell in love with when I was in fifth grade. I've read it several times after that, and in some places, the pages are literally falling out. I've thought many times about chucking it and replacing it with a new copy, one that I can comfortably read without fear of ruining further. A copy that can survive long enough for me to read to my children. But I just can't bring myself to do it. There's something about having that same copy – the very same one that I remember showing my French teacher so she could translate a Napoleon epigraph for me – that makes me want to hang on to it, no matter how old it looks.
That's the other thing about books, I guess, that sets them apart from other objects. They carry with them not just the same familiar stories and characters that you love, but the memory of who were when you first read them, and what made you fall in love with them in the first place.