Twenty-seven years after its premiere, reading Neil Gaiman's The Sandman (Vertigo) and its related books can be daunting, especially now with the publication of the prequel miniseries The Sandman: Overture. Where should you start reading? What is skippable? What is the difference between The Sandman and The Sandman Presents? Where will you keep all of this after you buy it? Read on and find out!
What is The Sandman?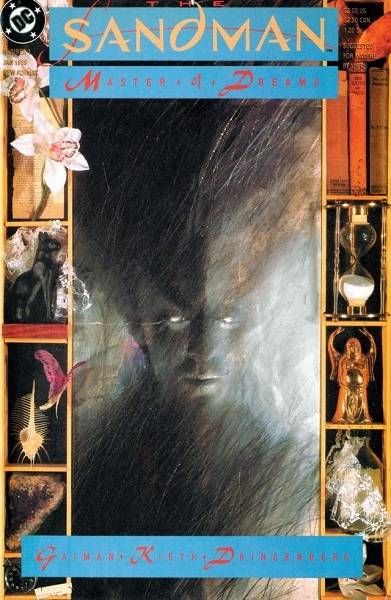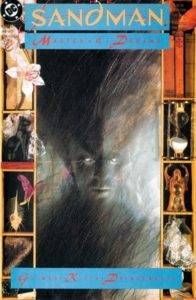 Once, when pressed to describe The Sandman in 25 words or less, Neil Gaiman offered, "The Lord of Dreams learns that one must change or die, and makes his decision." The series follows Dream (more often called Morpheus), one of the seven Endless, personifications of essential concepts that have existed since the beginning of the universe (the other Endless are Destiny, Death, Destruction, Desire, Despair, and Delirium). The story begins with Morpheus captured by an Aleister Crowley-like occultist who had meant to capture his sister, Death. After being imprisoned for most of the twentieth century, Morpheus escapes and tries to rebuild his realm, the Dreaming. In the process, he discovers that he has been changed by his imprisonment, but struggles to reconcile his new-found compassion with his sense of obligation.
Gaiman's story is told over the course of the main Sandman series (75 issues, plus a Special), as well as two Death-centric miniseries and two later books and a prequel miniseries released to commemorate the 10th, 15th, and 25th anniversaries of the series, all written by Gaiman. Vertigo has also released a number of spinoffs by other writers focused on related characters, but none feature Morpheus in anything more than cameo roles.
Where do I start reading?
You should, without question, start with the original series, The Sandman (1988-1996). While Gaiman's ancillary works offer some important context, none of them are necessary to understanding the core series and might actually make it more confusing if read first. Plus:
You might be tempted to start with the prequel miniseries The Sandman: Overture, which is hot off the presses. Don't. Lots of things, including some major plot points, are only understandable if you have read the main series first. If you are still tempted, look at that picture of River Song again.
Okay, so what next?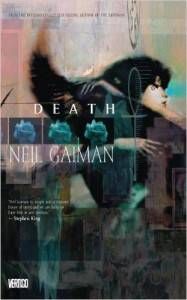 After you have read the main series, you can delve into the other Gaiman-written books. For most people, your first stop will be the two Death miniseries illustrated by Chris Bachalo and Mark Buckingham—The High Cost of Living and The Time of Your Life—both of which are available in the Death Deluxe Edition trade.
After that, I recommend Gaiman's Endless Nights, a collection of seven stories, each focused on a different member of the Endless family and illustrated by a different artist: P. Craig Russell (Death), Milo Manara (Desire), Miguelanxo Prado (Dream), Barron Storey & Dave McKean (Despair), Bill Sienkiewicz (Delirium), Glenn Fabry (Destruction), and Frank Quitely (Destiny). The stories vary a little in quality, but the art is stellar.
After that, check out the recently completed prequel series The Sandman: Overture. (I recommend it after Endless Nights because the Dream story in that collection adds some helpful context, though it is by no means necessary to do so.) The art and design by JH Williams, III, is absolutely stunning—check out this amazing double-page spread from issue #1: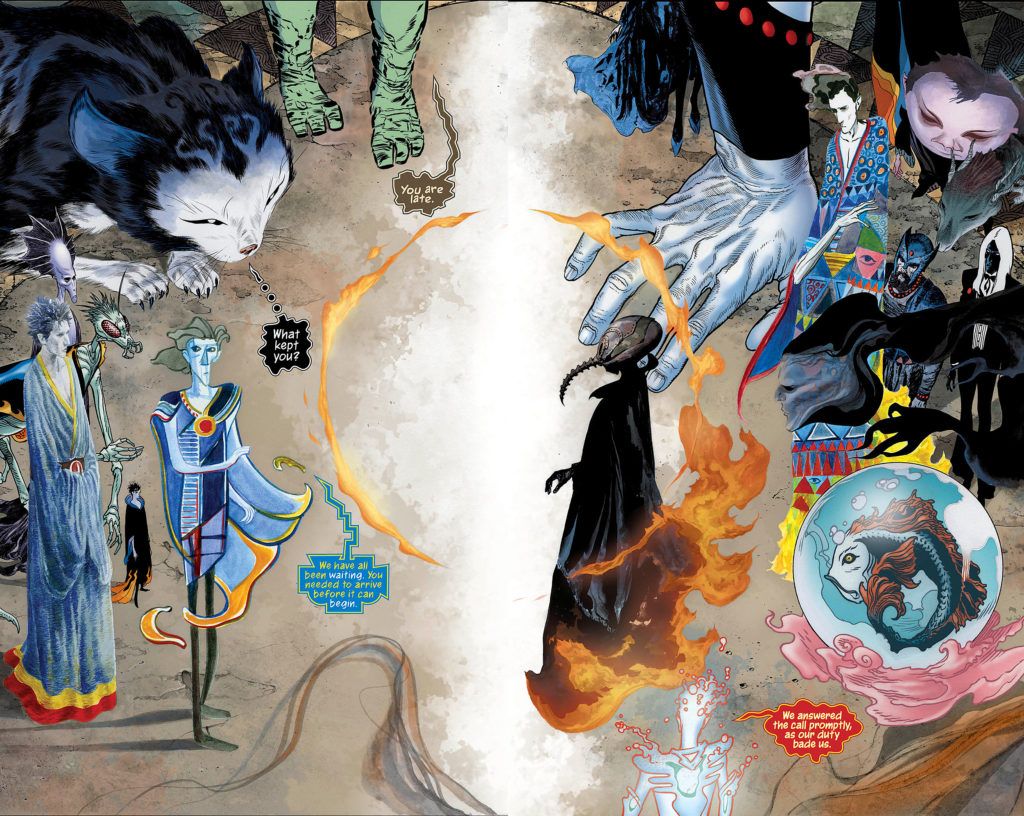 Once you've finished all that (take your time, this post will still be here), you might check out Gaiman's The Dream Hunters, a prose novella set in the Sandman universe, with illustrations by Yoshitaka Amano. But, if the thought of reading something other than a comic worries you, don't fret: in 2008 Vertigo released a comic book adaptation of The Dream Hunters by P. Craig Russell (who had previously illustrated The Sandman #50, as well as the Death story in Endless Nights). While I enjoyed The Dream Hunters, I feel it is the least essential of Gaiman's Sandman work, as Morpheus is much more of an ancillary character and it does not really add to the broader narrative. Still, worth checking out.
What's this The Sandman Presents? Is that the same as The Sandman?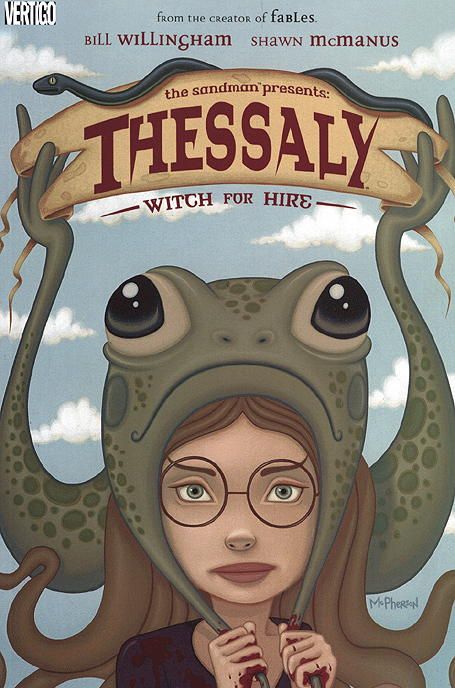 No. The Sandman Presents is a line of miniseries, graphic novels, and one-shots using characters from The Sandman, but not written by Gaiman. The miniseries vary in quality, but are for the most part good-to-excellent, largely because of caliber of writers, including Mike Carey; Bill Willingham, and Ed Brubaker. Carey's The Sandman Presents: Lucifer miniseries spun-off into his stellar Lucifer ongoing that lasted for 75 issues, with Peter Gross and Ryan Kelly as the regular art team (it's amazing; go read it now). Willingham's work—two miniseries about the witch Thessaly and the Merv Pumpkinhead: Agent of Dream and Everything You Always Wanted to Know About Dreams (But Were Afraid to Ask) one-shots—is worth reading on its own merits, but also as an interesting precursor to his later Fables (and it's all available in the Willingham ephemera collection, Bad Doings and Big Ideas). Also worth checking out: The Sandman Presents: Dead Boy Detectives by Ed Brubaker, Bryan Talbot, and Steve Leialoha.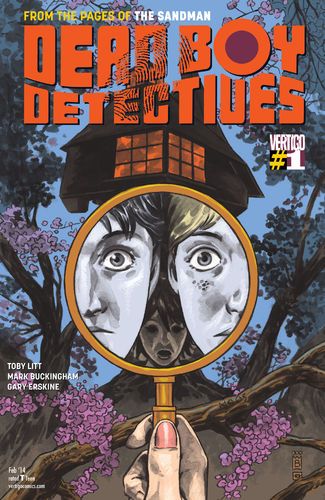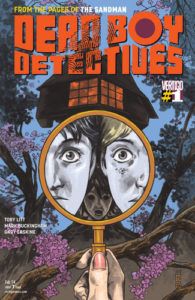 You mentioned the Dead Boy Detectives. Didn't they have a recent series?
Yeah, a 2014-2015 series by Toby Litt and Mark Buckingham that lasted for 12 issues. I trade-waited it, and now regret that decision, as I thought it was quite good and lament its absence.
What about Lucifer? Didn't I see something about that recently.
Yup. The 2015 Vertigo relaunch includes a new Lucifer ongoing series by Holly Black and Lee Garbett, set to debut December 16, 2015, in which Lucifer has been accused of killing God and has to prove his innocence, with the angel Gabriel in tow. I am not yet sure based on the description whether this new series will have any connection to the Carey/Gross/Kelly series, but I will definitely be picking it up when it comes out and will report back.
Also, Fox has picked up a Lucifer TV series, set to premiere in early 2016. Here's the trailer:
What about The Dreaming? Is that the same thing as The Sandman Presents?
No. The Dreaming was an earlier ongoing series. Launched a few months after The Sandman concluded, The Dreaming was originally designed as an anthology series with rotating creative teams, but eventually shifted to a continuing storyline featuring a central cast of characters written exclusively by Caitlín R. Kiernan. Under Kiernan, the series took on a dark fantasy tone, dramatically different from some of the whimsical early stories and from the more philosophical later volumes of The Sandman. The series was cancelled with issue #60, with much of the blame for the cancellation focused on Kiernan's dark tone. I would only recommend The Dreaming to completists or fans of dark fantasy comics.
Okay. Is that everything? This is going to take a while to read.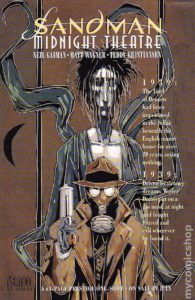 No, there's still plenty more Sandman universe stuff to keep you reading for a while yet! There's also the Sandman Midnight Theatre one-shot (a crossover between The Sandman and the 1930s noir Sandman Mystery Theatre); the two WitchCraft miniseries about the Fates; Destiny: A Chronicle of Deaths Foretold; The Girl Who Would Be Death; Jill Thompson's two manga volumes, Death: At Death's Door and Dead Boy Detectives and her Little Endless Storybook and its sequel Delirium's Party. Plus, The Sandman: Book of Dreams short story collection and various non-fiction books. Oh, and Dustcovers, an oversized art book featuring Dave McKean's amazing covers for the original series. I could go on.
I think my bookshelves will collapse under all of that weight. Can I get digital editions of this stuff?
Yes. Comixology has digital editions of almost everything in the Sandman universe, including a number of one-shots and miniseries that were never collected in trades. The most notable gap is the original novella version of The Dream Hunters; also missing are Destiny: A Chronicle of Deaths Foretold and The Girl Who Would Be Death. Inexplicably, the Sandman Midnight Theatre one-shot is only available as part of the Neil Gaiman's Midnight Days collection.