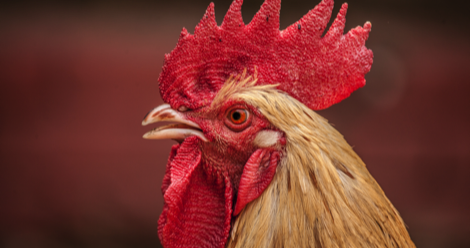 Lists
September is National Chicken Month, So Here Are 12 Eggsellent Books About Chickens
This content contains affiliate links. When you buy through these links, we may earn an affiliate commission.
Here's something I bet you didn't know: National Chicken Month is a thing, and it's happening now.
As someone who has just started keeping a backyard flock this year I've been reading a LOT of books about chickens this year. I wasn't going to miss the oppotunity to fowl up your TBR list.
Anyway, I probably should mention that National Chicken Month was not intended to celebrate live chickens. It's a marketing exercise by the chicken industry to get people to eat more poultry. But this is Book Riot and we do what we want, so this round-up has all kinds of chicken books in here: books about backyard chicken-keeping, photography, novels, studies, histories, children's books, and yes, even cookbooks.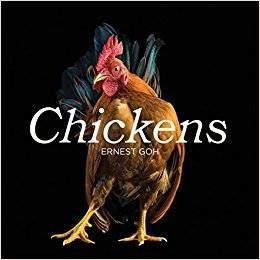 Chickens by Ernest Goh
Behold, the noble chicken, direct descendent of the dinosaurs! Well, maybe not super noble, as you can see in this book by Ernest Goh. Don't get me wrong: chickens are beautiful. They are also ridiculous. They don't mean to be, they just kind of can't help it. And this coffee table book has beautiful, ridiculous photos of chickens in abundance. Ernest Goh traveled the world to take runway pictures of chickens which, in itself, is hilarious. If I had a clean coffee table anywhere in my house, this book would be on it.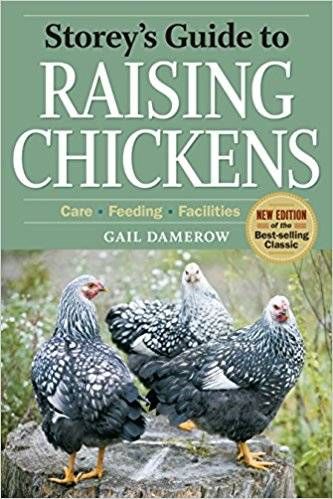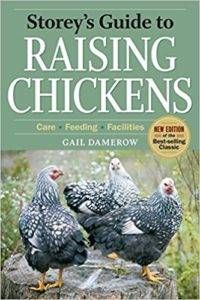 Storey's Guide to Raising Chickens, 3rd Edition by Gail Damerow
So, according to the online chicken-keeping community (yes, that's totally a thing) this is the backyard chicken-raising bible. I have had it out from the library a few times since we got our flock in April and it's been very helpful. It covers everything: breeds of chickens, building (and cleaning) coops, illnesses, and taking care of chicks. When one of my girls started limping two months after we got her, this is the book I went to. If you are starting your own flock you should definitely look into Storey's Guide.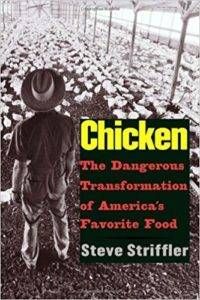 Chicken: The Dangerous Transformation of America's Favorite Food, by Steve Striffler
If you do not want to know your food's backstory, don't read this. But if you are a Fast Food Nation person, and you are worried about the industrial poultry farming complex and what it does to the people who work for it, this book by Steve Striffler should be on your TBR list. Striffler is an associate professor of Anthropology of the University of Arkansas now, but he began his working life in a Tyson poultry processing plant. This book differs from many other behind-the-food type books in that he doesn't write so much about the abuse of chickens, or about unhealthy meat. Instead, Stiffler writes about the human rights violations in the chicken industry.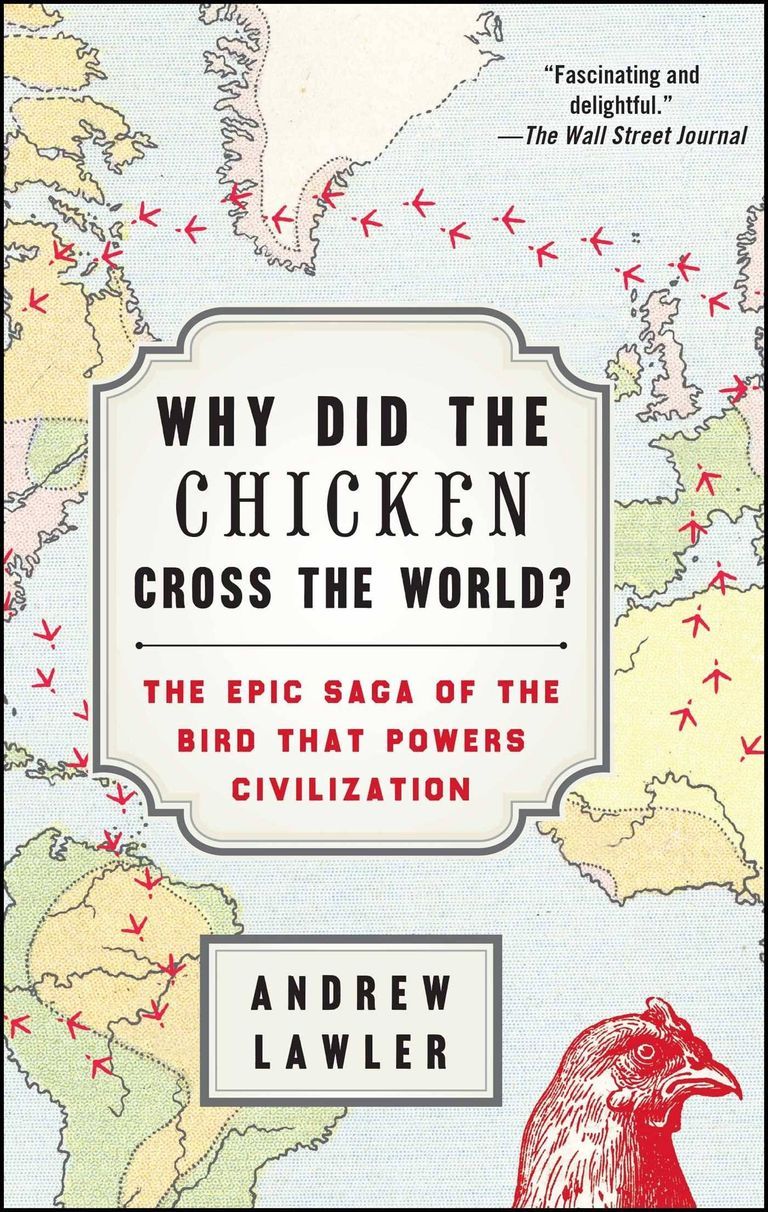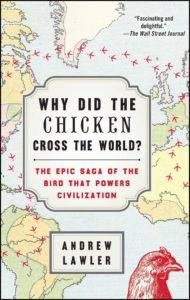 Why Did the Chicken Cross the World?: The Epic Saga of the Bird that Powers Civilization by Andrew Lamler

While chickens are descended from dinosaurs, they are more immediately descended from the red junglefowl, a shy bird native to south Asia. They were only domesticated 5,000 years ago (which is not that long ago in the grand scheme of things. The dog's been with us for maybe seven times that long) but now they are everywhere: our farms, our yards, our tables, our mythology. So how did the chicken get everywhere? Lamler answers this question by exploring the extent of humankind's relationship with the chicken throughout the ages.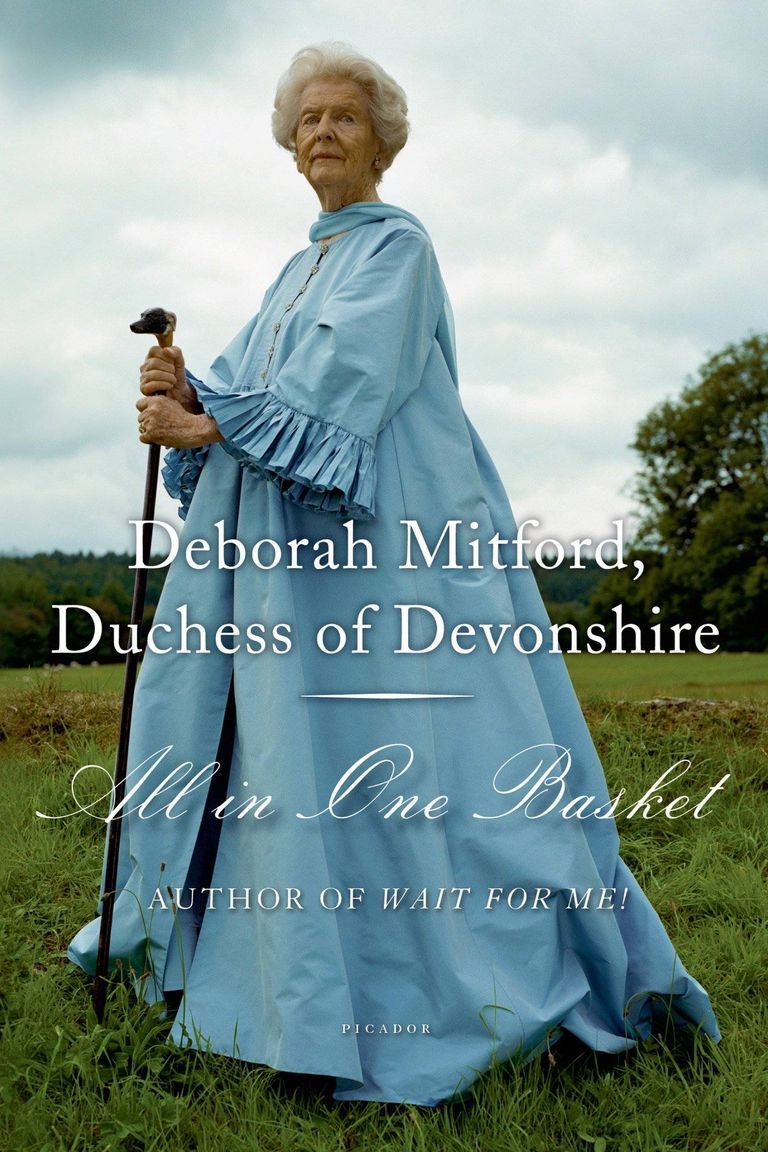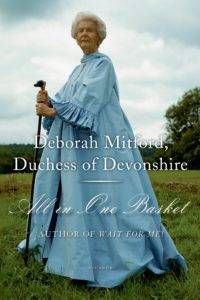 All in One Basket: A Memoir, by Deborah Mitford, Duchess of Devonshire
You know who loved chickens? Deborah Cavendish, Duchess of Devonshire, also known as Deborah Mitford, one of the six Mitford sisters, British socialites and members of the nobility. She later became Duchess of Devonshire, and was the main face of Chatsworth, her husband's family estate, which became her life's work. She turned the estate into both a public park and a functional residence. So where do chickens come in? Well, the Duchess raised chickens as a child for pocket money. She loved her chickens, and that love continued into adulthood. She loved those chickens and they made their way into her book. She also brought her advocacy of rural life to Chatsworth, where she developed a farmyard exhibit.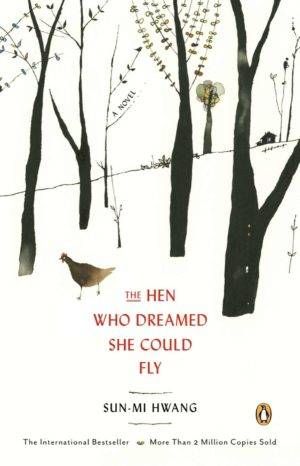 The Hen Who Dreamed She Could Fly, by Sun-mi Hwang, illustrated by Nomoco, translated by Chi-Young Kim
This South Korean classic is about a hen who names herself Sprout. Sprout has a dream: she wants to raise her own chick. But she can't—the farmer's wife collects her eggs every day and she's getting too old to even lay eggs. So Sprout escapes from her coop and runs away.While this novel could be read to children, it's not a straightforward children's book. Instead it's a story about chasing your dreams, friendship, and parenthood.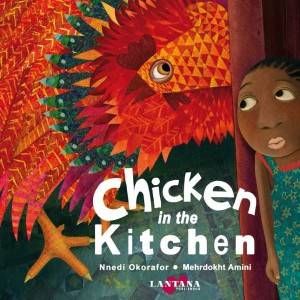 Chicken in the Kitchen, by Nnedi Okorafor, illustrated by Mehrdokht Amini
I love Nnedi Okorafor's speculative work, so I was thrilled to find out that she'd written a children's book. This beautiful book is about Anyaugo, a young Nigerian girl who wakes up in the middle of the night to see a giant shadow passing the door of her room. It's a very big chicken and it's in her house. What is it doing there? What should Anyaugo do about it? She's going to have to figure all that out, and so is the reader.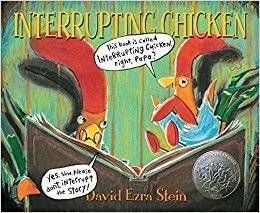 Interrupting Chicken, by David Ezra Stein
Little Red Chicken can't help herself. She just has to interrupt whatever bedtime story she's being read. No matter how many times Papa tells her not to interrupt, she jumps right in, abruptly ending the story. So her dad asks her to write her own story, and she does. But will she be interrupted as she tells it? This children's book is awesome for families with energetic children.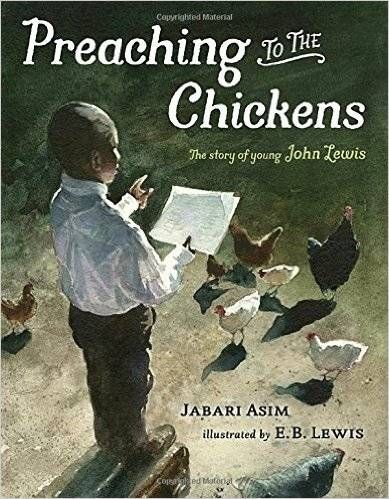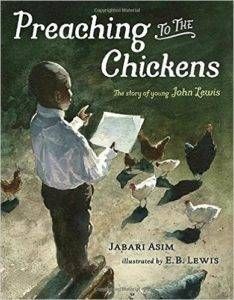 Preaching to the Chickens: The Story of Young John Lewis, by Jabari Asim, illustrated by E.B. Lewis
This gorgeous book, illustrated with stunning watercolors by E.B. Lewis, tells the story of Georgia Congressman and Civil Rights activist John Lewis, who was put in charge of his family's flock of chickens as a little boy. Lewis wanted to be a preacher, so the chickens became his first congregation. While this is not really a book about chickens, the chickens do feature prominently, as does life on the Lewis family farm. So what I'm saying is, it's a beautiful story about a living legend, and also there are chickens.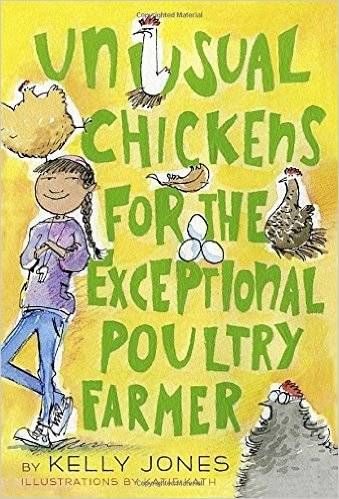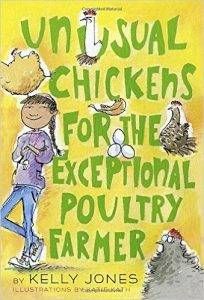 Unusual Chickens for the Exceptional Poultry Farmer by Kelly Jones, illustrated by Katie Kath
Not all books about chickens are for small children. This middle-grade book features 12-year-old Sophie, who has moved with her family from Los Angeles to her great uncle's farm. She's not pleased with the move at first, but then the chickens start displaying special powers. Sophie, who tells the story in letters to her abuela, also discovers how exceptional she is as she learns to care for—and protect—her flock.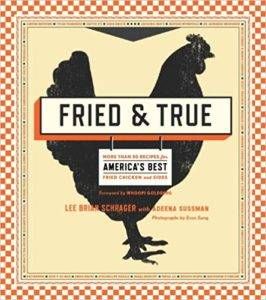 Fried and True, by Lee Brian Schrager and Adeena Sussman
I'm going to throw the chicken industry a bone with this one. (See what I did there?) This cookbook (with a foreword by Whoopi Goldberg!) is a love letter to fried chicken. Lee Schrager, the New York City Wine & Food Festival loves fried chicken, so he traveled all over to find the best fried chicken. This book includes 50 recipes, from coconut fried chicken to hot chicken to chicken schnitzel. Oh great. Now I'm hungry.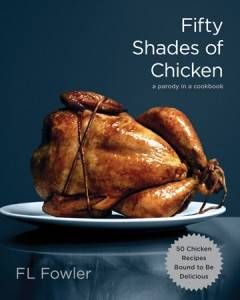 Fifty Shades of Chicken, by F.L. Fowler
This book gives a new meaning to "food porn." Stay with me though, because this is a real cookbook. There are really 50 chicken recipes in here (ahem, Chicken With a Lardon) which you can really make (Mustard-Spanked Chicken) for your family (*cough* Dripping Thighs) and it's also the most popular chicken cookbook on Amazon because of course it is. But it's much more than a cookbook. As you've probably figured out by now, it's a parody of Fifty Shades of Grey. It tells the story of Miss Chicken, an innocent free-range bird, and her initiation into the hot, steamy world of cooking. There's a book trailer. Just…just go watch it. Wait, is that Patrick Stewart's voice?? Guys, I can't.
Save
Save