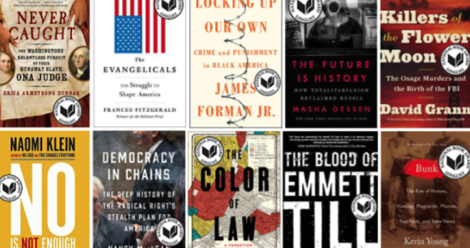 Nonfiction
Why So Serious, National Book Awards Nonfiction?
This content contains affiliate links. When you buy through these links, we may earn an affiliate commission.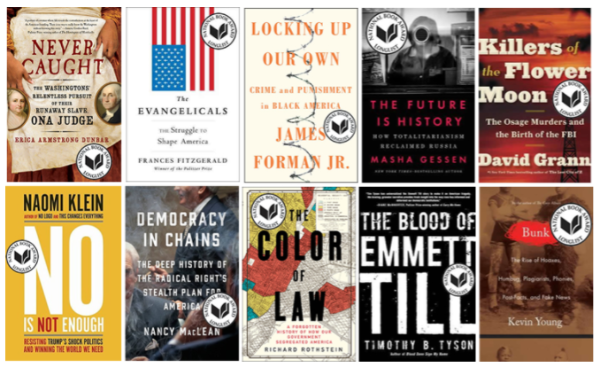 Last week, the National Book Foundation announced the longlisted titles for this year's National Book Awards in fiction, nonfiction, poetry and young people's literature.
This year's nonfiction list is incredibly strong. It is full of serious books that, taken collectively, make a strong statement about our current political climate. But as someone who frequently advocates for the idea that nonfiction can also be fun, I have to admit the list also left me feeling a little bit cold.
Before I go any further, it would probably help to see the longlisted titles:
When I think about this slate of books intellectually, I recognize that it's pretty great. The list includes five books on the history of race relations in the United States, two on the impact of conservative activists on American politics and culture, and three more on pressing political concerns—progressive activism in the age of Trump, totalitarianism in Russia, the rise of fake news in American culture. It is also evenly split between men and women, and three of the 10 authors are people of color.
Taken together, I think that's pretty remarkable. And yet, when I first saw the list announced last week, I couldn't help but sigh a little bit…Why so serious, National Book Awards?
The National Book Foundation has three prongs in its mission statement: to celebrate the best of American literature, to expand its audience, and to enhance the cultural value of great writing in America. A list like this one—composed entirely of Very Important Books—seems to miss the mark on the second goal, to expand the audience of readers who might find and pick up these books. Every single one of these titles sounds…hard. Like a book you have to work though, not a book you can sit back and enjoy reading.
Certainly, there are books on this list that I am going to pick up because I want to learn more about the issues they address. But I'm also a reader that also likes to pick up nonfiction for escape, or to learn about the quirky and strange things that make up our world. I also love memoirs, writing that can help me connect with people who have very different life experiences that I have had. There's value in that kind of nonfiction too, but you wouldn't know that by looking only at this list.
Despite recognizing the political and intellectual value of a serious nonfiction awards list, I worry that putting together awards lists like this one will continue to suggest to readers that only serious people read nonfiction, and so if you want to enjoy yourself you should look elsewhere. That feels like such a shame, given that a majority of the books published each year are nonfiction and that many, many of those books could also represent the best of American literature. I wish we could find a way to make space for those in our awards lists too.
Save