Audiobooks
Not Your Perfect Narrator: Representation Matters, But You Have To Get It Right
This content contains affiliate links. When you buy through these links, we may earn an affiliate commission.
After hearing a lot of positive buzz about it last year, I recently listened to Erika L. Sanchez's I Am Not Your Perfect Mexican Daughter on audio. I was more or less hooked by the title alone; it summarizes my entire teenage life. (And my twenties. Ok, and thirties. Moving on.) I grew up in a conservative Catholic Mexican American family where my increasingly liberal views and burgeoning feminism were met with a lot of suspicious side-eye—and that was on a good day. I couldn't wait to get to know Julia and see a little bit of my own cultural identity struggles in a work of fiction. Representation matters, folks. I can't say it enough.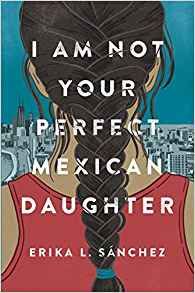 The book itself I very much enjoyed. It was such a spot-on portrayal of teenage angst, of grief, of the unique growing pains felt by a young person trying to navigate (and at times break out of) the confines of cultural and religious tradition. As many have pointed out, Julia was indeed unlikable, insufferable even. Breaking news, folks: teenagers are insufferable. Her actions and perceptions felt very authentically adolescent.
The audio though? Meh. Puerto Rican actress Kyla Garcia narrated the story and her accent felt forced at times. If you're going to choose someone to narrate a story told from the perspective of a Mexican American, wouldn't it be feasible to try and find someone who could get the accent right? Was everyone else busy washing their hair that night? Then I checked myself and questioned whether this criticism was fair. I firmly believe that how well you speak Spanish, if at all, has no bearing on the validity of your Latinx card. So I relaxed.
I considered another possibility: was the accent a deliberate style choice? Was Garcia instructed to anglicize her accent to emphasize Julia's not-your-perfect-Mexican-daughter-ness? Having finished the book, I don't think so. When referring to the Virgin of Guadalupe, the narrator pronounced it as "wa-de-LOO-peh" instead of "wa-da­-LOO-peh." This wasn't about an accent, this was a plain and simple mispronunciation of the phonetics of the name. Had it been the only instance, I'd have totally given it a pass. It wasn't. She pronounced the name Cepillin as se-PE-yeen, enchiladas as en-cheh-LA-duzz, chorizo as cho-REET-so. I could go on.
It just so happens that later that week, I ran into the same issue on television. In an episode of HBO's hit show Insecure, character Dro, as portrayed by Panamanian actor Sarunas Jackson, approaches Molly at a dinner party and tells her that she's wearing his favorite dress. He delivers the line in some smooth & sexy Spanish, or what's supposed to be Spanish; he pronounces the word pusiste as pooh-SAUCE-tay. What?! Pusaste, for inquiring minds, means "halfway" in Latvian (thanks, Google Translate!). In Spanish though? Not a word. Get it together, HBO. You're not some low-budget starter network and you should do better.
My question here is: porque?? I don't blame Sarunas Jackson or Kyla Garcia. They might consider themselves fluent Spanish speakers, or not. I take issue with the team of people surrounding them who didn't take the time to edit their content with a more careful eye and ear, who didn't think it worth the time to ensure that the words they spoke were spoken accurately. A failure to do so feels lazy, careless, like the use of Spanish is a funny or sexy prop and not an integral part of these characters' identities.
Representation is so important. To that end, it's great that we're paying more attention to and giving more opportunities to persons of color (albeit slowly) in creative spaces, both as the creators of the content and the subjects of the work they produce. While I am all about this progress, it's not enough to just include culturally diverse characters and call it a day. If you're going to feature the language and culture of an ethnic group in print, audio books, television, film, etc., take the time to do it right. Have someone—or better yet, multiple someones—in the room who will yell "CUT!" when you've tripped over a word or when a fact-check is needed. Hold yourself accountable and work to preserve the authenticity you should be aiming for.