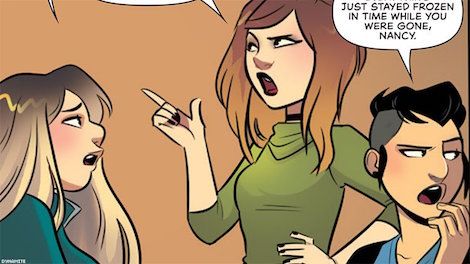 Nancy Drew Gets a Feminist, Queer Makeover: Critical Linking, May 15
Sponsored by The Crossing by Jason Mott, new from Park Row Books.

---
Since the titian-haired girl detective from River Heights cracked her first mystery in The Secret of the Old Clock nearly 90 years ago, there have been dozens of iterations of Nancy Drew and her best friends, Bess and George, featured in books, TV, and films. Now, Dynamite Entertainment offers the latest rendition of the cracker-jack teen sleuth with a comic that fully realizes Nancy's feminist tendencies, adds several characters who are people of color, and finally, unmistakably queers perpetual "tomboy" George.
I will read this forever and ever amen.
---
Nightflyers is a supernatural thriller based on the novella by George R.R. Martin (Game of Thrones) and the 1987 film. Jeff Buhler (Jacob's Ladder) wrote the adaptation, is showrunner and executive producer. The series follows eight maverick scientists and a powerful telepath who embark on an expedition to the edge of our solar system aboard The Nightflyer – a ship with a small tightknit crew and a reclusive captain — in the hope of making contact with alien life. But when terrifying and violent events begin to take place they start to question each other — and surviving the journey proves harder than anyone thought.
New trailer for George R. R. Martin fans!
---
BREAKING: @MarvelStudios is planning to add Ms. Marvel / Kamala Khan into the Marvel Cinematic Universe "once we've introduced Captain Marvel to the world," says producer @Kevfeige!

(Source: @BBC via @StaarksHeart) pic.twitter.com/z4P0BN7Jsh

— MCU Direct (@MCU_Direct) May 12, 2018
YESSSSSS.