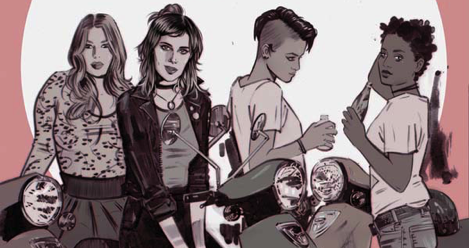 This content contains affiliate links. When you buy through these links, we may earn an affiliate commission.
In case you haven't heard, we're getting new Nancy Drew comics! In comic form! With an openly gay George! This is such exciting news for lifelong fans (like me)! The new series comes from Kelly Thompson (writing) and Jenn St-Onge (art) and is being published by Dynamite. As excited as I am for George to finally be identified as queer (come on, we all knew, right?) I am eager to see "plump" Bess get better treatment, too. Maybe now that George is out of the closet and in a happy relationship, she can finally stop fat-shaming Bess.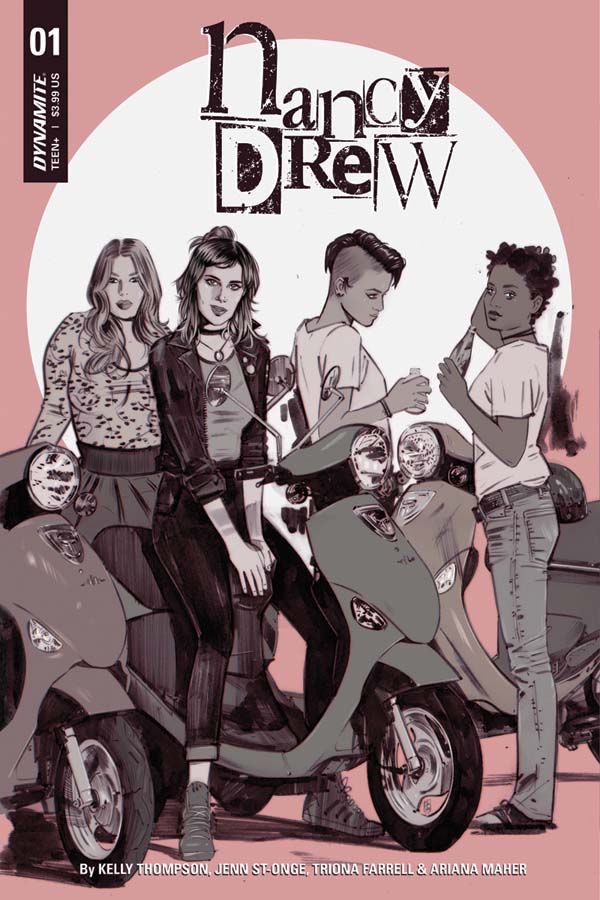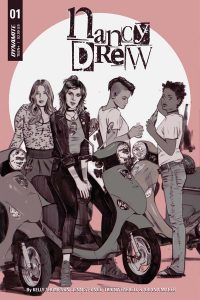 You can preorder the first issue, Nancy Drew #1, now and it will ship/be available for download on June 13th! If you, again, like me, are a mega fan and impatient to sink your teeth into this new series, here's what to read while you wait for the new Nancy Drew comics.
Girl Detectives
Hexed by Michael Alan Nelson, illustrated by Dan Mora
Lucifer is one of my favorite female leads in comics. Described as "the perfect mash-up of Buffy the Vampire Slayer and Lara Croft" she is spunky, headstrong, and her boss's right-hand woman. This series definitely plays up the horror elements, where NDs tend to be only fleetingly supernatural, if at all; Nancy is a super practical girl.
Goldie Vance by Hope Larson, illustrated by Brittney Williams
If ever there was a perfect pairing for old school NDs it's Goldie Vance! This retro series is set at a Floridian resort in the 1960s and features a diverse cast of characters. This series is actually ideal for all ages and sixteen-year-old Goldie is a great addition to the girl detective squad.
Paper Girls by Brian K. Vaughan, illustrated by Cliff Chiang
Set in the late 1980s, this nostalgic (hello, I'm a millennial!) series is part coming-of-age tale and part science-fiction mystery. Perfect for anyone who likes unapologetic girl gangs or well-written and diverse female characters—Vaughan is also responsible for Saga.
If you're looking for a more noir take on the Nancy Drew universe, check out Del Col's series that reimagines Nancy as a femme fatale. Nancy is the only hope for good ol' Frank and Joe to prove themselves innocent of the murder of their father. Dell'edera has also illustrated COBRA and Batman comics, so think dark and brooding.
Scooby Apocalypse by J.M. DeMatteis & Keith Giffen, illustrated by Jim Lee & Howard Porter
My lifelong love of mysteries comes from two places: Nancy Drew novels and Scooby Doo, Where Are You! Scooby Apocalypse is a surprisingly enjoyable (hipster Shaggy had us all scared) remix on the Scooby Doo franchise featuring updated versions of our favorite ghost-avoiding, villain-unmasking, mystery-solving gang. Velma and Daphne get one of the best updated makeovers outside of the tongue-in-cheek Scooby-Doo! Mystery Incorporated.
Also by Kelly Thompson
A spinoff of the 2016 update to the Ghostbusters franchise, which was an amazing movie and I will not hear otherwise, this series continues the exploits of Abby, Patty, Erin, and Holtzmann as they encounter a Class VII ghost that feeds on terror. Whether they've met their match or not depends on how well they can work together and trust in themselves.
Also by Jenn St-Onge
Bingo Love by Tee Franklin, illustrated by Jenn St-Onge
If you want a fantastically diverse and moving romantic comic that showcases St-Onge's fun, happy art style, you have to check out Bingo Love! You'll probably end up teary-eyed and in need of a hug by the end, but this sweet story is totally worth the happy cry. I didn't even mind the obvious The Notebook reference.
Bonus: Not A Comic Recommendation
True story, this book was out of print and nigh unfindable for a couple of years, and I'd lost my copy, when I met Cain at an event in 2013. I was bemoaning the loss of my book and proceeded to bond with her deeply over our love of the original Girl Detective. When a signed copy appeared in my mailbox a couple of weeks later with a lovely handwritten Nancy Drew postcard from Cain I was over the moon. All this is to say that Cain, who now writes thrillers featuring badass dames (Heartsick, One Kick), is a true fan and this parody will make you laugh out loud if you are too.
Want more Nancy Drew? Check out our other Nancy Drew-themed posts!