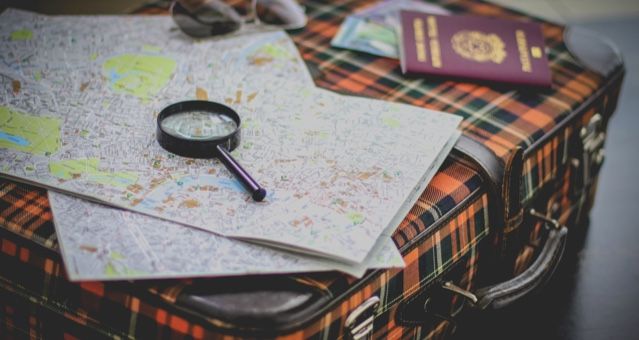 Lists
16 Mystery Book Series That Keep the Twists Coming
This content contains affiliate links. When you buy through these links, we may earn an affiliate commission.
For a reader, finding a good series is like hitting the literary jackpot. It takes all the guesswork out of deciding what to read next (at least until you reach the final book, anyway). If you're an adult who looks back on their Nancy Drew days fondly, might I suggest picking up a grown-up mystery book series? Whether you prefer cozy mysteries or hard-hitting detective fiction, you're all but guaranteed to find a series in your genre.
The Best Cozy Mystery Series
The original Mistress of Mysteries is also the queen of the cozy mystery. Her Miss Marple series follows a woman in a small town with an uncanny knack for solving crimes.
Juliet Blackwell's series sounds like the result of a thought experiment about what would happen if Sabrina Spellman grew up to become an amateur detective. If that sounds up your alley, check out Book #1, Secondhand Spirits.
For those who like a side of period drama with their whodunits, Frances Brody's mystery book series is set in the 1920s and feature Kate Shackleton, an amateur detective turned private investigator. Plus, the covers are incredibly charming.
You'd think writing a series where all the mysteries surround a flower shop would get difficult rather quickly, but Kate Collins has written 19 volumes on the topic. Want more of winsome heroine Abby Knight? Check out the movie versions on the Hallmark Channel.
I discovered Phryne Fisher on Netflix thanks to the television adaptation Miss Fisher's Murder Mysteries and was delighted to find that it was based on a book series. This is another story about an amateur female detective set in the 1920s. The mysteries are always intriguing and sinister without being scary.
Follow along with actress-turned-detective Dayna Anderson as she attempts to solve Hollywood mysteries. Hollywood Homicide is the place to start if you want to read them in order.
The Best Detective Novel Series
This is my personal favorite mystery series; the writing is beautiful and each book follows a different detective, so you don't need to read them in any particular order. French's novels focus on character development but the mysteries are also compelling. I recommend starting with In the Woods or The Likeness.
This Canada-based series follows Detectives Getty and Khattak, who travel the world as they attempt to get to the bottom of mysteries. Khan's books deal with a variety of complex social and political issues, so if you're bored of domestic thrillers, this might be a good place to go next.
This is the book series that brought us The Snowman. Inspector Harry Hole is the best detective on the Oslo Crime Squad, but he's not without his personal demons. The first book, The Bat, sees Hole traveling to Sydney to assist local authorities on the investigation into the murder of a twentysomething Norwegian woman. Pro-tip: read The Bat before The Snowman because the latter book contains spoilers!
What's with mystery writers and the name Harry? If you're looking for a long-running series with tons of books to choose from, Connelly's famed detective is a great place to look.
The Best Historical Mysteries
Sherry Thomas turns the Sir Arthur Conan Doyle's classic series on its head. In her version of his stories, Sherlock Holmes becomes Charlotte Holmes, a talented female detective.
12. The Perveen Mistry Series by Sujata Massey
Only one book, The Widows of Malabar Hill, has been released in this new series so far. But Massey's debut will surely keep you waiting for the sequel. Perveen Mistry is a lawyer—the only female lawyer in early 1920s Bombay, in fact—tasked with executing the will of a powerful mill owner survived by three widows. But the paperwork opens more questions than it answers.
Ruby Proulx is one the run from the authorities in late-1800s Canada after her con artist father runs afoul of the law. While hiding out at her aunt's hotel in Maine, she must use her tarot reading skills to help solve a series of crimes…all the while ensuring the cops don't find out about her dark past.
The Sweetness at the Bottom of the Pie kicks off this series about Flavia de Luce, an aspiring chemist who knows her poison. It's a little more contemporary than many other historical mystery series, kicking off in the 1950s.
The Best Private Detective Mysteries
Love detectives but hate the police procedural aspects of these stories? P.I. Jackson Brodie is the perfect compromise—he solves crimes without the police chief breathing down his back.
Cormoran Strike is your classic contemporary private eye—brash, reclusive, willing to bend the rules, and better at solving crime than the local police force. The first book in the series is The Cuckoo's Calling, but I started with The Silkworm.
---
Looking for more personalized mystery book series recommendations? Check out Book Riot's TBR book recommendation service, which lets you work with an expert bibliologist to stock your bookshelves!