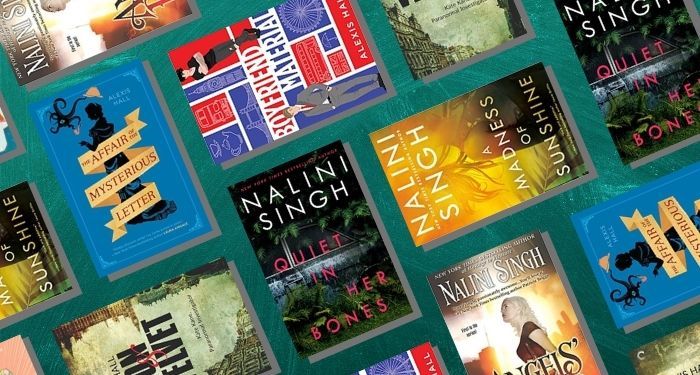 This content contains affiliate links. When you buy through these links, we may earn an affiliate commission.
This list of mystery authors with deep genre backlists was originally published in our mystery newsletter, Unusual Suspects. Sign up for it here to get news and recommendations for mystery/thriller readers!
Hello mystery fans! A while back I wrote about mystery writers who also write in other genres and I wanted to add two more authors to the list. It can be fun to have a deep backlist to dive into and I always like seeing how an author tackles different genres.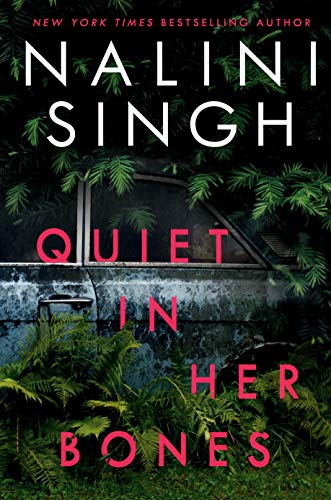 First up we have Nalini Singh, who has recently put out two standalone mystery novels set in New Zealand for those who like to armchair travel while armchair sleuthing. *raises hand*
Quiet in Her Bones is psychological suspense for fans of stories about small, wealthy neighborhoods with secrets ready to bubble over. Years ago, as a child, Aarav Rai heard a scream the night his mother disappeared, but everyone believed she stole her husband's money and ran. Now her body has been found and Aarav, now an adult, has to muddle through his recent injuries from an accident to uncover what happened to his mother… (Review)
A Madness of Sunshine is her other standalone, which I feel could easily start a series. It's a mystery that blends in a romance and a past mystery of missing women with a new missing woman mystery. It's also a great read for fans of the "woman who returned back home" story.
As for Nalini Singh's catalog, you're going to find a lot of series to dive deeply into if you love, or are looking to try out, paranormal romance. Angel's Blood starts her Guild Hunter series if you're in the mood for angels and vampires (always!). And Slave to Sensation starts her Psy-Changeling series if you're looking for a forbidden love trope; the Psy have great psychic powers with no feelings and the Changelings are shifters who feel greatly and pairings between the two are unheard of—you see where this is going!
But wait, there's even more! If you instead like your romance contemporary and want the whole bad boy vibe, check out Rock Addiction, the start to her Rock Kiss series.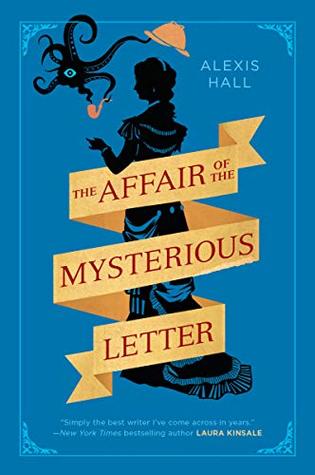 In the last couple years Alexis Hall has become a must-read for me, and he has a slew of upcoming releases that I am highly anticipating. For crime readers, he has one murder mystery standalone, and two that blend the mystery genre with fantasy.
Murder Most Actual is his standalone remote murder mystery that gives a nod to Agatha Christie while diving into the world of true crime podcasting. It's incredibly enjoyable, humorous, and fun as Liza and Hanna get stuck in a snowed-in weekend gateway while trying to work on their marriage and end up needing to solve murder(s) and stay alive! This is a Kobo exclusive which means you need the app to read the ebook or listen to the audiobook. I personally hate exclusives from any company because it immediately knocks out library patrons from having access, and in many cases physical book readers (or other formats). I was privileged enough to read an advanced copy, and am really glad because I very much enjoyed this book, but was planning on figuring out how to get the audiobook if not. I rarely give much stock to comps as I feel they're generally very off but I think in this case it's accurate to say "perfect for fans of Clue, Knives Out, and Only Murders in the Building!"
Staying in the mystery world but adding in fantasy, we have two more books that once again show Hall's great characters and humor. The Affair of the Mysterious Letter is fun and a bit weird and absolutely perfect for anyone who has every wondered what a book that pays homage to Sherlock blended with Lovecraftian fantasy + steampunk Victorian aesthetics would be like.
And for those who want to laugh, love vampires, monsters, and paranormal PIs, and are looking to start a series, look no further than Iron & Velvet (Kate Kane, Paranormal Investigator #1). During my holiday break I only read books that I wanted to read for pure pleasure that had no connection to work (and yet here we are!); this was my first choice which I paired as an audiobook while working on a massive jigsaw puzzle. It was fun and funny and reminded me how much I love vampires, and had some ass-kicking fighting monster scenes. Basically, all win-win for me. Kate Kane is sarcastic and very much the kind of lady lead I enjoy, plus she sets up the whole book by having a rule to never work for vampires and immediately breaks it to solve the case of a dead werewolf.
Along with the mystery books I've listed, Alexis Hall also writes romance, and his contemporary romances are all-time favorites of mine: Boyfriend Material (which gets a sequel this year: Husband Material–which I will purchase the second it hits libro.fm), and Rosaline Palmer Takes the Cake (which also has a sequel this year: Paris Daillencourt Is About to Crumble–which I will purchase the second it hits libro.fm). Boyfriend Material is a great read if you're a fan of the fake dating trope and Rosaline Palmer Takes the Cake is a hilarious read and perfect for fans of baking competitions.
And that's not even all! Two more contemporary M/M romance series starters of his are How to Bang a Billionaire (excellent title) and Glitterland.