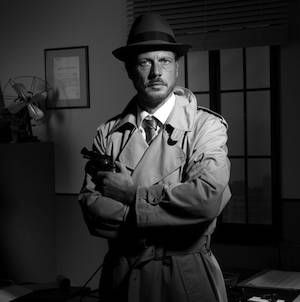 Mystery/Thriller
5 Mysteries I Would Solve Were I A Mystery Solving Bookstore Owner
This post is sponsored by Murder on Wheels by Lynn Cahoon.
The food truck craze has reached the charming coastal town of South Cove, California, but before Jill Gardner—owner of Coffee, Books, and More—can sample the eats, she has to shift gears and put the brakes on a killer. Now that Kacey Austin has got her new gluten-free dessert truck up and running, there's no curbing her enthusiasm—not even when someone vandalizes the vehicle and steals her recipes. But when Kacey turns up dead on the beach and Jill's best friend Sadie becomes the prime suspect, Jill needs to step on it to serve the real killer some just desserts.
____________________
I love a good cozy mystery, and of the various tropes in the genre (Chef as sleuth! Librarian as sleuth! Knitters as sleuths!) my favorite has to be bookstore-owning crime solver. A character who stocks shelves, reads voraciously, and solves mysteries, all in a day? Yes, please. Now, were I a mystery solving bookstore owner, I'd probably try to stay away from the murders (too messy, literally) and the break-ins (that's what insurance is for) and try to solve some bookish mysteries of the ages.
1. Who was Homer?
The writer of The Odyssey and The Iliad, or a fictional stand-in for a mash-up of bearers of the torches of the tradition of oral storytelling? We don't know when he lived or if he was even real–the 5th century BCE historian Herodotus said Homer lived about 400 years before Herodotus himself was born, but who knows how dependable that intel is? Were I a bookstore-owning solver of mysteries, I'd want to start here.
2. Shakespeare wrote Shakespeare's plays, let's stop talking about it.
I'd hightail it to Stratford-upon-Avon and find a way to lay this one to rest. It's not so much a mystery to solve (HE WROTE THEM MOVE ON) as a desire to find absolute proof so the conspiracy theories can be hushed forever and ever amen.
3. WTF happened to Ambrose Bierce?
Ambrose Bierce, best known for his short story "An Occurrence at Owl Creek Bridge," took off to Mexico in 1913 when he was 71 years old to watch Pancho Villa's revolution. He wrote letters about his trip to his cousin, but soon after his departure the letters stopped and he was never heard from again. Did he die? Fade away into quiet village life? I WANT ANSWERS.
4. See also: Edgar Allan Poe
Edgar Allan Poe died in Baltimore on a Sunday in October after he was found wandering the streets, barely coherent. He spent a few days in the hospital before he died, but was never conscious enough to tell anyone how he got into the state he was in, or where he was going, or anything, really. Theories of his cause of death range from alcoholism to suicide by opium overdose to attempted murder to syphilis to rabies. I'd like to figure it out once and for all, somehow.
5. Where did Agatha Christie go that one time?
In 1926, after arguing with her husband over his desire for a divorce, Agatha Christie left her home and disappeared for 10 days. She left a note for her secretary saying she was traveling to Yorkshire, but her car was found at a chalk quarry. When she was found, it was in Yorkshire where she was staying under a fake name (the last name of which was her husband's mistress' name). She was diagnosed with amnesia, and doesn't mention the episode in her autobiography. Where did she go and why? Inquiring minds, etc.
That's it for me! What literary mysteries would you like to solve?