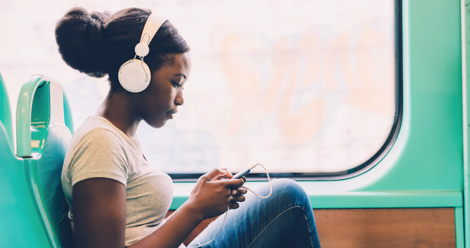 This content contains affiliate links. When you buy through these links, we may earn an affiliate commission.
There is an art to creating the perfect summer music playlist. It's almost like writing a story:
Create a theme and title. Last year, my summer playlist was called Red Hot, because it had a lot of Red Hot Chili Peppers songs on it (I get no points for originality).
Songs. There's an expertise to picking songs, and then putting them in the right order. If a certain song puts you in a certain mood, and then the next song starts playing and it ruins that mood, the playlist has failed.
Delete. So last, you need to listen to that playlist over and over, and if there's a song on the list that's a dud, get rid of it.
Last week, as I was creating my own summer music playlist that I'll use for driving, running, gardening, etc. I thought– could the same rules that apply to making a music playlist work to create a summer reading list?
And yeah, why the hell not? I'm not good at themed reading, but who said the theme needed to be airtight; it could be ambiguous like some of Spotify's playlist titles: "Flourish & Thrive" or "Soak up the Sun" or "Stay Wild" or "Tear Drop".
So, over the past week, this idea has had many manifestations, and now my library is going to use the reading playlist idea as an adult reading challenge for the summer (the summer reading theme is Libraries Rock). We're going to call it Summer Reading Mixtape 2018, and basically, anyone who decides they want to participate will get a reading log where they'll record their perfect summer reading playlist/mixtape, and every week I'll create a new "mixtape/playlist" display, so our patrons can get new ideas for their own reading log.
But now I have to come up with eight weeks worth of playlist names and book titles that complement the weekly themes. Woo-hoo. There's nothing like creating under pressure, am I right?
So I've been thinking, and borrowing a lot of ideas from books, and these are the playlist names I've come up with so far (I have more than I need so I can make substitutions):
"All Our Yesterdays" (historical fiction) -Shakespeare
"A Pretty Sight, a Lady With a Book" (female authors) -Shirley Jackson
"What I Saw Through the Window" (mystery) -me
"Dragons Can Be Beaten" (fantasy) -Neil Gaiman
"Show Me a Hero" (not sure, but I like it) -F. Scott Fitzgerald
"Smelling Salts and Swoons" (Romance) -me
"Into the Setting Sun" (Western) -me
"Good Friends, Good Books" (staff picks) -Mark Twain
"Unique, Portable Magic" (fantasy) -Stephen King
"No Friend As Loyal as a Book" (staff picks) -Ernest Hemingway
"Truth is Stranger Than Fiction" (nonfiction) -Mark Twain
"Expect the Unexpected" (graphic novels) -Lynda Barry
"The World is a Book" (around the world) -me, mostly
"Dispute Not With Her" (female authors- the rest of the quote is "she is lunatic", but I'm taking ownership of Shakespeare's quote, and keeping the good part)
Okay, that's what I have for the library, but what about my own summer reading playlist? That's where this all started, right?
I anticipate summer reading all year. When I return a book to the library after not being able to read it I say "I'll get to it in the summer". The books that lay forlorn and ignored on my bookshelf through the cold months, I tell them "I'll read you during the summer". When I buy a new bookshelf that I subsequently fill up with new books, I tell myself "I'll get to those during the summer". When I binge watch another Netflix show, and let the books accumulate around me I say "No T.V. over the summer, only books".
My summer reading intentions are good, but my habits are bad, so hopefully creating a challenge for myself, that I'll share with people at the library will help me have a more successful summer of reading. So, summer reading playlist, here I come!
A good playlist has: a title, great songs/books, and leaves room to delete what doesn't work.
Well, here it is:
Title:
"Transport Me, O Wizards of Words!"
Playlist:
I would love to hear more ideas for playlist names!
And just to get a better idea of what this will all look like in the library: every patron will get a bookmark/reading log that's in the shape of a mixtape, and a button pin (our button pins feature musicians and vintage book covers– they're amazing!!). Throughout the summer they'll fill out their log, and turn it in at the end to earn a prize. This was all a last minute idea, so hopefully we can pull it off smoothly! It's been a blast creating a display around this theme though– I've been watching a lot of High Fidelity and Pretty in Pink to get the aesthetics right!
Have a joyous summer of reading!