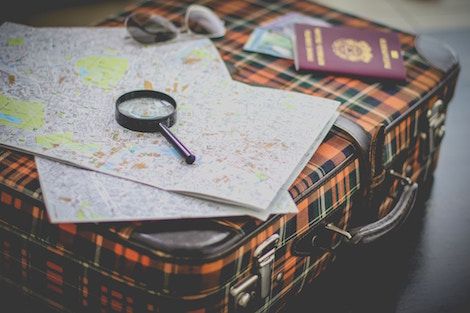 Lists
50 Must-Read Young Adult Mysteries
This content contains affiliate links. When you buy through these links, we may earn an affiliate commission.
Two of my favourite kinds of books are young adult and mystery. So obviously when the two are combined, you have my attention. Personally, I love a good, quiet, personal mystery. They're the ones that focus more on the people the thing happens to and not necessarily on the solving of the mystery. But, just like the adult mystery genre, young adult mysteries are varied and diverse. Like procedurals, spy mysteries, super sleuths? There's something for everyone. Looking for a great read? Here are 50 must-read young adult mysteries!
"Mary Quinn is surprised to be offered a singular education, instruction in fine manners—and an unusual vocation. Miss Scrimshaw's Academy for Girls is a cover for an all-female investigative unit called The Agency, and at seventeen, Mary is about to put her training to the test. Assuming the guise of a lady's companion, she must infiltrate a rich merchant's home in hopes of tracing his missing cargo ships. But the household is full of dangerous deceptions, and there is no one to trust—or is there?"
"Craving a taste of teenage life, Asiya Haque defies her parents to go for a walk (really, it was just a walk!) in the woods with Michael, her kind-of-friend/crush/the guy with the sweetest smile she's ever seen. Her tiny transgression goes completely off track when they stumble on a dead body. Michael covers for Asiya, then goes missing himself."
"Mrs. Temminnick…enrolls [her daughter] Sophronia in Mademoiselle Geraldine's Finishing Academy for Young Ladies of Quality. But Sophronia soon realizes the school is not quite what her mother might have hoped. At Mademoiselle Geraldine's, young ladies learn to finish…everything. Certainly, they learn the fine arts of dance, dress, and etiquette, but they also learn to deal out death, diversion, and espionage—in the politest possible ways, of course."
A Study in Charlotte (Charlotte Holmes #1) by Brittany Cavallaro
"Sherringford is home to Charlotte Holmes, the famous detective's great-great-great-granddaughter, who has inherited not only Sherlock's genius but also his volatile temperament. From everything Jamie has heard about Charlotte, it seems safer to admire her from afar. But when a Sherringford student dies under suspicious circumstances, Jamie can no longer afford to keep his distance. Jamie and Charlotte are being framed for murder, and only Charlotte can clear their names."
Pointe by Brandy Colbert
"Theo is better now. She's eating again, dating guys who are almost appropriate, and well on her way to becoming an elite ballet dancer. But when her oldest friend, Donovan, returns home after spending four long years with his kidnapper, Theo starts reliving memories about his abduction—and his abductor."
The Reader (Sea of Ink and Gold #1) by Traci Chee
"Sefia lives her life on the run. After her father is viciously murdered, she flees to the forest with her aunt Nin, the only person left she can trust. But when Nin is kidnapped, Sefia is suddenly on her own, with no way to know who's taken Nin or where she is. Her only clue is a strange rectangular object that once belonged to her father left behind, something she comes to realize is a book. With no time to lose, and the unexpected help of swashbuckling pirates and an enigmatic stranger, Sefia sets out on a dangerous journey to rescue her aunt, using the book as her guide."
"Ten years ago…seven-year-old Samantha and her next door neighbor, Remy, watched as a man broke into Sam's home and took her younger sister, Turtle, from her sleeping bag. Now, Sam's shattered family is returning to her childhood home in an effort to heal. As long-buried memories begin to surface, Sam wonders if she and Remy accurately registered everything they saw. The more they re-examine the events of that fateful night, the more questions they discover about what really happened to Turtle."
"Anywhere else, they'd be vermin. At the Mandel Academy, they're called prodigies. The most exclusive school in New York City has been training young criminals for over a century. Only the most ruthless students are allowed to graduate. The rest disappear."
"It's Spring Break of senior year. Anna, her boyfriend Tate, her best friend Elise, and a few other close friends are off on a debaucherous trip to Aruba that promises to be the time of their lives. But when Elise is found brutally murdered, Anna finds herself trapped in a country not her own, fighting against vile and contemptuous accusations."
"Claire Takata has never known much about her father, who passed away when she was a little girl. But on the anniversary of his death she finds a mysterious letter from her deceased father, addressed to her stepfather. Claire never even knew that they had met. In search of answers, Claire combs through anything that will give her information about her father…until she discovers he was a member of the yakuza, the Japanese mafia. The discovery opens a door that should have been left closed."
Complicit
by Stephanie Keuhn
"Two years ago, sixteen-year-old Jamie Henry breathed a sigh of relief when a judge sentenced his older sister to juvenile detention for burning down their neighbor's fancy horse barn. The whole town did. Because Crazy Cate Henry used to be a nice girl. Until she did a lot of bad things. Like drinking. And stealing. And lying. Like playing weird mind games in the woods with other children. Like making sure she always got her way. Or else. But today Cate got out. And now she's coming back for Jamie. Because more than anything, Cate Henry needs her little brother to know this one simple truth: She's not the crazy one and never has been."
"From the author of We Were Liars comes a masterful new psychological suspense novel—the story of a young woman whose diabolical smarts are her ticket into a charmed life. But how many times can someone reinvent themselves? You be the judge."
"When six-year-old Laurel Logan was abducted, the only witness was her younger sister, Faith. Thirteen years later, a young woman is found in the garden of the Logans' old house, disorientated and clutching the teddy bear Laurel was last seen with. Faith always dreamed of getting her sister back, without ever truly believing it would happen. But a disturbing series of events leaves Faith increasingly isolated and paranoid, and before long she begins to wonder if everything that's lost can be found again…"
"Ellingham Academy is a famous private school in Vermont for the brightest thinkers, inventors, and artists. It was founded by Albert Ellingham [and] shortly after the school opened, his wife and daughter were kidnapped. The only real clue was a mocking riddle listing methods of murder, signed with the frightening pseudonym, Truly Devious. [Now] true-crime aficionado Stevie Bell is set to begin her first year at Ellingham Academy, and she has an ambitious plan: She will solve this cold case. But something strange is happening. Truly Devious makes a surprise return, and death revisits Ellingham Academy."

"Mila Flores and her best friend Riley have always been inseparable. So when Riley and two Fairmont Academy mean girls die under suspicious circumstances, Mila refuses to believe her BFF was involved in a suicide pact. Instead, armed with a tube of lip gloss and an ancient grimoire, Mila does the unthinkable to uncover the truth: she brings the girls back to life. Unfortunately, Riley, June, and Dayton have no recollection of their murders. Now Mila must wrangle the distracted group of undead teens and work fast to discover their murderer…before the killer strikes again."

"Rufus Holt is having the worst night of his life. It begins with the reappearance of his ex-boyfriend, Sebastian. Things couldn't get much worse, right? But then Rufus gets a call from his sister April, begging for help. And then he and Sebastian find her, drenched in blood and holding a knife, beside the dead body of her boyfriend, Fox Whitney. April swears she didn't kill Fox—but Rufus knows her too well to believe she's telling him the whole truth."
"When sixteen-year-old Tariq Johnson dies from two gunshot wounds, his community is thrown into an uproar. Tariq was black. The shooter, Jack Franklin, is white. In the aftermath of Tariq's death, everyone has something to say, but no two accounts of the events line up. Tariq's friends, family, and community struggle to make sense of the tragedy. In their own words, they grapple for a way to say with certainty: This is how it went down."
"All Imogene Scott knows of her mother is the bedtime story her father told her as a child. Now Imogene is seventeen, and her father, a famous author of medical mysteries, has struck out in the middle of the night and hasn't come back. Neither Imogene's stepmother nor the police know where he could've gone, but Imogene is convinced he's looking for her mother. And she decides it's up to her to put to use the skills she's gleaned from a lifetime of reading her father's books to track down a woman she's only known in stories in order to find him and, perhaps, the answer to the question she's carried with her for her entire life."
As Red as Blood
(Lumikki Andersson #1)
by Salla Simukka, Owen Frederick Witesman (Translation)
"Lumikki Andersson has made it a rule to stay out of things that do not involve her. But Lumikki's rule is put to the test when she uncovers thousands of washed Euro notes hung to dry in her school's darkroom and three of her classmates with blood on their hands. Literally. A web of lies and deception now has Lumikki on the run from those determined to get the money back—no matter the cost. At the center of the chaos: Polar Bear, the mythical drug lord. If Lumikki hopes to make it out alive, she'll have to uncover the entire operation"
"Evie O'Neill has been exiled from her boring old hometown and shipped off to the bustling streets of New York City. It's 1926, and New York is filled with speakeasies, Ziegfeld girls, and rakish pickpockets. The only catch is that she has to live with her uncle Will and his unhealthy obsession with the occult. Evie worries he'll discover her darkest secret: a supernatural power that has only brought her trouble so far. But when the police find a murdered girl branded with a cryptic symbol and Will is called to the scene, Evie realizes her gift could help catch a serial killer."
"The one secret she cares about keeping—her identity—is about to be exposed. Unless Lauren "Panda" Daniels—an anonymous photoblogger who specializes in busting classmates and teachers in compromising positions—plays along with her blackmailer's little game of Dare or…Dare. But when the game turns deadly, Panda doesn't know what to do. And she may need to step out of the shadows to save herself…and everyone else on the Admirer's hit list."
"Three years ago, when [Alex's] older sister, Anna, was murdered and the killer walked free, Alex uncaged the language she knows best—the language of violence. While her own crime goes unpunished, Alex knows she can't be trusted among other people. Not with Jack, the star athlete who wants to really know her but still feels guilty over the role he played the night Anna's body was discovered. And not with Peekay, the preacher's kid with a defiant streak who befriends Alex while they volunteer at an animal shelter. Not anyone. As their senior year unfolds, Alex's darker nature breaks out, setting these three teens on a collision course that will change their lives forever."
Stormbreaker
(A
lex Rider #1
) by Anthony Horowitz
"They told him his uncle died in an accident. He wasn't wearing his seatbelt, they said. But when fourteen-year-old Alex finds his uncle's windshield riddled with bullet holes, he knows it was no accident. What he doesn't know yet is that his uncle was killed while on a top-secret mission. But he is about to, and once he does, there is no turning back. Finding himself in the middle of terrorists, Alex must outsmart the people who want him dead. The government has given him the technology, but only he can provide the courage. Should he fail, every child in England will be murdered in cold blood."
"No one ever really paid close attention to the faces of the missing children on the milk cartons. But as Janie Johnson glanced at the face of the ordinary little girl—a three-year-old who had been kidnapped twelve years before from a shopping mall in New Jersey—she felt overcome with shock. She recognized that little girl—it was she. Janie can't believe that her loving parents kidnapped her, but as she begins to piece things together, nothing makes sense. Are Mr. and Mrs. Johnson really Janie's parents? And if not, who is Janie Johnson, and what really happened?"
"17-year-old Arman Dukoff is struggling with severe anxiety and a history of self-loathing when he arrives at an expensive self-help retreat in the remote hills of Big Sur. He's taken a huge risk for a chance to "evolve," as Beau, the retreat leader, says. Beau is complicated. A father figure? A cult leader? A con man? Arman's not sure, but more than anyone he's ever met, Beau makes Arman feel something other than what he usually feels—worthless. And then, in an instant Arman can't believe or totally recall, Beau is gone. Suicide? Or murder? Arman was the only witness and now the compound is getting tense. And maybe dangerous."
The Outliers
(#1)
by Kimberly McCreight
"It all starts with a text: Please, Wylie, I need your help. Wylie hasn't heard from Cassie in over a week, not since their last fight. Instead of telling Wylie where she is, Cassie sends cryptic clues. And instead of having Wylie come by herself, Jasper shows up saying Cassie sent him to help. Trusting the guy who sent Cassie off the rails doesn't feel right, but Wylie has no choice: she has to ignore her gut instinct and go with him. But figuring out where Cassie is goes from difficult to dangerous, fast. What isn't Cassie telling them? And could finding her be only the beginning?"
"Sixteen-year-old Gemma is kidnapped from Bangkok airport and taken to the Australian Outback. Ty, her captor, is no stereotype. He is young, fit and completely gorgeous. This new life in the wilderness has been years in the planning. He loves only her, wants only her. Under the hot glare of the Australian sun, cut off from the world outside, can the force of his love make Gemma love him back?"
"The Breakfast Club meets Pretty Little Liars, One of Us Is Lying is the story of what happens when five strangers walk into detention and only four walk out alive. Everyone is a suspect, and everyone has something to hide."
"Seventeen-year-old Aussie Che Taylor loves his younger sister, Rosa. But he's also certain that she's a psychopath—clinically, threateningly, dangerously. Recently Rosa has been making trouble, hurting things. Che is the only one who knows; he's the only one his sister trusts. Rosa is smart, talented, pretty, and very good at hiding what she is and the manipulation she's capable of. Che's always been Rosa's rock, protecting her from the world. Now, the world might need protection from her."
"Until the night she disappeared with her best friend, Cassie, everyone said Sam had it all. Sam has resurfaced, but she has no recollection of who she was or what happened to her that night. As she tries to piece together her life from before, she realizes it's one she no longer wants any part of. The old Sam took "mean girl" to a whole new level. But Cassie is still missing, and the truth about what happened to her that night isn't just buried deep inside of Sam's memory—someone else knows, someone who wants to make sure Sam stays quiet. But what if not remembering is the only thing keeping Sam alive?"
"The house on Arrow Island is full of mystery. Yet when Mei arrives, she can't help feeling relieved. She's happy to spend the summer in an actual mansion tutoring a rich man's daughter if it means a break from her normal life—her needy mother, her delinquent brother, their tiny apartment in the city. And Ella Morison seems like an easy charge, sweet and well behaved. Though she tries to focus on her duties, Mei becomes increasingly distracted by the family's problems and her own complicated feelings for Ella's brother, Henry. But most disturbing of all are the unexplained noises she hears at night—the howling and thumping and cries."
The Fixer
by Jennifer Lynn Barnes
"When sixteen-year-old Tess Kendrick's estranged sister Ivy uproots her to D.C., Tess is thrown into a world that revolves around politics and power. She also starts at Hardwicke Academy, the D.C. school for the children of the rich and powerful, where she unwittingly becomes a fixer for the high school set, fixing teens' problems the way her sister fixes their parents' problems. And when a conspiracy surfaces that involves the family member of one of Tess's classmates, love triangles and unbelievable family secrets come to light and life gets even more interesting—and complicated—for Tess."
I Hunt Killers
(Jasper Dent #1)
by Barry Lyga
"Jasper 'Jazz' Dent is a likable teenager. A charmer, one might say. But he's also the son of the world's most infamous serial killer. Jazz has witnessed crime scenes the way cops wish they could—from the criminal's point of view. And now bodies are piling up in Lobo's Nod. In an effort to clear his name, Jazz joins the police in a hunt for a new serial killer. But Jazz has a secret—could he be more like his father than anyone knows?"
"Fin and Betty's close friendship survived Fin's ninth-grade move from their coastal Maine town to Manhattan. [I]n the fall of their senior year, they both applied to NYU, planning to reunite for good as roommates. Then Betty disappears. Her ex-boyfriend Calder admits to drowning her, but his confession is thrown out, and soon the entire town believes he was coerced and Betty has simply run away. Fin knows the truth, and she returns to Williston for one final summer, determined to get justice for her friend, even if it means putting her loved ones—and herself—at risk."
Heist Society
(Heist Society #1)
by Ally Carter
"When Katarina Bishop was three, her parents took her on a trip to the Louvre…to case it. For her seventh birthday, Katarina and her Uncle Eddie traveled to Austria…to steal the crown jewels. When Kat turned fifteen, she planned a con of her own—scamming her way into the best boarding school in the country, determined to leave the family business behind. Unfortunately, leaving 'the life' for a normal life proves harder than she'd expected."
"Meet Scarlett, a smart, sarcastic, kick-butt, Muslim American heroine, ready to take on crime in her hometown of Las Almas. When a new case finds the private eye caught up in a centuries-old battle of evil genies and ancient curses, Scarlett discovers that her own family secrets may have more to do with the situation than she thinks—and that cracking the case could lead to solving her father's murder."
"The first time Philip Digby shows up on Zoe Webster's doorstep, he's rude and he treats her like a book he's already read and knows the ending to. But before she knows it, Zoe's allowed Digby—annoying, brilliant, and somehow…attractive? Digby—to drag her into a series of hilarious, dangerous, and only vaguely legal schemes all related to the kidnapping of a local teenage girl. A kidnapping that might be connected to the tragic disappearance of his little sister eight years ago. When it comes to Digby, Zoe just can't say no."
Find Me
(#1)
by Romily Bernard
"'Find Me.' These are the words written on Tessa Waye's diary. The diary that ends up with Wick Tate. But Tessa's just been found…dead.Wick has the right computer-hacking skills for the job, but little interest in this perverse game of hide-and-seek. Until her sister Lily is the next target. Then Griff, trailer-park boy next door and fellow hacker, shows up, intent on helping Wick. Is a happy ending possible with the threat of Wick's deadbeat dad returning, the detective hunting him sniffing around Wick instead, and a killer taunting her at every step?"
Vanished
(#1)
by E.E. Cooper
"Kalah knows better than to fall for Beth Taylor…but that doesn't stop her from falling hard and falling fast, heart first into a sea of complications. Then Beth vanishes, leaving behind a flurry of rumors and a string of broken hearts. Not even Beth's best friend, Britney, knows where she went. Beth didn't even tell Kalah good-bye. One of the rumors links Beth to Britney's boyfriend, and Kalah doesn't want to believe the betrayal. Kalah's caught in the middle of a deadly psychological game, and only she can untangle the deceptions and lies to reveal the unthinkable truth."
"Once upon a time, two best friends created a princess together. Libby drew the pictures, May wrote the tales. [A] few years later Libby passed away, and Princess X died with her. [Now] May is sixteen and lonely, wandering the streets of Seattle, when she sees a sticker slapped in a corner window. When May looks around, she sees Princess X everywhere: Stickers. Patches. Graffiti. There's an entire underground culture, focused around a webcomic at IAmPrincessX.com. The more May explores the webcomic, the more she sees disturbing similarities between Libby's story and Princess X online. And that means that only one person could have started this phenomenon—her best friend, Libby, who lives."
"With barely a foot in the door, fifteen-year-old Chanti gets on the bad side of school queen bee Lissa and snobbish Headmistress Smythe. They've made it their mission to take Chanti down and she needs to find out why, especially when stuff begins disappearing around campus, making her the most wanted girl in school, and not in a good way. But the last straw comes when she and her Langdon crush, the seriously hot Marco Ruiz, are set up to take the heat for a series of home burglaries—and worse…"
Lock & Mori
(#1)
by Heather W Petty
"In modern-day London, two brilliant high school students—one Sherlock Holmes and a Miss James 'Mori' Moriarty—meet. A murder will bring them together. The truth very well might drive them apart."
"Seventeen-year-old Violet's entire life has revolved around one thing: becoming Erica Silverman, an heiress kidnapped at age five and never seen again.Violet's father, the best con man in Las Vegas, has a plan, chilling in its very specific precision. [W]hen the time is right, she 'reappears'—Erica Silverman, brought home by some kind of miracle. But she is also Violet, and she has a job: Stay long enough to steal the Silverman Painting, an Old Master legendary in the Vegas crime world."
"Jo Montfort is beautiful and rich, and soon she'll graduate from finishing school and be married off to a wealthy bachelor. Which is the last thing she wants. Jo secretly dreams of becoming a writer. Jo's life seems perfect until tragedy strikes: her father is found dead. Charles Montfort accidentally shot himself while cleaning his revolver. Jo knows he was far too smart to clean a loaded gun. The more Jo uncovers about her father's death, the more her suspicions grow. [Soon] it becomes all too clear how much she stands to lose if she keeps searching for the truth. Only now it might be too late to stop."
The Naturals
(The Naturals #1)
by Jennifer Lynn Barnes
"Seventeen-year-old Cassie is a natural at reading people. But it's not a skill that she's ever taken seriously. That is, until the FBI come knocking: they've begun a classified program that uses exceptional teenagers to crack infamous cold cases, and they need Cassie. Soon, it becomes clear that no one in the Naturals program is what they seem. And when a new killer strikes, danger looms closer than Cassie could ever have imagined. Caught in a lethal game of cat and mouse with a killer, the Naturals are going to have to use all of their gifts just to survive."
"Seventeen-year-old Audrey Rose Wadsworth was born a lord's daughter, with a life of wealth and privilege stretched out before her. But between the social teas and silk dress fittings, she leads a forbidden secret life. Against her stern father's wishes and society's expectations, Audrey often slips away to her uncle's laboratory to study the gruesome practice of forensic medicine. When her work on a string of savagely killed corpses drags Audrey into the investigation of a serial murderer, her search for answers brings her close to her own sheltered world."
"There are ghosts around every corner in Fayette, Pennsylvania. Tessa left when she was nine and has been trying ever since not to think about it after what happened there that last summer. Callie never left. Tessa and Callie have never talked about what they saw that night. After the trial, Callie drifted and Tessa moved, and childhood friends just have a way of losing touch. But ever since she left, Tessa has had questions. Things have never quite added up. And now she has to go back to Fayette—to Wyatt Stokes, sitting on death row; to Lori Cawley, Callie's dead cousin; and to the one other person who may be hiding the truth."
"Max Cantrell has never been a big fan of the truth, so when the opportunity arises to sell forged permission slips and cover stories to his classmates, it sounds like a good way to make a little money and liven up a boring senior year. When [his friend] Preston wants his own cover story to go visit a girl he met online, Max doesn't think twice about hooking him up. Until Preston never comes home. Then the evidence starts to pile up—terrifying clues that lead the cops to Preston's body. Terrifying clues that point to Max as the murderer. Can Max find the real killer before he goes to prison for a crime he didn't commit?"
"Andrea Faraday is junior class valedictorian at the exclusive Woodruff School, where she was voted Most Likely to Do Everything Right. But looks can be deceiving. When her parents disappear, her life and her Perfect Girl charade begins to crumble, and her scheme to put things right just takes the situation from bad to so much worse. Pretty soon she's struck up the world's least likely friendship with the juvenile delinquents at Justice Academy, the last exit on the road to jail and the first stop on the way out. When it turns out they share a common enemy, Drea suggests they join forces to set things right. Sometimes, to save the day, a good girl's gotta be bad."
"It's 1972 and fourteen-year-old New Yorker Elizabeth Landers is sent to the sleepy town of Ahoskie, North Carolina to spend the summer with relatives. Her expectation of boredom is quickly dispelled when police sirens and flashing lights draw her to a horrible scene at the Danbury Bridge. Mr. Samuel has driven his car off the bridge and into the river, drowning himself and his daughter. The medical examiner thinks it's an accident, but the Sheriff finds fresh bullet holes on the bridge right where the skid marks are. Curiously, Mr. Samuel died clutching a unique 1909 wheat penny—a penny that is then stolen from the Sheriff's office. Lizbeth witnesses Miss Violet's grief upon learning that her husband and child are dead, and decides she will help by finding the penny."
Looking for more young adult mysteries? Check out these 10 mystery books for teens. You can also follow all our young adult and mystery/thriller coverage!