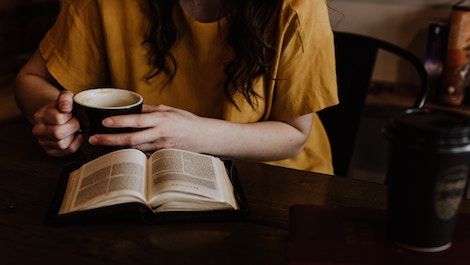 Nonfiction
50 Must-Read YA Nonfiction Books (Plus 11 more!)
This content contains affiliate links. When you buy through these links, we may earn an affiliate commission.
Highlighting nonfiction for teens is one of my passions. It's a category within the YA category that's so often overlooked, but YA nonfiction is becoming stronger and stronger, with each year bringing even more compelling work. What makes YA nonfiction books stand out is that they're often on exciting or interesting topics and they're written in the same style that makes YA fiction so appealing—it's often shorter, cutting out some of the lengthier details in exchange for a tighter narrative and, perhaps what makes it most appealing to me, it encourages readers to seek out even more knowledge if the topic at hand excites them.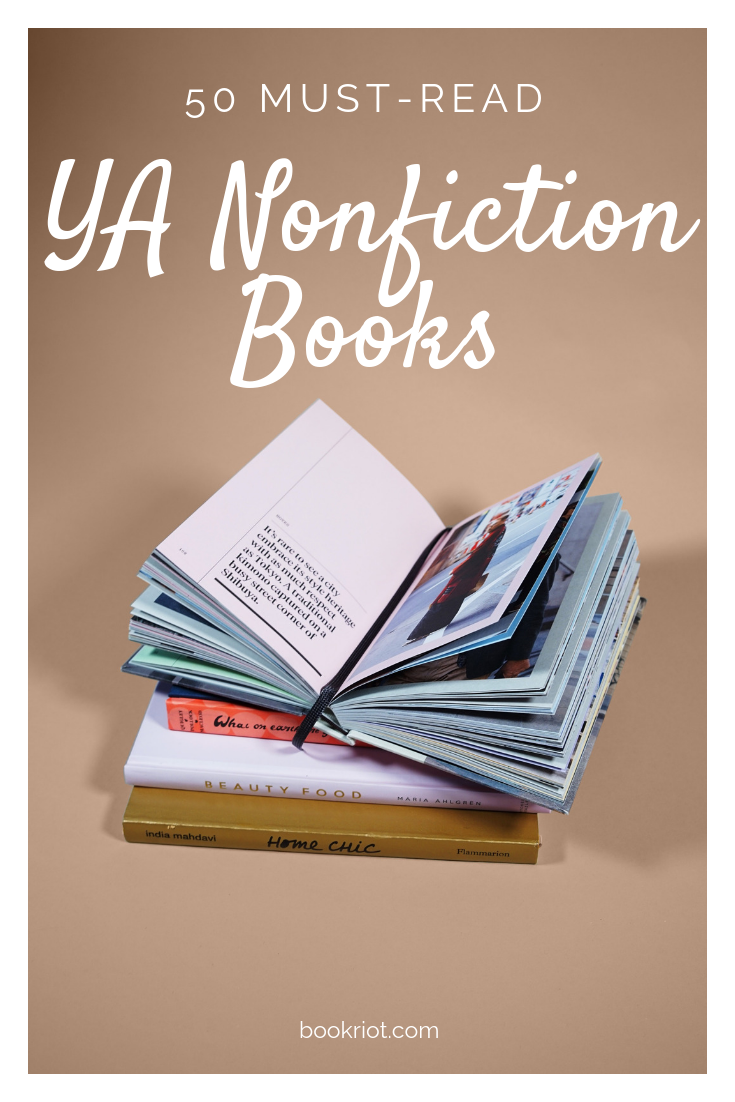 YA nonfiction covers everything topic-wise that adult nonfiction covers. There are memoirs and biographies, histories of events or individuals who changed the course of those historical events, personal essay collections, and more. They're not just prose, either. Some YA nonfiction books are told through the comic format while others are told through scrapbook style formatting, allowing images and documents to pepper the prose. Some are also told in verse.
One of the challenges of defining YA nonfiction books, though, comes from age distinctions. Often, nonfiction for young readers is categorized as being for ages 10–14. This hits squarely in the middle of books for middle grade readers and books for young adult readers. Others are marketed as for 12 and older or 14 and older. This list includes titles that fall on the lower side of the age range, as well as those which lean on the older side.
Not included in this roundup are collective biographies, since collective biographies about women have been well-covered territory. I've limited title selections to one per author, though I've indicated with a * those authors who have multiple nonfiction YA books worth exploring.
This list won't contain everyone's favorite YA nonfiction books, of course, as no list can. I'd love to hear some of your favorites in the comments to add even more to this 50 (er, 61!) must-reads list.
Descriptions come from Amazon, since I've not yet read all of these!
Must-Read YA Nonfiction Books
The 57 Bus: A True Story of Two Teenagers and the Crime That Changed Their Lives by Dashka Slater
One teenager in a skirt.
One teenager with a lighter.
One moment that changes both of their lives forever.
If it weren't for the 57 bus, Sasha and Richard never would have met. Both were high school students from Oakland, California, one of the most diverse cities in the country, but they inhabited different worlds. Sasha, a white teen, lived in the middle-class foothills and attended a small private school. Richard, a black teen, lived in the crime-plagued flatlands and attended a large public one. Each day, their paths overlapped for a mere eight minutes. But one afternoon on the bus ride home from school, a single reckless act left Sasha severely burned, and Richard charged with two hate crimes and facing life imprisonment. The case garnered international attention, thrusting both teenagers into the spotlight.
In 1892, America was obsessed with a teenage murderess, but it wasn't her crime that shocked the nation – it was her motivation. Nineteen-year-old Alice Mitchell had planned to pass as a man in order to marry her seventeen-year-old fiance Freda Ward, but when their love letters were discovered, they were forbidden from ever speaking again.
Freda adjusted to this fate with an ease that stunned a heartbroken Alice. Her desperation grew with each unanswered letter – and her father's razor soon went missing. On January 25, Alice publicly slashed her ex-fiance's throat. Her same-sex love was deemed insane by her father that very night, and medical experts agreed: This was a dangerous and incurable perversion.
As the courtroom was expanded to accommodate national interest, Alice spent months in jail – including the night that three of her fellow prisoners were lynched (an event which captured the attention of journalist and civil rights activist Ida B. Wells).
After a jury of "the finest men in Memphis" declared Alice insane, she was remanded to an asylum, where she died under mysterious circumstances just a few years later. Alice + Freda Forever recounts this tragic, real-life love story with over 100 illustrated love letters, maps, artifacts, historical documents, newspaper articles, courtroom proceedings, and intimate, domestic scenes – painting a vivid picture of a sadly familiar world.
Here is the story of extraordinary leader Alice Paul, from the women's suffrage movement—the long struggle for votes for women—to the "second wave," when women demanded full equality with men. Paul made a significant impact on both. She reignited the sleepy suffrage moment with dramatic demonstrations and provocative banners. After women won the vote in 1920, Paul wrote the Equal Rights Amendment (ERA), which would make all the laws that discriminated against women unconstitutional. Passage of the ERA became the rallying cry of a new movement of young women in the 1960s and '70s. Paul saw another chance to advance women's rights when the landmark Civil Rights Act of 1964 began moving through Congress. She set in motion the "sex amendment," which remains a crucial legal tool for helping women fight discrimination in the workplace. Includes archival images, author's note, bibliography, and source notes.
At thirteen, bright-eyed, straight-A student Sara Saedi uncovered a terrible family secret: she was breaking the law simply by living in the United States. Only two years old when her parents fled Iran, she didn't learn of her undocumented status until her older sister wanted to apply for an after-school job, but couldn't because she didn't have a Social Security number.
Fear of deportation kept Sara up at night, but it didn't keep her from being a teenager. She desperately wanted a green card, along with clear skin, her own car, and a boyfriend.

Americanized follows Sara's progress toward getting her green card, but that's only a portion of her experiences as an Iranian-"American" teenager. From discovering that her parents secretly divorced to facilitate her mother's green card application to learning how to tame her unibrow, Sara pivots gracefully from the terrifying prospect that she might be kicked out of the country at any time to the almost-as-terrifying possibility that she might be the only one of her friends without a date to the prom. This moving, often hilarious story is for anyone who has ever shared either fear.
Becoming Maria: Love and Chaos in the South Bronx by Sonia Manzano
Set in the 1950s in the Bronx, this is the story of a girl with a dream. Emmy award-winning actress and writer Sonia Manzano plunges us into the daily lives of a Latino family that is loving–and troubled. This is Sonia's own story rendered with an unforgettable narrative power. When readers meet young Sonia, she is a child living amidst the squalor of a boisterous home that is filled with noisy relatives and nosy neighbors. Each day she is glued to the TV screen that blots out the painful realities of her existence and also illuminates the possibilities that lie ahead. But–click!–when the TV goes off, Sonia is taken back to real-life–the cramped, colorful world of her neighborhood and an alcoholic father. But it is Sonia's dream of becoming an actress that keeps her afloat among the turbulence of her life and times. Spiced with culture, heartache, and humor, this memoir paints a lasting portrait of a girl's resilience as she grows up to become an inspiration to millions.
Sonia Sotomayor was just a girl when she dared to dream big. Her dream? To become a lawyer and a judge even though she'd never met one of either, and none lived in her neighborhood.
Sonia did not let the hardships of her background—which included growing up in the rough housing projects of New York City's South Bronx, dealing with juvenile diabetes, coping with parents who argued and fought personal demons, and worrying about money—stand in her way. Always, she believed in herself. Her determination, along with guidance from generous mentors and the unwavering love of her extended Puerto Rican family, propelled her ever forward.
Eventually, all of Sonia's hard work led to her appointment as an Associate Justice of the United States Supreme Court in 2009, a role that she has held ever since.
Learn about Justice Sotomayor's rise and her amazing work as well as about the Supreme Court in this fascinating memoir that shows that no matter the obstacles, dreams can come true.
Bite of The Mango
by
Mariatu Kamara and
Susan McClelland
As a child in a small rural village in Sierra Leone, Mariatu Kamara lived peacefully surrounded by family and friends. Rumors of rebel attacks were no more than a distant worry. But when 12-year-old Mariatu set out for a neighboring village, she never arrived. Heavily armed rebel soldiers, many no older than children themselves, attacked and tortured Mariatu. During this brutal act of senseless violence they cut off both her hands. Stumbling through the countryside, Mariatu miraculously survived. The sweet taste of a mango, her first food after the attack, reaffirmed her desire to live, but the challenge of clutching the fruit in her bloodied arms reinforced the grim new reality that stood before her. With no parents or living adult to support her and living in a refugee camp, she turned to begging in the streets of Freetown. As told to her by Mariatu, journalist Susan McClelland has written the heartbreaking true story of the brutal attack, its aftermath and Mariatu's eventual arrival in Toronto where she began to pull together the pieces of her broken life with courage, astonishing resilience and hope.
Since the introduction of DNA testing, forensic science has been in the forefront of the public's imagination, thanks especially to popular television shows like CSI: Crime Scene Investigation. But forensic analysis has been practiced for thousands of years. Ancient Chinese detectives studied dead bodies for signs of foul play, and in Victorian England, officials used crime scene photography and criminal profiling to investigate the Jack the Ripper murders. In the intervening decades, forensic science has evolved to use the most cutting-edge, innovative techniques and technologies.
In this book, acclaimed author Bridget Heos uses real-life cases to tell the history of modern forensic science, from the first test for arsenic poisoning to fingerprinting, firearm and blood spatter analysis, DNA evidence, and all the important milestones in between. By turns captivating and shocking, Blood, Bullets, and Bones demonstrates the essential role forensic science has played in our criminal justice system.
Bonnie and Clyde: we've been on a first name basis with them for almost a hundred years. Immortalized in movies, songs, and pop culture references, they are remembered mostly for their storied romance and tragic deaths. But what was life really like for Clyde Barrow and Bonnie Parker in the early 1930s? How did two dirt-poor teens from west Texas morph from vicious outlaws to legendary couple? And why?
Award-winning author Karen Blumenthal devoted months to tracing the footsteps of Bonnie and Clyde, unearthing new information and debunking many persistent myths. The result is an impeccably researched, breathtaking nonfiction tale of love, car chases, kidnappings, and murder set against the backdrop of the Great Depression.
America's war in Vietnam. In over a decade of bitter fighting, it claimed the lives of more than 58,000 American soldiers and beleaguered four US presidents. More than forty years after America left Vietnam in defeat in 1975, the war remains controversial and divisive both in the United States and abroad.
The history of this era is complex; the cultural impact extraordinary. But it's the personal stories of eight people—six American soldiers, one American military nurse, and one Vietnamese refugee—that create the heartbeat of Boots on the Ground. From dense jungles and terrifying firefights to chaotic helicopter rescues and harrowing escapes, each individual experience reveals a different facet of the war and moves us forward in time. Alternating with these chapters are profiles of key American leaders and events, reminding us of all that was happening at home during the war, including peace protests, presidential scandals, and veterans' struggles to acclimate to life after Vietnam.
With more than one hundred photographs, award-winning author Elizabeth Partridge's unflinching book captures the intensity, frustration, and lasting impacts of one of the most tumultuous periods of American history.
Lizzie Borden took an axe, gave her mother forty whacks. When she saw what she had done, she gave her father forty-one.

In a compelling, linear narrative, Miller takes readers along as she investigates a brutal crime: the August 4, 1892, murders of wealthy and prominent Andrew and Abby Borden. The accused? Mild-mannered and highly respected Lizzie Borden, daughter of Andrew and stepdaughter of Abby. Most of what is known about Lizzie's arrest and subsequent trial (and acquittal) comes from sensationalized newspaper reports; as Miller sorts fact from fiction, and as a legal battle gets under way, a gripping portrait of a woman and a town emerges.
With inserts featuring period photos and newspaper clippings—and, yes, images from the murder scene—readers will devour this nonfiction book that reads like fiction.
In March 1900, San Francisco's health department investigated a strange and horrible death in Chinatown. A man had died of bubonic plague, one of the world's deadliest diseases. But how could that be possible? Bubonic Panic tells the true story of America's first plague epidemic—the public health doctors who desperately fought to end it, the political leaders who tried to keep it hidden, and the brave scientists who uncovered the plague's secrets. Once again, acclaimed author and scientific expert Gail Jarrow brings the history of a medical mystery to life in vivid and exciting detail for young readers. This title includes photographs and drawings, a glossary, a timeline, further resources, an author's note, and source notes.
Based on rare archival material, obscure trial manuscripts, and interviews with relatives of the conspirators and the manhunters, CHASING LINCOLN'S KILLER is a fast-paced thriller about the pursuit and capture of John Wilkes Booth: a wild twelve-day chase through the streets of Washington, D.C., across the swamps of Maryland, and into the forests of Virginia.
"When it comes to justice, there is no easy way to get it. You can't sugarcoat it. You have to take a stand and say, 'This is not right.'" – Claudette Colvin
On March 2, 1955, an impassioned teenager, fed up with the daily injustices of Jim Crow segregation, refused to give her seat to a white woman on a segregated bus in Montgomery, Alabama. Instead of being celebrated as Rosa Parks would be just nine months later, fifteen-year-old Claudette
Colvin found herself shunned by her classmates and dismissed by community leaders. Undaunted, a year later she dared to challenge segregation again as a key plaintiff in Browder v. Gayle, the landmark case that struck down the segregation laws of Montgomery and swept away the legal underpinnings of the Jim Crow South.
Based on extensive interviews with Claudette Colvin and many others, Phillip Hoose presents the first in-depth account of an important yet largely unknown civil rights figure, skillfully weaving her dramatic story into the fabric of the historic Montgomery bus boycott and court case that would change the course of American history.
When her parents make the dangerous and illegal trek across the Mexican border in pursuit of the American dream, Reyna and her siblings are forced to live with their stern grandmother, as they wait for their parents to build the foundation of a new life.
But when things don't go quite as planned, Reyna finds herself preparing for her own journey to "El Otro Lado" to live with the man who has haunted her imagination for years: her long-absent father. Both funny and heartbreaking, The Distance Between Us sheds light on the immigrant experience beautifully capturing the struggle that Reyna and her siblings endured while trying to assimilate to a different culture, language, and family life in El Otro Lado (The Other Side).
Who's Crazy?
What does it mean to be crazy? Is using the word crazy offensive? What happens when a label like that gets attached to your everyday experiences?
To understand mental health, we need to talk openly about it. Because there's no single definition of crazy, there's no single experience that embodies it, and the word itself means different things—wild? extreme? disturbed? passionate?—to different people.
In (Don't) Call Me Crazy, thirty-three actors, athletes, writers, and artists offer essays, lists, comics, and illustrations that explore a wide range of topics:
their personal experiences with mental illness,
how we do and don't talk about mental health,
help for better understanding how every person's brain is wired differently,
and what, exactly, might make someone crazy.
If you've ever struggled with your mental health, or know someone who has, come on in, turn the pages . . . and let's get talking.
Margarita is a girl from two worlds. Her heart lies in Cuba, her mother's tropical island country, a place so lush with vibrant life that it seems like a fairy tale kingdom. But most of the time she lives in Los Angeles, lonely in the noisy city and dreaming of the summers when she can take a plane through the enchanted air to her beloved island. Words and images are her constant companions, friendly and comforting when the children at school are not.
Then a revolution breaks out in Cuba. Margarita fears for her far-away family. When the hostility between Cuba and the United States erupts at the Bay of Pigs Invasion, Margarita's worlds collide in the worst way possible. How can the two countries she loves hate each other so much? And will she ever get to visit her beautiful island again?
Every Falling Star:
The True Story of How I Survived and Escaped North Korea
by Sungju Lee
Every Falling Star, the first book to portray contemporary North Korea to a young audience, is the intense memoir of a North Korean boy named Sungju who was forced at age twelve to live on the streets and fend for himself. To survive, Sungju creates a gang and lives by thieving, fighting, begging, and stealing rides on cargo trains.
Sungju richly recreates his scabrous story, depicting what it was like for a boy alone to create a new family with his gang, "his brothers," to daily be hungry and to fear arrest, imprisonment, and even execution. This riveting memoir allows young readers to learn about other cultures where freedoms they take for granted do not exist.
The Faithful Spy: Dietrich Bonhoeffer and the Plot to Kill Hitler by John Hendrix
Adolf Hitler's Nazi party is gaining strength and becoming more menacing every day. Dietrich Bonhoeffer, a pastor upset by the complacency of the German church toward the suffering around it, forms a breakaway church to speak out against the established political and religious authorities. When the Nazis outlaw the church, he escapes as a fugitive. Struggling to reconcile his faith and the teachings of the Bible with the Nazi Party's evil agenda, Bonhoeffer decides that Hitler must be stopped by any means possible!
In his signature style of interwoven handwritten text and art, John Hendrix tells the true story of Dietrich Bonhoeffer, a pastor who makes the ultimate sacrifice in order to free the German people from oppression during World War II.
Here is the tumultuous, heartrending, true story of the Romanovs—at once an intimate portrait of Russia's last royal family and a gripping account of its undoing. Using captivating photos and compelling first person accounts, award-winning author Candace Fleming (Amelia Lost; The Lincolns) deftly maneuvers between the imperial family's extravagant lives and the plight of Russia's poor masses, making this an utterly mesmerizing read as well as a perfect resource for meeting Common Core standards.
A Few Red Drops: The Chicago Race Riot of 1919 by Claire Hartfield
On a hot day in July 1919, five black youths went swimming in Lake Michigan, unintentionally floating close to the "white" beach. An angry white man began throwing stones at the boys, striking and killing one. Racial conflict on the beach erupted into days of urban violence that shook the city of Chicago to its foundations. This mesmerizing narrative draws on contemporary accounts as it traces the roots of the explosion that had been building for decades in race relations, politics, business, and clashes of culture.
Flesh and Blood So Cheap: The Triangle Fire and Its Legacy by Albert Marrin*
On March 25, 1911, the Triangle Shirtwaist Factory in New York City burst into flames. The factory was crowded. The doors were locked to ensure workers stay inside. One hundred forty-six people—mostly women—perished; it was one of the most lethal workplace fires in American history until September 11, 2001.
But the story of the fire is not the story of one accidental moment in time. It is a story of immigration and hard work to make it in a new country, as Italians and Jews and others traveled to America to find a better life. It is the story of poor working conditions and greedy bosses, as garment workers discovered the endless sacrifices required to make ends meet. It is the story of unimaginable, but avoidable, disaster. And it the story of the unquenchable pride and activism of fearless immigrants and women who stood up to business, got America on their side, and finally changed working conditions for our entire nation, initiating radical new laws we take for granted today.
With Flesh and Blood So Cheap, Albert Marrin has crafted a gripping, nuanced, and poignant account of one of America's defining tragedies.
Perfect for aspiring coders everywhere, Girl Code is the story of two teenage tech phenoms who met at Girls Who Code summer camp, teamed up to create a viral video game, and ended up becoming world famous. The book also includes bonus content to help you start coding!
Fans of funny and inspiring books like Maya Van Wagenen's Popular and Caroline Paul's Gutsy Girl will love hearing about Andrea "Andy" Gonzales and Sophie Houser's journey from average teens to powerhouses.
Through the success of their video game, Andy and Sophie got unprecedented access to some of the biggest start-ups and tech companies, and now they're sharing what they've seen. Their video game and their commitment to inspiring young women have been covered by the Huffington Post, Buzzfeed, CNN, Teen Vogue, Jezebel, the Today show, and many more.
Get ready for an inside look at the tech industry, the true power of coding, and some of the amazing women who are shaping the world. Andy and Sophie reveal not only what they've learned about opportunities in science and technology but also the true value of discovering your own voice and creativity.
Worldwide, over 130 million girls are not in school.
But one girl with courage is a revolution.
Girl Rising, a global campaign for girls' education, created a film that chronicled the stories of nine girls in the developing world, allowing viewers the opportunity to witness how education can break the cycle of poverty.
Now, award-winning author Tanya Lee Stone deftly uses new research to illuminate the dramatic facts behind the film, focusing both on the girls captured on camera and many others. She examines barriers to education in depth—early child marriage and childbearing, slavery, sexual trafficking, gender discrimination, and poverty—and shows how removing these barriers means not only a better life for girls, but safer, healthier, and more prosperous communities.
With full-color photos from the film, infographics, and a compelling narrative, Girl Rising will inspire readers of all ages to join together in a growing movement to help change the world.
Hey, Kiddo by Jarrett J. Krosoczka
In kindergarten, Jarrett Krosoczka's teacher asks him to draw his family, with a mommy and a daddy. But Jarrett's family is much more complicated than that. His mom is an addict, in and out of rehab, and in and out of Jarrett's life. His father is a mystery — Jarrett doesn't know where to find him, or even what his name is. Jarrett lives with his grandparents — two very loud, very loving, very opinionated people who had thought they were through with raising children until Jarrett came along.
Jarrett goes through his childhood trying to make his non-normal life as normal as possible, finding a way to express himself through drawing even as so little is being said to him about what's going on. Only as a teenager can Jarrett begin to piece together the truth of his family, reckoning with his mother and tracking down his father.
Hey, Kiddo is a profoundly important memoir about growing up in a family grappling with addiction, and finding the art that helps you survive.
This profoundly moving memoir is the remarkable and inspiring true story of Sandra Uwiringiyimana, a girl from the Democratic Republic of the Congo who tells the tale of how she survived a massacre, immigrated to America, and overcame her trauma through art and activism.
Sandra was just ten years old when she found herself with a gun pointed at her head. She had watched as rebels gunned down her mother and six-year-old sister in a refugee camp. Remarkably, the rebel didn't pull the trigger, and Sandra escaped.
Thus began a new life for her and her surviving family members. With no home and no money, they struggled to stay alive. Eventually, through a United Nations refugee program, they moved to America, only to face yet another ethnic disconnect. Sandra may have crossed an ocean, but there was now a much wider divide she had to overcome. And it started with middle school in New York.
In this memoir, Sandra tells the story of her survival, of finding her place in a new country, of her hope for the future, and how she found a way to give voice to her people.
Looking back on her childhood in the 1950s, Newbery Honor winner and National Book Award finalist Marilyn Nelson tells the story of her development as an artist and young woman through fifty eye-opening poems. Readers are given an intimate portrait of her growing self-awareness and artistic inspiration along with a larger view of the world around her: racial tensions, the Cold War era, and the first stirrings of the feminist movement.
A first-person account of African-American history, this is a book to study, discuss, and treasure.
Laughing At My Nightmare by Shane Burcaw*
With acerbic wit and a hilarious voice, Shane Burcaw's Laughing at My Nightmare describes the challenges he faces as a twenty-one-year-old with spinal muscular atrophy. From awkward handshakes to having a girlfriend and everything in between, Shane handles his situation with humor and a "you-only-live-once" perspective on life. While he does talk about everyday issues that are relatable to teens, he also offers an eye-opening perspective on what it is like to have a life threatening disease.
Marcus Samuelsson's life and his journey to the top of the food world have been anything but typical. Orphaned in Ethiopia, he was adopted by a loving couple in Sweden, where his new grandmother taught him to cook and inspired in him a lifelong passion for food. In time, that passion would lead him to train and cook in some of the finest, most demanding kitchens in Europe.
Samuelsson's talent and ambition eventually led him to fulfill his dream of opening his own restaurant in New York City: Red Rooster Harlem, a highly acclaimed, multicultural dining room, where presidents rub elbows with jazz musicians, aspiring artists, and bus drivers. A place where anyone can feel at home.
March: Book One (series) by John Lewis, Andrew Aydin, and illustrated by Nate Powell
Congressman John Lewis (GA-5) is an American icon, one of the key figures of the civil rights movement. His commitment to justice and nonviolence has taken him from an Alabama sharecropper's farm to the halls of Congress, from a segregated schoolroom to the 1963 March on Washington, and from receiving beatings from state troopers to receiving the Medal of Freedom from the first African-American president.
Now, to share his remarkable story with new generations, Lewis presents March, a graphic novel trilogy, in collaboration with co-writer Andrew Aydin and New York Times best-selling artist Nate Powell (winner of the Eisner Award and LA Times Book Prize finalist for Swallow Me Whole).
March is a vivid first-hand account of John Lewis' lifelong struggle for civil and human rights, meditating in the modern age on the distance traveled since the days of Jim Crow and segregation. Rooted in Lewis' personal story, it also reflects on the highs and lows of the broader civil rights movement.
Book One spans John Lewis' youth in rural Alabama, his life-changing meeting with Martin Luther King, Jr., the birth of the Nashville Student Movement, and their battle to tear down segregation through nonviolent lunch counter sit-ins, building to a stunning climax on the steps of City Hall.
Many years ago, John Lewis and other student activists drew inspiration from the 1958 comic book "Martin Luther King and the Montgomery Story." Now, his own comics bring those days to life for a new audience, testifying to a movement whose echoes will be heard for generations.
Mary's Monster: Love, Madness, and How Mary Shelley Created Frankenstein by Lita Judge
Pairing free verse with over three hundred pages of black-and-white watercolor illustrations, Mary's Monster is a unique and stunning biography of Mary Shelley, the pregnant teenage runaway who became one of the greatest authors of all time.
Legend is correct that Mary Shelley began penning Frankenstein in answer to a dare to write a ghost story. What most people don't know, however, is that the seeds of her novel had been planted long before that night. By age nineteen, she had been disowned by her family, was living in scandal with a married man, and had lost her baby daughter just days after her birth. Mary poured her grief, pain, and passion into the powerful book still revered two hundred years later, and in Mary's Monster, author/illustrator Lita Judge has poured her own passion into a gorgeous book that pays tribute to the life of this incredible author.
When fourteen-year-old Carlotta Walls walked up the stairs of Little Rock Central High School on September 25, 1957, she and eight other black students only wanted to make it to class. But the journey of the "Little Rock Nine," as they came to be known, would lead the nation on an even longer and much more turbulent path, one that would challenge prevailing attitudes, break down barriers, and forever change the landscape of America.
For Carlotta and the eight other children, simply getting through the door of this admired academic institution involved angry mobs, racist elected officials, and intervention by President Dwight D. Eisenhower, who was forced to send in the 101st Airborne to escort the Nine into the building. But entry was simply the first of many trials. Breaking her silence at last and sharing her story for the first time, Carlotta Walls has written an engrossing memoir that is a testament not only to the power of a single person to make a difference but also to the sacrifices made by families and communities that found themselves a part of history.
In 1945, at the end of World War II, Adolf Eichmann, the head of operations for the Nazis' Final Solution, walked into the mountains of Germany and vanished from view. Sixteen years later, an elite team of spies captured him at a bus stop in Argentina and smuggled him to Israel, resulting in one of the century's most important trials — one that cemented the Holocaust in the public imagination.
THE NAZI HUNTERS is the thrilling and fascinating story of what happened between these two events. Survivor Simon Wiesenthal opened Eichmann's case; a blind Argentinean and his teenage daughter provided crucial information. Finally, the Israeli spies — many of whom lost family in the Holocaust — embarked on their daring mission, recounted here in full. Based on the adult bestseller HUNTING EICHMANN, which is now in development as a major film, and illustrated with powerful photos throughout, THE NAZI HUNTERS is a can't-miss work of narrative nonfiction for middle-grade and YA readers.
No Choirboy takes readers inside America's prisons, and allows inmates sentenced to death as teenagers to speak for themselves. In their own voices—raw and uncensored—they talk about their lives in prison, and share their thoughts and feelings about how they ended up there. Susan Kuklin also gets inside the system, exploring capital punishment itself and the intricacies and inequities of criminal justice in the United States.
This is a searing, unforgettable read, and one that could change the way we think about crime and punishment.
#NotYourPrincess: Voices of Native American Women by
Lisa Charleyboy and
Mary Beth Leatherdale
Whether looking back to a troubled past or welcoming a hopeful future, the powerful voices of Indigenous women across North America resound in this book. In the same style as the best-selling Dreaming in Indian, #Not Your Princess presents an eclectic collection of poems, essays, interviews, and art that combine to express the experience of being a Native woman. Stories of abuse, humiliation, and stereotyping are countered by the voices of passionate women making themselves heard and demanding change. Sometimes angry, often reflective, but always strong, the women in this book will give teen readers insight into the lives of women who, for so long, have been virtually invisible.
Throughout history, periods have been hidden from the public. They're taboo. They're embarrassing. They're gross. And due to a crumbling or nonexistent national sex ed program, they are misunderstood. Because of these stigmas, a status quo has been established to exclude people who menstruate from the seat at the decision-making table, creating discriminations like the tampon tax, medicines that favor male biology, and more.
Period Power aims to explain what menstruation is, shed light on the stigmas and resulting biases, and create a strategy to end the silence and prompt conversation about periods.
Persepolis is the story of Satrapi's unforgettable childhood and coming of age within a large and loving family in Tehran during the Islamic Revolution; of the contradictions between private life and public life in a country plagued by political upheaval; of her high school years in Vienna facing the trials of adolescence far from her family; of her homecoming–both sweet and terrible; and, finally, of her self-imposed exile from her beloved homeland. It is the chronicle of a girlhood and adolescence at once outrageous and familiar, a young life entwined with the history of her country yet filled with the universal trials and joys of growing up.
Edgy, searingly observant, and candid, often heartbreaking but threaded throughout with raw humor and hard-earned wisdom–Persepolis is a stunning work from one of the most highly regarded, singularly talented graphic artists at work today.
The Plot to Kill Hitler: Dietrich Bonhoeffer: Pastor, Spy, Unlikely Hero by Patricia McCormick
It was April 5, 1943, and the Gestapo would arrive any minute. Dietrich Bonhoeffer had been expecting this day for a long time. He had put his papers in order—and left a few notes specifically for Hitler's men to see. Two SS agents climbed the stairs and told the boyish-looking Bonhoeffer to come with them. He calmly said good-bye to his parents, put his Bible under his arm, and left. Upstairs there was proof, in his own handwriting, that this quiet young minister was part of a conspiracy to kill Adolf Hitler.
This compelling, brilliantly researched account includes the remarkable discovery that Bonhoeffer was one of the first people to provide evidence to the Allies that Jews were being deported to death camps. It takes readers from his privileged early childhood to the studies and travel that would introduce him to peace activists around the world—eventually putting this gentle, scholarly pacifist on a deadly course to assassinate one of the most ruthless dictators in history. The Plot to Kill Hitler provides fascinating insights into what makes someone stand up for what's right when no one else is standing with you. It is a question that every generation must answer again and again.
With black-and-white photographs, fascinating sidebars, and thoroughly researched details, this book should be essential reading.
On July 17, 1944, a massive explosion rocked the segregated Navy base at Port Chicago, California, killing more than 300 sailors who were at the docks, critically injuring off-duty men in their bunks, and shattering windows up to a mile away. On August 9th, 244 men refused to go back to work until unsafe and unfair conditions at the docks were addressed. When the dust settled, fifty were charged with mutiny, facing decades in jail and even execution.
The Port Chicago 50 is a fascinating story of the prejudice and injustice that faced black men and women in America's armed forces during World War II, and a nuanced look at those who gave their lives in service of a country where they lacked the most basic rights.
At the 2016 Olympic Games, Ibtihaj Muhammad smashed barriers as the first American to compete wearing hijab, and she made history as the first Muslim American woman to win a medal. But before she was an Olympian, activist, and entrepreneur, Ibtihaj was a young outsider trying to find her place.
Growing up in suburban New Jersey, Ibtihaj was often the only African American Muslim student in her class. When she discovered and fell in love with fencing, a sport most popular with affluent young white people, she stood out even more. Rivals and teammates often pointed out Ibtihaj's differences, telling her she would never succeed. Yet she powered on, rising above bigotry and other obstacles on the path to pursue her dream.
Ibtihaj's inspiring journey from humble beginnings to the international stage is told in her own words and enhanced with helpful advice and never-before-published photographs. Proud is an all-American tale of faith, family, hard work, and self-reliance.
World history has been made by countless lesbian, gay, bisexual, transgender, and queer individuals—and you've never heard of many of them.
Queer author and activist Sarah Prager delves deep into the lives of 23 people who fought, created, and loved on their own terms. From high-profile figures like Abraham Lincoln and Eleanor Roosevelt to the trailblazing gender-ambiguous Queen of Sweden and a bisexual blues singer who didn't make it into your history books, these astonishing true stories uncover a rich queer heritage that encompasses every culture, in every era.
By turns hilarious and inspiring, the beautifully illustrated Queer, There, and Everywhere is for anyone who wants the real story of the queer rights movement.
Radioactive: How Irène Curie and Lise Meitner Revolutionized Science and Changed the World by Winifred Conkling*
In 1934, Irène Curie, working with her husband and fellow scientist, Frederic Joliot, made a discovery that would change the world: artificial radioactivity. This breakthrough allowed scientists to modify elements and create new ones by altering the structure of atoms. Curie shared a Nobel Prize with her husband for their work. But when she was nominated to the French Academy of Sciences, the academy denied her admission and voted to disqualify all women from membership. Four years later, Curie's breakthrough led physicist Lise Meitner to a brilliant leap of understanding that unlocked the secret of nuclear fission. Meitner's unique insight was critical to the revolution in science that led to nuclear energy and the race to build the atom bomb, yet her achievement was left unrecognized by the Nobel committee in favor of that of her male colleague.
Radioactive! presents the story of two women breaking ground in a male-dominated field, scientists still largely unknown despite their crucial contributions to cutting-edge research, in a nonfiction narrative that reads with the suspense of a thriller. Photographs and sidebars illuminate and clarify the science in the book.
It's 1966, and twelve-year-old Ji-li Jiang has everything a girl could want: brains, popularity, and a bright future in Communist China. But it's also the year that China's leader, Mao Ze-dong, launches the Cultural Revolution—and Ji-li's world begins to fall apart.
Over the next few years, people who were once her friends and neighbors turn on her and her family, forcing them to live in constant terror of arrest. And when Ji-li's father is finally imprisoned, she faces the most difficult dilemma of her life.
Written in an accessible and engaging style, this page-turning, honest, and deeply personal autobiography will appeal to readers of all ages.
Lucy Knisley loves food. The daughter of a chef and a gourmet, this talented young cartoonist comes by her obsession honestly. In her forthright, thoughtful, and funny memoir, Lucy traces key episodes in her life thus far, framed by what she was eating at the time and lessons learned about food, cooking, and life. Each chapter is bookended with an illustrated recipe―many of them treasured family dishes, and a few of them Lucy's original inventions.
A welcome read for anyone who ever felt more passion for a sandwich than is strictly speaking proper, Relish is a graphic novel for our time: it invites the reader to celebrate food as a connection to our bodies and a connection to the earth, rather than an enemy, a compulsion, or a consumer product.
This striking work of narrative nonfiction tells the true story of six-year-old Sachiko Yasui's survival of the Nagasaki atomic bomb on August 9, 1945, and the heartbreaking and lifelong aftermath. Having conducted extensive interviews with Sachiko Yasui, Caren Stelson chronicles Sachiko s trauma and loss as well as her long journey to find peace. This book offers readers a remarkable new perspective on the final moments of World War II and their aftermath.
SHOUT by Laurie Halse Anderson (March 12)
Bestselling author Laurie Halse Anderson is known for the unflinching way she writes about, and advocates for, survivors of sexual assault. Now, inspired by her fans and enraged by how little in our culture has changed since her groundbreaking novel Speak was first published twenty years ago, she has written a poetry memoir that is as vulnerable as it is rallying, as timely as it is timeless. In free verse, Anderson shares reflections, rants, and calls to action woven between deeply personal stories from her life that she's never written about before. Searing and soul-searching, this important memoir is a denouncement of our society's failures and a love letter to all the people with the courage to say #MeToo and #TimesUp, whether aloud, online, or only in their own hearts. Shout speaks truth to power in a loud, clear voice– and once you hear it, it is impossible to ignore.
That's the Stonewall.
The Stonewall Inn.
Pay attention.
History walks through that door.
In 1969 being gay in the United States was a criminal offense. It meant living a closeted life or surviving on the fringes of society. People went to jail, lost jobs, and were disowned by their families for being gay. Most doctors considered homosexuality a mental illness. There were few safe havens. The Stonewall Inn, a Mafia-run, filthy, overpriced bar in New York City's Greenwich Village, was one of them.
Police raids on gay bars happened regularly in this era. But one hot June night, when cops pounded on the door of the Stonewall, almost nothing went as planned. Tensions were high. The crowd refused to go away. Anger and frustration boiled over.
The raid became a riot.
The riot became a catalyst.
The catalyst triggered an explosive demand for gay rights.
A riveting exploration of the Stonewall Riots and the national Gay Rights movement that followed is eye-opening, unflinching, and inspiring.
When this award-winning husband-and-wife team discovered that they each had sugar in their family history, they were inspired to trace the globe-spanning story of the sweet substance and to seek out the voices of those who led bitter sugar lives. The trail ran like a bright band from religious ceremonies in India to Europe's Middle Ages, then on to Columbus, who brought the first cane cuttings to the Americas. Sugar was the substance that drove the bloody slave trade and caused the loss of countless lives but it also planted the seeds of revolution that led to freedom in the American colonies, Haiti, and France. With songs, oral histories, maps, and over 80 archival illustrations, here is the story of how one product allows us to see the grand currents of world history in new ways. Time line, source notes, bibliography, and index included.
In September 1941, Adolf Hitler's Wehrmacht surrounded Leningrad in what was to become one of the longest and most destructive sieges in Western history—almost three years of bombardment and starvation that culminated in the harsh winter of 1943–1944. More than a million citizens perished. Survivors recall corpses littering the frozen streets, their relatives having neither the means nor the strength to bury them. Residents burned books, furniture, and floorboards to keep warm; they ate family pets and—eventually—one another to stay alive. Trapped between the Nazi invading force and the Soviet government itself was composer Dmitri Shostakovich, who would write a symphony that roused, rallied, eulogized, and commemorated his fellow citizens—the Leningrad Symphony, which came to occupy a surprising place of prominence in the eventual Allied victory.
This is the true story of a city under siege: the triumph of bravery and defiance in the face of terrifying odds. It is also a look at the power—and layered meaning—of music in beleaguered lives. Symphony for the City of the Dead is a masterwork thrillingly told and impeccably researched by National Book Award–winning author M. T. Anderson.
Michaela DePrince was known as girl Number 27 at the orphanage, where she was abandoned at a young age and tormented as a "devil child" for a skin condition that makes her skin appear spotted. But it was at the orphanage that Michaela would find a picture of a beautiful ballerina en pointe that would help change the course of her life.
At the age of four, Michaela was adopted by an American family, who encouraged her love of dancing and enrolled her in classes. She went on to study at the Jacqueline Kennedy Onassis School at the American Ballet Theatre and is now the youngest principal dancer with the Dance Theatre of Harlem. She has appeared in the ballet documentary First Position, as well as on Dancing with the Stars, Good Morning America, and Nightline.
In this engaging, moving, and unforgettable memoir, Michaela shares her dramatic journey from an orphan in West Africa to becoming one of ballet's most exciting rising stars.
In this fourth book in his award-winning memoir series, Francisco Jimenez leaves everything behind in California—a loving family, a devoted girlfriend, and the culture that shaped him—to attend Columbia University in New York City.
A moving account of the Latino experience in America, Francisco Jimenez's work comes alive with telling details about the warmth and resiliency of family and the quest for identity against seemingly impossible odds.
TEN DAYS A MADWOMAN:
The Daring Life and Turbulent Times of the Original "Girl" Reporter, Nellie Bly
by Deborah Noyes*
Young Nellie Bly had ambitious goals, especially for a woman at the end of the nineteenth century, when the few female journalists were relegated to writing columns about cleaning or fashion. But fresh off a train from Pittsburgh, Nellie knew she was destined for more and pulled a major journalistic stunt that skyrocketed her to fame: feigning insanity, being committed to the notorious asylum on Blackwell's Island, and writing a shocking exposé of the clinic's horrific treatment of its patients.
Nellie Bly became a household name and raised awareness of political corruption, poverty, and abuses of human rights. Leading an uncommonly full life, Nellie circled the globe in a record seventy-two days and brought home a pet monkey before marrying an aged millionaire and running his company after his death.
American attitudes toward immigrants are paradoxical. On the one hand, we see our country as a haven for the poor and oppressed; anyone, no matter his or her background, can find freedom here and achieve the "American Dream." On the other hand, depending on prevailing economic conditions, fluctuating feelings about race and ethnicity, and fear of foreign political and labor agitation, we set boundaries and restrictions on who may come to this country and whether they may stay as citizens. This book explores the way government policy and popular responses to immigrant groups evolved throughout U.S. history, particularly between 1800 and 1965. The book concludes with a summary of events up to contemporary times, as immigration again becomes a hot-button issue. Includes an author's note, bibliography, and index.
As the youngest marcher in the 1965 voting rights march from Selma to Montgomery, Albama, Lynda Blackmon Lowery proved that young adults can be heroes. Jailed eleven times before her fifteenth birthday, Lowery fought alongside Martin Luther King, Jr. for the rights of African-Americans. In this memoir, she shows today's young readers what it means to fight nonviolently (even when the police are using violence, as in the Bloody Sunday protest) and how it felt to be part of changing American history.
Tweak: by Nic Sheff*
Nic Sheff was drunk for the first time at age eleven. In the years that followed, he would regularly smoke pot, do cocaine and Ecstasy, and develop addictions to crystal meth and heroin. Even so, he felt like he would always be able to quit and put his life together whenever he needed to. It took a violent relapse one summer in California to convince him otherwise. In a voice that is raw and honest, Nic spares no detail in telling us the compelling, heartbreaking, and true story of his relapse and the road to recovery. As we watch Nic plunge into the mental and physical depths of drug addiction, he paints a picture for us of a person at odds with his past, with his family, with his substances, and with himself. It's a harrowing portrait—but not one without hope.
Born into a family of privilege and wealth, he was sent to military school at the age of 13. After an unremarkable academic career, he joined the family business in real estate and built his fortune. His personal brand: sex, money and power. From no-holds-barred reality TV star to unlikely candidate, Donald J. Trump rose to the highest political office: President of the United States of America.
Learn fascinating details about his personal history, including:
-Why Trump's grandfather left Germany and immigrated to America
-Why Woodie Guthrie wrote a song criticizing Trump's father
-How Trump's romance with Ivana began―and ended
-When Trump first declared his interest in running for President
Discover the incredible true story of America's 45th President: his questionable political and personal conduct, and his unprecedented rise to power.
Richly informed by original research and illustrated throughout with photographs and documents, Unpresidented is a gripping and important read.
The deep and enduring friendship between Vincent and Theo Van Gogh shaped both brothers' lives. Confidant, champion, sympathizer, friend―Theo supported Vincent as he struggled to find his path in life. They shared everything, swapping stories of lovers and friends, successes and disappointments, dreams and ambitions. Meticulously researched, drawing on the 658 letters Vincent wrote to Theo during his lifetime, Deborah Heiligman weaves a tale of two lives intertwined and the extraordinary love of the Van Gogh brothers.
When America achieves milestones of progress toward full and equal black participation in democracy, the systemic response is a consistent racist backlash that rolls back those wins. We Are Not Yet Equal examines five of these moments: The end of the Civil War and Reconstruction was greeted with Jim Crow laws; the promise of new opportunities in the North during the Great Migration was limited when blacks were physically blocked from moving away from the South; the Supreme Court's landmark 1954 Brown v. Board of Education decision was met with the shutting down of public schools throughout the South; the Civil Rights Act of 1964 and Voting Rights Act of 1965 led to laws that disenfranchised millions of African American voters and a War on Drugs that disproportionally targeted blacks; and the election of President Obama led to an outburst of violence including the death of black teen Michael Brown in Ferguson, Missouri as well as the election of Donald Trump.
ake a lively look at women's history from aboard a bicycle, which granted females the freedom of mobility and helped empower women's liberation. Through vintage photographs, advertisements, cartoons, and songs, Wheels of Change transports young readers to bygone eras to see how women used the bicycle to improve their lives. Witty in tone and scrapbook-like in presentation, the book deftly covers early (and comical) objections, influence on fashion, and impact on social change inspired by the bicycle, which, according to Susan B. Anthony, "has done more to emancipate women than anything else in the world."
How did the colonists of Jamestown and Maryland live and die? Forensic anthropology provides an incredible array of answers. Scientists can look into a grave and determine the skeleton's gender, age at time of death, nationality, and sometimes even economic standing within minutes. Laboratory studies can provide cause of death information. Once these details are known, some skeletons can even be matched with a name via the historical record. Sibert-winning author Sally M. Walker worked side by side with archaeologists and forensic anthropologists in her research for this uniquely appealing book.
This lyrical biography explores the life and art of Yoko Ono, from her childhood haiku to her avant-garde visual art and experimental music. An outcast throughout most of her life, and misunderstood by every group she was supposed to belong to, Yoko always followed her own unique vision to create art that was ahead of its time and would later be celebrated. Her focus remained on being an artist, even when the rest of world saw her only as the wife of John Lennon.
Yoko Ono's moving story will inspire any young adult who has ever felt like an outsider, or who is developing or questioning ideas about being an artist, to follow their dreams and find beauty in all that surrounds them.