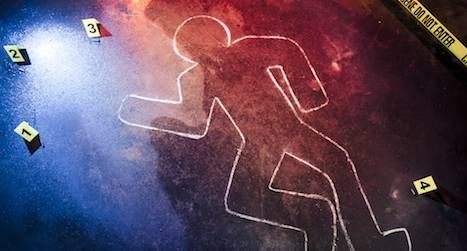 This content contains affiliate links. When you buy through these links, we may earn an affiliate commission.
What is it about true crime books that are so addicting? Is it a voyeuristic, "train wreck" sort of reading experience? Is it an opportunity to understand trauma and the dark impulses of human nature? Is it the chance to play detective and investigate real crimes? Whatever the reason, it's not a stretch to say that the best true crime books are extremely popular, and so I've pulled together 50 titles that are sure to keep you reading past your bedtime. Hopefully you all find something new on here for your TBRs!
The best true crime books
In 1924, college students Nathan Leopold and Richard Loeb murdered a teenager in cold blood "for the thrill of it," believing that they were far too intelligent to be caught. When they were inevitably apprehended, Leopold and Loeb's families hired Clarence Darrow to defend their sons in what would become one of the most sensationalist trials in American history.
To the public, Jeffrey Dahmer was a monster, but to the author, who was friends with Dahmer in high school, Dahmer was much more complicated. What follows is a surprisingly sympathetic portrait of the notorious serial killer and a haunting graphic memoir.
Bill Bass created the Body Farm in Tennessee, the world's first laboratory dedicated to studying human decomposition. What he learned revolutionized forensic science and police investigation. And in this book, Dr. Bass takes readers on a real-world CSI journey through the history of forensics and some of the most fascinating cases of his career. If you like your forensic nonfiction a little on the gross side, this book is for you.
Part true crime, part history, part travelogue, Midnight in the Garden of Good and Evil is loosely centered around a murder investigation that took place in the 1980s, but the real focus is on the complexities of southern culture and the eccentric people that Berendt met while living there.
Told by the prosecuting attorney in the infamous Manson Family trial, this is the definitive account to the crimes, trials, and bizarre life of Charles Manson and his devoted followers. It's extremely thorough and extremely disturbing.
Over the course of three years and 100 hours of interviews, Philip Carlo got a first-hand look at the crimes of Richard Ramirez, otherwise known as The Night Stalker, who terrorized residents of LA and San Francisco in the mid-'80s.
The mega-famous podcast, Serial, told the story of Adnan Syed, who in 2000 was convicted and sentenced to life in prison for the murder of his ex-girlfriend. But Serial only told part of the story. In this new narrative, Rabia Chaudry presents new evidence that dismantles the case against Adnan and advocates for his release from prison.
In the late 1890s, residents all over New York City discovered human remains and other clues to a grisly crime, but there were no witnesses, no suspects, and no motives. As the detectives embarked on a seemingly-impossible investigation, the rival newspapers run by Joseph Pulitzer and William Randolph Hearst turned the investigations into a media circus.
In 2007, Mexican American journalist Alfredo Corchado received a tip that he might be the next target of the Mexican drug cartels, and he only had 24 hours to determine if the threat was real. This book is part real-life thriller and part expose into a country plagued by drug trafficking and government corruption.
10. Columbine By Dave Cullen
On April 20, 1999, Columbine High School seniors Eric Harris and Dylan Klebold went to their school with guns and homemade bombs, setting in motion what would become one of the nation's most famous and horrifying acts of violence. Ten years after the Columbine Massacre, investigative reporter Dave Cullen looks at the events leading up to and following the tragedy in an attempt to learn how something like this could happen, and to analyze the impact that these two students left on the country. It's a terrifying, yet fascinating look at school violence, the media, and small town communities, filled with police files, psychological profiles, and videos and notes left behind by the killers.
In December 1952, London was plagued a killer smog that grounded mass transit and killed around 12,000 people with polluted air. It also acted as a cloaking device for a serial killer who was stalking women across the city.
You've seen the Netflix series…now read about the man who revolutionized the Behavioral Science Unit at the FBI by conducting hundreds of interviews with known serial killers to understand their motives.
The Black Dahlia was one of the most horrifying murders in American history, and for 70 years the crime has remained unsolved…until now. Using previously unseen classified documents, Piu Eatwell reconstructs a different version of the crime, one that implicates the LAPD in a massive coverup.
Part true crime, part medical investigation, this book chronicles the Hoyt family and their five young children that died suddenly and without explanation over the course of 25 years. Initially, doctors blamed SIDS and crib death, but it wasn't until 1995 that investigators realized that something far more insidious might be happening.
Mia and Olivia Flores's husbands are the highest level drug traffickers ever to become U.S. informants, and it was their husbands' intel that helped bring down the infamous El Chapo. Now Mia and Olivia talk about what that experience was like for their relationships, their lifestyles, and their families.
In 1990, ten Colombian men and women, most of them journalists, were kidnapped by Pablo Escobar in an attempt to force the government not to extradite Escobar or any of his fellow narcotics traffickers. This is Gabriel Garcia-Marquez's journalistic account of the crime.
In 2003, Charlie Cullen, a registered nurse from Pennsylvania, was arrested for the murders of multiple hospital patients over the course of sixteen years and nine different hospitals. Some investigators even believed that he had murdered over 300 people, potentially making him the most prolific serial killer in American history. Using police records, videotapes, and court transcripts, Charles Graeber compiles an account of Cullen's life and crimes and paints a chilling portrait of madness, compulsion, and the political machinations of the American medical system.
In the 1920s, the Osage Indian Nation was one of the wealthiest groups of people per capita in the world, but then one-by-one, they began to be killed off. In addition, anyone who attempted to investigate these murders was also killed. After more than 20 Osage were murdered, the newly-created FBI stepped in, but even then, the investigation was marred by corruption. Finally FBI Director Edgar Hoover turned to a former Texas Ranger to create an undercover team to expose this sinister conspiracy. This fascinating historical true crime novel highlights a troubling and previously unknown era in American history, and has been nominated for multiple awards, including the Edgars and the National Book Award.
The comprehensive story of Jim Jones, an Indianapolis minister who founded the controversial Peoples Temple and who in November 1978 ultimately ordered more than 900 of his followers to commit suicide with a cyanide-laced drink.
In 2012, the volunteer firefighters of Accomack County, Virginia, were run ragged as dozens upon dozens of deserted buildings caught fire. It took 67 fires before the police caught up with the arsonist, a struggling mechanic named Charlie Smith who had been setting fires with (and for) his girlfriend, Tonya Bundick.
Details the murder of British businessman Neil Heywood and the downfall of Bo Xilai, which produced (and continues to produce) power struggles and seismic consequences for China's Communist party, as well as the world's political and economic order.
In 1885, Austin, Texas, was stalked by a serial killer who brutalized women across every race and social class for almost a year. By the time the murders ended, a dozen men were falsely arrested, the city was in a total panic, and the killer ended up getting away. But several years later when Jack the Ripper began his killing spree, London police wondered if the Austin serial killer had managed to make his way overseas…
For over 20 years, the Green River serial killer terrorized the Seattle area with the murder of almost 50 women, until DNA evidence led Tom Jensen and his fellow detectives to Gary Ridgway. Jensen spent over 6 months interrogating Ridgway, trying to understand his motives for committing such a heinous stretch of crimes, and now Jensen's son has captured his father's hunt for the Green River Serial Killer in graphic novel format.
On April 20, 1999, Eric Harris and Dylan Klebold attacked Columbine High School, which became one of the most infamous school tragedies in American history. Now, Dylan's mother, Sue Klebold, comes forward with the questions, grief, and understandings she has grappled with in the hopes that she can help other families whose children are also in extreme distress.
Within the last 10 years, there have been five women murdered on Long Island whose only connection to each other has been their work as online escorts. And although evidence points to the work of a single person, no one has been able to identify their killer. This is a humanizing portrait of the women, who society would prefer to just ignore, and their families' ongoing hunt for justice.
Between January 2008 and May 2012, the Department of Justice investigated 350 sexual assaults reported to the Missoula police, many of which were connected with the nearby University of Montana. Jon Krakauer's expose just how prevalent sexual assault has become on college campuses across the country, and why rape victims are so reluctant to report assault. If you want a book that is extremely well written, but will make you capital-M Mad, this book more than delivers.
In 1923, Italian immigrant Sabella Nitti was on trial for two crimes—the alleged murder of her husband (even though the police didn't have any evidence or any witnesses to support this charge), and the fact that the newspapers had labeled her as unattractive. At a time when beautiful female murderers made headlines for charming their all-male juries, Sabella's physical appearance was an unforgivable sin, and Sabella ultimately became the first woman sentenced to hang in Chicago.
The true story of two African American brothers from Virginia who were kidnapped and displayed as circus freaks at Madison Square Garden. Eventually, the brothers became global superstars, although they were forced to assume horrific racist caricatures. And for 28 years, their mother worked to get them back. But at the heart of the book is a difficult question: Were the brothers better off on stage, humiliated but treated as celebrities, or at home where they had lived in poverty?
As many as 20,000 Central American migrants are kidnapped each year on their way to the United States by human traffickers and drug cartels. For two years, Oscar Martinez, a writer from El Salvador, traveled up and down the so-called "migrant trail" between Central American and the U.S., collecting stories of extreme hardship, danger, and survival.
*Trigger warnings for sexual abuse and violence against children.*
Before the author began a summer job at a Louisiana law firm, she believed that she was staunchly against the death penalty. But when she learns about Ricky Langley, a convicted pedophile and murderer, she is overcome with the feeling of wanting him to die. This book is a candid, deeply unsettling blend of true crime and memoir as the author recounts Langley's crimes and uncovers the parallels between her life and Langley's.
For years, journalist Michelle McNamara tracked the elusive Golden State Killer, a serial rapist-turned-murderer who terrorized California for over ten years, but she died suddenly before completing her book. Now, thanks to her husband, Patton Oswald, Michelle McNamara's haunting and terrifying research has been published and is a NYT bestseller.
A middle grade true crime account that reads like a world-class suspense novel. Could Lizzie Borden really have killed her father and stepmother with an axe? Did the newspapers at the time sway public opinion? And if Lizzie Borden didn't really kill her parents, who did?
In 2008, 18-year-old Marie reported that a masked man broke into her Seattle apartment and raped her. But inconsistencies in her story led police to abandon the investigation and instead charge her with false reporting. Three years later, two Colorado detectives investigated a series of brutal rapes around the Denver suburbs and surprisingly helped to uncover the truth about what really happened to Marie. A troubling true crime story, and an even more troubling example of how women are so rarely believed.
An FBI body language expert and a former American soldier match up in a two-year-long battle of wits at the end of the Cold War that threatened America with annihilation.
For decades, a serial killer ran unchecked through Los Angeles, murdering women of color and disposing of them in alleys. This is crime reporter Christine Pelisek's account of the murders, investigation, and capture of the killer, but it is also an account of how difficult it can be for people of color living in poverty to find justice.
You've seen the musical, now read about Beulah Annan and Belva Gaertner, the two women accused of murder who inspired the characters of Roxie Hart and Velma Kelly in the Broadway play Chicago.
The author combines true crime and searing memoir as she goes back to her home town to better understand the life of her mother, who was murdered when the author was twelve years old.
A searing account of the American opioid crisis, and how it spread across the country over the last fifteen years.
Award-winning journalist Sandra Rodriguez Nieto recounts the horrifying triple murder of a family in Juarez at the hands of their teenage son and his friends. In doing so, the author also paints a portrait of the poverty and political corruption in one of the most violent cities in the world.
*Trigger warning for rape, violence against women*
For over a decade, hundreds of women and girls in Juárez have been subjected to horrific crimes before being murdered, and many believe that there is a serial killer at large. Although this book was written over 10 years ago, it's an eye-opening look at a series of crimes that should have been made international news, yet managed to fly under the radar. "
The story of how three ordinary Colombian citizens risked everything to expose the collusion between the new mafia, the military, and much of the country's political establishment.
In 1873, a small group of prospectors lost their way in the Colorado Rockies. Alfred G. Packer emerged as the only survivor, but when the butchered remains of his five companions were discovered, Alfred vanished and became known across the country as "the Man-Eater," the most wanted man in the West.
This fascinating microhistory looks at the cultural and economic implications of shoplifting, from its rise with the creation of department stores to its role as a symbol of hyper-consumerism. But the author doesn't just focus on the history—she also interviews shoplifters in an effort to understand why they do what they do.
Sasha and Richard were both high school students from Oakland, California, using the same bus route, although Sasha was a white middle-class student at a nearby private school, and Richard was a black student at the local public high school. But one day, a lighter and a reckless act left Sasha burned and Richard charged with two hate crimes.
When Bryan Stevenson founded the Equal Justice Initiative, one of his first cases was that of Walter McMillian, who insisted that he had been falsely accused of and sentenced for a notorious murder. As Stevenson investigated McMillian's case, he discovered a tangled knot of conspiracy and political machination that transformed his concept of justice forever.
The entwined stories of America's emerging highway network in the 1950s and the killers that have prowled the interstates over the last 50 years.
The intense yet moving memoir of a woman who grew up as the daughter of a yakuza boss in Japan and lived through luxury, poverty, drug addiction, and abuse.
In 1974, Patty Hearst was a college senior and heir to the Hearst family fortune when she was kidnapped by a group of revolutionaries. But a couple of months later, the group released a video of Patty saying that she had changed her name and joined their ranks, bringing the term "Stockholm syndrome" into the country's collective vocabulary.
In 1993, a group of young black men in South Africa apparently murdered a 26-year-old American named Amy Biehl, and her parents' subsequent forgiveness of her killers became a symbol of the country's Truth and Reconciliation process. But when author Justine van der Leun started writing about the crime years later, she uncovered lots of conflicting narratives about Amy Biehl's death. Were these black men even responsible for the crime?
In 2008, Travis Alexander's brutally murdered body was discovered in his Mesa, Arizona home, and the prime suspect in the case was his ex-girlfriend, Jodi Arias. As the investigation progressed, detectives uncovered a multitude of lies from Arias, along with startling details about the couple's life together. Now, Jane Velez-Mitchell takes readers behind closed doors to uncover the life of a murderer in the making.
Want more of the best true crime books? Check out this list of favorite true crime books about women or Kim Ukura's list of true crime suggestions for Read Harder 2018!
(And remember to lock your doors when you're finished reading…)
SaveSave
SaveSave
SaveSave
SaveSave
SaveSave