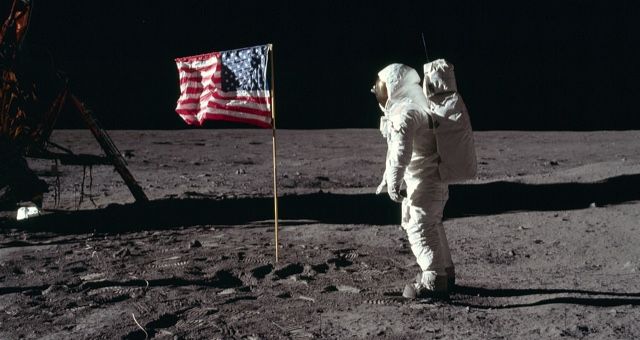 Lists
One Small Step, One Giant Leap: 16 Must-Read Space Books
This content contains affiliate links. When you buy through these links, we may earn an affiliate commission.
On July 20, 1969, Neil Armstrong and Buzz Aldrin made history when the astronauts became the first people to step onto the surface of Earth's Moon. Since that momentous occasion, space exploration has helped us gain a better understanding of the Moon (apparently, it is not made of cheese, who knew?!), as well as explore other planets within our solar system. In celebration of 50 year since the Apollo 11 Moon Landing, here are some must-read nonfiction and fiction space books that will delight rocket readers and space fanatics of all ages.
Space Books for Kids
When Leland Melvin's football career is cut short due to injury, he doesn't spend time mourning his broken dream. Instead, Leland finds a new dream by joining NASA and traveling on the shuttle Atlantis to help build the International Space Station. Leland's story will encourage the next generation of scientists and space enthusiasts to follow their dreams.
When the newspaper announces the discovery of a ninth major planet, Venetia starts thinking of the Roman mythology she is currently studying in school and says, "It might be called Pluto," in reference to the ruler of the underworld. The scientists at the Lowell Observatory unanimously agree Pluto is the perfect name for the dark, cold planet. This nonfiction picture book is the perfect read to inspire every child's inner curiosity.
Before John Glenn orbited the earth, or Neil Armstrong stepped on the moon, a group of mathematicians known as "human computers" calculated the trajectory that would launch rockets and astronauts into space. Hidden Figures brings to life the stories of Dorothy Vaughan, Mary Jackson, and Katherine Johnson, whose work as human computers through the Civil Rights era, the Space Race, the Cold War, and the movement for gender equality forever changed the face of NASA.
I Am Neil Armstrong by Brad Meltzer (Author) and Chris Eliopoulos (Illustrator)
Combine a love of picture books and space books with the 15th book in the Ordinary People Change the World picture book series focuses on Neil Armstrong's journey to the moon.
Margaret and the Moon by Dean Robbins (Author) and Lucy Knisley (Illustrator)
As a young girl, Margaret Hamilton loved numbers and using math to solve problems outside of the classroom. That love led Margaret to MIT and to helping NASA put a man on the moon with her handwritten code. Robbins and Knisley's portrayal of a pioneer in the mathematics field will teach readers to never stop reaching for the stars.
True Stories About Space Travel
It takes courage, intelligence, resilience, physicality, and excellent piloting skills to be an astronaut, but when American created NASA in 1958, being a man was also an unspoken requirement. Follow the Mercury 13, women who did not make it into space, but who did blaze the trail for future generations of women piloting jets and commanding space shuttles.
Read how the United States got to the moon from the Apollo veterans who made it happen. Apollo is a great read for space fanatics who want to recapture the great Space Race experience or space travel enthusiasts who want to learn how math, science, and ingenuity helped America put a man on the moon.
Bestselling author Mary Roach takes the reader on a surreal but entertaining trip into space and reveals what it's like to live in a world without gravity. From the Space Shuttle training toilet to a crash test of NASA's new space capsule, Roach explores the strange and irresistible universe of space travel.
Katherine Johnson's story was made famous in the bestselling book and Oscar-nominated film Hidden Figures. Johnson was a young black girl coming of age in an era of brutal racism and sexism, but she lived her life by the words of her father: "You are no better than anyone else, and nobody else is better than you." Read Katherine Johnson's story in her own words for the first time in this inspirational autobiography.
Wolfe embraces his roots in journalism with this nonfiction novel that follows characters like Chuck Yeager, Alan Shepard, and Gus Grissom as each becomes a major player in America's space program.
In the 1940s and '50s, the new Jet Propulsion Laboratory relied on an elite group of mathematically gifted young women to transform rocket design, create America's first satellites, and helped astronauts explore the solar system. Rise of the Rocket Girls brings the stories of these human computers who broke boundaries in gender and science to the forefront with extensive research and interviews.
On June 16, 1963, Valentina Tereshkova became the first woman to travel into space aboard the Vostok 6. It would be almost 20 years before another woman, Svetlana Savitskaya in 1982, travelled to space. Women in Space profiles 23 pioneers who demonstrate the vital roles women have played in the scientific quest to better understand the cosmos.
Space-Inspired Fiction
Ebony-Grace lives in Huntsville, Alabama, with her grandfather Jeremiah, one of the first black engineers to integrate NASA. Jeremiah nurtures Ebony-Grace's love for all things outer space and science fiction, but when trouble arises, Ebony-Grace must spend the summer in Harlem. Does Harlem have a place for sheltered Ebony-Grace and her sci-fi adventures?
The Skolian Empire rules a third of the galaxy through its mastery of faster-than-light communication. However, war with a rival empire seems imminent and may lead to the destruction of both sides. A desperate attempt must be made to avert total disaster.
Alex Petroski loves space, rockets, his family, and his dog Carl Sagan, named after the famous astronomer and Alex's hero. Alex wants to launch his golden iPod into space just like Carl Sagan launched his Golden Record on the Voyager in 1977 to show alien lifeforms what life on earth is like.
In 1967, Ye Wenjei witnesses the death of her father, physics professor Ye Zhetai, after he refuses to denounce the theory of relativity. More than 40 years later, Ye's work becomes linked to a string of suicides and a complex role-playing game involving the three-body problem from physics and classical mechanics.
If you are a true space fanatic and love space books, then you may also enjoy: