Audiobooks
50 Must-Read Audiobooks Under Ten Hours: Fiction
This content contains affiliate links. When you buy through these links, we may earn an affiliate commission.
There's a time and place to listen to that 35+ hour audiobook of Middlemarch. But sometimes I just want an audiobook I can listen to in one sitting, one car ride, or one week of commuting. Short audiobooks are fantastic for getting through an afternoon of cleaning or enjoying a long Sunday morning dog walk. They're also a great way to bust reading slumps: you can get through two or three short audiobooks in a week without even devoting extra time to listening.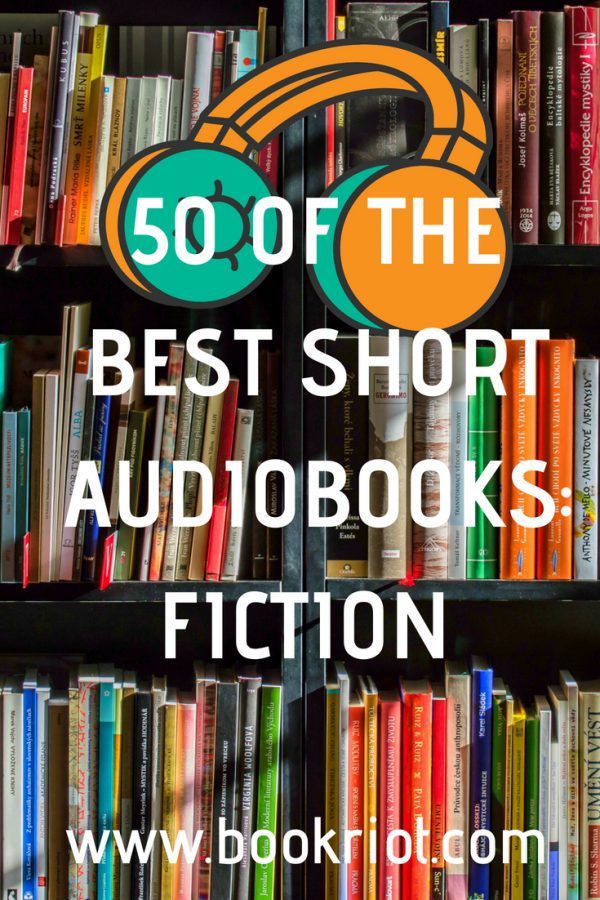 This list covers a broad a range of short audiobooks. You'll find children's books, middle grade novels, YA, and plenty of books for adults. Just about every genre is represented, from mystery to science fiction to romance. I've included some classics as well as plenty of contemporary novels published in the last few years. The one thing all these audiobooks have in common is absolutely fantastic narration.
Without further ado, 50 of the best short audiobooks I've ever listened to:
1 Hour and Under
"'I bought the milk,' said my father. 'I walked out of the corner shop, and heard a noise like this: t h u m m t h u m m. I looked up and saw a huge silver disc hovering in the air above Marshall Road.'
'Hullo,' I said to myself. 'That's not something you see every day. And then something odd happened.'
Find out just how odd things get in this hilarious New York Times bestselling story of time travel and breakfast cereal."
"From writing letters to going swimming, telling stories to finding lost buttons, Frog and Toad are always there for each other—just as best friends should be. "
Two hours and Under
"An ode to Put the Damn Guns Down, this is National Book Award finalist and New York Times bestseller Jason Reynolds's fiercely stunning novel that takes place in sixty potent seconds—the time it takes a kid to decide whether or not he's going to murder the guy who killed his brother. Told in short, fierce staccato narrative verse, Long Way Down is a fast and furious, dazzlingly brilliant look at teenage gun violence, as could only be told by Jason Reynolds."
"A canny young woman is struggling to survive by perpetrating various levels of mostly harmless fraud. On a rainy April morning, she is reading auras at Spiritual Palms when Susan Burke walks in. A keen observer of human behavior, our unnamed narrator immediately diagnoses beautiful, rich Susan as an unhappy woman eager to give her lovely life a drama injection. However, when the 'psychic' visits the eerie Victorian home that has been the source of Susan's terror and grief, she realizes she may not have to pretend to believe in ghosts anymore."
The Prophet by kahlil gibran (narrated by jonathan Reese)
"The Prophet is a collection of poetic essays that are philosophical, spiritual, and, above all, inspirational. Gibran's musings are divided into twenty-eight chapters covering such sprawling topics as love, marriage, children, giving, eating and drinking, work, joy and sorrow, housing, clothes, buying and selling, crime and punishment, laws, freedom, reason and passion, pain, self-knowledge, teaching, friendship, talking, time, good and evil, prayer, pleasure, beauty, religion, and death."
"In her singular new novel Sisters, Tuck gives a very different portrait of marital life, exposing the intricacies and scandals of a new marriage sprung from betrayal. Tuck's unnamed narrator lives with her new husband, his two teenagers, and the unbanishable presence of his first wife—known only as she. Obsessed with her, our narrator moves through her days presided over by the all-too-real ghost of the first marriage, fantasizing about how the first wife lives her life. The daring and precise build up to an eerily wonderful denouement is a triumph of subtlety and surprise."
Seedfolks by paul fleischman
This charming middle grade novel "tells thirteen stories from diverse perspectives—young and old, immigrant and native, haunted and hopeful. A fractured neighborhood unites with just a few seeds, turning a drab empty lot in Cleveland into beautiful green garden."
three hours and under
George by alex gino
"When people look at George, they think they see a boy. But she knows she's not a boy. She knows she's a girl. George thinks she'll have to keep this a secret forever. Then her teacher announces that their class play is going to be Charlotte's Web. George really, really, REALLY wants to play Charlotte. But the teacher says she can't even try out for the part…because she's a boy. With the help of her best friend, Kelly, George comes up with a plan. Not just so she can be Charlotte—but so everyone can know who she is, once and for all."
"Running into a long-ago friend sets memories from the 1970s in motion for August, transporting her to a time and a place where friendship was everything—until it wasn't. For August and her girls, sharing confidences as they ambled through neighborhood streets, Brooklyn was a place where they believed that they were beautiful, talented, brilliant—a part of a future that belonged to them. But beneath the hopeful veneer, there was another Brooklyn, a dangerous place where grown men reached for innocent girls in dark hallways, where ghosts haunted the night, where mothers disappeared."
This book includes "four previously uncollected stories from one of the great mystery writers of our time–swift, cunning murder mysteries (two of which feature the young Adam Dalgliesh) that together, to borrow the author's own word, add up to a delightful 'entertainment.' Each of these stories is as playful as it is ingeniously plotted, the author's sly humor as evident as her hallmark narrative elegance and shrewd understanding of some of the most complex—not to say the most damning—aspects of human nature."
Binti by nnedi okorafor
"Her name is Binti, and she is the first of the Himba people ever to be offered a place at Oomza University, the finest institution of higher learning in the galaxy. But to accept the offer will mean giving up her place in her family to travel between the stars among strangers who do not share her ways or respect her customs. The world she seeks to enter has long warred with the Meduse, an alien race that has become the stuff of nightmares. Oomza University has wronged the Meduse, and Binti's stellar travel will bring her within their deadly reach.
If Binti hopes to survive the legacy of a war not of her making, she will need both the gifts of her people and the wisdom enshrined within the University, itself—but first she has to make it there, alive."
"Acclaimed by critics, beloved by readers of all ages, taught everywhere from inner-city grade schools to universities across the country, and translated all over the world, The House on Mango Street is the remarkable story of Esperanza Cordero. Told in a series of vignettes—sometimes heartbreaking, sometimes deeply joyous—it is the story of a young Latina girl growing up in Chicago, inventing for herself who and what she will become. Few other books in our time have touched so many readers."
Four Hours and Under
The Poet X by elizabeth acevedo
"Xiomara Batista feels unheard and unable to hide in her Harlem neighborhood. Ever since her body grew into curves, she has learned to let her fists and her fierceness do the talking.
But Xiomara has plenty she wants to say, and she pours all her frustration and passion onto the pages of a leather notebook, reciting the words to herself like prayers—especially after she catches feelings for a boy in her bio class named Aman, who her family can never know about.
So when she is invited to join her school's slam poetry club, she doesn't know how she could ever attend without her mami finding out, much less speak her words out loud. But still, she can't stop thinking about performing her poems. Because in the face of a world that may not want to hear her, Xiomara refuses to be silent."
"Hailed as one of the world's supreme masterpieces on the subject of death and dying, The Death of Ivan Ilyich is the story of a worldly careerist, a high court judge who has never given the inevitability of his dying so much as a passing thought. But one day, death announces itself to him, and to his shocked surprise, he is brought face to face with his own mortality. How, Tolstoy asks, does an unreflective man confront his one and only moment of truth?"
Solo by kwame alexander
"Blade never asked for a life of the rich and famous. In fact, he'd give anything not to be the son of Rutherford Morrison, a washed-up rock star and drug addict with delusions of a comeback. The one true light is his girlfriend, Chapel, but her parents have forbidden their relationship, assuming—like many—that Blade will become just like his father.
In reality, the only thing Blade has in common with Rutherford is the music that lives inside them. But not even the songs that flow through Blade's soul are enough when he's faced with two unimaginable realities: the threat of losing Chapel forever, and the revelation of a long-held family secret. All that remains is a letter and a ticket to Ghana—both of which could bring Blade the freedom and love he's been searching for, or leave him feeling even more adrift."
"In the early 20th Century, the United States government concocted a plan to import hippopotamuses into the marshlands of Louisiana to be bred and slaughtered as an alternative meat source. This is true. Other true things about hippos: they are savage, they are fast, and their jaws can snap a man in two. This was a terrible plan.
Contained within this volume is an 1890s America that might have been: a bayou overrun by feral hippos and mercenary hippo wranglers from around the globe. It is the story of Winslow Houndstooth and his crew. It is the story of their fortunes. It is the story of his revenge."
"On his way to his betrothal, young Lord Penric comes upon a riding accident with an elderly lady on the ground, her maidservant and guardsmen distraught. As he approaches to help, he discovers that the lady is a Temple divine, servant to the five gods of this world. Her avowed god is The Bastard, 'master of all disasters out of season,' and with her dying breath she bequeaths her mysterious powers to Penric. From that moment on, Penric's life is irreversibly changed, and his life is in danger from those who envy or fear him."
5 hours and under
"At a café table in Lahore, a bearded Pakistani man converses with an uneasy American stranger. As dusk deepens to night, he begins the tale that has brought them to this fateful encounter…
Changez is living an immigrant's dream of America. At the top of his class at Princeton, he is snapped up by an elite valuation firm. He thrives on the energy of New York, and his budding romance with elegant, beautiful Erica promises entry into Manhattan society at the same exalted level once occupied by his own family back in Lahore. But in the wake of September 11, Changez finds his position in his adopted city suddenly overturned, and his relationship with Erica shifting. And Changez's own identity is in seismic shift as well, unearthing allegiances more fundamental than money, power, and maybe even love."
A Single Man
by christopher isherwood
Published in 1964, A Single Man tells the story of a day in the life of a middle-aged gay man. "George, the protagonist, is adjusting to life on his own after the sudden death of his partner, determined to persist in the routines of his daily life. An Englishman and a professor living in suburban Southern California, he is an outsider in every way, and his internal reflections and interactions with others reveal a man who loves being alive despite everyday injustices and loneliness."
"Justyce McAllister is top of his class and set for the Ivy League—but none of that matters to the police officer who just put him in handcuffs. And despite leaving his rough neighborhood behind, he can't escape the scorn of his former peers or the ridicule of his new classmates. Justyce looks to the teachings of Dr. Martin Luther King Jr. for answers. But do they hold up anymore? He starts a journal to Dr. King to find out.
Then comes the day Justyce goes driving with his best friend, Manny, windows rolled down, music turned up—way up, sparking the fury of a white off-duty cop beside them. Justyce and Manny are caught in the crosshairs. In the media fallout, it's Justyce who is under attack."
Passing by nella larson
"Irene Redfield, the novel's protagonist, is a woman with an enviable life. She and her husband, Brian, a prominent physician, share a comfortable Harlem town house with their sons. But her hold on this world begins to slip the day she encounters Clare Kendry, a childhood friend with whom she had lost touch. Clare—light-skinned, beautiful, and charming—tells Irene how, after her father's death, she left behind the black neighborhood of her adolescence and began passing for white, hiding her true identity from everyone, including her racist husband. And when Clare witnesses the vibrancy and energy of the community she left behind, her burning desire to come back threatens to shatter her careful deception."
"Children have always disappeared under the right conditions; slipping through the shadows under a bed or at the back of a wardrobe, tumbling down rabbit holes and into old wells, and emerging somewhere…else.
Nancy tumbled once, but now she's back. The things she's experienced…they change a person. The children under Miss West's care understand all too well. And each of them is seeking a way back to their own fantasy world.
But Nancy's arrival marks a change at the Home. There's a darkness just around each corner, and when tragedy strikes, it's up to Nancy and her new-found schoolmates to get to the heart of the matter."
six hours and Under
"Marin hasn't spoken to anyone from her old life since the day she left everything behind. No one knows the truth about those final weeks. Not even her best friend, Mabel. But even thousands of miles away from the California coast, at college in New York, Marin still feels the pull of the life and tragedy she's tried to outrun. Now, months later, alone in an emptied dorm for winter break, Marin waits. Mabel is coming to visit, and Marin will be forced to face everything that's been left unsaid and finally confront the loneliness that has made a home in her heart."
"Merricat Blackwood lives on the family estate with her sister Constance and her Uncle Julian. Not long ago there were seven Blackwoods—until a fatal dose of arsenic found its way into the sugar bowl one terrible night. Acquitted of the murders, Constance has returned home, where Merricat protects her from the curiosity and hostility of the villagers. Their days pass in happy isolation until cousin Charles appears. Only Merricat can see the danger, and she must act swiftly to keep Constance from his grasp."
"Humorous, poignant, perceptive, and full of grace, Kathleen Collins's stories masterfully blend the quotidian and the profound in a personal, intimate way, exploring deep, far-reaching issues—race, gender, family, and sexuality—that shape the ordinary moments in our lives."
"A spine-tingling tale rooted in Caribbean folklore that will have readers holding their breath as they fly through its pages. Corinne La Mer isn't afraid of anything. Not scorpions, not the boys who tease her, and certainly not jumbies. They're just tricksters parents make up to frighten their children. Then one night Corinne chases an agouti all the way into the forbidden forest. Those shining yellow eyes that followed her to the edge of the trees, they couldn't belong to a jumbie. Or could they?"
Sula by toni morrison
"This rich and moving novel traces the lives of two black heroines from their close-knit childhood in a small Ohio town, through their sharply divergent paths of womanhood, to their ultimate confrontation and reconciliation."
"In the summer of 1968, after travelling from Brooklyn to Oakland, California, to spend a month with the mother they barely know, eleven-year-old Delphine and her two younger sisters arrive to a cold welcome as they discover that their mother, a dedicated poet and printer, is resentful of the intrusion of their visit and wants them to attend a nearby Black Panther summer camp."
seven hours and Under
"Fair and long-legged, independent and articulate, Janie Crawford sets out to be her own person—no mean feat for a black woman in the '30s. Janie's quest for identity takes her through three marriages and into a journey back to her roots."
"Meg's father had been experimenting with this fifth dimension of time travel when he mysteriously disappeared. Now the time has come for Meg, her friend Calvin, and Charles Wallace to rescue him. But can they outwit the forces of evil they will encounter on their heart-stopping journey through space?"
"Amanda Hardy is the new girl in school. Like anyone else, all she wants is to make friends and fit in. But Amanda is keeping a secret, and she's determined not to get too close to anyone. But when she meets sweet, easygoing Grant, Amanda can't help but start to let him into her life. But Amanda's terrified that once she tells him the truth, he won't be able to see past it. Because the secret that Amanda's been keeping? It's that at her old school, she used to be Andrew. Will the truth cost Amanda her new life, and her new love? If I Was Your Girl is a universal story about feeling different and a love story that everyone will root for."
"In the midst of a violent student uprising in South Korea, a young boy named Dong-ho is shockingly killed. The story of this tragic episode unfolds in a sequence of interconnected chapters as the victims and the bereaved encounter suppression, denial, and the echoing agony of the massacre. From Dong-ho's best friend who meets his own fateful end; to an editor struggling against censorship; to a prisoner and a factory worker, each suffering from traumatic memories; and to Dong-ho's own grief-stricken mother; and through their collective heartbreak and acts of hope is the tale of a brutalized people in search of a voice."
"A seventy-year-old West Indian woman looks back over the course of her life and examines the relationships that have given meaning to her existence."
eight hours and Under
"Call Me by Your Name is the story of a sudden and powerful romance that blossoms between an adolescent boy and a summer guest at his parents' cliff-side mansion on the Italian Riviera. Unprepared for the consequences of their attraction, at first each feigns indifference. But during the restless summer weeks that follow, unrelenting buried currents of obsession and fear, fascination and desire, intensify their passion as they test the charged ground between them. What grows from the depths of their spirits is a romance of scarcely six weeks' duration and an experience that marks them for a lifetime. For what the two discover on the Riviera and during a sultry evening in Rome is the one thing both already fear they may never truly find again: total intimacy."
"After the grisly murder of his entire family, a toddler wanders into a graveyard where the ghosts and other supernatural residents agree to raise him as one of their own. There are dangers and adventures in the graveyard for a boy. But if Bod leaves the graveyard, then he will come under attack from the man Jack—who has already killed Bod's family…"
"A California girl born and raised, Mai can't wait to spend her vacation at the beach. Instead, though, she has to travel to Vietnam with her grandmother, who is going back to find out what really happened to her husband during the Vietnam War. Mai's parents think this trip will be a great opportunity for their out-of-touch daughter to learn more about her culture. But to Mai, those are their roots, not her own. Besides barely speaking the language, she doesn't know the geography, the local customs, or even her distant relatives. To survive her trip, Mai must find a balance between her two completely different worlds."
"February 1862. The Civil War is less than one year old. Meanwhile, President Lincoln's beloved eleven-year-old son, Willie, lies upstairs in the White House, gravely ill. In a matter of days, despite predictions of a recovery, Willie dies and is laid to rest in a Georgetown cemetery. Newspapers report that a grief-stricken Lincoln returned to the crypt several times alone to hold his boy's body.
Lincoln in the Bardo is an astonishing feat of imagination and a bold step forward from one of the most important and influential writers of his generation. Formally daring, generous in spirit, deeply concerned with matters of the heart, it is a testament to fiction's ability to speak honestly and powerfully to the things that really matter to us. Saunders has invented a thrilling new form that deploys a kaleidoscopic, theatrical panorama of voices—living and dead, historical and invented—to ask a timeless, profound question: How do we live and love when we know that everything we love must end?"
"Sierra Santiago was looking forward to a fun summer of making art, hanging out with her friends, and skating around Brooklyn. But then a weird zombie guy crashes the first party of the season. Sierra soon discovers a supernatural order called the Shadowshapers, who connect with spirits via paintings, music, and stories. Her grandfather once shared the order's secrets with an anthropologist, Dr. Jonathan Wick, who turned the Caribbean magic to his own foul ends. With the help of her friends and the hot graffiti artist Robbie, Sierra must dodge Wick's supernatural creations, harness her own Shadowshaping abilities, and save her family's past, present, and future."
"One cold night, in a most unlikely corner of Chicago, two strangers are about to cross paths. From that moment on, their world will collide and lives intertwine. With a push from friends new and old—including the massive, and massively fabulous, Tiny Cooper, offensive lineman and musical theater auteur extraordinaire—Will and Will begin building toward respective romantic turns-of-heart and the epic production of history's most awesome high school musical."
"Written in his distinctively dazzling manner, Oscar Wilde's story of a fashionable young man who sells his soul for eternal youth and beauty is the author's most popular work. The tale of Dorian Gray's moral disintegration caused a scandal when it first appeared in 1890, but though Wilde was attacked for the novel's corrupting influence, he responded that there is, in fact, 'a terrible moral in Dorian Gray.'"
nine hours and Under
"Jojo is thirteen years old and trying to understand what it means to be a man. His mother, Leonie, is in constant conflict with herself and those around her. She is black and her children's father is white. When the children's father is released from prison, Leonie packs her kids and a friend into her car and drives north to the heart of Mississippi and Parchman Farm, the State Penitentiary. At Parchman, there is another boy, the ghost of a dead inmate who carries all of the ugly history of the South with him in his wandering. He too has something to teach Jojo about fathers and sons, about legacies, about violence, about love. Rich with Ward's distinctive, lyrical language, Sing, Unburied, Sing brings the archetypal road novel into rural twenty-first century America."
"It's the last day of 1984, and 85-year-old Lillian Boxfish is about to take a walk. As she traverses a grittier Manhattan, a city anxious after an attack by a still-at-large subway vigilante, she encounters bartenders, bodega clerks, chauffeurs, security guards, bohemians, criminals, children, parents, and parents-to-be—in surprising moments of generosity and grace.
A love letter to city life—however shiny or sleazy—Lillian Boxfish Takes a Walk paints a portrait of a remarkable woman across the canvas of a changing America: from the Jazz Age to the onset of the AIDS epidemic; the Great Depression to the birth of hip-hop."
"Natasha: I'm a girl who believes in science and facts. I'm definitely not the kind of girl who meets a cute boy on a crowded New York City street and falls in love with him. Not when my family is twelve hours away from being deported to Jamaica.
Daniel: I've always been the good son, the good student, living up to my parents' high expectations. Never the poet. Or the dreamer. But when I see her, I forget about all that.
The Universe: Every moment in our lives has brought us to this single moment. A million futures lie before us. Which one will come true? "
Northanger Abbey by Jane Austen (narrated by Juliet Stevenson)
"Jane Austen's first novel—published posthumously in 1818—tells the story of Catherine Morland and her dangerously sweet nature, innocence, and sometime self-delusion. Though Austen's fallible heroine is repeatedly drawn into scrapes while vacationing at Bath and during her subsequent visit to Northanger Abbey, Catherine eventually triumphs, blossoming into a discerning woman who learns truths about love, life, and the heady power of literature."
"Newlyweds Celestial and Roy are the embodiment of both the American Dream and the New South. But as they settle into the routine of their life together, they are ripped apart by circumstances neither could have imagined. Roy is arrested and sentenced to twelve years for a crime Celestial knows he didn't commit. Though fiercely independent, Celestial finds herself bereft and unmoored, taking comfort in Andre, her childhood friend, and best man at their wedding. As Roy's time in prison passes, she is unable to hold on to the love that has been her center. After five years, Roy's conviction is suddenly overturned, and he returns to Atlanta ready to resume their life together."
ten hours and Under
"Bernadette Fox is notorious. To her Microsoft-guru husband, she's a fearlessly opinionated partner; to fellow private-school mothers in Seattle, she's a disgrace; to design mavens, she's a revolutionary architect, and to 15-year-old Bee, she is a best friend and, simply, Mom.
Then Bernadette disappears. To find her mother, Bee compiles email messages, official documents, secret correspondence—creating a compulsively readable and touching novel about misplaced genius and a mother and daughter's role in an absurd world."
"On a seemingly ordinary Saturday in a California suburb, 11-year-old Julia and her family awake to discover, along with the rest of the world, that the rotation of the earth has suddenly begun to slow. Yet as she struggles to navigate an ever-shifting landscape, Julia is also coping with the normal disasters of everyday life—the fissures in her parents' marriage, the loss of old friends, the hopeful anguish of first love. With spare, graceful prose and the emotional wisdom of a born storyteller, Karen Thompson Walker has created a singular narrator in Julia, a resilient and insightful young girl, and a moving portrait of family life set against the backdrop of an utterly altered world."
"A grumpy yet lovable man finds his solitary world turned on its head when a boisterous young family moves in next door."
Bird Box by josh malerman
"Something is out there, something terrifying that must not be seen. One glimpse of it, and a person is driven to deadly violence. No one knows what it is or where it came from. Five years after it began, a handful of scattered survivors remains, including Malorie and her two young children. Living in an abandoned house near the river, she has dreamed of fleeing to a place where they might be safe. Now that the boy and girl are four, it's time to go, but the journey ahead will be terrifying: twenty miles downriver in a rowboat—blindfolded—with nothing to rely on but her wits and the children's trained ears."
"Everyone expects Billie Bridgerton to marry one of the Rokesby brothers. The two families have been neighbors for centuries, and as a child the tomboyish Billie ran wild with Edward and Andrew. Either one would make a perfect husband…someday.
Or not. There is only one Rokesby Billie absolutely cannot tolerate, and that is George. He may be the eldest and heir to the earldom, but he's arrogant, annoying, and she's absolutely certain he detests her. When Billie and George are quite literally thrown together, a whole new sort of sparks begins to fly."
Looking for more of the best short audiobooks? Check out ten short mystery audiobooks and 6 short nonfiction audiobooks. You can also search the audiobooks archive for more great short listens.