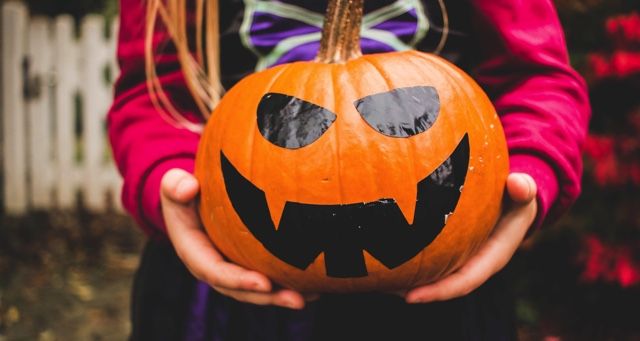 This list of scary children's books is sponsored by Holiday House.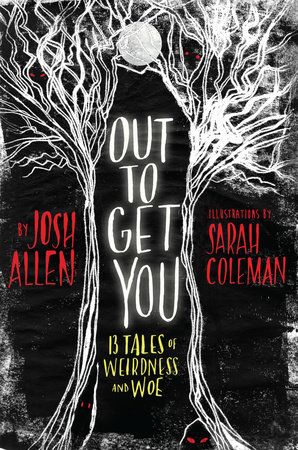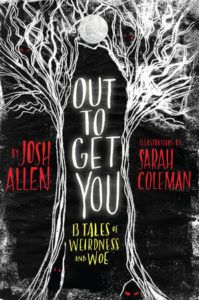 They're just thirteen ordinary kids in thirteen ordinary towns. Or is there something more eerie going on? Debut author Josh Allen masterfully concocts horror in the most innocent of places. Everyday objects suddenly become menacing and familiar spaces turn sinister. You'll sleep with one eye open . . . because if you don't, you might not ever wake up again. A glow-in-the-dark cover and thirteen eerie full-page illustrations by award-winning artist Sarah J. Coleman accompany the tales in this frightful mashup that reads like a contemporary Scary Stories to Tell in the Dark.
---
Boo! Kids of all ages love scary children's books that explore the spooky side of life. Creepy stories for kids can help young ones learn new skills and cope with fear and anxiety. While supernatural tales help children expand their imagination, other stories about misfit monsters can help kids accept those who are "different." In this list of 50 must-read scary children's books for kids of all ages, you'll find picture books, early readers and chapter books, and middle grade novels, poetry, and graphic novels to chill and thrill.
Book descriptions generously supplied by publishers and condensed or edited when necessary.
For Kids Who Enjoy Picture Books
Babu and Bina at the Ghost Party by P. Tomar and Giulia Iacopini
"When these two curious elephant kids get themselves trapped in an isolated cavern, they stumble upon the ancient ghost of a great Maharaja, the king! Instead of being afraid of the ghost, Babu and Bina make a bargain – and that's where the fun begins! This colorful, imaginative picture book, brings a fresh set of characters to life in a story that highlights Indian History with a ghostly adventure, combining the spirit of The Polar Express by Chris Van, Matilda by Roald Dahl and family fun of Robert Munsch books!" (Goodreads)
Dhegdheer, a Scary Somali Folktale by Marian A. Hassan and Betsey Brown
"In this hair-raising cautionary tale from Somalia, the Hargega Valley is plagued by the monstrous Dhegdheer, who gobbles up anyone unlucky enough to cross her path. A widow and her young son try to escape her. Will they be Dhegdheer's next meal or will their virtue save them and help bring an end to Dhegdheer's reign of terror?" (Amazon)
Ghosts in the House! By Kazuno Kohar
"At the edge of town lives a clever girl with a spooky problem: Her house is haunted! Luckily, she happens to be a witch and knows a little something about taking care of ghosts. She catches them, puts them in the washing machine, airs them out to dry, and gives them new lives as sofa covers, table cloths, and, of course, bed sheets to cozy up under. Fresh and charming illustrations in dynamic orange, black and white bring this resourceful heroine and these spooky ghosts to life." (Amazon)
Go Away, Big Green Monster! By Ed Emberley
"Caldecott Award-winner Ed Emberley has created an ingenious way for children to overcome bedtime frights. As kids turn the die-cut pages of this vibrantly illustrated book, they'll watch the Big Green Monster grow before their very eyes. Then, when they're ready to show him who's in charge, they'll turn the remaining pages and watch him disappear!
Ed Emberley's groundbreaking book about mastering fear and emotion through play and imagination has been a bestselling favorite for decades and feels as fresh and innovative today as it did 25 years ago." (Amazon)
Hershel and the Holiday Goblins by Eric Kimmel and Trina Schart Hyman
"On the first night of Hanukkah, a weary traveler named Hershel of Ostropol eagerly approaches a village, where plenty of latkes and merriment should warm him.
But when he arrives not a single candle is lit. A band of frightful goblins has taken over the synagogue, and the villagers cannot celebrate at all! Hershel vows to help them. Using his wits, the clever trickster faces down one goblin after the next, night after night. But can one man alone save Hanukkah and live to tell the tale?" (Amazon)
Los Gatos Black on Halloween by Marisa Montes and Yuyi Morales
"Under October's luna, full and bright, the monsters are throwing a ball in the Haunted Hall. Las brujas come on their broomsticks. Los muertos rise from their coffins to join in the fun. Los esqueletos rattle their bones as they dance through the door. And the scariest creatures of all aren't even there yet!
This lively bilingual Halloween poem introduces young readers to a spooky array of Spanish words that will open their ojos to the chilling delights of the season." (Goodreads)
The Little Old Lady Who Was Not Afraid of Anything by Linda Williams and Megan Lloyd
"Once upon a time, there was a little old lady who was not afraid of anything! But one autumn night, while walking in the woods, the little old lady heard . . . clomp, clomp, shake, shake, clap, clap.
And the little old lady who was not afraid of anything had the scare of her life! With bouncy refrains and classic art, this timeless Halloween story is perfect for reading aloud." (Amazon)
I Want to Be in a Scary Story by Sean Taylor and Jean Jullien
"Our author would like to write a funny story, but his main character — Monster — has a different idea. He wants to be the star of a chilling, petrifying, utterly terrifying SCARY story. But scary stories . . . well, they can be very scary — especially for their characters! Particularly when they involve dark forests and creepy witches and spooky houses . . . Oh yikes and crikes, this is definitely not the scary story Monster had in mind! Maybe he wants to be in a funny story after all!" (Amazon)
Quit Calling Me a Monster! by Jory John and Bob Shea
"Floyd Peterson is so much more than shaggy purple fur and pointy monster teeth—why can't people just see him for him? Jory John and Bob Shea have struck gold in creating a knee-slapping, read-it-again story that will start a valuable discussion about how we treat others and how it feels to be seen as 'different.'" (Amazon)
A Werewolf Named Oliver James by Nicholas John Frith
"On his way home one moonlit night, a strange thing happens to Oliver James — he unexpectedly turns into a werewolf! He can't believe it, it's so . . . AMAZING.
Suddenly, he can run super-fast, leap super-high, and lift trucks with his super-strength! But even werewolves need to be home in time for dinner and Oliver James races to make it back. There's only one problem: what on earth will his parents say when they see him?" (Amazon)
For Kids Who Enjoy Early Readers and Chapter Books
Have No Fear! Halloween Is Here! by Tish Rabe and Tom Brennan
"It's Halloween, and the Cat in the Hat is taking Sally and Nick on a trip to find costumes. But when they encounter a colony of tiny cave bats, they are in for a fright—until they learn that most bats are harmless and nothing to be afraid of! Based on the PBS Kids Cat in the Hat Knows a Lot About Halloween! TV special, coming in 2016, this early reader with over thirty stickers is the perfect way for kids to celebrate the holiday—and learn a bit about an iconic Halloween animal!" (Amazon)
In a Dark, Dark Room and Other Scary Stories by Alvin Schwartz and Dirk Zimmer
"In a dark, dark room, in a soft, soft voice, tell a scary story!
Newly reillustrated, this classic I Can Read full of spooky stories is perfect for beginning readers who love a bit of a scare.
Victor Rivas's silly and spooky art will introduce a new generation to stories inspired by traditional folktales like 'The Teeth,' 'In the Graveyard,' 'The Green Ribbon,' 'In A Dark, Dark Room,' 'The Night It Rained,' 'The Pirate,' and 'The Ghost of John.'" (Amazon)
Lulu Goes to Witch School by Jane O'Connor and Bella Sinclair
"Lulu the witch girl is a little nervous about her first day of school, but she heads off with her broom and Dracula lunch box. She immediately loves pretty new teacher, Miss Slime, especially her wart. Lulu's first flying lesson around the cemetery goes great.
There's only one thing she doesn't like about witch school—curly-haired Sandy Witch who seems to do everything better than Lulu." (Amazon)
My Monster Burrufu by Alberto Corral and Alessandra Surrentino
"Seven-year-old Olivia has just moved to a new house—the same house where a lonely monster named Burrufu lives hidden in a secret attic. One night, unable to resist the smell of delicious cookies, Burrufu sneaks out and is discovered by Olivia. The two soon learn that you can find friendship in the most unexpected places. My Monster Burrufu is a story of fear overcome, a curse, and a most unusual monster who learns from a little girl how to trust his heart." (Amazon)
The Witch Who Was Afraid of Witches by Alice Low and Jane Manning
"Wendy is a little witch who is afraid of her mean, bossy witch sisters—until one special Halloween night when she makes a magical discovery: Wendy's sisters can fly fast, cackle loudly, and cast spells, but Wendy can fly even faster. Can she find a way to out-witch her sisters? In this I Can Read Level 4 paperback—complete with full-color art and short chapters—Alice Low has adapted her popular story specifically for readers bridging to chapter books." (Amazon)
For Kids Who Read Middle Grade
Bunnicula by Deborah and James Howe
"BEWARE THE HARE! Is he or isn't he a vampire? Before it's too late, Harold the dog and Chester the cat must find out the truth about the newest pet in the Monroe household—a suspicious-looking bunny with unusual habits… and fangs! Could this innocent-seeming rabbit actually be a vampire?" (Goodreads)
The Cavendish Home for Boys and Girls by Claire Legrand
"Victoria hates nonsense. There is no need for it when your life is perfect. The only smudge on her pristine life is her best friend Lawrence. He is a disaster—lazy and dreamy, shirt always untucked, obsessed with his silly piano. Victoria often wonders why she ever bothered being his friend. (Lawrence does too.)
But then Lawrence goes missing. And he's not the only one. Victoria soon discovers that The Cavendish Home for Boys and Girls is not what it appears to be. Kids go in but come out . . . different. Or they don't come out at all.
If anyone can sort this out, it's Victoria—even if it means getting a little messy." (Amazon)
Charlie and the Grandmothers by Katy Towell
"Charlie and Georgie Oughtt have been sent to visit their Grandmother Pearl, and this troubles Charlie for three reasons. The first is that he's an exceptionally nervous twelve-year-old boy, and he worries about everything. The second is that the other children in his neighborhood who pay visits to their grandmothers never seem to return. And the third is that Charlie and Georgie don't have any grandmothers.
Upon their arrival, all of Charlie's concerns are confirmed, as "Grandmother Pearl" quickly reveals herself to be something much more gruesome than even Charlie's most outlandish fears could have predicted. He and Georgie are thrust into a creepy underworld created from stolen nightmares, where monsters disguised as grandmothers serve an ancient, evil queen by holding children captive as they slowly sap each one of their memories and dreams.
But something is different about Charlie. His worrisome nature, so often a burden, proves an asset in this frightening world. Will he be able to harness this newfound power to defeat the queen and save his sister?" (Amazon)
City of Ghosts by Victoria Schwab
"Ever since Cass almost drowned (okay, she did drown, but she doesn't like to think about it), she can pull back the Veil that separates the living from the dead . . . and enter the world of spirits. Her best friend is even a ghost.
So things are already pretty strange. But they're about to get much stranger.
When Cass's parents start hosting a TV show about the world's most haunted places, the family heads off to Edinburgh, Scotland. Here, graveyards, castles, and secret passageways teem with restless phantoms. And when Cass meets a girl who shares her "gift," she realizes how much she still has to learn about the Veil — and herself.
And she'll have to learn fast. The city of ghosts is more dangerous than she ever imagined." (Amazon)
Creepy Creatures and Other Cucuys by Xavier Garza
"Have you ever been too scared to sleep with the lights off? Were you frightened by a scratching sound inside of your walls or the beady red eyes and knotted green fingers of a duende? In his first collection of scary stories, Xavier Garza asks these questions. The stories in this collection curdle with the creepy and crawling characters of traditional folklore. These stories brim with the supernatural: the mysterious disappearance of children who made deals with duendes, evil trolls who live inside the walls of our houses; the ghostly specter of La Llorona who floats along the creek bed, howling, !Ay, mis hijos!; witches that turn into great white owls; a severed hand that hurtles across floors and catches a death grip; and even the Devil himself harvesting wayward souls. These are all cucuys, supernatural beings who have come to haunt the imagination in these tales of wonder and warning. These delicious and frightful stories come down through generations of grandmas teaching children to respect the laws of nature and the All Powerful." (Amazon)
The Dark-Thirty: Southern Tales of the Supernatural by Patricia McKissak
"In that special half-hour of twilight—the dark-thirty—there are stories to be told. Mesmerizing and breathtakingly original, these tales are inspired by African American history and range from the time of slavery to the civil rights era. With her extraordinary gift for suspense, Patricia C. McKissack has created a heart-stopping collection of lasting value, a book not quickly forgotten." (Amazon)
Doll Bones by Holly Black
"Zach, Poppy, and Alice have been friends forever. And for almost as long, they've been playing one continuous, ever-changing game of pirates and thieves, mermaids and warriors. Ruling over all is the Great Queen, a bone-china doll cursing those who displease her.
But they are in middle school now. Zach's father pushes him to give up make-believe, and Zach quits the game. Their friendship might be over, until Poppy declares she's been having dreams about the Queen—and the ghost of a girl who will not rest until the bone-china doll is buried in her empty grave.
Zach and Alice and Poppy set off on one last adventure to lay the Queen's ghost to rest. But nothing goes according to plan, and as their adventure turns into an epic journey, creepy things begin to happen. Is the doll just a doll or something more sinister? And if there really is a ghost, will it let them go now that it has them in its clutches?" (Amazon)
The Gashlycrumb Tinies by Edward Gorey
"The Gashlycrumb Tinies: or, After the Outing is an abecedarian book written by Edward Gorey that was first published in 1963. Gorey tells the tale of 26 children (each representing a letter of the alphabet) and their untimely deaths in rhyming dactylic couplets, accompanied by the author's distinctive black and white illustrations. It is one of Edward Gorey's best-known books, and is the most notorious amongst his roughly half-dozen mock alphabets." (Goodreads)
Hoodoo by Ronald L. Smith
"Twelve-year-old Hoodoo Hatcher was born into a family with a rich tradition of practicing folk magic: hoodoo, as most people call it. But even though his name is Hoodoo, he can't seem to cast a simple spell.
Then a mysterious man called the Stranger comes to town, and Hoodoo starts dreaming of the dead rising from their graves. Even worse, he soon learns the Stranger is looking for a boy. Not just any boy. A boy named Hoodoo. The entire town is at risk from the Stranger's black magic, and only Hoodoo can defeat him. He'll just need to learn how to conjure first." (Amazon)
The House in Poplar Wood by K.E. Orsmbee
"For as long as the Vickery twins can remember, Lee and his mother have served Memory, while Felix and his father assist Death. This is the Agreement. But one Halloween, Gretchen Whipple smashes her way into their lives. Her bargain is simple: If the twins help her solve the murder of local girl Essie Hasting, she'll help them break the Agreement. The more the three investigate, however, the more they realize that something's gone terribly wrong in their town. Death is on the loose, and if history repeats itself, Essie's might not be the last murder in Poplar Wood. Simultaneously heartwarming and delightfully spooky, The House in Poplar Wood is a story about a boy's desire to be free, a girl's desire to make a difference, and a family's desire to be together again." (Amazon)
The House With a Clock in its Walls by John Bellairs
"When Lewis Barnavelt, an orphan. comes to stay with his uncle Jonathan, he expects to meet an ordinary person. But he is wrong. Uncle Jonathan and his next-door neighbor, Mrs. Zimmermann, are both magicians! Lewis is thrilled. At first, watchng magic is enough. Then Lewis experiments with magic himself and unknowingly resurrects the former owner of the house: a woman named Selenna Izard. It seems that Selenna and her husband built a timepiece into the walls–a clock that could obliterate humankind. And only the Barnavelts can stop it!" (Amazon)
Jackaby by William Ritter
"Newly arrived in New Fiddleham, New England, 1892, and in need of a job, Abigail Rook meets R. F. Jackaby, an investigator of the unexplained with a keen eye for the extraordinary–including the ability to see supernatural beings. Abigail has a gift for noticing ordinary but important details, which makes her perfect for the position of Jackaby's assistant. On her first day, Abigail finds herself in the midst of a thrilling case: A serial killer is on the loose. The police are convinced it's an ordinary villain, but Jackaby is certain the foul deeds are the work of the kind of creature whose very existence the local authorities—with the exception of a handsome young detective named Charlie Cane—seem adamant to deny." (Amazon)
The Jumbies by Tracey Baptiste
"Corinne La Mer claims she isn't afraid of anything. Not scorpions, not the boys who tease her, and certainly not jumbies. They're just tricksters made up by parents to frighten their children. Then one night Corinne chases an agouti all the way into the forbidden forest, and shining yellow eyes follow her to the edge of the trees. They couldn't belong to a jumbie. Or could they? When Corinne spots a beautiful stranger at the market the very next day, she knows something extraordinary is about to happen. When this same beauty, called Severine, turns up at Corinne's house, danger is in the air. Severine plans to claim the entire island for the jumbies. Corinne must call on her courage and her friends and learn to use ancient magic she didn't know she possessed to stop Severine and to save her island home." (Amazon)
The Nest by Kenneth Oppel
"For some kids summer is a sun-soaked season of fun. But for Steve, it's just another season of worries. Worries about his sick newborn baby brother who is fighting to survive, worries about his parents who are struggling to cope, even worries about the wasp's nest looming ominously from the eaves. So when a mysterious wasp queen invades his dreams, offering to 'fix' the baby, Steve thinks his prayers have been answered.
All he has to do is say 'Yes.' But 'yes' is a powerful word. It is also a dangerous one. And once it is uttered, can it be taken back?" (Amazon)
The Night Gardener by Jonathan Auxier
"The Night Gardener follows two abandoned Irish siblings who travel to work as servants at a creepy, crumbling English manor house. But the house and its family are not quite what they seem. Soon the children are confronted by a mysterious spectre and an ancient curse that threatens their very lives. With Auxier's exquisite command of language, The Night Gardener is a mesmerizing read and a classic in the making." (Goodreads)
Night of the Living Dummy by R.L. Stine
"When twins Lindy and Kris find a ventriloquist's dummy in a Dumpster, Lindy decides to "rescue" it, and she names it Slappy. But Kris is green with envy. It's not fair. Why does Lindy get to have all the fun and all the attention? Kris decides to get a dummy of her own. She'll show Lindy. Then weird things begin to happen. Nasty things. Evil things. It can't be the dummy causing all the trouble, Can it?" (Goodreads)
Nightmares: Poems to Trouble Your Sleep by Jack Prelutsky
"This book contains 12 frightening poems about creepy creatures that will haunt your sleep. Included are poems about haunted houses, bogeyman, vampires, werewolves, and skeletons." (Scholastic)
A Properly Unhaunted Place by William Alexander
"Rosa Ramona Díaz has just moved to the small, un-haunted town of Ingot—the only ghost-free town in the world. She doesn't want to be there. She doesn't understand how her mother—a librarian who specializes in ghost-appeasement—could possibly want to live in a place with no ghosts. Frankly, she doesn't understand why anyone would.
Jasper Chevalier has always lived in Ingot. His father plays a knight at the local Renaissance Festival, and his mother plays the queen. Jasper has never seen a ghost, and can't imagine his un-haunted town any other way. Then an apparition thunders into the festival grounds and turns the quiet town upside down.
Something otherworldly is about to be unleashed, and Rosa will need all her ghost appeasement tools—and a little help from Jasper—to rein in the angry spirits and restore peace to Ingot before it's too late." (Amazon)
Scary Stories for Young Foxes by Christian McKay Heidicker
"The haunted season has arrived in the Antler Wood. No fox kit is safe.
When Mia and Uly are separated from their litters, they discover a dangerous world full of monsters. In order to find a den to call home, they must venture through field and forest, facing unspeakable things that dwell in the darkness: a zombie who hungers for their flesh, a witch who tries to steal their skins, a ghost who hunts them through the snow . . . and other things too scary to mention." (Amazon)
Skeleton Man by Joseph Bruchac
"Molly's father, who grew up on the Mohawk Reserve of Akwesasne, always had the best scary stories. One of her favorites was the legend of Skeleton Man, a gruesome tale about a man with such insatiable hunger he ate his own flesh before devouring those around him.
But ever since her parents mysteriously vanished, those spooky tales have started to feel all too real." (Amazon)
Small Spaces by Katherine Arden
"After suffering a tragic loss, eleven-year-old Ollie who only finds solace in books discovers a chilling ghost story about a girl named Beth, the two brothers who loved her, and a peculiar deal made with "the smiling man"–a sinister specter who grants your most tightly held wish, but only for the ultimate price.
Captivated by the tale, Ollie begins to wonder if the smiling man might be real when she stumbles upon the graves of the very people she's been reading about on a school trip to a nearby farm. Then, later, when her school bus breaks down on the ride home, the strange bus driver tells Ollie and her classmates: "Best get moving. At nightfall they'll come for the rest of you." Nightfall is, indeed, fast descending when Ollie's previously broken digital wristwatch begins a startling countdown and delivers a terrifying message: RUN.
Only Ollie and two of her classmates heed these warnings. As the trio head out into the woods–bordered by a field of scarecrows that seem to be watching them–the bus driver has just one final piece of advice for Ollie and her friends: "Avoid large places. Keep to small."
And with that, a deliciously creepy and hair-raising adventure begins." (Amazon)
Something Wicked This Way Comes by Ray Bradbury
"For those who still dream and remember, for those yet to experience the hypnotic power of its dark poetry, step inside. The show is about to begin. Cooger & Dark's Pandemonium Shadow Show has come to Green Town, Illinois, to destroy every life touched by its strange and sinister mystery. The carnival rolls in sometime after midnight, ushering in Halloween a week early. A calliope's shrill siren song beckons to all with a seductive promise of dreams and youth regained. Two boys will discover the secret of its smoke, mazes, and mirrors; two friends who will soon know all too well the heavy cost of wishes…and the stuff of nightmares." (Amazon)
Spirit Hunters by Ellen Oh
"A riveting ghost story and captivating adventure, this tale will have you guessing at every turn!
Harper doesn't trust her new home from the moment she steps inside, and the rumors are that the Raine family's new house is haunted. Harper isn't sure she believes those rumors, until her younger brother, Michael, starts acting strangely.
The whole atmosphere gives Harper a sense of déjà vu, but she can't remember why. She knows that the memories she's blocking will help make sense of her brother's behavior and the strange and threatening sensations she feels in this house, but will she be able to put the pieces together in time?" (Amazon)
Thornhill by Pam Smy
"1982: Mary is a lonely orphan at the Thornhill Institute For Children at the very moment that it's shutting its doors. When her few friends are all adopted or re-homed and she's left to face a volatile bully alone, her revenge will have a lasting effect on the bully, on Mary, and on Thornhill itself.
2017: Ella has just moved to a new town where she knows no one. From her room on the top floor of her new home, she has a perfect view of the dilapidated, abandoned Thornhill Institute across the way, where she glimpses a girl in the window. Determined to befriend the girl and solidify the link between them, Ella resolves to unravel Thornhill's shadowy past.
Told in alternating, interwoven plotlines―Mary's through intimate diary entries and Ella's in bold, striking art―Pam Smy's Thornhill is a haunting exploration of human connection, filled with suspense." (Amazon)
Wait Till Helen Comes by Mary Downing Hahn
"Since its publication in 1986, the deliciously frightening novel Wait Till Helen Comes: A Ghost Story has not only haunted countless readers, but has also won eleven state book awards. The spine-chilling tale begins when twelve-year-old Molly and her ten-year-old brother, Michael, learn that they'll be moving to a refurbished old church in rural Maryland with their mother's new husband, Dave, and their younger stepsister, Heather. Heather is an insufferable brat, but that turns out to be the least of the family's worries. When she strikes up a friendship with Helen, the malevolent ghost of a seven-year-old girl who died in a mysterious fire more than a hundred years ago, things really heat up . . . and Heather's unsettling threat, "Wait till Helen comes," becomes a grim reality."
Warren the 13th and the All-Seeing Eye by Tania del Rio
"With fantastic Victorian-esque design, fast-paced action, and plenty of puzzles to solve, this middle grade mystery is a fun and engaging read for even the most reluctant readers. Warren the 13th is the lone bellhop, valet, groundskeeper, and errand boy of his family's ancient hotel. The strange, shadowy mansion is full of crooked corridors and mysterious riddles—and it just might be home to a magical treasure known as the All-Seeing Eye. But if Warren is going to find the hidden treasure, he'll need to solve several other mysteries first: What is the strange creature lurking in the hotel boiler room? Who is the ghostly girl creeping around the garden's hedge maze? And why is the hotel's only guest covered in bandages? Full of puzzles, secret codes, outrageous inventions, and hundreds of intricate illustrations, Warren the 13th and The All-Seeing Eye will delight and confound readers of all ages." (Amazon)
Whichwood by Tahereh Mafi
"Laylee can barely remember the happier times before her beloved mother died. Before her father, driven by grief, lost his wits (and his way) and she was left as the sole remaining mordeshoor in the village of Whichwood, destined to spend her days scrubbing the skins and souls of the dead in preparation for the afterlife. It's become easy to forget and easier still to ignore not only her ever-increasing loneliness, but the way her overworked hands are stiffening and turning silver, just like her hair.
But soon, a pair of familiar strangers appear, and Laylee's world is turned upside down as she rediscovers color, magic, and the healing power of friendship." (Amazon)
A Witch's Kitchen by Dianna Sanchez
"Despite her mother's best efforts to teach her, every spell Millie tries goes horribly wrong, but she's a fabulous cook. When Millie conjures chocolate sauce instead of a transformation potion, her mother gives up and sends her to the Enchanted Forest School, where she's bullied by goblins, snubbed by an elf, and has her witch's hat stolen. Even as Millie's magical talent begins to develop, turning her house ghost into a frog and accidentally charming her entire class, Millie starts to wonder: what if she's not a witch at all?" (Amazon)
For Kids Who Read Middle Grade Graphic Novels
Coraline by Neil Gaiman and P. Craig Russell
"When Coraline steps through a door to find another house strangely similar to her own (only better), things seem marvelous.
But there's another mother there, and another father, and they want her to stay and be their little girl. They want to change her and never let her go.
Coraline will have to fight with all her wit and courage if she is to save herself and return to her ordinary life." (Amazon)
Ghosts by Raina Telgemeier
"Catrina and her family are moving to the coast of Northern California because her little sister, Maya, is sick. Cat isn't happy about leaving her friends for Bahía de la Luna, but Maya has cystic fibrosis and will benefit from the cool, salty air that blows in from the sea. As the girls explore their new home, a neighbor lets them in on a secret: There are ghosts in Bahía de la Luna. Maya is determined to meet one, but Cat wants nothing to do with them. As the time of year when ghosts reunite with their loved ones approaches, Cat must figure out how to put aside her fears for her sister's sake — and her own." (Amazon)
Nightlights by Lorena Alvarez
"Every night, tiny stars appear out of the darkness in little Sandy's bedroom. She catches them and creates wonderful creatures to play with until she falls asleep, and in the morning brings them back to life in the whimsical drawings that cover her room.
One day, Morfie, a mysterious pale girl, appears at school. And she knows all about Sandy's drawings…" (Amazon)
The Okay Witch by Emily Steinkellner
"Thirteen-year-old Moth Hush loves all things witchy. But she's about to discover that witches aren't just the stuff of movies, books, and spooky stories. When some eighth-grade bullies try to ruin her Halloween, something really strange happens. It turns out that Founder's Bluff, Massachusetts, has a centuries-old history of witch drama. And, surprise: Moth's family is at the center of it all! When Moth's new powers show up, things get totally out-of-control. She meets a talking cat, falls into an enchanted diary, and unlocks a hidden witch world. Secrets surface from generations past as Moth unravels the complicated legacy at the heart of her town, her family, and herself." (Amazon)
Suee and the Shadow by Ginger Ly and Molly Park
"Meet Suee: Twelve years old, wears her hair to the left in a point, favors a black dress, has no friends—and she likes it that way! When Suee transfers to the dull and ordinary Outskirts Elementary, she doesn't expect to hear a strange voice speaking to her from the darkness of the school's exhibit room, and she certainly doesn't expect to see her shadow come to life. Then things start to get really weird: One by one, her classmates at school turn into zombie-like, hollow-eyed Zeroes. While Suee investigates why this is happening, her shadow gains power. Soon, Suee must confront a stunning secret that her shadow has been hiding under her own two feet—something very dark and sinister that could put Suee and her newfound friends at risk!" (Amazon)
Sheets by Brenna Thummler
"Marjorie Glatt feels like a ghost. A practical thirteen-year-old in charge of the family laundry business, her daily routine features unforgiving customers, unbearable P.E. classes, and the fastidious Mr. Saubertuck who is committed to destroying everything she's worked for.
Wendell is a ghost. A boy who lost his life much too young, his daily routine features ineffective death therapy, a sheet-dependent identity, and a dangerous need to seek purpose in the forbidden human world.
When their worlds collide, Marjorie is confronted by unexplainable disasters as Wendell transforms Glatt's Laundry into his midnight playground, appearing as a mere sheet during the day. While Wendell attempts to create a new afterlife for himself, he unknowingly sabotages the life that Marjorie is struggling to maintain." (Amazon)
The Stonekeeper by Kazu Kibuishi
"After the tragic death of their father, Emily and Navin move with their mother to the home of her deceased great-grandfather, but the strange house proves to be dangerous. Before long, a sinister creature lures the kids' mom through a door in the basement. Em and Navin, desperate not to lose her, follow her into an underground world inhabited by demons, robots, and talking animals. Eventually, they enlist the help of a small mechanical rabbit named Miskit. Together with Miskit, they face the most terrifying monster of all, and Em finally has the chance to save someone she loves." (Amazon)
---
For further coverage of scary children's literature, check out: