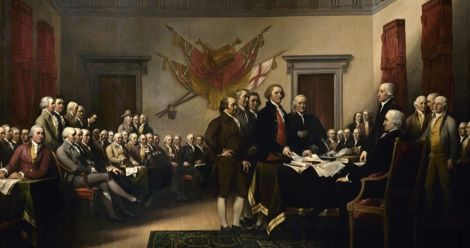 Lists
50 Must-Read Revolutionary War Books
This content contains affiliate links. When you buy through these links, we may earn an affiliate commission.
The American Revolution is among the most-written-about, most-studied eras of U.S. history. But often, the books that get the most coverage tend to focus on the same elite white men over and over again. The part they played in the American Revolution is interesting, sure, but they aren't even close to the entire story. To help you navigate the tons and tons of Revolutionary War books out there, and to make sure you're getting a more textured and accurate picture of the Revolutionary Era, I've gathered together some of the best in a wide range of categories. I've included some classic American Revolution nonfiction books; books that focus on people usually left out of traditional books about the American Revolution; Revolutionary War books written during the period; books related to Hamilton: An American Musical (how could I not?) and its main characters; books about the global Age of Revolution; and romance, fantasy, and sci-fi books about the American Revolution.
Whatever you're looking for—from Framers to farmers, from Thomas Jefferson to Toussaint Louveture, from pirates to poets, from turncoats to time travelers—this list will get you started.
Classic Revolutionary War Books
1776 by David McCullough
"America's beloved and distinguished historian presents, in a book of breathtaking excitement, drama, and narrative force, the stirring story of the year of our nation's birth, 1776, interweaving, on both sides of the Atlantic, the actions and decisions that led Great Britain to undertake a war against her rebellious colonial subjects and that placed America's survival in the hands of George Washington."
"The Ideological Origins of the American Revolution, awarded both the Pulitzer and the Bancroft prizes, has become a classic of American historical literature. Hailed at its first appearance as 'the most brilliant study of the meaning of the Revolution to appear in a generation,' it was enlarged in a second edition to include the nationwide debate on the ratification of the Constitution"
"First published in 1980 and recently out of print, Liberty's Daughters is widely considered a landmark book on the history of American women and on the Revolution itself."
"Pauline Maier shows us the Declaration as both the defining statement of our national identity and the moral standard by which we live as a nation. It is truly 'American Scripture,' and Maier tells us how it came to be—from the Declaration's birth in the hard and tortuous struggle by which Americans arrived at Independence to the ways in which, in the nineteenth century, the document itself became sanctified."
"William Cooper Nell, a nineteenth century abolitionist, wished to reexamine our understanding of this famous war and highlight to the world the black soldiers who fought and died for the cause of American Independence."
"Paul Revere's midnight ride looms as an almost mythical event in American history—yet it has been largely ignored by scholars and left to patriotic writers and debunkers. Now one of the foremost American historians offers the first serious look at the events of the night of April 18, 1775—what led up to it, what really happened, and what followed—uncovering a truth far more remarkable than the myths of tradition."
"Americans have always put the past to political ends. The Union laid claim to the Revolution—so did the Confederacy. Civil rights leaders said they were the true sons of liberty—so did Southern segregationists. This book tells the story of the centuries-long struggle over the meaning of the nation's founding, including the battle waged by the Tea Party, Glenn Beck, Sarah Palin, and evangelical Christians to 'take back America.'"
Revolutionary War Books About People Who Usually Get Left Out of the Story
"In this provocative reinterpretation of one of the best-known events in American history, Woody Holton shows that when Thomas Jefferson, George Washington, and other elite Virginians joined their peers from other colonies in declaring independence from Britain, they acted partly in response to grassroots rebellions against their own rule."
"Taking on decades of received wisdom, David Waldstreicher has written the first book to recognize slavery's place at the heart of the U.S. Constitution. Famously, the Constitution never mentions slavery. And yet, of its eighty-four clauses, six were directly concerned with slaves and the interests of their owners."
"Told for the first time in picture book form is the true story of James Lafayette, a slave who spied for George Washington's army during the American Revolution. But while America celebrated its newfound freedom, James returned to slavery. His service hadn't qualified him for the release he'd been hoping for. For James the fight wasn't over; he'd already helped his country gain its freedom, now it was time to win his own."
Chains by Laurie Halse Anderson
"From acclaimed author Laurie Halse Anderson comes this compelling, impeccably researched novel that shows the lengths we can go to cast off our chains, both physical and spiritual."
"Copper Sun is the epic story of a young girl torn from her African village, sold into slavery, and stripped of everything she has ever known—except hope."
"In this audacious recasting of the American Revolution, distinguished historian Gary Nash offers a profound new way of thinking about the struggle to create this country, introducing readers to a coalition of patriots from all classes and races of American society."
"In this unique history of 1776, Claudio Saunt looks beyond the familiar story of the thirteen colonies to explore the many other revolutions roiling the turbulent American continent. In that fateful year, the Spanish landed in San Francisco, the Russians pushed into Alaska to hunt valuable sea otters, and the Sioux discovered the Black Hills."
"This groundbreaking book offers the first global history of the loyalist exodus to Canada, the Caribbean, Sierra Leone, India, and beyond."
"A rising-star historian offers a significant new global perspective on the Revolutionary War with the story of the conflict as seen through the eyes of the outsiders of colonial society."
"From one of our most accomplished and widely admired historians—a revelatory portrait of Benjamin Franklin's youngest sister, Jane, whose obscurity and poverty were matched only by her brother's fame and wealth but who, like him, was a passionate reader, a gifted writer, and an astonishingly shrewd political commentator."
Books Written during the Revolutionary & Early National Periods
"First published on January 10, 1776, 'Common Sense' was one the most influential and best-selling works from the colonial period. One of the central political arguments amongst the colonists of the pre-revolutionary period was whether or not they should seek freedom from British rule."
"The extraordinary writings of Phillis Wheatley, a slave girl turned published poet. This volume collects both Wheatley's letters and her poetry: hymns, elegies, translations, philosophical poems, tales, and epyllions—including a poignant plea to the Earl of Dartmouth urging freedom for America and comparing the country's condition to her own."
"An exciting and often terrifying adventure story, as well as an important precursor to such famous nineteenth-century slave narratives as Frederick Douglass's autobiographies, Olaudah Equiano's The Interesting Narrative recounts his kidnapping in Africa at the age of ten, his service as the slave of an officer in the British Navy, his ten years of labor on slave ships until he was able to purchase his freedom in 1766, and his life afterward as a leading and respected figure in the antislavery movement in England."
The Federalist Papers by Alexander Hamilton, James Madison and John Jay
"An excellent reference for anyone who wants a better understanding of the Constitution, this compilation of eighty-five articles explains and defends the ideals behind the highest form of law in the United States. The essays were written and published anonymously in New York newspapers during the years 1787 and 1788 by three of the Constitution's framers and ratifiers."
Collects Franklin's autobiography, prefaces to Poor Richard's Almanack, and letters, satires, and other documents from the revolutionary period.
Revolutionary War Books Related to Hamilton
"A backstage pass to the groundbreaking, hit musical Hamilton, winner of the 2016 Pulitzer Prize for Drama and Eleven Tony Awards, including Best Musical, including the award-winning libretto, behind-the-scenes photos and interviews, and exclusive footnotes from composer-lyricist-star Lin-Manuel Miranda."
"Pulitzer Prize-winning author Ron Chernow presents a landmark biography of Alexander Hamilton, the Founding Father who galvanized, inspired, scandalized, and shaped the newborn nation."
"Gilbert du Motier became the Marquis de Lafayette at a young age, but he was not satisfied with the comforts of French nobility—he wanted adventure!"
"From the bestselling author of Assassination Vacation and The Partly Cloudy Patriot, an insightful and unconventional account of George Washington's trusted officer and friend, that swashbuckling teenage French aristocrat the Marquis de Lafayette."
"Beautifully written and brilliantly argued, When the United States Spoke French offers a fresh perspective on the tumultuous years of America as a young nation, when the Atlantic world's first republican experiments were put to the test."
"In this beautifully written novel of historical fiction, bestselling author Susan Holloway Scott tells the story of Alexander Hamilton's wife, Eliza—a fascinating, strong-willed heroine in her own right and a key figure in one of the most gripping periods in American history."
"From the New York Times bestselling authors of America's First Daughter comes the epic story of Eliza Schuyler Hamilton—a revolutionary woman who, like her new nation, struggled to define herself in the wake of war, betrayal, and tragedy. In this haunting, moving, and beautifully written novel, Dray and Kamoie used thousands of letters and original sources to tell Eliza's story as it's never been told before—not just as the wronged wife at the center of a political sex scandal—but also as a founding mother who shaped an American legacy in her own right."
"From the New York Times bestselling author of Irena's Children comes a comprehensive and riveting biography of the extraordinary life and times of Eliza Hamilton, the wife of founding father Alexander Hamilton, and a powerful, unsung hero in America's early days."
Nonfiction Books About the Age of Revolution
"Distinguished historians provide uniquely broad coverage of the dynamics of global and regional change in the late eighteenth and nineteenth centuries. Sheds new light on the American, French and Haitian revolutions, alongside ground-breaking treatments of Africa's place in world history and Asia's age of revolutions."
"This magisterial work is a comparative history of three important revolutions in the Americas: the American Revolution in 1776, the 1791 slave revolt in the French colony that became Haiti, and the prolonged Spanish-American struggle for independence that ended a half century later."
"This powerful, intensely dramatic book is the definitive account of the Haitian Revolution of 1794–1803, a revolution that began in the wake of the Bastille but became the model for the Third World liberation movements from Africa to Cuba."
"During the Haitian Revolution of 1791–1804, arguably the most radical revolution of the modern world, slaves and former slaves succeeded in ending slavery and establishing an independent state. Yet on the Spanish island of Cuba barely fifty miles distant, the events in Haiti helped usher in the antithesis of revolutionary emancipation."
"Transcending geographic and cultural lines, From Toussaint to Tupac is an ambitious collection of essays exploring black internationalism and its implications for a black consciousness. At its core, black internationalism is a struggle against oppression, whether manifested in slavery, colonialism, or racism. The ten essays in this volume offer a comprehensive overview of the global movements that define black internationalism, from its origins in the colonial period to the present."
"Based on handwritten and printed sources in Spanish, English, and French, this book tells the story of Cartagena's multinational and multicultural seafarers, revealing the Trans-Atlantic and maritime dimensions of South American independence."
"Drawing upon a rich collection of archival and other primary source materials, Horne deftly weaves together a disparate array of voices—world leaders and diplomats, slaveholders, white abolitionists, and the freedom fighters he terms Black Jacobins. Horne at once illuminates the tangled conflicts of the colonial powers, the commercial interests and imperial ambitions of U.S. elites, and the brutality and tenacity of the American slaveholding class, while never losing sight of the freedom struggles of Africans both on the island and on the mainland, which sought the fulfillment of the emancipatory promise of 18th century republicanism."
Genre Fiction Books about the American Revolution
"The Legend Of Sleepy Hollow by Washington Irving is an eerie tale set deep in the forest. This is a classic story and one which has inspired a recent motion picture and also one which has been enthralling people for generations."
"But when romance gives way to passion, Ichabod and Katrina embark on a secret love affair, sneaking away into the woods after dark to be together—all while praying they do not catch sight of Sleepy Hollow's legendary Headless Horseman. That is, until All Hallows's Eve, when Ichabod suddenly disappears, leaving Katrina alone and in a perilous position."
"1777: In the throes of the Revolutionary War, Landon Mansion is commandeered by British Lord "Butcher" Bedford. He stabs Lucy Tarleton—who spurned his king and his love—leaving her to die in her father's arms. NOW: After the day's final tour, docent Allison Leigh makes her rounds while locking up…and finds a colleague slumped over Bedford's desk, impaled on his own replica bayonet."
"Beverly Jenkins enthralls romance readers once again with Midnight—a heart-soaring African American historical romance novel set during America's turbulent Revolutionary War. A story of passion and dangerous intrigue, Midnight unites a beautiful undercover spy—the notorious 'Lady Midnight' who's helping the rebels fight for a nation's independence from the British—with a reckless and dashing adventurer on a mission of personal vengeance. Exciting, thrilling, wonderfully sensual—and alive with fascinating history—Midnight is further proof why Beverly Jenkins is one of the world's premier authors of African American romantic fiction."
"A passionate love story and a fascinating exploration of the power of tradition and the possibilities not just for change but for revolution, Time's Convert channels the supernatural world-building and slow-burning romance that made the All Souls Trilogy instant bestsellers to illuminate a new and vital moment in history, and a love affair that will bridge centuries."
"They are lovers on opposite sides of a brutal war, with everything at stake and no possibility of retreat. They can trust no one—especially not each other."
"Sarah Ward never set out to break the law. Before Boston became a powder keg, she was poised to escape the stigma of being a notorious pirate's daughter by wedding Micah Wild, one of Salem's most successful merchants. Then a Patriot mob destroyed her fortune and Wild played her false by marrying her best friend and smuggling a chest of Rebel gold aboard her family's ship."
"A riveting historical novel about Peggy Shippen Arnold, the cunning wife of Benedict Arnold and mastermind behind America's most infamous act of treason."
"Honor, freedom, liberty…those were mere words to Katie Armstrong, a savvy thief and indentured servant on the run in colonial Boston. For the sake of survival, she agreed to a British lord's bribe: unmask the identity of the patriot known as John Smith, or be returned to her brutal master. But soon the cagey John Smith was making the same threat—unless she spied for him. Katie planned to play both men against each other…until, masquerading as Smith's mistress, she lost her heart to the seductive stranger she had set out to undo."
"Though Catie Hazard had never forgotten the youthful soldier to whom she had given her innocence years before, she had never expected to lay eyes on Anthony Sparhawk ever again. Especially not as an officer of an invading army!"
"In An Echo in the Bone, the seventh volume, Gabaldon continues the extraordinary story of the eighteenth-century Scotsman Jamie Fraser and his twentieth-century time-traveling wife, Claire Randall."
"Boston, 1765: The British Crown imposes onerous taxes on the thirteen colonies, and intrigue swirls around firebrands like Samuel Adams and the Sons of Liberty. For Ethan Kaille, a conjurer who makes his living tracking down thieves, politics is for others…until he is asked to recover a necklace worn by the murdered daughter of a prominent family."
"In a rich, distinctive world that mixes magic with technology, who could stand against mages that control gunpowder and bullets? Promise of Blood is the start of a new epic fantasy series from Brian McClellan."
---
What are your favorite Revolutionary War books?