This content contains affiliate links. When you buy through these links, we may earn an affiliate commission.
I love me a good mystery. I want to be Miss Marple when I grow up and Flavia de Luce is absolutely my best friend in my head. But long before Agatha Christie and Alan Bradley filled my bookshelves, I was a kid enraptured by spies named Harriet and kids living in boxcars. Mystery books for kids are great because they foster logical thinking and deductive reasoning. They're also just plain fun.
Classics like Nancy Drew and the Hardy Boys still have a healthy readership, but the genre has come a long way. There are so many fantastic mystery series and standalone works out there by a diverse mix of authors and illustrators. I've compiled a list of 50 mystery books for kids, both new and tried & true. The list spans everything from cake theft capers in picture books to art heist novels for middle grade readers.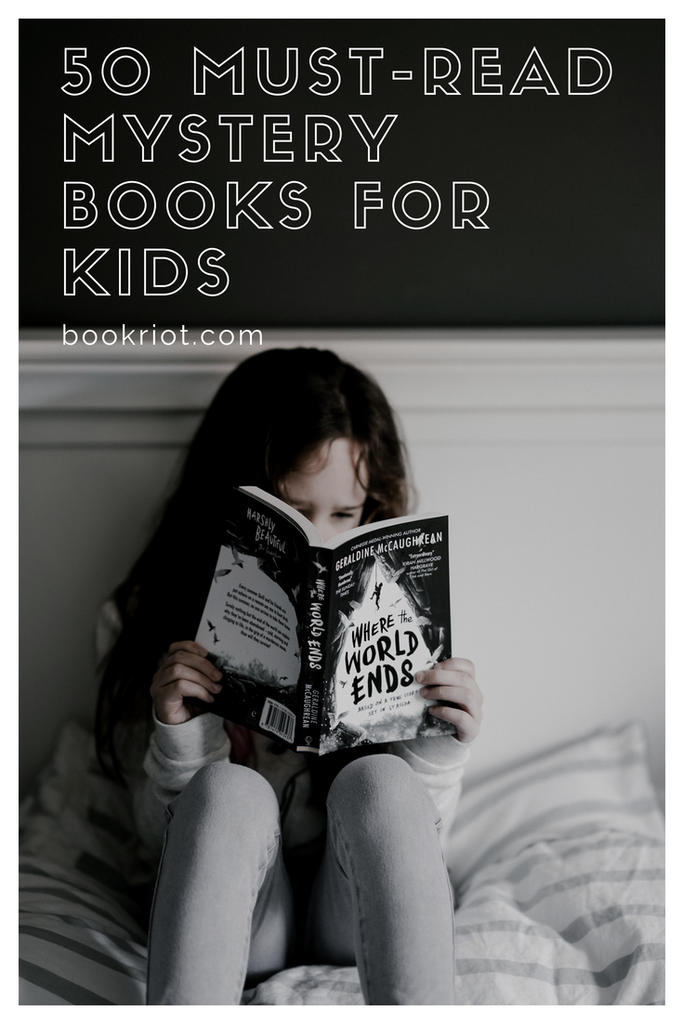 A note about reading levels…
I've broken this list up into two broad sections, picture books and chapter books, with the chapter books listed in a mostly ascending order based on grade level. This process was a tricky one! I consulted various sources to come up with the best estimates: Scholastic's handy Book Wizard tool; the Renaissance Accelerated Reader Bookfinder; conversations with local librarians and, of course, input from parents. Using a combination of these resources, I've listed a grade level for each of these 50 selections, but these are by no means a universal one-size-fits-all guide.
Lastly, while this list focuses on mystery books for kids in the fifth grade or younger, the reading level range on several titles creeps into higher grade levels, i.e. titles with a range of grades 5–7. I've gone ahead and included those since they do at minimum work for fifth graders. Again, use your own discretion.
Now go crack some cases!
Picture Mystery Books For Kids (infants, toddlers, preschool, Kindergarten)
So, funny story—a lot of mystery books for kids like to riff off the Sherlock thing. This one is for the really little humans so it's sort of in a league of its own! The books in the Babylit Sounds Primer series all use simple word pairings to introduce young minds to classic works of literature, like this one about the famed quirky detective of London's Baker Street.
In this beautifully illustrated picture book—seriously, the detail in these drawings is stunning—Horace the elephant throws himself an extravagant costume party to celebrate his eleventh birthday. Then disaster strikes amidst the festivities: someone has eaten the lavish birthday feast! Horace must figure out who the culprit is in the eleventh hour—which of his friends has dunnit?!
In this remix of the classic tale, Detective Doggedly is trying to catch the huffing, puffing, house-blowing wolf before he eats the three little pigs for dinner. With the help of some observant cows and his own canine spidey-sense, he'll sniff out the culprit, doggone it!
Well, this picture book certainly isn't helping my theory that all pigeons are tiny cooing spies. It reads like a crime noir comic, the story of a plumed private investigator who's come out of retirement to pursue a birdnapping case. He looks every bit the detective as one can as a pigeon—he's got a fedora on so you know he means business.
The Dot & Jabber series by Ellen Stoll Walsh
Meet Dot & Jabber, a pair of teeny mouse detectives who solve a different mystery in each of the books from this adorable series. These mysteries are both fun and informative for young readers, introducing them to the wonders of science with the help of some cute little critters. Each book includes an afterword with facts about the book's subject; Dot & Jabber and the Great Acorn Mystery, for example, includes easy-to-understand tidbits about oak trees and acorns.
Of all the dirty, underhanded crimes I've come across in my life as a mystery reader, this takes the cake. Someone has stolen the pastries! Betty's Bakery has been burgled by a bread bandit who cleared the cupboards and counters of carrot cake, cornbread and crackers. The animal detectives of Gumshoe Zoo are on the case in this awesome, alliterative comic picture book.
This is the second book in the Dear Mrs. Larue series about a dog named Ike Larue with a knack for mad-cap hijinx. The rest of the books in the series aren't mysteries, but this one finds Ike putting on a detective hat to solve a string of canary burglaries in the neighborhood. The problem is that Ike's been accused—wrongly, of course!—of a crime himself, and is trapped in doggy jail! There's only one thing for Ike to do when the local police force can't seem to get the job done: break free and take matters into his own hands. Err, paws.
"'Today is the perfect day for solving mysteries and eating cheese,' thinks Harold, tucked up warm in bed. Though, for Harold every day was the perfect day for solving mysteries and eating cheese." And those, folks, are some words I can relate to. Harold the fox attends a costume birthday party for his friend Donkey. The festivities are soured when the birthday burro's cake is stolen during a game of monster tag. Harold steps in to save the party and the day by putting the pieces together to find the culprit of this cake caper. It's a great lesson on the importance of honesty, sharing, and the joys of a yummy slice of cake.
Don't let the format fool you—while it looks like a chapter book from the outside, the easy, sparse language reads like a picture book. Baby Monkey is just the cutest little gumshoe, sitting in his giant office waiting for cases to solve. He finds the thieving culprits for everything from an opera singer's missing jewels to an astronaut's misplaced spaceship using some serious detective work. I love, love, love that he never begins a case before stopping for a snack and how laborious an effort it is for him to put on pants. Pants are hard!
You might take a look at that title and think, "Is this about Vanessa in her twenties when Mr. Tweezer went rogue and defiled her face?" But no, this picture book is about cat detective Inspector Brunswick. He and his assistant Nelson take a trip to the art museum where they find something missing from a very famous painting. The two put their heads together to figure out what happened in this charming story about art, teamwork and a very sneaky caterpillar.
This picture book is the perfect companion to the classic kids song. You know—the one you started singing as soon as you read the title, and don't you deny it! Mr. Skunk discovers the aforementioned cookie jar and dang it, he's going to find the thief. Follow along as he confronts each of his animal friends to see which one of them nabbed those cookies!
7 Ate 9 by Tara Lazar, Illustrated by Ross MacDonald
Ok, I can't write up a better blurb for this book than what's already been done. Alas, I bring you this spot-on, punny piece of plot-summary perfection from the author's website: "Word on the street is that 7 ate 9. If that's true, 6's days are numbered. Lucky for him, Private I is on the case. But the facts just don't add up. It's odd. Will Private I put two and two together and solve the problem…or is 6 next in line to be subtracted?" See? Told you.
I'm a fan of Richard Scarry books in general, but this is one of my favorites. Sam Cat and Dudley Pig are these cute and quirky animal sleuths who do cute and quirky detective things. In this collection of three stories, their capers include catching shoplifters, pearl thieves and even more shockingly: pie thieves. Sam and Dudley are often hilariously clueless and love to dress themselves in some pretty ridiculous disguises. The illustrations are half the fun.
Mama the Alien by Rene Colato Lainez, Illustrated by Laura Lacamara
This isn't exactly your typical mystery—there's no crime to be solved, no whodunnit to unravel. The mystery here is whether Sofia's mom is who she says she is—like from planet Earth! It all starts one day when an ID card falls out of Mama's purse. Sofia sees the words "Resident Alien" on it and wonders: does this mean Mama is an alien?! This bilingual story is a funny, lighthearted lesson on immigration and how words sometimes mean more than one thing.
Chapter Mystery Books For Kids (Grades 1–5)
The Haunted Library series by Dori Hillstead Butler (Grades 1–3)
This delightful series feels a little like a bookish Casper the Friendly Ghost. It's about a library-lurking ghost named Kaz who gets separated from his family and fears he'll never see them again. Then one day he meets Claire, a young girl who can actually see him! The pair become friends and solve ghostly mysteries while they search for Kaz's family.
The Mysteries of Maisie Hitchins series by Holly Webb, Illustrated by Marion Lindsay (Grades 1-4)
Remember when I told you that a lot of kids mystery books are a re-imagining of the Sherlock Holmes stories? I presume you'll now accept that I'm no liar! In the Mysteries of Maisie Hitchins series, Maisie is a twelve-year-old working in her grandmother's boarding house with dreams of being a big, bad, lady detective. She just knows she'd be good at it, she only needs a case to prove it! In The Case of the Stolen Sixpence, the first of eight in the series, she finally gets her big break. Maisie is our reimagined Holmes and her sidekick Eddie is her Watson; Eddie just so happens to be a dog, but hey! He proves to be every bit as helpful.
Nancy Clancy, Super Sleuth by Jane O'Connor, Illustrated by Robin Price Glasser (Grades 1-4)
Nancy puts on her detective cap to help a classmate find a stolen item of priceless value. Little ones may recognize our stylish little sleuth from the Fancy Nancy picture books. Back in action in chapter book form, Nancy solves mysteries in a pink trench coat and a bedazzled magnifying glass. She's…well, fancy!
Julian and his buddies Huey and Gloria consider themselves some pretty sweet secret agents. They have after all rescued a neighborhood dog, saved a small child from drowning… but these kids have their sights set on solving some serious crime. They decide they're going to nab themselves a bank robber but get in the way of the police. When they find themselves in some hot water, they'll need to use their super sleuthing and spy skills to save themselves!
Malcolm at Midnight by W. H. Beck, Illustrated by Brian Lies (Grades 2-5)
Malcolm is jazzed to be the new fifth grade class pet at school: he's well fed, well loved and has some comfy digs. Even better: he finds out that the rest of the classroom pets are part of a secret society called The Academy whose charge is to keep the students of the school safe. When Aggy the iguana goes missing, the rest of the class pets accuse Malcolm of the crime. See, he chose to hide the fact that he's not so much a mouse as a rat, and rats are not to be trusted—or are they? This is a delightful mystery with some valuable lessons on acceptance and inclusion.
The Geronimo Stilton series by Geronimo Stilton (Grades 2-5)
I went back and forth as to whether this originally Italian series should be labeled as mystery or adventure and I think it's a little bit of both! The books are about globetrotting mouse Geronimo Stilton, a best-selling author, investigative reporter and editor for the Rodent Gazette in New Mouse City, Mouse Island. Stilton embarks on all sorts of wild adventures with his sister Thea, cousin Trap, and nephew Benjamin, keeping a diary of his travels as inspiration for his books. Start with The Lost Treasure of the Emerald Eye where Geronimo and Thea find a mysterious map that leads the pair on a hunt for treasure.
The Sherlock Sam series by A.J. Low
(

Grades 2-5)

Yep. Another Sherlock book, but with a few twists! It's set in Singapore, our sleuth Samuel Tan Cher Lock (aka Sherlock Sam) is a 10 year old foodie, and his sidekick is a robot named Watson. In Sherlock Sam and the Missing Heirloom in Katong, Sherlock & friends set out to find his auntie's stolen cookbook. Fun fact: A.J. Low is actually a husband and wife duo! Adam Jimenez is a Mexican American author who grew up in California and later moved to Singapore where he met wife Felicia Low. A.J. Jimenez plus Felicia Low = A.J. Low.
Lulu's Mysterious Mission by Judith Viorst, Illustrated by Kevin Cornell (Grades 2-5)
So I definitely grabbed this book off a library shelf because young Lulu looks like a teeny tiny Edna Mode. You see it too, right?! In Lulu's Mysterious Mission, Lulu is shocked and appalled to find out that her parents are going on vacation…without her! She enacts all sorts of elaborate schemes to get rid of babysitter Sonia Solinsky, but Ms. Solinsky has a secret that may just make Lulu see the error in her ways. Note: this book is one in a series, but this is the only one I'd classify as a mystery.
The Boxcar Children series by Gertrude Chandler Warren (Grades 3-5)
The Boxcar Children books were first published back in 1942 and are pretty much considered classic mystery books for kids. The series follows the four orphaned Aiden children who decide to live in an abandoned boxcar in the forest. In the first book, The Boxcar Children, the kids learn that they have a grandfather but initially run from him, believing him to be a cruel and scary old man. This turns out happily not to be the case, and the books that follow in the series each revolve around a mystery that the children solve together. My personal favorite is The Mystery Bookstore, a super fun caper set in the New Orleans French Quarter about…you guessed it! A mystery bookstore.
The Meg Mackintosh Solve It Yourself Mysteries series by Lucinda Landon (Grades 3-5)
The Meg Mackintosh books are interactive "solve it yourself" mysteries—they invite readers to analyze visual and written clues throughout the unraveling of the mystery. There are at least eight books in the series, my favorite of which is Meg Mackintosh and the Mystery in the Locked Library. In it, Meg, her brother and her grandfather pay a visit to Meg's Aunt Alice, the head librarian at a local library. The problem is Aunt Alice has gone missing, but she has left behind a trail of clues that lead Meg & company to the library.
The Bunnicula series by Deborah and James Howe (Grades 3-5)
There's no way I was going to forget to include this series in a list of mystery books for kids. Bunnicula: A Rabbit Tale of Mystery is a middle grade mystery-comedy about a fanged rabbit who might be a vampire. Sign me up! When the Monroe family finds a peculiar little bunny at a screening of Dracula, they decide to bring him home with them. They call him Bunnicula and introduce him to pets Harold the dog and Chester the cat. Strange things start to happen around Bunnicula, convincing Chester that this fluffy bunny guy is a vampire. He sets out to prove his theory—is Bunnicula really a bloodsucking bunny, or is it all a big misunderstanding?
The Clubhouse Mysteries by Sharon Draper, Illustrated by Jesse Joshua Watson (Grades 3-5)
In The Buried Bones Mystery, Ziggy and his friends Rico, Rashawn and Jerome decide to form a club. They've built a clubhouse in Ziggy's backyard to serve as their headquarters and decide to call themselves the Black Dinosaurs—because what's cooler than dinosaurs? They soon make a startling discovery: someone has buried a box of bones behind their clubhouse! The boys set off to solve this strange and scary mystery and find themselves on an adventure beyond their wildest imaginations.
The Encyclopedia Brown series by Donald J. Sobol (Grades 3-5)
Leroy Brown is his town's star detective, solving cases for all of the kids in the neighborhood. Why is he known as Encyclopedia Brown? Because of all the random facts, figures and trivia stored in his pretty remarkable memory. He's so good that his own dad picks his brain every night to solve tricky cases, and he's the head of their town's police department! Each book in the series is interactive and contains ten stories for readers to follow along and solve. Start with Encyclopedia Brown, Boy Detective and go from there—there are 25+ books in this series, plenty of leads to pursue!
The Great Mouse Detective Series by Eve Titus, Illustrated by Paul Galdone (Grades 3-5)
Basil is a mouse, but not just any mouse: he's the mouse who lives in the cellar of Sherlock Holmes's house on Baker Street. As such he has observed the genius of the crime-solving mad man upstairs and has picked up a thing or two in the art of sleuthing. In Basil of Baker Street, Basil must try and solve his toughest case yet: a mousenapping (hehe) with seemingly zero clues to go on!
The Nate the Great Series by Marjorie Weinman Sharmat, Illustrated by Marc Simont (Grades 3-5)
Nate the Great is enjoying his morning pancakes when he gets a call from his friend Annie. She's lost something important and needs Nate's help to find it. Nate throws on a very Sam Spade–ish trench coat and gets right on it. He follows clues, asks questions, makes a list of suspects—you know, all the stuff great detectives do. These books are clever and funny and there's plenty to love: this series for beginning readers is 26 books long!
The Olivia Sharp: Agent for Secrets series by Marjorie Weinman Sharmat and Mitchell Sharmat, Illustrated by Denise Brunkus (Grades 3-5)
Olivia Sharp isn't new to mystery—she's Nate the Great's cousin, after all! She considers herself less a solver of mysteries and more an agent of secrets: she helps her clients with warm & friendly approach and by digging into what's going on beneath the surface. Start with The Sly Spy and go from there.
The A to Z Mysteries series by Ron Roy, Illustrated by John Steven Gurney (Grades 3-5)
Dink, Josh and Ruth Rose are three friends who solve mysteries in this much loved collection. As you may have guessed, the book titles in this series follow the alphabet: The Absent Author, The Bald Bandit, The Canary Caper, etc. Start with The Absent Author where Dink's favorite author is a no-show at a book signing. It's up to the three amigos to find out where he went.
Nancy Drew and the Clue Crew series by Carolyn Keene, Illustrated by Macky Pamintuan (Grades 3-5)
You've surely heard of the original Nancy Drew series from the 1930s—yeah, you read that right. The '30s! But did you know that there's a newer series out for middle grade readers? Well there is! Nancy's adventures include finding her missing City Girls doll at a sleepover and tracking down the thief that stole a special basket of treats from a doggy fashion show. Still, Nancy remains ever the resourceful little sleuth and always cracks the case.
The Wollstonecraft Detective Agency series by Jordan Stratford, Illustrated by Kelly Murphy (Grades 3-7)
The concept of this series is just so, so brilliant. It's a reimagined 1826 where Ada Lovelace and Mary Shelley are BFFs and have come together to form a secret detective agency in London. In book one, The Case of the Missing Moonstone, this girl duo reminiscent of Holmes and Watson (yep, more Holmes stuff!) uses math, science and deductive reasoning to solve a mystery surrounding a stolen heirloom. This series is funny, action-packed, and dripping with brainy girl power.
Pamela Cervantes is eleven years old when she and her mother travel to Mexico City, the birthplace of Pamela's deceased father. She meets siblings Lizzie and Gael who ask for her help in finding a ring that once belonged to her father's favorite artist, beloved Mexican icon Frida Kahlo! Pamela agrees to help, but it seems like Lizzie and Gael's motives may not be as pure as they seem.
Harriet the Spy by Louise Fitzhugh (Grades 3-7)
I couldn't compile a list of mystery books for kids without this classic. Harriet is an astute and spunky little girl who goes around scribbling thoughts and observations in a notebook. When she misplaces that notebook, it ends up in the wrong hands. Soon the contents (some hurtful, though true) make their way to her friends…awkward! Now Harriet must find a way to fix things with her pals and prove that she's no mean girl. She just really, really loves the truth.
The Secret Series by Pseudonymous Bosch, Grades 3-7
I really dig the witty subversiveness of this series's secrecy: the titles, the plot descriptions, and even the authors' name are all cloaked in an air of mystery that's perfect for young mystery readers and fans of a good riddle. The Name of this Book is Secret is the first of five books in The Secret Series and is most certainly not about a couple of eleven-year-olds chasing a missing magician. Nope, no adventurous pursuit of villains here, folks. Nothing to see at all.
Beatrix Lee is going through some stuff. Her best friend has ghosted her right at the start of seventh grade and a new baby is about to end her reign as an only child. Feeling isolated, Bea finds comfort in the haiku she crafts in invisible ink, poems she hides in a secret hiding spot. Then one day, she's shocked to discover that someone has started writing back. She sets out to try and figure out who her secret pen pal might be and finds her way back to herself in the process. Note: I don't think this book is usually classified as a mystery. The secret poem pen pal and a mysterious labyrinth give it a mystery vibe though.
The Explorer series is comprised of three volumes to date, all edited by Kazu Kibuishi. Each volume is a collection of seven graphic stories from seven different comics creators around a central theme. Explorer: The Mystery Boxes is a creative, clever collection of stories about boxes of mysterious origin, but the stories could not be more different both in written content and artistic style. In one story, a young girl hears a tapping noise under her bed and discovers a box with a cryptic note; inside she finds a wax doll who seems sweet at first but…Another story follows a Japanese girl whose grandmother is convinced that spirits are stealing butter from the kitchen. Thing is, Obaasan miiiight not be wrong. So fun!
Set in Hyde Park, this art mystery opens with a mysterious letter sent to three unknown recipients from an anonymous sender. The letter asks each of them to solve a crime that has wronged one of the world's greatest painters. Next we meet Petra Andalee and Calder Pillay, students in the same sixth grade class who aren't exactly friends. A mysterious book brings them together and they soon find themselves wrapped up in an international art scandal. They'll have to follow a trail of complicated clues and coded messages to get to the truth.
A mysterious ad in a local newspaper reads: "Are you a gifted child looking for special opportunities?" Many children respond but only four are chosen after numerous rounds of vigorous testing. The four are introduced to Mr. Nicholas Benedict; he reveals that they've been enlisted to take down an evil force behind a mind-control plot. To do this, they must go undercover to penetrate a shady org called the Learning Institute for the Very Enlightened. Secret and societies and kid espionage—what's not to love?
The Sammy Keyes series by Wendelin Van Draanen (Grades 3-7)
When we first meet Sammy in Sammy Keyes and the Hotel Thief, she's got a lot going on—she's managed to make an enemy of the meanest mean girl at school, she's been expelled, and she's living with her grandma in a seniors-only building because her mom is off trying to make it as a movie star. Things go from bad to worse when she witnesses a burglary at the hotel across the street, and now the thief is after her. Can't get enough of Sammy? Follow her adventures in the 17 other books in this series.
I'm pulling this blurb straight from my shelf talker at the bookstore where I work. It's one of my favorite books ever! "I probably read this twenty times when I was a kid. It is just so good! Little Claudia Kincaid decides she wants to run away, but not just anywhere: she's going to run away to the Metropolitan Museum of Art and find a way to live there. She bamboozles her little brother into going along for the ride and pulls off her master plan. The two end up stumbling upon a headline-making mystery in the process. I've been reading mysteries (and trying to live inside a swanky museum, sssh) ever since."
"The day Patches was stolen from Smashie McPerter's class started out like any other day. Well, except for the fact that her teacher was out sick and Smashie's class was stuck with the worst substitute in the world. And except for the mysterious business with the glue. And except for the fact that Patches himself had become Smashie's new archenemy." Patches, naturally, is her class's best hamster, and Smashie is rather distraught about his disappearance. I would have been all over these books as a kid, both because how can you not love the name Smashie McPerter and because the plot is just so Ramona-esquely relatable.
The Math Inspectors series by Daniel Kenney, Illustrated by Emily Boever (Grades 4-6)
Listen up, parental figures: these books are the best of both worlds. Each one is a really fun, keep-you-guessing detective story AND a math lesson! Four sixth graders have banded together to form a detective agency. In The Case of the Claymore Diamond, the foursome hear about the burglary of a local jewelry store. When they arrive on the scene, they find the store owner unconscious; what's more, his prized Claymore diamond is missing too! The police think they've solved the case, but they don't have all the facts straight. All of this plus math—it's woven in throughout to make for a fun and educational treat for bookworms.
The Book of Elsewhere series by Jacqueline West (Grades 4-6)
You should read these books because there are three talking cats in the series. Yes please! They're also a fast-paced, page-turnery blend of mystery and adventure. In The Shadows, eleven-year-old Olive and her parents move into a crumbling mansion filled with all sorts of weird and interesting paintings. Olive finds a dusty pair of glasses in some abandoned drawer and makes a startling discovery. It seems she can travel inside the paintings to a creepily silent place called Elsewhere! Peril awaits as she tries to unravel the mystery she's unwittingly stepped into. And did I mention that there are talking cats??
The Chinatown Mystery series by Laurence Yep (Grades 4-7)
In The Case of the Goblin Pearls, the first in this series, Lily Lew is excited to learn that her Great Auntie Tiger Lil, a famous movie star, is coming to visit her family in San Francisco. When Tiger Lil invites Lily to be in Chinatown's New Year's Parade, she of course jumps at the chance. During the parade, someone steals the priceless Goblin Pearls right from under Lily's face. Great Auntie Tiger Lil decides it's up to her to find the thieves and invites young Lily along for the ride.
The 39 Clues series by multiple authors (Grades 5-7)
The books in The 39 Clues series are a adventure/mystery mashup series. A collaboration of authors have written these stories, including Rick Riordan, Patrick Carman, Linda Sue Park and Sarwat Chadda. There are five sub-series that make up one big series and each sub-series contains multiple volumes. The first book, The Maze of Bones, introduces us to Amy and Dan Cahill, a brother and sister duo who learn that their family is the most influential in all of history. The two embark on a dangerous, twisty, action-packed quest to find the 39 clues, ingredients that are the secret to their family's power. Bonus: readers can get their hands on collectors cards that correspond to each book. The cards contain a code that when entered online will reveal that book's clue.
The Enola Holmes Mystery series by Nancy Springer (Grades 5-8)
Yes, I am sneaking in one final Sherlock book but hear me out! In this series, Enola is Sherlock's sister and is trying to carve out her own place in the world. We first meet Enola in The Case of the Missing Marquess. She's traveling to London to track down her missing mother, but she's pulled into a kidnapping and murder case when she arrives. She must try to solve this case while also figuring out what's become of her mother. A fun, feminist branch-off with six books in the series. See? Good, right?
Twelve-year-old Jin is studying at her grandparents' Harlem bodega when a classmate named Alex walks in. She doesn't say a word and leaves just as quickly as she came. Jin decides she has to know more about this mysterious girl and pairs up with her for a class project. While out delivering food to a woman's shelter, the girls meet Elvin, a homeless boy whose grandfather was attacked in a community garden. The three form an unlikely friendship as they join forces to find his attacker. They don't expect to find themselves involved in an even large mystery having to do with priceless works of art.
Hold Fast by Blue Balliet (Grades 5-8)
Early Pearl's father is not the kind of man who'd leave his family, yet he has. At least it appears he has, leaving a mess behind that's put Early and her family in danger. When the three of them are forced to move into a shelter, Early starts asking questions. She soon discovers that there are clues to her father's mysterious disappearance and she may be the only one who can crack them. And boy oh boy, does Blue Baillet's signature love of beautiful words really sets this work apart.
What are your favorite mystery books for kids? Hit the comments to share your favorites.