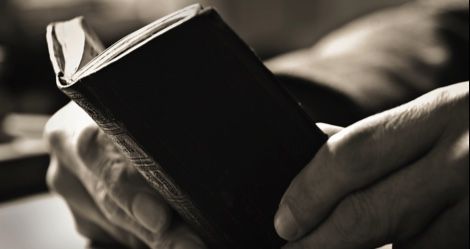 This content contains affiliate links. When you buy through these links, we may earn an affiliate commission.
The first time I read Salt: A World History by Mark Kurlansky, I was blown away. Kurlansky manages to turn a book about an everyday object—one that you and I have seen in every kitchen, every restaurant, and on every table we've ever sat down to eat at, throughout our lives—into an utterly fascinating page-turner. I was hooked and have since reread Salt many times and moved on to his other microhistory books, like Cod, Paper, and the latest Milk!: A 10,000 Year Food Fracas. Funny and endlessly fascinating, all of these microhistory books have interesting stories, historic recipes, and enough facts to make any reader "Did you know?" royalty.
And Kurlansky's books are just the tip of the iceberg! There are so many great microhistories, ranging from subjects like butter and cotton to champagne and the color indigo. Check out this list of 50 must-read microhistory books for hours of enjoyment.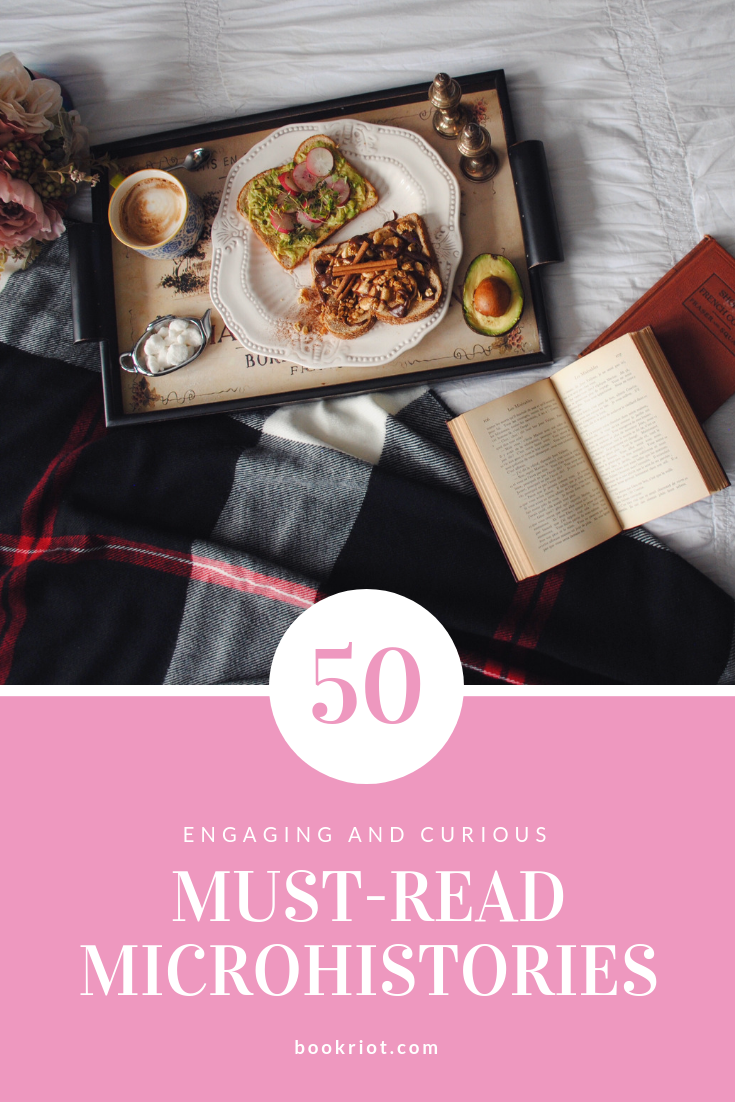 50 Must-Read Microhistory Books
"It is the subject of countless poems and paintings; the top of the weather report; the source of the world's water. Yet this is the first book to tell the story of rain. Cynthia Barnett's Rain begins four billion years ago with the torrents that filled the oceans, and builds to the storms of climate change. It weaves together science—the true shape of a raindrop, the mysteries of frog and fish rains—with the human story of our ambition to control rain."
This book is absolutely delightful! "Brolliology is a beautifully designed and illustrated tour through literature and history. It surprises us with the crucial role that the oft-overlooked umbrella has played over centuries—and not just in keeping us dry. Marion Rankine elevates umbrellas to their rightful place as an object worthy of philosophical inquiry…She tackles the gender, class, and social connotations of carrying an umbrella and helps us realize our deep connection to this most forgettable everyday object—which we only think of when we don't have one."
"Drawing together many histories—of anatomical evolution and city design, of treadmills and labyrinths, of walking clubs and sexual mores—Rebecca Solnit creates a fascinating portrait of the range of possibilities presented by walking. Arguing that the history of walking includes walking for pleasure as well as for political, aesthetic, and social meaning, Solnit focuses on the walkers whose everyday and extreme acts have shaped our culture, from philosophers to poets to mountaineers."
"This lively and engrossing history retraces the extraordinary story of the bicycle—a history of disputed patents, brilliant inventions, and missed opportunities. David Herlihy shows us why the bicycle captured the public's imagination and the myriad ways in which it reshaped our world."
"Crude is the unexpurgated story of oil, from the circumstances of its birth millions of years ago to the spectacle of its rise as the indispensable ingredient of modern life. In addition to fueling our SUVs and illuminating our cities, crude oil and its byproducts fertilize our produce, pave our roads, and make plastic possible…The modern world is drenched in oil; Crude tells how it came to be. A great human drama emerges, of discovery and innovation, risk, the promise of riches, and the power of greed."
"In this remarkable book, Barbara Freese takes us on a rich historical journey that begins hundreds of millions of years ago and spans the globe…Coal has transformed societies, launched empires, and expanded frontiers. It made China an eleventh-century superpower, inspired the Communist Manifesto, and helped the North win the American Civil War. Yet coal's transformative power has come at tremendous cost, from the blackening of our lungs and skies, to the perils of mining, to global warming."
"As entertaining as it is incisive, Stoned is a raucous journey through the history of human desire for what is rare, and therefore precious. What makes a stone a jewel? What makes a jewel priceless? And why do we covet beautiful things? In this brilliant account of how eight jewels shaped the course of history, jeweler and scientist Aja Raden tells an original and often startling story about our unshakeable addiction to beauty and the darker side of human desire."
"The empire of cotton was, from the beginning, a fulcrum of constant global struggle between slaves and planters, merchants and statesmen, workers and factory owners. Sven Beckert makes clear how these forces ushered in the world of modern capitalism, including the vast wealth and disturbing inequalities that are with us today. The result is a book as unsettling as it is enlightening: a book that brilliantly weaves together the story of cotton with how the present global world came to exist."
I can't resist a Crate and Barrel or a Williams Sonoma. If you're the same way, then this book is for you. A fascinating and fun history of the tools we use in the kitchen, and how these tools "have also transformed how we consume, and how we think about, our food. In Consider the Fork, award-winning food writer Bee Wilson takes readers on a wonderful and witty tour of the evolution of cooking around the world, revealing the hidden history of objects we often take for granted."
"The codfish. Wars have been fought over it, revolutions have been spurred by it, national diets have been based on it, economies and livelihoods have depended on it, and the settlement of North America was driven by it. To the millions it has sustained, it has been a treasure more precious than gold. Indeed, the codfish has played a fascinating and crucial role in world history. Cod spans a thousand years and four continents…Mark Kurlansky introduces the explorers, merchants, writers, chefs, and of course the fishermen, whose lives have interwoven with this prolific fish."
The big one from Mark Kurlansky. If you're only going to read one book from this list, it should arguably be this one. "The only rock we eat, salt has shaped civilization from the very beginning, and its story is a glittering, often surprising part of the history of humankind. A substance so valuable it served as currency, salt has influenced the establishment of trade routes and cities, provoked and financed wars, secured empires, and inspired revolutions. Populated by colorful characters and filled with an unending series of fascinating details, Salt is a supremely entertaining, multi-layered masterpiece."
"By grappling with novels, recipes, travelogues, pop culture, and his own upbringing, Naben Ruthnum depicts how the distinctive taste of curry has often become maladroit shorthand for brown identity. With the sardonic wit of Gita Mehta's Karma Cola and the refined, obsessive palette of Bill Buford's Heat, Ruthnum sinks his teeth into the story of how the beloved flavor calcified into an aesthetic genre that limits the imaginations of writers, readers, and eaters."
"In this brilliant, engrossing work, Jack Turner explores an era—from ancient times through the Renaissance—when what we now consider common condiments were valued in gold and blood…Following spices across continents and through literature and mythology, Spice is a beguiling narrative about the surprisingly vast influence spices have had on human desire."
"Banana combines a pop-science journey around the globe, a fascinating tale of an iconic American business enterprise, and a look into the alternately tragic and hilarious banana subculture (one does exist)—ultimately taking us to the high-tech labs where new bananas are literally being built in test tubes, in a race to save the world's most beloved fruit."
"A compelling and surprising look at the sweet commodity, from how it Africanized the cane fields of the Caribbean to how it fuelled the Industrial Revolution and jumpstarted the fast-food revolution…The book follows the history of sugar to the present day, showing how sugar made eating on the run socially acceptable and played an integral role in today's fast food culture and obesity epidemic. Impressively researched and commandingly written, Sugar will forever change perceptions of this sweet treat."
"After traveling across three continents to stalk the modern story of butter, award-winning food writer and former pastry chef Elaine Khosrova serves up a story as rich, textured, and culturally relevant as butter itself. From its humble agrarian origins to its present-day artisanal glory, butter has a fascinating story to tell, and Khosrova is the perfect person to tell it. With tales about the ancient butter bogs of Ireland, the pleasure dairies of France, and the sacred butter sculptures of Tibet, Khosrova details butter's role in history, politics, economics, nutrition, and even spirituality and art." And look at that creamy yellow cover!
"How did white bread, once an icon of American progress, become 'white trash'? In this lively history of bakers, dietary crusaders, and social reformers, Aaron Bobrow-Strain shows us that what we think about the humble, puffy loaf says a lot about who we are and what we want our society to look like. White Bread teaches us that when Americans debate what one should eat, they are also wrestling with larger questions of race, class, immigration, and gender."
Another classic Kurlansky, Milk is rich and interesting, stocked full of recipes and facts. It's an immensely rewarding reading experience. "Profoundly intertwined with human civilization, milk has a compelling and a surprisingly global story to tell, and historian Mark Kurlansky is the perfect person to tell it. Tracing the liquid's diverse history from antiquity to the present, he details its curious and crucial role in cultural evolution, religion, nutrition, politics, and economics."
"Uncommon Grounds tells the story of coffee from its discovery on a hill in ancient Abyssinia to the advent of Starbucks. Mark Pendergrast reviews the dramatic changes in coffee culture over the past decade, from the disastrous 'Coffee Crisis' that caused global prices to plummet to the rise of the Fair Trade movement and the 'third-wave' of quality-obsessed coffee connoisseurs. As the scope of coffee culture continues to expand, Uncommon Grounds remains more than ever a brilliantly entertaining guide to the currents of one of the world's favorite beverages."
"The most extensive and well-presented tea history available, Tea: The Drink that Changed the World tells of the rich legends and history surrounding the spread of tea throughout Asia and the West, as well as its rise to the status of necessity in kitchens around the world. From the tea houses of China's Tang Dynasty (618–907) to fourteenth-century tea ceremonies in Korea's Buddhist temples' to the tea plantations in Sri Lanka today, this book explores and illuminates tea and its intricate, compelling history."
"We have been drinking as long as we have been human, and for better or worse, alcohol has shaped our civilization. Drink investigates the history of this Jekyll and Hyde of fluids, tracing mankind's love/hate relationship with alcohol from ancient Egypt to the present day. Drink further documents the contribution of alcohol to the birth and growth of the United States, taking in the War of Independence, the Pennsylvania Whiskey revolt, the slave trade, and the failed experiment of national Prohibition. Finally, it provides a history of the world's most famous drinks—and the world's most famous drinkers. Packed with trivia and colorful characters, Drink amounts to an intoxicating history of the world."
"Throughout history, waves of invaders have coveted the northeast corner of France…Yet this region—which historians say has suffered more battles and wars than any other place on earth—is also the birthplace of one thing the entire world equates with good times, friendship and celebration: champagne. Champagne is the story of the world's favorite wine. It tells how a sparkling beverage that became the toast of society during the Belle Epoque emerged after World War I as a global icon of fine taste and good living."
"Mark Kurlansky tells the remarkable story of New York by following the trajectory of one of its most fascinating inhabitants—the oyster. For centuries New York was famous for this particular shellfish, which until the early 1900s played such a dominant a role in the city's life that the abundant bivalves were Gotham's most celebrated export, a staple food for all classes, and a natural filtration system for the city's congested waterways. Filled with cultural, historical, and culinary insight—along with historic recipes, maps, drawings, and photos—this dynamic narrative sweeps readers from the seventeenth-century founding of New York to the death of its oyster beds and the rise of America's environmentalist movement."
"In these pages, the beloved Bill Bryson gives us a fascinating history of the modern home, taking us on a room-by-room tour through his own house and using each room to explore the vast history of the domestic artifacts we take for granted. As he takes us through the history of our modern comforts, Bryson demonstrates that whatever happens in the world eventually ends up in our home, in the paint, the pipes, the pillows, and every item of furniture."
"From evolution to the epidural and beyond, Tina Cassidy presents an intelligent, enlightening, and impeccably researched cultural history of how and why we're born the way we are. Women have been giving birth for millennia but that's about the only constant in the final stage of the great process that is human reproduction. Why is it that every culture and generation seems to have its own ideas about the best way to give birth? Cassidy explores the physical, anthropological, political, and religious factors that have and will continue to influence how women bring new life into the world."
"The study of sexual physiology—what happens, and why, and how to make it happen better—has been a paying career or a diverting sideline for scientists as far-ranging as Leonardo da Vinci and James Watson. The research has taken place behind the closed doors of laboratories, brothels, MRI centers, pig farms, sex-toy R&D labs, and Alfred Kinsey's attic. In Bonk, Roach shows us how and why sexual arousal and orgasm, two of the most complex, delightful, and amazing scientific phenomena on earth, can be so hard to achieve and what science is doing to slowly make the bedroom a more satisfying place."
"A brilliant microhistory of the sex toy that ultimately tells the story of our changing sexual mores and evolving cultural values. In Buzz, Hallie Lieberman provides a riveting history that tells the story of sex toys from ancient phalluses to 21st century vibrating rabbits. She focuses on the period from the 1950s through the present, when sex toys evolved from symbols of female emancipation to tools in the fight against HIV/AIDS to consumerist marital aids and finally to mainstays of today's pop culture."
"In this hip, hilarious and truly eye-opening cultural history, menstruation is talked about as never before. Flow spans its fascinating, occasionally wacky and sometimes downright scary story: from mikvahs (ritual cleansing baths) to menopause, hysteria to hysterectomies—not to mention the Pill, cramps, the history of underwear, and the movie about puberty they showed you in 5th grade…As irreverent as it is informative, Flow gives an everyday occurrence its true props–and eradicates the stigma placed on it for centuries."
"Powerfully involving narrative and incisive detail, clarity and inherent drama: Blood offers in abundance the qualities that define the best popular science writing. Here is the sweeping story of a substance that has been feared, revered, mythologized, and used in magic and medicine from earliest times—a substance that has become the center of a huge, secretive, and often dangerous worldwide commerce. Winner of the Los Angeles Times Book Prize, Blood was described by judges as "a gripping page-turner, a significant contribution to the history of medicine and technology and a cautionary tale. Meticulously reported and exhaustively documented."
"For centuries, the human heart seemed beyond our understanding: an inscrutable shuddering mass that was somehow the driver of emotion and the seat of the soul. As the cardiologist and bestselling author Sandeep Jauhar shows in Heart: A History, it was only recently that we demolished age-old taboos and devised the transformative procedures that have changed the way we live…Deftly alternating between key historical episodes and his own work, Jauhar tells the colorful and little-known story of the doctors who risked their careers and the patients who risked their lives to know and heal our most vital organ."
"'In The Gene: An Intimate History, Siddhartha Mukherjee braids science, history, and memoir into an epic with all the range and biblical thunder of Paradise Lost' (The New York Times). In this biography Mukherjee brings to life the quest to understand human heredity and its surprising influence on our lives, personalities, identities, fates, and choices."
"For most of human existence, microbes were hidden, visible only through the illnesses they caused. When they finally surfaced in biological studies, they were cast as rogues. Only recently have they immigrated from the neglected fringes of biology to its center. Even today, many people think of microbes as germs to be eradicated, but those that live with us—the microbiome—are invaluable parts of our lives. I Contain Multitudes lets us peer into that world for the first time, allowing us to see how ubiquitous and vital microbes are." Part history, part soon-to-be popular science classic, I Contain Multitudes is a "vastly entertaining examination of the most significant revolution in biology since Darwin."
"At the turn of the last century, a smallpox epidemic swept the United States from coast to coast. In this gripping account, award-winning historian Michael Willrich chronicles the government's fight against the outbreak and the ensuing clash of modern medicine, civil liberties, and state power…Riveting and thoroughly researched, Pox delivers a masterful examination of progressive-era history that resonates powerfully today."
"Winner of the Pulitzer Prize, and now a documentary from Ken Burns on PBS, The Emperor of All Maladies is a magnificent, profoundly humane 'biography' of cancer—from its first documented appearances thousands of years ago through the epic battles in the twentieth century to cure, control, and conquer it to a radical new understanding of its essence. Physician, researcher, and award-winning science writer, Siddhartha Mukherjee examines cancer with a cellular biologist's precision, a historian's perspective, and a biographer's passion. The result is an astonishingly lucid and eloquent chronicle of a disease humans have lived with—and perished from—for more than five thousand years."
"Looking back with fascination, horror, and not a little dash of dark, knowing humor, Quackery recounts the lively, at times unbelievable, history of medical misfires and malpractices. Ranging from the merely weird to the outright dangerous, here are dozens of outlandish, morbidly hilarious 'treatments'—conceived by doctors and scientists, by spiritualists and snake oil salesmen (yes, they literally tried to sell snake oil)—that were predicated on a range of cluelessness, trial and error, and straight-up scams. With vintage illustrations, photographs, and advertisements throughout, Quackery seamlessly combines macabre humor with science and storytelling to reveal an important and disturbing side of the ever-evolving field of medicine."
"Stiff is an oddly compelling, often hilarious exploration of the strange lives of our bodies postmortem. For two thousand years, cadavers—some willingly, some unwittingly—have been involved in science's boldest strides and weirdest undertakings. In this fascinating account, Mary Roach visits the good deeds of cadavers over the centuries and tells the engrossing story of our bodies when we are no longer with them."
"In Cannibalism: A Perfectly Natural History, zoologist Bill Schutt sets the record straight, debunking common myths and investigating our new understanding of cannibalism's role in biology, anthropology, and history in the most fascinating account yet written on this complex topic…Bringing together the latest cutting-edge science, Schutt answers questions such as why some amphibians consume their mother's skin; why certain insects bite the heads off their partners after sex; why, up until the end of the twentieth century, Europeans regularly ate human body parts as medical curatives; and how cannibalism might be linked to the extinction of the Neanderthals."
"Holy Sh*t tells the story of two kinds of swearing—obscenities and oaths—from ancient Rome and the Bible to today. With humor and insight, Melissa Mohr takes readers on a journey to discover how 'swearing' has come to include both testifying with your hand on the Bible and calling someone a *#$&!* when they cut you off on the highway…A gem of lexicography and cultural history, Holy Sh*t is a serious exploration of obscenity—and it also just might expand your repertoire of words to choose from the next time you shut your finger in the car door."
"The question of cleanliness is one every age and culture has answered with confidence. For the first-century Roman, being clean meant a two-hour soak in baths of various temperatures, scraping the body with a miniature rake, and a final application of oil. For the aristocratic Frenchman in the seventeenth century, it meant changing your shirt once a day and perhaps going so far as to dip your hands in some water…An engrossing fusion of erudition and anecdote, The Dirt on Clean considers the bizarre prescriptions of history's doctors, the hygienic peccadilloes of great authors, and the historic twists and turns that have brought us to a place Ashenburg considers hedonistic yet oversanitized."
"In this magisterial and acclaimed history, Anne Applebaum offers the first fully documented portrait of the Gulag, from its origins in the Russian Revolution, through its expansion under Stalin, to its collapse in the era of glasnost. The Gulag was a system of repression and punishment that terrorized the entire society, embodying the worst tendencies of Soviet communism. Applebaum intimately re-creates what life was like in the camps and links them to the larger history of the Soviet Union. Immediately recognized as a landmark and long-overdue work of scholarship, Gulag is an essential book for anyone who wishes to understand the history of the twentieth century."
"Award-winning poet and critic Kevin Young tours us through a rogue's gallery of hoaxers, plagiarists, forgers, and fakers―from the humbug of P. T. Barnum and Edgar Allan Poe to the unrepentant bunk of JT LeRoy and Donald J. Trump. Bunk traces the history of the hoax as a peculiarly American phenomenon, examining what motivates hucksters and makes the rest of us so gullible."
"Telling perhaps the most important forgotten story in American history, eminent historian Nell Irvin Painter guides us through more than two thousand years of Western civilization, illuminating not only the invention of race but also the frequent praise of 'whiteness' for economic, scientific, and political ends. A story filled with towering historical figures, The History of White People closes a huge gap in literature that has long focused on the non-white and forcefully reminds us that the concept of 'race' is an all-too-human invention whose meaning, importance, and reality have changed as it has been driven by a long and rich history of events."
"The first book to explore the history of red hair and red-headedness throughout the world. With an obsessive fascination that is as contagious as it is compelling, author Jacky Colliss Harvey begins her quest in prehistory and traces the redhead gene as it made its way out of Africa with the early human diaspora, to its emergence under Northern skies…More than a book for redheads, Red is the exploration of evolution and gene mutation, as well as a compelling social and cultural study of how prejudice and misconceptions of other; evolve across centuries and continents and from one culture to another."
"In this vivid and captivating journey through the colors of an artist's palette, Victoria Finlay takes us on an enthralling adventure around the world and through the ages, illuminating how the colors we choose to value have determined the history of culture itself…In Color, Finlay explores the physical materials that color our world, such as precious minerals and insect blood, as well as the social and political meanings that color has carried through time."
"Brimming with rich, electrifying tales of the precious dye and its ancient heritage, Indigo is also the story of a personal quest: Catherine McKinley is the descendant of a clan of Scots who wore indigo tartan; Jewish 'rag traders'; a Massachusetts textile factory owner; and African slaves—her ancestors were traded along the same Saharan routes as indigo, where a length of blue cotton could purchase human life. McKinley's journey in search of beauty and her own history leads her to the West African women who dye, trade, and wear indigo—women who unwittingly teach her that buried deep in the folds of their cloths is all of destiny and the human story."
"In 1856 eighteen-year-old English chemist William Perkin accidentally discovered a way to mass-produce color. In a 'witty, erudite, and entertaining' (Esquire) style, Simon Garfield explains how the experimental mishap that produced an odd shade of purple revolutionized fashion, as well as industrial applications of chemistry research. Occasionally honored in certain colleges and chemistry clubs, Perkin until now has been a forgotten man."
"A definitive history of paper and the astonishing ways it has shaped today's world…Thousands of years ago, Socrates and Plato warned that written language would be the end of 'true knowledge,' replacing the need to exercise memory and think through complex questions. Similar arguments were made about the switch from handwritten to printed books, and today about the role of computer technology. By tracing paper's evolution from antiquity to the present, with an emphasis on the contributions made in Asia and the Middle East, Mark Kurlansky challenges common assumptions about technology's influence, affirming that paper is here to stay."
"An extraordinary tale of madness, genius, and the incredible obsessions of two remarkable men that led to the making of the Oxford English Dictionary—and literary history. The compilation of the OED began in 1857, it was one of the most ambitious projects ever undertaken. As definitions were collected, the overseeing committee, led by Professor James Murray, discovered that one man, Dr. W.C. Minor, had submitted more than ten thousand. When the committee insisted on honoring him, a shocking truth came to light: Dr. Minor, an American Civil War veteran, was also an inmate at an asylum for the criminally insane."
"Henry Petroski traces the origins of the pencil back to ancient Greece and Rome, writes factually and charmingly about its development over the centuries and around the world, and shows what the pencil can teach us about engineering and technology today."
"Simon Singh offers the first sweeping history of encryption, tracing its evolution and revealing the dramatic effects codes have had on wars, nations, and individual lives. From Mary, Queen of Scots, trapped by her own code, to the Navajo Code Talkers who helped the Allies win World War II, to the incredible (and incredibly simple) logistical breakthrough that made Internet commerce secure, The Code Book tells the story of the most powerful intellectual weapon ever known: secrecy."
"In Cubed, Nikil Saval chronicles the evolution of the office in a fascinating, often funny, and sometimes disturbing anatomy of the white-collar world and how it came to be the way it is. Drawing on the history of architecture and business, as well as a host of pop culture artifacts—from Mad Men to Dilbert (and, yes, The Office)—and ranging in time from the earliest clerical houses to the surprisingly utopian origins of the cubicle to the funhouse campuses of Silicon Valley, Cubed is an all-encompassing investigation into the way we work, why we do it the way we do (and often don't like it), and how we might do better."