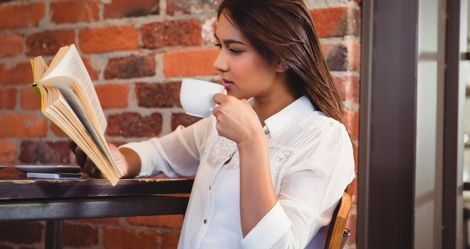 Lists
Must-Read July 2018 New Releases
This content contains affiliate links. When you buy through these links, we may earn an affiliate commission.
Never fear, our contributors are here to topple your To-Be-Read stacks with their July new releases recommendations! Whether we've read them and can't wait to see them on the shelves, or we've heard tell of their excellence in the book world and have been (not-so) patiently waiting to get our hot little hands on them, these are the new titles we're watching our libraries and bookstores for this month.
Kate Krug
All Your Perfects by Colleen Hoover (July 17, Atria): Colleen Hoover is responsible for my yearly bawl-my-eyes-out-until-I-fall-asleep session. And this book is no exception. Never intimidated by touchy subjects, All Your Perfects tackles infertility and its toll on couples. This book is classic CoHo and a complete tear-jerker.
Carolina Ciucci
A Duke by Default by Alyssa Cole. (July 31, Avon): I loved A Princess in Theory, and I was over-the-moon ecstatic when I found out Portia was getting her own book. I'm a sucker for stories about women owning up to their past mistakes and turning their lives around. Plus, Scotland? Sign me up.
Dana Lee
An Ocean of Minutes by Thea Lim (July 10, Touchstone): It's the early 1980s and there's a flu epidemic racing through America. Polly loves Frank; Frank gets sick; and the only way she can save him is to take a job with the company that provides the medical attention. This company will pay for your loved one's medical bills if you take a job for them in the future and work off your debt. She takes the job and agrees to meet Frank in the future—but Polly is sent to the wrong year. I feel like I will never forget Polly and Frank and the way their story had me transfixed while I was reading this book. There's such an urgency to Polly's story once she gets to the future and there are definite parallels to the migrant/refugee experience. I can't wait for more people to read this book, because I can't stop thinking about it.
Leah Rachel von Essen
The Calculating Stars by Mary Robinette Kowal (July 3, Tor Books): I am so excited for Kowal's newest. A female WASP pilot and mathematician tries to become the first "lady astronaut" in the International Aerospace Coalition as the world struggles to speed up the space race in light of the giant meteor that just slammed into the Earth. I've been meaning to get to Kowal's works for a long time, and I'm excited to say that this one is sitting on my bookshelf right now.
Margaret Kingsbury
European Travel for the Monstrous Gentlewoman by Theodora Goss (July 10, Saga): I am so frustrated that the publisher has been sitting on my request for an ARC of this on Edel. It's book two of The Extraordinary Adventures of the Athena Club. Book one—The Strange Case of the Alchemist's Daughter—recently won a Locus Award, and was nominated for a Nebula. It's a wonderful, fun mystery SFF featuring the monstrous daughters of classic Victorian horror as they form a group to solve a mystery. According to the book's description, The Athena Club ventures into the Austro-Hungarian Empire to rescue Lucinda Van Helsing. I'm putting this on hold at the library now.
Yaasmeen Piper
From the Corner of the Oval a memoir by Beck Dorey-Stein (July 10, Random House): One ad on Craigslist lands Beck Dorey-Stein a position in the White House as one of Barack Obama's stenographers. She joins a team of D.C. elites as they follow the former Commander in Chief across the globe with a recorder and mic in hand. Throughout her five years, Beck develops friendships with unlikely characters, falls in love, and inevitably gets her heart broken (more than once), but finds her voice in the process. What I loved about From the Corner of the Oval (other than the Obama nostalgia) was how raw the memoir was and how even though she was "living the dream" there are times that dream drained her. Beck has such a unique and hilarious voice that makes it hard not to love her.
Michelle Hart
Give Me Your Hand by Megan Abbott (July 17, Little, Brown): Abbott's mysteries are not so much about plot—though her plots are thrilling and tautly constructed—but about the unknowability of the head and the heart. In her newest, a woman vying for a coveted position on a research team studying female rage has her world rocked when an old "friend" from high school arrives to challenge her spot. Abbott is so adept at depicting the fraught DMZ between friend and foe in female relationships and Give Me Your Hand maybe her best yet.
Aimee Miles
How to Be Famous by Caitlin Moran (July 3, Harper): Johanna Morrigan is back. I loved How to Build a Girl, in part because it turned some of the terrible tropes of girls as victims on their head. A teenage girl who loves rock music, is an unapologetically sexual being, and is not victimized because of those two things. I am SO here for this. Add in Johanna's writing prowess that has led her to be a working writer at such a young age, and I wish I'd had these books as a kid. I can't wait to catch-up with Johanna!
Susie Dumond
How to Love a Jamaican by Alexia Arthurs (July 24, Ballantine): It's hard to believe this masterful short story collection is a debut—it's incredibly beautiful, complex, emotional, and dynamic. The stories explore the Caribbean and immigrant experience by following Jamaicans living in the U.S. and Jamaica, and it's got a little bit of everything. Queer stuff! Mermaids! Ghosts! Self-discovery! It's full of unique and captivating voices. This one is not to be missed.
Rachel Brittain
Hullmetal Girls by Emily Skrutskie (July 17, Delacorte Press): Any sci-fi book featuring cyborg soldiers, a complicated political landscape, rebellions, and characters from opposing backgrounds is one I'm not going to be able to pass up. Between that and the LGBTQ rep? I'm sold. Bring on the angry cyborg ladies and sci-fi rebellion!
Rebecca Hussey
Idiophone by Amy Fusselman (July 3, Coffee House Press): Amy Fusselman is one of the most innovative writers working now. Her new book Idiophone is a book-length lyric essay, including contemplations on The Nutcracker, quilting, motherhood, and more. Most of all, it's a book about making art and being human. It's short, at 132 pages, with much to ponder and enjoy.
Ilana Masad
If You See Me, Don't Say Hi by Neel Patel (July 10, Flatiron Books): Look, for one thing, I appreciate when commas are used correctly in book titles. Really, it's underrated. But no, that's not what's really awesome about this book. Neel Patel's characters in these eleven short stories subvert stereotypes, show both the pain and the joy that can emerge when communities collide, and examines the immigrant experience of Indian families and individuals. Extremely relevant and contemporary and surprising at every turn, this is one of the best books coming out this month.
Steph Auteri
The Incendiaries by R.O. Kwon (Riverhead Books, July 31): When I read the plot description for this book, in which a young Korean American woman at an elite American university finds herself drawn deeper into an extremist cult, only to be wrapped up in a violent act of domestic terrorism, I was all gimme-hands. I am fascinated by explorations of faith, and by what our faith can convince us to do on its behalf. This book promises to be engrossing and insightful and un-put-downable.
Annika Barranti Klein
The Mere Wife by Maria Dahvana Headley (July 17, MCD): A modern day suburban retelling of Beowulf by one of the greatest modern fantasy writers? Yes, please.
Tasha Brandstatter
Murder at the Flamingo by Rachel McMillan (July 10, Thomas Nelson): Just look at that fantastic cover! This is the start of a new mystery series set in 1930s Boston that pairs a shy, anxiety-ridden lawyer with a "his gal Friday" high-society secretary. I know McMillan from Facebook and if anyone can give a set-up like this a smart, charming, Preston Sturges vibe, it's her. I can't wait to meet Hamish and Reggie come July!
Jaime Herndon
Now My Heart is Full by Laura June (July 24, Penguin): I am obsessed with memoirs about motherhood, but very rarely are they *real*. It's so easy for them to fall into being precious, or whitewashing parenthood. June's memoir is one of the rare ones that captures the ambivalence, the joy, the hardship, the struggle, and the simple grace of it. She examines the story of her own mother, an alcoholic who died years before she became a mother herself. Exploring the mother-daughter complexities from a variety of viewpoints and seeing how they're connected made this an especially wonderful read.
Laura Sackton
Record of a Spaceborn Few by Becky Chambers (July 24, Harper Voyager): I absolutely adored the first two books in Chambers's delightful science fiction universe, one peopled with fascinating aliens, wonderfully queer spaceship crews, and some of the most creative AI I've read in recent memory. I cannot wait to sink into the third installment.
Liberty Hardy
Spinning Silver by Naomi Novik (July 10, Del Rey): Despite the similar covers, this is not an Uprooted sequel. DO NOT DESPAIR. It's still a highly inventive, sometimes dark, and fun interpretation of the classic fairy tale Rumpelstiltskin. (You know, the one where the lady tries to weasel out of her end of the bargain by guessing the little man's name? Or TL;DR: Spin, guess, stomp, crack.) In this one, the scary creatures in the woods hear that the moneylender's daughter, Miryam, can turn silver into gold. (Actually she's just good at her job, but scary creatures don't care about that.) Told from several perspectives who are drawn into Miryam's story, Novik weaves a remarkable tale of family, honor, and bravery.
Alison Doherty
The Summer Wives by Beatriz Williams (July 10, William Morrow): I know the term "beach read" is considered dismissive by many readers, but there's almost nothing I'd rather read in the summer than a Beatriz William novel. I love the complex female characters. I love the mysteries that unravel through jumps in time. And as a former English major, I'm thrilled with this concept in particular about a renowned Shakespearean actress caught in the middle of the rivalry between the elite families who summer on the exclusive Winthrop Island and the working class families who live on the island year round. Romance, secrets, and even (gasp) murder! I'm ready to be riveted.