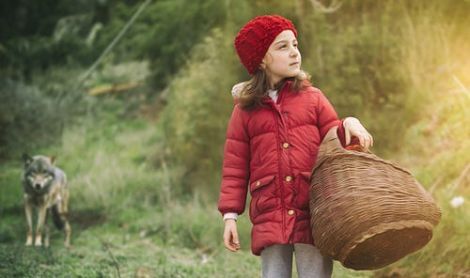 Children's
50 Must-Read Fairytale Books For Kids: Middle Grade and Picture Books
This content contains affiliate links. When you buy through these links, we may earn an affiliate commission.
Do you remember your first fairytale books? Mine were a trilogy of hardback picture books, one red, one blue, and one green, each with a golden faux lock and key on them. The red book was "Little Red Riding Hood," the blue "Hansel and Gretel," and the green "Jack and the Beanstalk." There was something about that little fake gold lock on each that made them seem like a treasure. That feeling has remained with me.
Fairytale books have been a staple of childhood reading for centuries. And because of that, there are a plethora of fairytale retellings for kids. From board books to picture books to pop-ups, from graphic novels to books for middle-schoolers, the fairytale genre is certainly well-trodden, but as every fairytale lover out there knows, these tales are unique in their ability to be retold and reshaped in unique ways with every telling.
After a lifetime of reading fairytales (and many journeys to and from the library these past few weeks), I've come up with these 50 must-read fairytale books and retellings for kids (I've made a list for adults and young adults too). While marketed for children, both children and adults can find enjoyment in these fairytale retellings.

Middle Grade Fairytale Books ANd Retellings
"Here are six magical stories to thrill and enchant you. Watch Blackberry Blue rise from the bramble patch; follow Emeka the pathfinder on his mission to save a lost king; join Princess Desire as she gallops across the Milky Way on her jet-black horse.
These beautifully written and original stories will delight readers of all ages, and the stunning illustrations by Richard Collingridge will take your breath away."
Bound by Donna Jo Napoli
"YOUNG XING XING IS BOUND. Bound to her father's second wife and daughter after Xing Xing's father has passed away. Bound to a life of servitude as a young girl in ancient China, where the life of a woman is valued less than that of livestock. Bound to be alone and unmarried, with no parents to arrange for a suitable husband. Dubbed 'Lazy One' by her stepmother, Xing Xing spends her days taking care of her half sister, Wei Ping, who cannot walk because of her foot bindings, the painful but compulsory tradition for girls who are fit to be married. Even so, Xing Xing is content, for now, to practice her gift for poetry and calligraphy, to tend to the mysterious but beautiful carp in her garden, and to dream of a life unbound by the laws of family and society.
But all of this is about to change as the time for the village's annual festival draws near, and Stepmother, who has spent nearly all of the family's money, grows desperate to find a husband for Wei Ping. Xing Xing soon realizes that this greed and desperation may threaten not only her memories of the past, but also her dreams for the future."
"Once upon a time, Hazel and Jack were best friends. They had been best friends since they were six, spending hot Minneapolis summers and cold Minneapolis winters together, dreaming of Hogwarts and Oz, superheroes and baseball. Now that they were eleven, it was weird for a boy and a girl to be best friends. But they couldn't help it—Hazel and Jack fit, in that way you only read about in books. And they didn't fit anywhere else.
And then, one day, it was over. Jack just stopped talking to Hazel. And while her mom tried to tell her that this sometimes happens to boys and girls at this age, Hazel had read enough stories to know that it's never that simple. And it turns out, she was right. Jack's heart had been frozen, and he was taken into the woods by a woman dressed in white to live in a palace made of ice. Now, it's up to Hazel to venture into the woods after him. Hazel finds, however, that these woods are nothing like what she's read about, and the Jack that Hazel went in to save isn't the same Jack that will emerge. Or even the same Hazel.
Inspired by Hans Christian Andersen's 'The Snow Queen,' Breadcrumbs is a story of the struggle to hold on, and the things we leave behind."
"Karolina is a living doll whose king and queen have been overthrown. But when a strange wind spirits her away from the Land of the Dolls, she finds herself in Krakow, Poland, in the company of the Dollmaker, a man with an unusual power and a marked past.
The Dollmaker has learned to keep to himself, but Karolina's courageous and compassionate manner lead him to smile and to even befriend a violin-playing father and his daughter—that is, once the Dollmaker gets over the shock of realizing a doll is speaking to him.
But their newfound happiness is dashed when Nazi soldiers descend upon Poland. Karolina and the Dollmaker quickly realize that their Jewish friends are in grave danger, and they are determined to help save them, no matter what the risks."
"At birth, Ella is inadvertently cursed by an imprudent young fairy named Lucinda, who bestows on her the 'gift' of obedience. Anything anyone tells her to do, Ella must obey. Another girl might have been cowed by this affliction, but not feisty Ella: 'Instead of making me docile, Lucinda's curse made a rebel of me. Or perhaps I was that way naturally.' When her beloved mother dies, leaving her in the care of a mostly absent and avaricious father, and later, a loathsome stepmother and two treacherous stepsisters, Ella's life and well-being seem to be in grave peril. But her intelligence and saucy nature keep her in good stead as she sets out on a quest for freedom and self-discovery as she tries to track down Lucinda to undo the curse, fending off ogres, befriending elves, and falling in love with a prince along the way. Yes, there is a pumpkin coach, a glass slipper, and a happily ever after, but this is the most remarkable, delightful, and profound version of Cinderella you'll ever read."
"A thousand miles ago, in a country east of the jungle and south of the mountains, there lived a firework-maker named Lalchand and his daughter, Lila. Lila's learned from her father almost all there is to know about making fireworks. But he's held back the final secret, the most dangerous one, saying Lila's not ready to know. Not to be deterred, the headstrong girl enlists the help of her friend Chulak, and discovers that anyone who wants to be a true Firework-Maker must face down the Fire-Fiend of Mount Merapi, and bring back some of the Royal Sulphur. So Lila sets off fearlessly, ready to face pirates and demons and anything else that gets in her way."
"Twelve-year-old September lives in Omaha, and used to have an ordinary life, until her father went to war and her mother went to work. One day, September is met at her kitchen window by a Green Wind (taking the form of a gentleman in a green jacket), who invites her on an adventure, implying that her help is needed in Fairyland. The new Marquess is unpredictable and fickle, and also not much older than September. Only September can retrieve a talisman the Marquess wants from the enchanted woods, and if she doesn't…then the Marquess will make life impossible for the inhabitants of Fairyland. September is already making new friends, including a book-loving Wyvern and a mysterious boy named Saturday."
"Anidora-Kiladra Talianna Isilee, Crown Princess of Kildenree spent the first years of her life listening to her aunt's incredible stories, and learning the language of the birds. Little knowing how valuable her aunt's strange knowledge would prove to be when she grew older. From the Grimm's fairy tale of the princess who became a goose girl before she could become a queen, Shannon Hale has woven an incredible, original and magical tale of a girl who must understand her own incredible talents before she can overcome those who wish her harm."
Grounded by Megan Morrison
"In all of Tyme, from the Redlands to the Grey, no one is as lucky as Rapunzel. She lives in a magic tower that obeys her every wish; she reads wonderful books starring herself as the heroine; her hair is the longest, most glorious thing in the world. And she knows this because Witch tells her so—her beloved Witch, who protects her from evil princes, the dangerous ground under the tower, even unhappy thoughts. Rapunzel can't imagine any other life.
Then a thief named Jack climbs into her room to steal one of her enchanted roses. He's the first person Rapunzel's ever met who isn't completely charmed by her (well, the first person she's met at all, really), and he is infuriating—especially when he hints that Witch isn't telling her the whole truth. Driven by anger at Jack and her own nameless fears, Rapunzel descends to the ground for the first time, and finds a world filled with more peril than Witch promised…and more beauty, wonder, and adventure than she could have dreamed."
"Sophie has the great misfortune of being the eldest of three daughters, destined to fail miserably should she ever leave home to seek her fate. But when she unwittingly attracts the ire of the Witch of the Waste, Sophie finds herself under a horrid spell that transforms her into an old lady. Her only chance at breaking it lies in the ever-moving castle in the hills: the Wizard Howl's castle. To untangle the enchantment, Sophie must handle the heartless Howl, strike a bargain with a fire demon, and meet the Witch of the Waste head-on. Along the way, she discovers that there's far more to Howl—and herself—than first meets the eye."
"Twenty years ago, all the evil villains were banished from the kingdom of Auradon and made to live in virtual imprisonment on the Isle of the Lost. The island is surrounded by a magical force field that keeps the villains and their descendants safely locked up and away from the mainland. Life on the island is dark and dreary. It is a dirty, decrepit place that's been left to rot and forgotten by the world.
But hidden in the mysterious Forbidden Fortress is a dragon's eye: the key to true darkness and the villains' only hope of escape. Only the cleverest, evilest, nastiest little villain can find it…who will it be?"
"Corinne La Mer isn't afraid of anything. Not scorpions, not the boys who tease her, and certainly not jumbies. They're just tricksters parents make up to frighten their children. Then one night Corinne chases an agouti all the way into the forbidden forest. Those shining yellow eyes that followed her to the edge of the trees, they couldn't belong to a jumbie. Or could they?
When Corinne spots a beautiful stranger speaking to the town witch at the market the next day, she knows something unexpected is about to happen. And when this same beauty, called Severine, turns up at Corinne's house, cooking dinner for Corinne's father, Corinne is sure that danger is in the air. She soon finds out that bewitching her father, Pierre, is only the first step in Severine's plan to claim the entire island for the jumbies. Corinne must call on her courage and her friends and learn to use ancient magic she didn't know she possessed to stop Severine and save her island home.
With its able and gutsy heroine, lyrical narration, and inventive twist on the classic Haitian folktale 'The Magic Orange Tree,' The Jumbies will be a favorite of fans of Breadcrumbs, A Tale Dark and Grimm, and Where the Mountain Meets the Moon."
"Twelve-year-old John Fischer Jr., or 'Little John' as he's always been known, is spending his summer helping his father with his tree removal business, clearing brush for Mr. King, the wealthy owner of a chain of Texas dollar stores, when he hears a beautiful song that transfixes him. He follows the melody and finds, not a bird, but a young girl sitting in the branches of a tall sycamore tree.
There's something magical about this girl, Gayle, especially her soaring singing voice, and Little John's friendship with Gayle quickly becomes the one bright spot in his life, for his home is dominated by sorrow over his sister's death and his parents' ever-tightening financial difficulties.
But then Mr. King draws Little John into an impossible choice—forced to choose between his family's survival and a betrayal of Gayle that puts her future in jeopardy.
Inspired by a Hans Christian Andersen story, Nightingale's Nest is an unforgettable novel about a boy with the weight of the world on his shoulders and a girl with the gift of healing in her voice."
"Princess Irene's discovery of a secret stair leads to a wonderful revelation. At the same time, Curdie overhears a fiendish plot by the goblins. Princess Irene & Curdie must make sense of their separate knowledge & foil the goblins' schemes."
"What if Mulan had to travel to the Underworld?
When Captain Shang is mortally wounded by Shan Yu in battle, Mulan must travel to the Underworld, Diyu, in order to save him from certain death. But King Yama, the ruler of Diyu, is not willing to give Shang up easily. With the help of Shang's great lion guardian ShiShi, Mulan must traverse Diyu to find Shang's spirit, face harrowing obstacles, and leave by sunrise—or become King Yama's prisoner forever. Moreover, Mulan is still disguised as the soldier called Ping, wrestling with the decision to reveal her true identity to her closest friend. Will Mulan be able to save Shang before it's too late? Will he ever be able to trust her again? Or will she lose him—and be lost in the Underworld—forever?"
"This captivating adventure from two masters of modern fantasy is a story of magic, family, and the power in believing in both. Sarah Jane has always wanted to meet a fairy, but she has no idea that the tiny wounded man she discovers in the Tanglewood Forest is about to ensnare her in a longtime war between rival magical clans. When her six sisters are kidnapped and split up by the opposing sides, she'll need the help of several friends—from the reclusive Aunt Lillian to the mysterious Apple Tree Man—to bring them home. But if they don't untangle themselves from the feud quickly, they could all be trapped in the fairy world forever. In a starred review, Publishers Weekly noted 'the lyrical narrative blends a contemporary setting with a fairy tale that might have been plucked from a distinctly different time and place.'"
"In the valley of Fruitless Mountain, a young girl named Minli spends her days working hard in the fields and her nights listening to her father spin fantastic tales about the Jade Dragon and the Old Man of the Moon. Minli's mother, tired of their poor life, chides him for filling her head with nonsense. But Minli believes these enchanting stories and embarks on an extraordinary journey to find the Old Man of the Moon and ask him how her family can change their fortune. She encounters an assorted cast of characters and magical creatures along the way, including a dragon who accompanies her on her quest."
"In the northern Ooni Kingdom, fear of the unknown runs deep, and children born dada are rumored to have special powers. Thirteen-year-old Zahrah Tsami feels like a normal girl—she grows her own flora computer, has mirrors sewn onto her clothes, and stays clear of the Forbidden Greeny Jungle. But unlike other kids in the village of Kirki, Zahrah was born with the telling dadalocks. Only her best friend, Dari, isn't afraid of her, even when something unusual begins happening—something that definitely makes Zahrah different. The two friends investigate, edging closer and closer to danger. When Dari's life is threatened. Zahrah must face her worst fears alone, including the very thing that makes her different."
Middle Grade Graphic Novels
Baba Yaga's Assistant by Marika McCoola, illustrated by Emily Carroll
"Most children think twice before braving a haunted wood filled with terrifying beasties to match wits with a witch, but not Masha. Her beloved grandma taught her many things: that stories are useful, that magic is fickle, and that nothing is too difficult or too dirty to clean. The fearsome witch of folklore needs an assistant, and Masha needs an adventure. She may be clever enough to enter Baba Yaga's house on chicken legs, but within its walls, deceit is the rule. To earn her place, Masha must pass a series of tests, outfox a territorial bear, and make dinner for her host. No easy task, with children on the menu!
Wry, spooky and poignant, Marika McCoola's debut—with richly layered art by acclaimed graphic artist Emily Carroll—is a storytelling feat and a visual fest."
"Sleeping Beauty gets a feisty, furry twist in this hilarious new comic series from the creator of Dragonbreath.
Harriet Hamsterbone is not your typical princess. She may be quite stunning in the rodent realm (you'll have to trust her on this one), but she is not so great at trailing around the palace looking ethereal or sighing a lot. She finds the royal life rather…dull. One day, though, Harriet's parents tell her of the curse that a rat placed on her at birth, dooming her to prick her finger on a hamster wheel when she's twelve and fall into a deep sleep. For Harriet, this is most wonderful news: It means she's invincible until she's twelve! After all, no good curse goes to waste. And so begins a grand life of adventure with her trusty riding quail, Mumfrey…until her twelfth birthday arrives and the curse manifests in a most unexpected way."
"Spunky, strong-willed eleven-year-old Mirka Herschberg isn't interested in knitting lessons from her stepmother, or how-to-find-a-husband advice from her sister, or you-better-not warnings from her brother. There's only one thing she does want: to fight dragons!
Granted, no dragons have been breathing fire around Hereville, the Orthodox Jewish community where Mirka lives, but that doesn't stop the plucky girl from honing her skills. She fearlessly stands up to local bullies. She battles a very large, very menacing pig. And she boldly accepts a challenge from a mysterious witch, a challenge that could bring Mirka her heart's desire: a dragon-slaying sword! All she has to do is find—and outwit—the giant troll who's got it!"
"Paris, at the dawn of the modern age:
Prince Sebastian is looking for a bride—or rather, his parents are looking for one for him. Sebastian is too busy hiding his secret life from everyone. At night he puts on daring dresses and takes Paris by storm as the fabulous Lady Crystallia—the hottest fashion icon in the world capital of fashion!
Sebastian's secret weapon (and best friend) is the brilliant dressmaker Frances—one of only two people who know the truth: sometimes this boy wears dresses. But Frances dreams of greatness, and being someone's secret weapon means being a secret. Forever. How long can Frances defer her dreams to protect a friend? Jen Wang weaves an exuberantly romantic tale of identity, young love, art, and family. A fairy tale for any age, The Prince and the Dressmaker will steal your heart."
"When the heroic princess Amira rescues the kind-hearted princess Sadie from her tower prison, neither expects to find a true friend in the bargain. Yet as they adventure across the kingdom, they discover that they bring out the very best in the other person. They'll need to join forces and use all the know-how, kindness, and bravery they have in order to defeat their greatest foe yet: a jealous sorceress, who wants to get rid of Sadie once and for all.
Join Sadie and Amira, two very different princesses with very different strengths, on their journey to figure out what happily ever after really means—and how they can find it with each other."
"The scene: New York City, 1928. The dazzling lights cast shadows that grow ever darker as the glitzy prosperity of the Roaring Twenties screeches to a halt. Enter a cast of familiar characters: a young girl, Samantha White, returning after being sent away by her cruel stepmother, the Queen of the Follies, years earlier; her father, the King of Wall Street, who survives the stock market crash only to suffer a strange and sudden death; seven street urchins, brave protectors for a girl as pure as snow; and a mysterious stock ticker that holds the stepmother in its thrall, churning out ticker tape imprinted with the wicked words 'Another…More Beautiful…KILL.' In a moody, cinematic new telling of a beloved fairy tale, extraordinary graphic novelist Matt Phelan captures the essence of classic film noir on the page—and draws a striking distinction between good and evil."
Fairytale Picture Books
"Hace mucho tiempo—a long time ago—there lived a beautiful young woman named Adelita. So begins the age-old tale of a kind-hearted young woman, her jealous stepmother, two hateful stepsisters, and a young man in search of a wife. The young man, Javier, falls madly in love with beautiful Adelita, but she disappears from his fiesta at midnight, leaving him with only one clue to her hidden identity—a beautiful rebozo-shawl. With the rebozo in place of a glass slipper, this favorite fairy tale takes a delightful twist. Tomie dePaola's exquisite paintings, filled with the folk art of Mexico, make this a Cinderella story like no other."
Brothers of the Knight by Debbie Allen, illustrated by Kadir Nelson
"Debbie Allen's contemporary retelling of the classic tale 'The Twelve Dancing Princesses' with illustrations from Kadir Nelson!
Reverend Knight can't understand why his twelve sons' sneakers are torn to threads each and every morning, and the boys aren't talking. They know their all-night dancing wouldn't fit with their father's image in the community. Maybe Sunday, a pretty new nanny with a knack for getting to the bottom of household mysteries, can crack the case. This modern, hip retelling of the classic tale 'The Twelve Dancing Princesses' bursts with vibrant artwork and text that's as energetic as the twelve toe-tapping Knight brothers themselves."
"You may think you know this story I am going to tell you, but you have not heard it for true. I was there. So I will tell you the truth of it. Here. Now."
"Ming Da is only nine years old when he becomes the emperor of China, and his three advisors take advantage of him by stealing his stores of rice, gold, and precious stones. But Ming Da has a plan. With the help of his tailors, he comes up with a clever idea to outsmart his devious advisors: He asks his tailors to make 'magical' new clothes for him. Anyone who is honest, the young emperor explains, will see the clothes' true splendor, but anyone who is dishonest will see only burlap sacks. The emperor dons a burlap sack, and the ministers can't help but fall for his cunning trick."
Cinnamon by Neil Gaiman, illustrated by Jill Schwarz
"Cinnamon was a princess, a long time ago, in a small hot country, where everything was very old. Cinnamon did not talk. Mango trees, a parrot, and a beautiful room in the palace do nothing to help the teachers who try to make her to speak. Can a man-eating tiger do so, and exactly who will end up in the belly of the beast?"
"When a poor farmer falls into the clutches of a dragon, only Seven, his youngest daughter, will save him—by marrying the beast.
Publishers Weekly praised Yep's 'elegant, carefully crafted storytelling' and Mak's 'skillfully and radiantly rendered illustrations' in this captivating and luminous Chinese variation of the beauty and the beast tale."
The Girl Who Spun Gold by Virginia Hamilton, illustrated by Leo and Diane Dillon
"Quashiba, a peasant girl, is about to be made queen because the king believes that she can spin and weave golden things. A tiny creature comes to save her under the condition that she has three chances to guess his name right."
"Once upon a time, there were three hungry Dinosaurs: Papa Dinosaur, Mama Dinosaur…and a Dinosaur who happened to be visiting from Norway.
One day—for no particular reason—they decided to tidy up their house, make the beds, and prepare pudding of varying temperatures. And then—for no particular reason—they decided to go…someplace else. They were definitely NOT setting a trap for some succulent, unsupervised little girl.
Definitely not!"
"Once upon a planetoid,
amid her tools and sprockets,
a girl named Cinderella dreamed
of fixing fancy rockets.
With a little help from her fairy godrobot, Cinderella is going to the ball—but when the prince's ship has mechanical trouble, someone will have to zoom to the rescue! Readers will thank their lucky stars for this irrepressible fairytale retelling, its independent heroine, and its stellar happy ending."
La Princesa and the Pea by Susan Middleton Elya, illustrated by Juana Martinez-Neal
"The Princess and the Pea gets a fresh twist in this charming bilingual retelling.
El principe knows this girl is the one for him, but, as usual, his mother doesn't agree.
The queen has a secret test in mind to see if this girl is really a princesa.
But the prince might just have a sneaky plan, too…
Readers will be enchanted by this Latino twist on the classic story, and captivated by the vibrant art inspired by the culture of Peru."
"A beloved under-the-sea tale is now a pop-up masterpiece, from expert craftsman Robert Sabuda.
Come along on a magical journey under the sea in this stunning pop-up adaptation of the beloved fairy tale 'The Little Mermaid,' expertly crafted by renowned paper engineer Robert Sabuda. Amazing three-dimensional paper structures pop off each page, bringing this classic underwater adventure to life. This visually stunning tale of adventure, true love, and sacrifice is sure to become a favorite in any story-lover's library."
"Yum! The lovely Alex serves up a sweet treat fairy tale. A hungry lion. A little girl. A box of doughnuts…? Gorgeous proof that a perfect picture book can look even more tempting than a sweet shop window. Worried about wolves? Don't make Little Red laugh. She's not even scared of hungry lions. After all, why would this furry chap want to gobble her up? She's sure he'd rather have a doughnut. Right, Mr Lion? A sassy heroine, beautiful artwork, jungle animals, a funny twist on a tale you adore. Once again, the World Book Day artist gets us all eating from his hand."
"Not for the faint-hearted, Lon Po Po (Grandmother Wolf) is a tale of a menacing danger and courage. (Young's) command of page composition and his sensitive use of color give the book a visual force that matches the strength of the story and stands as one of the illustrator's best efforts." —Booklist
"Inspired by a traditional African folktale, this is the story of Mufaro, who is proud of his two beautiful daughters. Nyasha is kind and considerate, but everyone—except Mufaro—knows that Manyara is selfish and bad-tempered.
When the Great King decides to take a wife and invites the most worthy and beautiful daughters in the land to appear before him, Mufaro brings both of his daughters—but only one can be queen. Who will the king choose?
Award-winning artist John Steptoe's rich cultural imagery of Africa earned him the Coretta Scott King Award for Mufaro's Beautiful Daughters. The book also went on to win the Boston Globe-Horn Book Award. This stunning story is a timeless treasure that readers will enjoy for generations."
"With Papa off to sea and Mama despondent, Ida must go outside over there to rescue her baby sister from goblins who steal her to be a goblin's bride."
Petite Rouge by Mike Artell, illustrated by Jim Harris
"Big Bad Gator Claude will do anything to have a taste of Petite Rouge…even if it means putting on a duck bill, flippers, and frilly underwear. He presents no match for the spunky heroine and her quick-thinking cat TeJean, though, as they use some strong Cajun hot sauce to teach Claude a lesson he will never forget! The combination of hilarious rhyme and exaggerated art creates a highly original retelling of the classic fairy tale. A pronunciation guide/glossary accompanies a tempting dialect that begs to be read aloud or acted out again and again. This is Little Red Riding Hood as she's never been seen before: Cajun and ducky."
"In this adaptation of 'The Princess and the Pea,' Ma Sally cooks the best black-eyed peas in Charleston County, South Carolina. Her son, John, is a highly eligible bachelor, and three local women vie for his hand in marriage by attempting to cook as well as Ma. At the last minute, a surprise contestant named Princess arrives at the door. Princess and John are well-matched, but Princess has her own ideas. When told she has won John's hand, she asks him to scrub the pots and pans before she'll give him an answer. Her answer, it turns out, is that she wants to spend some time getting to know John first.
Backmatter includes an author's note and a recipe for Princess's Black-eyed Peas."
"The classic tale of Rapunzel gets a fresh twist in this third book of a brand-new board book series, Once Upon a World. With India as the backdrop, and vibrant artwork from illustrator Archana Sreenivasan, Rapunzel is still the same girl who lets down her beautiful hair—but she's totally reimagined. Once Upon a World offers a multicultural take on the fairy tales we all know and love. Because these tales are for everyone, everywhere."
"A brave girl sets out through the snowy northern wilderness to rescue her little brother from the trolls. She's helped by her wooden horse, a small red toy that's transformed into a powerful mare to carry her through darkness and storm."
"'Every loch in Scotland, however beautiful, has its cold, dark depths. And every loch in Scotland has its kelpie. But it's easy to forget those dangers on a sunny afternoon…' Flora is playing with her brothers and sisters by the loch when she notices a stunning white horse. While her siblings clamour for a chance to ride the beautiful animal, Flora is worried. Where has this strange horse come from? Why are its hoof prints wet? Too late Flora realises this is no horse! It's a kelpie: a shape-shifting water horse from Scottish folklore known to steal children. Can Flora reveal the secret of the kelpie in time to save her family? The kelpie, once a lesser-known creature of Scottish mythology, is now enjoying legendary status as Andy Scott's magnificent Kelpies statues have become a world-famous tourist attraction. The classic tale of the kelpie is wonderfully retold for 4–7 year olds in this gripping adaptation by renowned Scottish children's author and storyteller Lari Don, with breathtaking illustrations by artist Philip Longson."
Snoring Beauty by Sudipta Bardhan-Quallen, illustrated by Jane Manning
"Snoring Beauty is a sweetly hilarious spin on the classic fairy tale 'Sleeping Beauty.' Written in bouncy rhymed verse perfect for reading aloud, this whimsical reimagining from Sudipta Bardhan-Quallen is sure to appeal to children and parents alike.
Tucked in his little bed inside the castle walls, Mouse is eager to get a good night's sleep before his wedding tomorrow. But just as he begins to drift off, he's awoken by a tremendous roar. SNOOOOGA-SNOOOOOM! KER-SCHUPPP! Sleeping Beauty is snoring…again! When the handsome Prince Max arrives, Mouse thinks he's found the perfect scheme: He'll convince the prince to kiss Beauty and wake her up! But when Prince Max learns that Beauty is the one making such monstrous noises, will he still want to kiss her…or will he run away from the noisy princess, leaving her snoring for another hundred years?"
"Snow White has 77 problems.
Snow White is on the run from an evil witch when she stumbles upon a little house in the woods. When the 77 dwarfs who live there invite her to stay, it seems like a perfect solution—at first.
But with 77 dinners to make, 77 lunches to pack and 77 little hats to wash, Snow White begins to wonder if she's bitten off more than she can chew…"
"A revisionist storyteller provides his mad, hilarious versions of children's favorite tales in this collection that includes Little Red Running Shorts, The Princess and the Bowling Ball, Cinderumpelstilskin, and others."
The Three Ninja Pigs by Corey Rosen Schwartz, illustrated by Dan Santat
"Practice makes perfect in this kick-butt fractured fairy tale.
Why does this wolf think he can come to town and blow all the houses down? These three little pigs just aren't going to take it from that bully anymore! The first starts aikido lessons—he'll make mincemeat out of that wolf! His brother learns a little jujitsu—he'll chop that guy to pieces!
But when the wolf actually appears, it turns out these two pigs aren't quite ready after all. Good thing their sister has been training every day to master some serious karate moves that save the day. KIYA!
Corey Rosen Schwartz serves up a fun combination of smart-aleck dialogue and tongue-in-cheek rhymes that'll have kids howling, and rising star Dan Santat's spunky illustrations are sure to pack a punch!"
"In this Indian variant of a familiar story, some turkeys make a gown of feathers for the poor girl who tends them so that she can participate in a sacred dance, but they desert her when she fails to return as promised."
"Everyone who's anyone will be at the Three Little Pigs' housewarming party. Goldilocks and Little Red Riding Hood have already marked it on their calendars.
Unfortunately, so have the wolves—those who've caused the Pigs to build their brick house in the first place!
In this wonderfully creative sequel to Dear Peter Rabbit, Alma Flor Ada imagines what it would be like if a few beloved fairy-tale characters were pen pals. Leslie Tryon's intricate and colorful illustrations make the unique epistolary format fun for young readers."
---
What are your favorite fairytale books and retellings for kids?