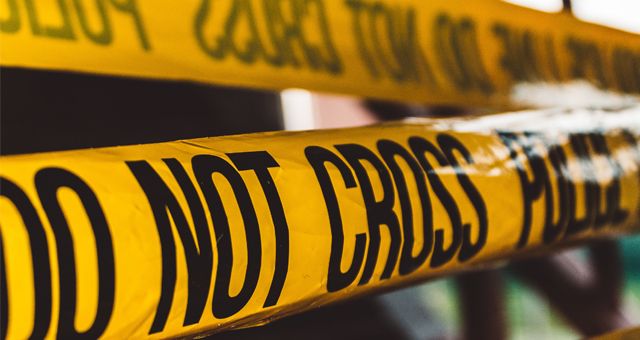 Lists
50 Must-Read Crime Novels for Fall and Winter 2019
This content contains affiliate links. When you buy through these links, we may earn an affiliate commission.
Fall's here, which means it's time to look at some of the crime novels being published in the last few months of the year! Whether you're adding to your fall reading list or getting a few holiday gift ideas together, prepare for your TBR to explode…AGAIN.
September
Iced in Paradise by Naomi Hirahara (Prospect Park Books; 9/3/19)
"Leilani Santiago is back in her birthplace, the Hawaiian island of Kaua'i, to help keep afloat the family business, a shave ice shack. When she goes to work one morning, she stumbles across a dead body, a young pro surfer who was being coached by her estranged father. As her father soon becomes the No. 1 murder suspect, Leilani must find the real killer and somehow safeguard her ill mother, little sisters, and grandmother while also preserving a long-distance relationship with her boyfriend in Seattle."
Cold Storage by David Koepp (Ecco; 9/3/19)
"When Pentagon bioterror operative Roberto Diaz was sent to investigate a suspected biochemical attack, he found something far worse: a highly mutative organism capable of extinction-level destruction. He contained it and buried it in cold storage deep beneath a little-used military repository. Now, after decades of festering in a forgotten sub-basement, the specimen has found its way out and is on a lethal feeding frenzy. And only Diaz knows how to stop it."
Missing Person by Sarah Lotz (Mulholland Books; 9/3/19)
"Reclusive Irish bookseller Shaun Ryan has always believed that his older brother, Teddy, died in a car accident. It's only on his mother's deathbed that he learns the truth: Teddy, who was gay, fled the Catholic, deeply conservative County Wicklow for New York decades earlier. Shaun finds no sign of him in New York or anywhere else–until he comes across the unsolved murder of a John Doe whose description matches Teddy's. Desperate for information, Shaun tracks down Chris Guzman, a woman who runs a website dedicated to matching missing persons cases with unidentified bodies. Through Chris's site, a group of online cold case fanatics connect Teddy with the notorious "Boy in the Dress" murder, believed to be one of many committed by a serial killer targeting gay men. But who are these cold case fanatics, and how do they know so much about a case that left the police and the FBI stumped?"
"From mud tracks on a quiet country road to dirt specks on the soles of walking boots, forensic ecologist Patricia Wiltshire uses her decades of scientific expertise to find often-overlooked clues left behind by criminal activity. She detects evidence and eliminates hypotheses armed with little more than a microscope, eventually developing a compelling thesis of the who, what, how, and when of a crime. A riveting blend of science writing and true-crime narrative, The Nature of Life and Death details Wiltshire's unique journey from college professor to crime fighter: solving murders, locating corpses, and exonerating the falsely accused. Along the way, she introduces us to the unseen world all around us and underneath our feet and reveals how our relationship with the vast natural world reaches far deeper than we might think."
To the Lions by Holly Watt (Raven Books; 9/3/19)
"Casey Benedict, star reporter at the Post, has infiltrated the lives and exposed the lies of countless politicians and power players. Using her network of contacts, Casey is always on the search for the next big story, no matter how much danger this might place her in, no matter what cost emotionally. Tipped off by an overheard conversation at an exclusive London nightclub, she begins to investigate the apparent suicide of a wealthy young British man, whose death has left his fiancée and family devastated. Casey's determined hunt for the truth will take her from the glitz of St Tropez to the deserts of Libya and on to the very darkest corners of the human mind."
The Chestnut Man by Soren Sveistrup; transl. by Caroline Waight (HarperCollins; 9/3/19)
"A psychopath is terrorizing Copenhagen. His calling card is a 'chestnut man'—a handmade doll made of matchsticks and two chestnuts—which he leaves at each bloody crime scene. Examining the dolls, forensics makes a shocking discovery—a fingerprint belonging to a young girl, a government minister's daughter who had been kidnapped and murdered a year ago. A tragic coincidence—or something more twisted? To save innocent lives, a pair of detectives must put aside their differences to piece together the Chestnut Man's gruesome clues. Because it's clear that the madman is on a mission that is far from over. And no one is safe."
"Adolescence is a time of 'firsts.' First kiss. First love. First loss. First job. The first taste of adult responsibilities, and the first look at an independent life away from both the restrictions and the security of home. And in this case, a very different type of 'first': murder. This short story collection of murder mysteries adds a sinister spin to the joy and pain of firsts that have always been a major part of life, whether it be high school cliques who take the term 'backstabbing' too seriously, stumbling upon a body on the way home from school, or receiving a Snapchat message that promises something deadly. Contributors include Barry Lyga, Caleb Roehrig, Emmy Laybourne, Jonathan Maberry, R.L. Stine, Rachel Vincent, Steven Hockensmith, Y.S. Lee, and more!"
"When billions poured into the neglected east London borough hosting the 2012 Olympics, a turf war broke out between crime families for control of a now valuable strip of land. Using violence, guile and corruption, one gangster, the Long Fella, emerged as a true untouchable. A team of local detectives made it their business to take him on until Scotland Yard threw them under the bus and the business of putting on 'the greatest show on earth' won the day. Award-winning journalist Michael Gillard took up where they left off to expose the tangled web of chief executives, big banks, politicians and dirty money where innocent lives are destroyed and the guilty flourish. Gillard's efforts culminated in a landmark court case, which finally put the Long Fella and his friends on trial exposing London's real Olympic legacy."
A Death in Harlem by Karla Holloway (Triquarterly; 9/10/19)
"A mystery set in the midst of the 1920s Harlem elite with a perplexing death at its center and Harlem's first colored policeman poised to uncover the the relationship between the help, the privileged members of secret and no-so-secret Negro clubs, and the enigmatic white man whose relationship to (and interests in) the Harlem hold is key to the mystery."
The Nanny by Gilly MacMillan (William Morrow; 9/10/19)
"When her beloved nanny, Hannah, left without a trace in the summer of 1988, seven-year-old Jocelyn Holt was devastated. Haunted by the loss, Jo grew up bitter and distant, and eventually left her parents and Lake Hall, their faded aristocratic home, behind. Thirty years later, Jo returns to the house and is forced to confront her troubled relationship with her mother. But when human remains are accidentally uncovered in a lake on the estate, Jo begins to question everything she thought she knew. Then an unexpected visitor knocks on the door and Jo's world is destroyed again. Desperate to piece together the gaping holes in her memory, Jo must uncover who her nanny really was, why she left, and if she can trust her own mother…"
Three-Fifths by John Vercher (Agora Books; 9/10/19)
"Pittsburgh, 1995. The son of a black father he's never known, and a white mother he sometimes wishes he didn't, twenty-two year-old Bobby Saraceno has passed for white his entire life. Raised by his bigoted maternal grandfather, Bobby has hidden the truth about his identity from everyone, even his best friend and fellow comic-book geek, Aaron, who has just returned home from prison a newly radicalized white supremacist. Bobby's disparate worlds crash when, during the night of their reunion, Bobby witnesses Aaron mercilessly assault a young black man with a brick. Fearing for his safety and his freedom, Bobby must keep the secret of his mixed race from Aaron and conceal his unwitting involvement in the crime from the police. But Bobby's delicate house of cards crumbles when his father enters his life after more than twenty years, forcing his past to collide with his present." – From publisher description
Mother Knows Best by Kira Peikoff (Crooked Lane Books; 9/10/19)
"Claire Abrams's dreams became a nightmare when she passed on a genetic mutation that killed her little boy. Now she wants a second chance to be a mother, and finds it in Robert Nash, a maverick fertility doctor who works under the radar with Jillian Hendricks, a cunning young scientist bent on making her mark—and seducing her boss. Claire, Robert, and Jillian work together to create the world's first baby with three genetic parents—an unprecedented feat that could eliminate inherited disease. But when word of their illegal experiment leaks to the wrong person, Robert escapes into hiding with the now-pregnant Claire, leaving Jillian to serve out a prison sentence that destroys her future. Ten years later, a spunky girl named Abigail begins to understand that all is not right with the reclusive man and woman she knows as her parents. But the family's problems are only beginning. Jillian, hardened by a decade of jealousy and loss, has returned—and nothing will stop her from reuniting with the man and daughter who should have been hers."
Land of Wolves by Craig Johnson (Viking; 9/17/19)
"Attempting to recover from his harrowing experiences in Mexico, in Land of Wolves Wyoming Sheriff Walt Longmire is neck deep in the investigation of what could or could not be the suicidal hanging of a shepherd. With unsettling connections to a Basque family with a reputation for removing the legs of Absaroka County sheriffs, matters become even more complicated with the appearance of an oversize wolf in the Big Horn Mountains to which Walt finds himself feeling more and more empathetic."
A Single Light by Tosca Lee (Howard Books; 9/17/19)
"Six months after vanishing into an underground silo with sixty others, Wynter and Chase emerge to find the area abandoned. There is no sign of Noah and the rest of the group that was supposed to greet them when they emerged—the same people Wynter was counting on to help her locate the IV antibiotics her gravely ill friend, Julie, needs in order to live. As the clock ticks down on Julie's life, Wynter and Chase embark on a desperate search for medicine and answers. But what they find is not a nation on the cusp of recovery thanks to the promising new vaccine Wynter herself had a hand in creating, but one decimated by disease. What happened while they were underground?"
Heaven My Home by Attica Locke (Mulholland Books; 9/17/19)
"9-year-old Levi King knew he should have left for home sooner; now he's alone in the darkness of vast Caddo Lake, in a boat whose motor just died. A sudden noise distracts him – and all goes dark. Darren Matthews is trying to emerge from another kind of darkness; after the events of his previous investigation, his marriage is in a precarious state of re-building, and his career and reputation lie in the hands of his mother, who's never exactly had his best interests at heart. Now she holds the key to his freedom, and she's not above a little maternal blackmail to press her advantage. An unlikely possibility of rescue arrives in the form of a case down Highway 59, in a small lakeside town where the local economy thrives on nostalgia for antebellum Texas – and some of the era's racial attitudes still thrive as well. Levi's disappearance has links to Darren's last case, and to a wealthy businesswoman, the boy's grandmother, who seems more concerned about the fate of her business than that of her grandson. Darren has to battle centuries-old suspicions and prejudices, as well as threats that have been reignited in the current political climate, as he races to find the boy, and to save himself."
Kopp Sisters on the March by Amy Stewart (Houghton Mifflin Harcourt; 9/17/19)
"It's the spring of 1917 and change is in the air. American women have done something remarkable: they've banded together to create military-style training camps for women who want to serve. These so-called National Service Schools prove irresistible to the Kopp sisters, who leave their farm in New Jersey to join up. When an accident befalls the matron, Constance reluctantly agrees to oversee the camp—much to the alarm of the Kopps' tent-mate, the real-life Beulah Binford, who is seeking refuge from her own scandalous past under the cover of a false identity. Will she be denied a second chance? And after notoriety, can a woman's life ever be her own again?"
The Tenth Girl by Sara Faring (Imprint; 9/24/19)
"At the very southern tip of South America looms an isolated finishing school. Legend has it that the land will curse those who settle there. But for Mavi—a bold Buenos Aires native fleeing the military regime that took her mother—it offers an escape to a new life as a young teacher to Argentina's elite girls. Mavi tries to embrace the strangeness of the imposing house—despite warnings not to roam at night, threats from an enigmatic young man, and rumors of mysterious Others. But one of Mavi's ten students is missing, and when students and teachers alike begin to behave as if possessed, the forces haunting this unholy cliff will no longer be ignored. One of these spirits holds a secret that could unravel Mavi's existence. In order to survive she must solve a cosmic mystery—and then fight for her life."
October
Imaginary Friend by Stephen Chbosky (Grand Central Publishing; 10/1/19)
"Single mother Kate Reese is on the run. Determined to improve life for her and her son, Christopher, she flees an abusive relationship in the middle of the night with Christopher at her side. Together, they find themselves drawn to the tight-knit community of Mill Grove, Pennsylvania. It's as far off the beaten track as they can get. Just one highway in, one highway out. At first, it seems like the perfect place to finally settle down. Then Christopher vanishes. For six awful days, no one can find him. Until Christopher emerges from the woods at the edge of town, unharmed but not unchanged. He returns with a voice in his head only he can hear, with a mission only he can complete: Build a tree house in the woods by Christmas, or his mother and everyone in the town will never be the same again. Soon Kate and Christopher find themselves in the fight of their lives, caught in the middle of a war playing out between good and evil, with their small town as the battleground."
The Butterfly Girl by Rene Denfeld (HarperCollins; 10/1/19)
"A year ago, Naomi, the investigator with an uncanny ability for finding missing children, made a promise that she would not take another case until she finds the younger sister who has been missing for years. Naomi has no picture, not even a name. All she has is a vague memory of a strawberry field at night, black dirt under her bare feet as she ran for her life. The search takes her to Portland, Oregon, where scores of homeless children wander the streets like ghosts, searching for money, food, and companionship. The sharp-eyed investigator soon discovers that young girls have been going missing for months, many later found in the dirty waters of the river. Though she does not want to get involved, Naomi is unable to resist the pull of children in need—and the fear she sees in the eyes of a twelve-year old girl named Celia. Running from an abusive stepfather and an addict mother, Celia has nothing but hope in the butterflies—her guides and guardians on the dangerous streets. As danger creeps closer, Naomi and Celia find echoes of themselves in one another, forcing them each to consider the question: Can you still be lost even when you've been found?"
The Shape of Night by Tess Gerritsen (Ballantine Books; 10/1/19)
"Ava Collette is punishing herself for an unspeakable tragedy. So she flees Boston and rents an old home named Brodie's Watch on a remote coastal peninsula of Maine, hoping to work on a cookbook inspired by New England cuisine that she's been trying to finish for months. She immediately feels at peace in the isolated house–until she starts to hear strange noises. Rumor has it that a sea captain named Brodie has haunted the house for decades. Then, one night, Ava is awakened to find herself face to face with an apparition who looks–and feels–all too real. Meanwhile, there's been a series of accidental deaths nearby that don't add up. And as Ava starts to check into the previous renter's mysterious disappearance, she starts to realize that there's a disturbing secret some in town are desperate to keep hidden."
"Life's always an adventure for the Athena Club…especially when one of their own has been kidnapped! After their thrilling European escapades rescuing Lucinda van Helsing, Mary Jekyll and her friends return home to discover that their friend and kitchen maid Alice has vanished— and so has their friend and employer Sherlock Holmes! As they race to find Alice and bring her home safely, they discover that Alice and Sherlock's kidnapping are only one small part of a plot that threatens Queen Victoria, and the very future of the British Empire. Can Mary, Diana, Beatrice, Catherine, and Justine save their friends—and save the Empire?"
Dry County by Jake Hinkson (Pegasus Books; 10/1/19)
"Richard Weatherford is a successful small-town preacher in the Arkansas Ozarks. He's a proud husband and father of five, and has worked hard to grow his loyal flock with strong sermons and smart community outreach. But while Weatherford is a man of influence and power—including a big force in local politics—he's also a man with secrets. In the lead up to the 2016 presidential election, Weatherford's world is threatened when he's blackmailed by a former lover. Collecting the money the blackmailer demands will be a nearly impossible feat, especially over Easter weekend, when all eyes are on him. So Weatherford will have to turn to the darkest corners of their small town in a desperate attempt to keep his world from falling apart."
The Beautiful by Renée Ahdieh (G.P. Putnam's Sons Books for Young Readers; 10/8/19)
"In 1872, New Orleans is a city ruled by the dead. But to seventeen-year-old Celine Rousseau, New Orleans provides her a refuge after she's forced to flee her life as a dressmaker in Paris. Taken in by the sisters of the Ursuline convent along with six other girls, Celine quickly becomes enamored with the vibrant city from the music to the food to the soirées and—especially—to the danger. She soon becomes embroiled in the city's glitzy underworld, known as La Cour des Lions, after catching the eye of the group's leader, the enigmatic Sébastien Saint Germain. When the body of one of the girls from the convent is found in the lair of La Cour des Lions, Celine battles her attraction to him and suspicions about Sébastien's guilt along with the shame of her own horrible secret. When more bodies are discovered, each crime more gruesome than the last, Celine and New Orleans become gripped by the terror of a serial killer on the loose—one Celine is sure has set her in his sights . . . and who may even be the young man who has stolen her heart."
Seven Crows by Kate Kessler (Redhook; 10/8/19)
"Killian Delaney has a skewed moral compass, a high threshold for pain, and has just been released from prison to discover that someone has taken her niece. Killian does not hesitate. Loyalty is the most important thing in her life, and when she gets a call from her sister saying that her daughter is missing, Killian immediately begins hunting down the men responsible. She quickly discovers her niece was involved with a notorious biker gang who are engaged in everything from drugs to human trafficking. And to make it worse, the man who sent Killian to jail, the one she nearly beat to death, is at the center of it all. To save her niece, she'll need a plan. A smart, quick, and efficient one. Because she's going to do it right this time. She'll burn them to the ground."
The Furies by Katie Lowe (St. Martin's Press; 10/8/19)
"In 1998, a sixteen-year-old girl is found dead. She's posed on a swing on her boarding school's property, dressed all in white, with no known cause of death. One year earlier: a new student, Violet, steps on the campus of Elm Hollow Academy, an all-girl's boarding school on the outskirts of a sleepy coastal town. This is her fresh start, her chance to begin again in the wake of tragedy. She soon finds herself invited to an advanced study group, led by her alluring and mysterious art teacher, Annabel. There, with three other girls–Alex, Grace, and Robin–the five of them delve into the school's long-buried grim history: of Greek and Celtic legends; of the school founder's "academic" interest in the occult; of gruesome 17th century witch trials. Annabel does her best to convince the girls that her classes aren't related to ancient rites and rituals, and that they are just history and mythology. But the more she tries to warn the girls off the topic, the more they drawn to it, and the possibility that they can harness magic for themselves."
Before the Devil Fell by Neil Olson (Hanover Square Press; 10/8/19)
"Will Connor returns to his hometown, a village north of Boston, to care for his injured mother. He's kept his distance from the town since high school, but once home he finds himself reexamining a horrific incident that took place during one of his mother's "spirit circles." His mother had embraced the hippie generation's fascination with New Age and the arcane, but the unexpected death of a close friend put an end to the meetings of the modern-day coven. Or did it? As Will looks deeper into his family's history he discovers that her practices weren't so much a passing fad but the latest link in a long tradition of New England witchcraft, which still seems to hold a strange power over the town. Will hopes that unearthing the facts about the death will put his questions to rest, but there are those willing to resort to violence to keep those secrets buried."
"When a storm strikes at Blackbrook Academy, an elite prep school nestled in the woods of Maine, a motley crew of students—including Beth "Peacock" Picach, Orchid McKee, Vaughn Green, Sam "Mustard" Maestor, Finn Plum, and Scarlet Mistry—are left stranded on campus with their headmaster. Hours later, his body is found in the conservatory and it's very clear his death was no accident. With this group of students who are all hiding something, nothing is as it seems, and everyone has a motive for murder. Fans of the CLUE board game and cult classic film will delight in Diana Peterfreund's modern reimagining of the brand, its characters, and the dark, magnificent old mansion with secrets hidden within its walls."
Remember by Patricia Smith (Agora Books; 10/8/19)
"Portia Willows was a senior in high school in Los Angeles when her world fell apart. While dealing with the aftermath of the accident that took the lives of her mother and sister, she finds herself forced to face her own memory―which may not be quite what it seems. But Portia was not your average teenage girl. She suffers from severe social anxiety disorder that prevented her from having any sort of life, while her little sister, Piper, was her best, and only, friend. Now, five years later, Portia is forced to recall the events of the past while being questioned about a horrific crime she doesn't remember. During those years, Portia had created a toxic, agoraphobic life with her father, until Ethan Tork moved in across the street and changed Portia's perspective in ways she could not possibly comprehend. But the truth always catches up with you, and fantasies never last."
"In the wake of the police shooting of a black teenager, Los Angeles is as tense as it's been since the unrest of the early 1990s. Protests and vigils are being staged all over the city. It's in this dangerous tinderbox that two families must finally confront their pasts. Grace Park lives a sheltered existence: living at home with her Korean-immigrant parents and trying her best to understand why her sister Miriam hasn't spoken to their mother in years. The chasm in her family is growing wider by the day and Grace is frustrated by the feeling that her sister and parents are shielding her from the true cause of the falling out. Shawn Matthews is dealing with a fractured family of his own. His sister, Ava, was murdered as a teenager back in 1991, and this new shooting is bringing up painful memories. Plus, his cousin Ray is just released from prison and needs to reconnect with their family after so many years away. While Shawn is trying his best to keep his demons at bay, he's not sure Ray can do the same. When another shocking crime hits LA, the Parks and the Matthewses collide in ways they never could have expected. After decades of loss, violence, and injustice, tensions come to a head and force a reckoning that could clear the air or lead to more violence."
Curious Toys by Elizabeth Hand (Mulholland Books; 10/15/19)
"The year is 1915 and Pin, the fifteen year-old daughter of an amusement park fortune teller, disguises herself as a boy to run with the teenage boys who thrive in the dregs of Chicago's street scene. Unbeknownst to the well-heeled city-dwellers and visitors who come to enjoy its attractions, Riverview Park is also host to a brutal serial killer, a perfumed pedophile who uses the secrecy of a dark amusement park ride to conduct his crimes. When Pin sees a man enter the Hell Gate ride with a young girl, and leave without her, she knows that something deadly is afoot. The crime will lead her to the iconic outsider artist Henry Darger, a brilliant but seemingly mad man obsessed with his illustrated novel about a group of young girls who triumph over adult oppressors. Together, the two navigate the seedy underbelly of a changing city to uncover a murderer few even know to look for."
G.I. Confidential by Martin Limón (Soho Crime; 10/15/19)
"South Korea, 1970s: A rash of armed robberies at local Korean banks doesn't concern the American military—until a fatality occurs, and proof surfaces that US soldiers are behind the crimes. The case has been assigned to CID Agents Jake Burrows and Felix Slabem, but they certainly won't do anything that might make 8th United States Army look bad. So Sergeants George Sueño and Ernie Bascom have decided to step in and investigate the robberies—and murder—themselves."
Dead Girls by Abigail Tarttelin (Pan Macmillan; 10/15/19)
"When her best friend Billie is found murdered, eleven-year-old Thera – fearless and forthright – considers it her duty to find the killer. Aided by a Ouija board, Billie's ghost, and the spirits of four other dead girls, she's determined to succeed. The trouble with Thera, though, is that she doesn't always know when to stop – and sometimes there's a fine line between doing the right thing and doing something very, very bad indeed."
The Art of Theft by Sherry Thomas (Berkley; 10/15/19)
"As 'Sherlock Holmes, consulting detective,' Charlotte Holmes has solved murders and found missing individuals. But she has never stolen a priceless artwork—or rather, made away with the secrets hidden behind a much-coveted canvas. But Mrs. Watson is desperate to help her old friend recover those secrets and Charlotte finds herself involved in a fever-paced scheme to infiltrate a glamorous Yuletide ball where the painting is one handshake away from being sold and the secrets a bare breath from exposure. Her dear friend Lord Ingram, her sister Livia, Livia's admirer Stephen Marbleton—everyone pitches in to help and everyone has a grand time. But nothing about this adventure is what it seems and disaster is biding time on the grounds of a glittering French chateau, waiting only for Charlotte to make a single mistake…"
The House of Brides by Jane Cockram (HarperCollins; 10/22/19)
"Miranda's life and career has been a roller-coaster ride. Her successful rise to the top of the booming lifestyle industry as a social media influencer led to a humiliating fall after a controversial product she endorsed flopped. Desperate to get away from the hate-spewing trolls shaming her on the internet, she receives a mysterious letter from a young cousin in England that plunges her into a dark family mystery."
"When reclusive, retired silver screen actress Barbara Lace dies in her bed, only the young widower of Cedarville suspects a crime. But Samson Delaware has always been something of an outsider, and his wife's death hasn't exactly improved his reputation. In fact, the local gossipmongers think he might be losing his mind. Their bless-your-heart manners can't disguise their distrust, which makes his amateur attempts at an investigation even more difficult. When Lace's assistant is found decidedly murdered, the town starts to change its tune, though, and soon Samson finds himself in the thick of an improbable chase. Hollywood hotshots and small-town law enforcement make strange bedfellows—especially when secrets are getting women killed." – From publisher description
The Fragility of Bodies by Sergio Olguín; transl. by Miranda France (Bitter Lemon Press; 10/22/19)
"When she hears about the suspicious suicide of a local train driver, Buenos Aires journalist Veronica Rosenthal decides to investigate. A journey that takes her into an unfamiliar world of grinding poverty, crime-infested neighbourhoods, and train drivers haunted by the memory of bodies hit at speed by their locomotives."
Strangers at the Gate by Catriona McPherson (Minotaur Books; 10/22/19)
"When Finn and Paddy decide to move from their home in the city to the small town of Simmerton, it feels like everything has finally fallen into place. Paddy's been made partner at the law firm in town, and Finn has found full-time work as the deacon. Paddy's new boss has even offered them the use of a gate house on his property. Finn feels like this must be a fairy tale. Paddy thinks they've won the lottery. Either way, they agree: it's perfect. But only days after moving into the gate house, Finn begins to have doubts. She keeps hearing strange sounds, and the thicket of trees make her feel claustrophobic rather than safe. When she and Paddy discover the bloody bodies of Paddy's boss and his wife, the fairytale has officially ended. A strange email—supposedly sent from the dead man—makes it clear: this was murder."
November
The Ninja Daughter by Tori Eldridge (Agora Books; 11/5/19)
"Kill Bill meets The Joy Luck Club in The Ninja Daughter, an edge-of-your-seat debut novel about Lily Wong a modern-day female ninja, dedicated to rescuing women from abusive relationships while trying to hide the truth about her real life from her overprotective family."
"Soon after her twenty-fifth birthday, Libby Jones returns home from work to find the letter she's been waiting for her entire life. She rips it open with one driving thought: I am finally going to know who I am. She soon learns not only the identity of her birth parents, but also that she is the sole inheritor of their abandoned mansion on the banks of the Thames in London's fashionable Chelsea neighborhood, worth millions. Everything in Libby's life is about to change. But what she can't possibly know is that others have been waiting for this day as well—and she is on a collision course to meet them. Twenty-five years ago, police were called to 16 Cheyne Walk with reports of a baby crying. When they arrived, they found a healthy ten-month-old happily cooing in her crib in the bedroom. Downstairs in the kitchen lay three dead bodies, all dressed in black, next to a hastily scrawled note. And the four other children reported to live at Cheyne Walk were gone."
Passport to Death by Yigal Zur (Oceanview Publishing; 11/5/19)
"Dotan Naor, an Israeli private investigator, ousted from Shin Bet—Israel's internal security service—goes to Thailand to find Sigal Bardon, a beautiful young girl from a wealthy Israeli family. Sigal has disappeared in Bangkok—completely. Dotan has connections in Thailand and he's familiar with Bangkok's dark side—the narrow alleys with bars and hookers, trenches of stagnant water, hotel rooms with illicit activity. This is where he intends to start his search. But when the passport of the missing Israeli girl ends up in his hands during his first taxi ride in the city, he's suspicious that someone is playing him. But who? And why? As Dotan searches for Sigal, police corruption blocks his every path while he delves deeper. Every lead he pursues draws him closer and closer to a black hole in his "own" past—one intertwined with his pursuit of Sigal—one that leads him to Reuven—and the haunting failure that led to the dismissal of both of them from Shin Bet. The wound between Dotan and Reuven is raw and deep, but Dotan realizes it must be healed in order to save Sigal."
Queen of Bones by Teresa Dovalpage (Soho Crime; 11/12/19)
"Padrino, a former detective on the Cuban police force, has retired and found a new, happy life as a Santería priest. But he is drawn back in for a murder investigation when his goddaughter, Rosita, who works at the local cemetery, recognizes one of the bodies that crosses her embalming table. Meanwhile, an old flame of Rosita's, Juan, has returned to Cuba after fleeing by raft twenty years ago. He is with his American wife, Sharon, and has come back to catch up with his old college circle—Victor, his estranged best friend, and unbeknownst to Sharon, his most serious ex-girlfriend, Elsa, with whom he never quite fell out of love."
"Along northern Canada's Highway 16, a yellow billboard reads GIRLS, DON'T HITCHHIKE. KILLER ON THE LOOSE. The highway is a 450-mile stretch of dirt and asphalt, surrounded by rugged wilderness and snowy mountain peaks. It is known as the Highway of Tears. It is here that at least twenty women and girls—most of them Indigenous—have vanished since 1969. Highway of Tears explores the true story of what has happened along this troubled road. Journalist Jessica McDiarmid reassembles the lives of the victims—who they were, where they came from, who loved them, and what led them to the highway—and takes us into their families' determined fight for the truth. The book also indicts the initial police investigation marred by incompetence and systemic racism, even as it shines a light on a larger phenomenon: more than a thousand missing and murdered indigenous women across Canada, a topic brought to international attention when Canadian Prime Minister Justin Trudeau opened an official inquiry into the case. Combining hard-hitting reporting with a keen, human eye, Highway of Tears is a penetrating look at decades' worth of tragedy and the fight to honor the victims by preserving their stories and providing them the justice they deserve."
"In the decades they spent at the DEA, Javier Peña and Steve Murphy risked their lives hunting large and small drug traffickers. But their biggest challenge was the hunt for Pablo Escobar in Colombia. The partners, who began their careers as small-town cops, have been immortalised in Netflix's Narcos, a fictional account of their hunt for Escobar. Now, for the first time ever, they tell the real story of how they brought down the world's first narco-terrorist, the challenges they faced, and the innovative strategies they employed to successfully end the reign of terror of the world's most wanted criminal."
Under Occupation by Alan Furst (Random House; 11/26/19)
"Occupied Paris, 1942. Just before he dies, a man being chased by the Gestapo hands off a strange-looking document to the unsuspecting novelist Paul Ricard. It looks like a blueprint of a part for a military weapon, one that might have important information for the Allied forces. Ricard realizes he must try to get it into the hands of members of the resistance network. As Ricard finds himself drawn deeper and deeper into anti-Nazi efforts, and into increasingly dangerous espionage assignments, he travels to Germany and along the escape routes of underground resistance safe houses, to spy on Nazi maneuvers. When he meets the mysterious and beautiful Leila, a professional spy, they begin to work together to get crucial information out of France and into the hands of the Allied forces in London."
December
Now You See Them by Elly Griffiths (Houghton Mifflin Harcourt; 12/3/19)
"The new decade is going well for Edgar Stephens and his good friend the magician Max Mephisto. Edgar's new wife, though—former detective Emma—is restless and frustrated at home, knowing she was the best detective on the team. But when an investigation into a string of disappearing girls begins, Emma sees her chance to get back in the action. She begins her own hunt, determined to prove, once and for all that she's better than the boys. Though she's not the only one working toward that goal—there's a new woman on the force, and she's determined to make detective. When two more girls go missing, both with ties to the group, the stakes climb ever higher, and Max finds himself drawn into his own search."
How the Dead Speak by Val McDermid (Atlantic Monthly Press; 12/3/19)
"When human remains are discovered in the grounds of an old convent, it quickly becomes clear that someone has been using the site as their personal burial ground. But with the convent abandoned long ago and the remains dating back many years, could this be the work of more than one obsessive killer? It's an investigation that throws up more questions as the evidence mounts, and after their last case ended catastrophically, Tony Hill and Carol Jordan can only watch from afar. As they deal with the consequences of previous actions, someone with a terrifying routine is biding their time – and both Tony and Carol find themselves closer to the edge than they have ever been before . . . "
"On the rugged West Coast of New Zealand, Golden Cove is more than just a town where people live. The adults are more than neighbors; the children, more than schoolmates. That is until one fateful summer—and several vanished bodies—shatters the trust holding Golden Cove together. All that's left are whispers behind closed doors, broken friendships, and a silent agreement not to look back. But they can't run from the past forever. Eight years later, a beautiful young woman disappears without a trace, and the residents of Golden Cove wonder if their home shelters something far more dangerous than an unforgiving landscape."
Winter Grave by Helene Tursten; transl. by Marlaine Delargy (Soho Crime; 12/3/19)
"When a little girl disappears a few weeks before Christmas, suspicions fall to the last person she was seen with: the mentally disabled teenage boy who gave her a ride home after school. Complicating the matter is the fact that detectives can hardly get a word out of him. Meanwhile, 28-year-old Detective Inspector Embla is newly back at work and still trying to recover from her recent brush with a killer, which left her unable to get back in the ring to defend her title as Nordic light welterweight champion. When a second child disappears and a police officer is found dead, tensions in the small town of Strömstad, Sweden, reach an all-time high—as are Embla's nightmares. As she hunts for the missing children, Embla can't help but think of the case that has been haunting her for years: the disappearance of her childhood best friend. Could the cases be linked? With each passing dark winter day, the odds of finding the children alive shrink, while desperation mounts. Their fathers want answers and will stop at nothing—including murder—to get them."
The Dead Girls Club by Damien Angelica Walters (Crooked Lane Books; 12/10/19)
"In 1991, Heather Cole and her friends were members of the Dead Girls Club. Obsessed with the macabre, the girls exchanged stories about serial killers and imaginary monsters, like the Red Lady, the spirit of a vengeful witch killed centuries before. Heather knew the stories were just that, until her best friend Becca began insisting the Red Lady was real–and she could prove it. That belief got Becca killed. It's been nearly thirty years, but Heather has never told anyone what really happened that night–that Becca was right and the Red Lady was real. She's done her best to put that fateful summer, Becca, and the Red Lady, behind her. Until a familiar necklace arrives in the mail, a necklace Heather hasn't seen since the night Becca died. The night Heather killed her. Now, someone else knows what she did…and they're determined to make Heather pay."
Good Girls Lie by J.T. Ellison (MIRA; 12/30/19)
"Perched atop a hill in the tiny town of Marchburg, Virginia, The Goode School is a prestigious prep school known as a Silent Ivy. The boarding school of choice for daughters of the rich and influential, it accepts only the best and the brightest. Its elite status, long-held traditions and honor code are ideal for preparing exceptional young women for brilliant futures at Ivy League universities and beyond. But a stranger has come to Goode, and this ivy has turned poisonous. In a world where appearances are everything, as long as students pretend to follow the rules, no one questions the cruelties of the secret societies or the dubious behavior of the privileged young women who expect to get away with murder. But when a popular student is found dead, the truth cannot be ignored. Rumors suggest she was struggling with a secret that drove her to suicide. But look closely…because there are truths and there are lies, and then there is everything that really happened."
---
Want more? We have must-read 2019 mystery lists for January–March, April–June, and July–August!