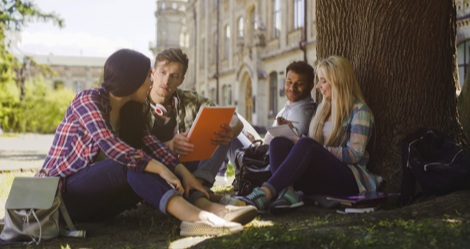 This content contains affiliate links. When you buy through these links, we may earn an affiliate commission.
Looking for college romance books? You've come to the right place! What do I mean when I say college romance books? Simply that it's a romance novel—where the romantic storyline is the main plot—that takes place primarily in a college/university setting with at least one main character who is a college student. You might be wondering if romance books set in college are the same as new adult romance books, to which I would say: yes, sometimes, but not always! You might also be wondering: does this list include college sports romance books? Yes, yes, it does, more than one!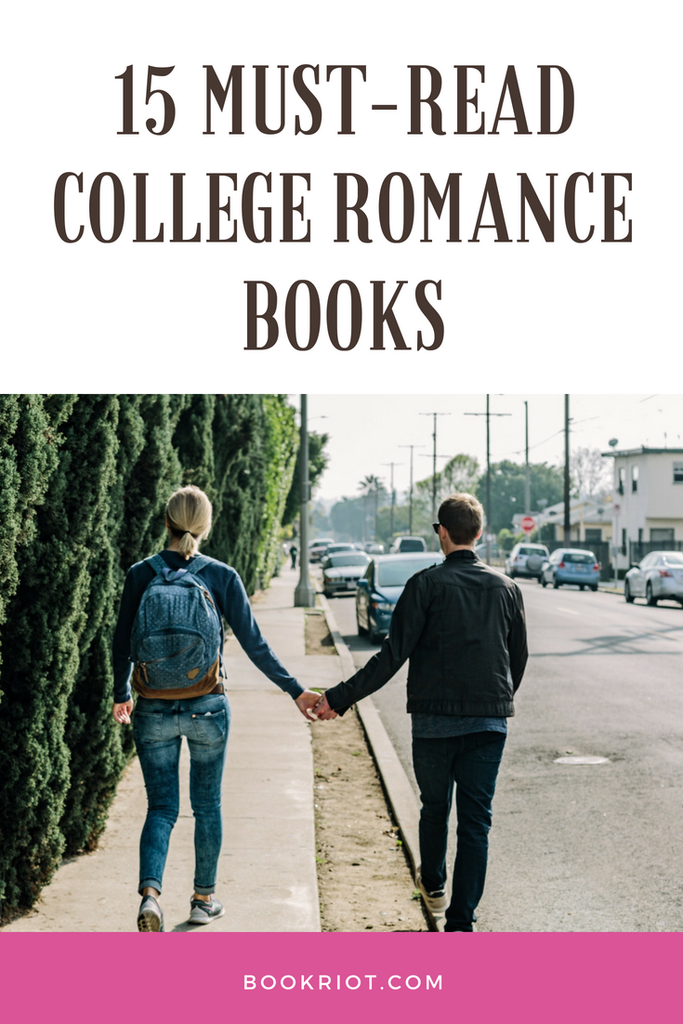 Enjoy and let me know in the comments which college romance books I had the audacity to leave off this list!
Treasure by Rebekah Weatherspoon
Alexis is a baby butch lesbian and college freshman who has been struggling lately with her mental health and parental disappointment. Trisha is a slightly older femme and a new transfer student who shows up in Alexis's computer science class. Trisha also happens to be the stripper that Alexis couldn't keep her eyes off of a few weeks earlier at Alexis's sister's bachelorette party. Their mutual attraction is undeniable. But can their romance fit into Alexis's mental health recovery plan and Trisha's packed schedule of school, work, and family obligations?
On the night of high school graduation, Vale and her boyfriend Crawford are in a terrible car accident. Now instead of preparing for college, Vale is spending her summer with Crawford as he lies in the hospital in a coma and she prays that he is going to wake up. She's hardly expecting to make friends with a college friend of Crawford's older brother named Slate, who is also at the hospital visiting his dying uncle. But she does, and is shocked to find she is developing romantic feelings for him. When complications after Crawford wakes up destroys Vale's plans, she ends up going to college on her own—where she again finds Slate. But their story is about to take a very unexpected turn.
Well Played by Katrina Ramos Atienza
This modern-day Pride and Prejudice re-telling is set in the Filipino city of Los Banos. "Elizabeth" in this story is Patrice Reyes, who is a junior at university and a star football/soccer player. Patrice is convinced this is going to be her best year yet: her team is set to win the championships, her grades are looking up, and she might be getting somewhere with her rock star crush. But being paired with the unbelievably nerdy and arrogant math geek Paul for a semester-long project is throwing a wrench in her great school year. You can guess what happens next.
Frankie is the kind of young pansexual woman who can date anyone she wants (and not commit to them for long); but even she knows that eyeing the daughter of a southern Republican mayor is probably a bad idea. But Samara, the daughter in question, appears to have feelings for Frankie too: feelings that tell her wants a real relationship, not just a hook-up. Can Frankie figure out how to do a committed relationship and fight for the HEA she never knew she wanted? Can a party girl and a girl who likes to stay in her dorm and read YA make it? if you like this stand-alone novel in Adler's new adult Raleigh University series, read the others!
Alice has her summer all planned out: working at the library to pay rent while prioritizing marathons of her favorite TV shows with delicious snacks and her BFFs. Her girlfriend was supposed to be a part of the plan, except she broke up with Alice when Alice told her about she was asexual. Alice has decided to swear off romance, until…she meets Takumi, a fellow library employee. Alice can't stop imagining him in her life. But it's a pretty scary risk to take: should she jeopardize their friendship for a potential romantic relationship? Not only might Takumi not reciprocate her feelings, he might not get her ace identity either.
Kat usually goes through tutors the same way that she goes through boyfriends: they bail once they realize how hopeless Kat is, whether it's how her learning disability affects her school work or how the person she really is never seems to measure up to guys' expectations. Right now she's got a new boyfriend…but she's having inappropriate thoughts about his best friend Alec, who just happens to be her new math tutor. When some secrets come to light, Alec is going to have to realize you can't solve real-life problems with math equations and Kat is going to have to learn to trust that some people might like her not despite, but because of who she is.
Trade Me by Courtney Milan
Tina is dead-set on earning her degree and getting a good job so her parents never have to worry about making rent again. Blake is a sexy billionaire who's set to inherit a technology company. When Blake makes an off-hand comment about what life is like as a poor person, Tina tells him he wouldn't last one month in her shoes. To her surprise, he offers her a trade; she'll live his life—including his income, car, and house—and he'll live hers, for a month. But soon they're trading kisses and personal secrets in addition to lives. With such different realities, is it even remotely possible they might have a future?
Nora's first year of college didn't go so well, what with her all-partying-no-studying strategy that landed her with criminal charges and failed classes, so she's determined second year is going to be different. Her attraction to her new roommate's best friend, Crosbie—a well-known party king and player—is not part of her new plan, which, as it turns out, is kind of boring. When Nora and Crosbie become friends, she's surprised to find she likes who he is beneath the cocky veneer. But once Nora finds herself really falling for him, her biggest secret of all—which makes her misdemeanors and Fs look like nothing—threatens to ruin everything.
Nursing student Avery is determined not to follow in her mother's bad-decision-making footsteps when it comes to dating, so she restricts herself to uncomplicated hook-ups. When she meets her new hot tattooed upstairs neighbor, Bennett, she's dying for a one night-stand. But Bennett's the exact opposite of Avery: he's looking for long-lasting love only, a resolution he'd made based on his own troubled upbringing. And he sees something special in Avery. Can both of them work through their childhood trauma? Can Avery finally open up to someone?
It's the beginning of the unraveling Cheyenne's perfect life that she has so meticulously crafted to bury bad memories of her past when she walks in on her boyfriend cheating on her at the beginning of her freshman year of college. She decides she needs a fake boyfriend to get back at her ex, and Colt might be the perfect guy for the job. Colt doesn't even want to be going to college, but it was his mom's dying wish that he got his degree, so he could hardly refuse. Soon Colt and Cheyenne's fake relationship is becoming remarkably real as they try to forget about their pain by losing themselves in each other.
Anna wants to just finish college already so she can figure her life out. Dating sexy star quarterback Drew is definitely not going to help anything, but when a chance encounter leads to a mind-blowing one-night stand, Anna figures she can keep it casual, no harm done. Drew, however, is totally enamoured with Anna—especially how much she couldn't care less about his fame and football trophies. He sets his sights on convincing her that he's more than a hook-up and he's sure that he has no option other than to succeed, as long as he treats it just like a football game: where he always wins.
The Royal We by Heather Cocks and Jessica Morgan
In this Kate and Prince William inspired romance, American student Rebecca finds herself living down the hall at Oxford from Nicholas, the future king of Great Britain. Bex can't help falling for the person behind the title. But dating him brings her into the spotlight in a way she could never have imagined and into a world that is unlike anything she has ever known. Dating Nick means adventurous ski trips and glamorous dinners at Kensington Palace, but it also means being swept up in a royal family with dark, tragic secrets and dealing with the horrible, invasive tabloid reporters. Is everything she will have to sacrifice worth it for love?
Smut by Karina Halle
Blake just needs to pass this elective creative writing course so he can graduate and move on to save his family's flailing business. Amanda wants to graduate at the top of her creative writing class and prove to her family that writing is a viable career. When Amanda and Blake are forced to collaborate for a class project, neither is expecting how well it turns out. Given their resounding success, they decide to start publishing erotica to make money using a secret pen name—even though they can't stand each other as people. When writing about sex turns to having sex and then turns to serious feelings, will their relationship survive being exposed as the authors of smut?
Nadia is a serious student with big dreams who's working hard to keep her scholarship and to support herself by working at a daycare. She doesn't have time for a relationship. Daniel, aka Ty, has even less time: he works full-time as a construction manager, takes night classes, and became a single parent four years ago when the mom of his son left him and broke his heart. When Nadia and Ty's paths cross after Nadia moves into Ty's building, their mutual attraction is undeniable. But how on earth are they going to make time for a relationship, even if Ty could get past his baggage?
Jillian and her friends like to catch and release boys: you get all the fun and none of the heartbreak. When by her junior year of college her BFFs are all dropping like flies and entering real relationships, Jillian is the only one left standing and committed to their principles. Unfortunately visiting British student Liam doesn't seem to be taking the hint, and keeps doing sweet things like staying the morning after sex and cooking her waffles. But, Jillian tells herself, he can only stay as long as his school visa allows, right? Should Jillian finally break her rule, and if she does, is she going to break her heart too?
Want more college romance books? Check out these Back to School Romance Novels. Want more sports romances in general, including some set in college? Read 100 Must-Read Sports Romances.