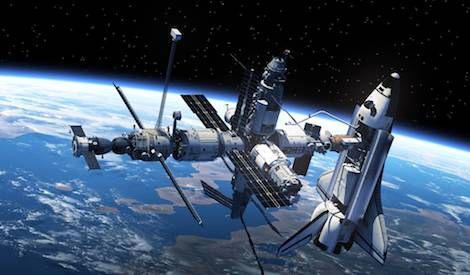 This content contains affiliate links. When you buy through these links, we may earn an affiliate commission.
I grew up watching the various Star Treks and Star Wars; I saw Apollo 13 in the theaters. Space, that final frontier, has always been one of my favorite frontiers to explore. And there are a ton of writers who apparently just want to make me happy, because there are many, many—seriously, so many!—excellent books set in space just waiting to be read! While there are many great nonfiction books about actual space, I've always leaned more towards fictional Spaaaaaaaaaace, if you will. What might be out there? (Aside from The Truth, obviously.) And so my criteria for putting together this list was simple: a work of science fiction or fantasy set at least partly in outer space, or on a planet other than Earth that required space travel to get to. Here are 50 speculative works that play with Spaaaaaaaaaace in all its mystifying, occasionally terrifying, really freaking huge glory, in alphabetical order.
Note: descriptions in quotations are taken from publisher materials.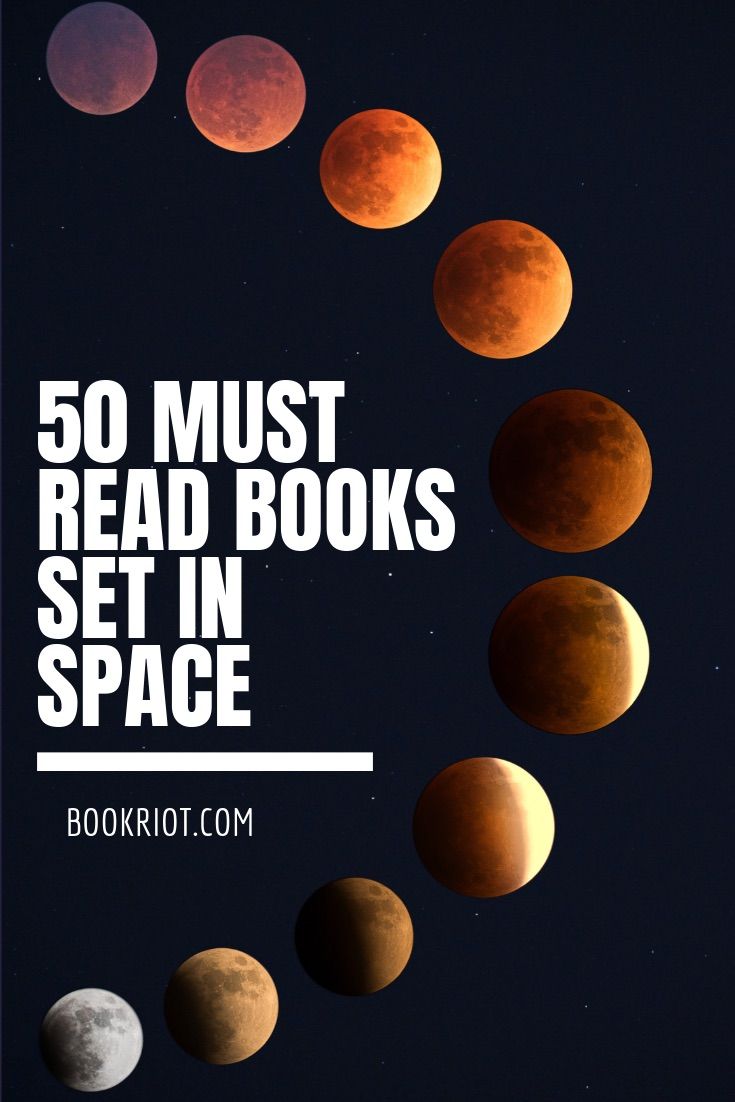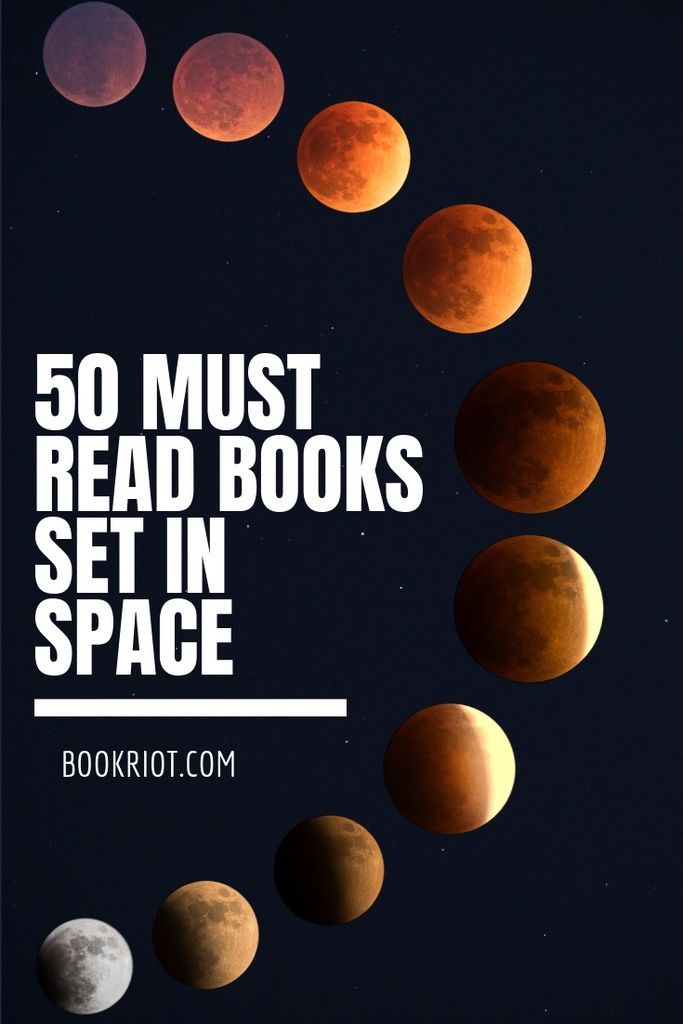 After the Flare (Nigerians in Space #2) by Deji Olukotun
I know this is #2 in a series—just trust me!
"After a solar flare upended the world order, Kwesi Brackett's life disintegrated. His wife took up with a millionaire in the heavily armed Silicon territories and his daughter's university, Yale, relocated to the Caribbean. After being laid off by NASA, Brackett finds himself in Africa, as one of the head engineers for the newly formed Nigerian Space Program. Suddenly, the NSP's goal of getting astronauts into space is more important than ever. With most of Europe, Asia, and North America knocked off-line, thousands of satellites about to plummet to Earth, and the political minefield that is the rescue of an international group of astronauts trapped on the international station, time is of the essence.
"The deranged and violent militant group Boko Haram is steadily approaching, and the last surviving members of the Fulani tribe, an ancient matriarchal nomadic society, have found refuge in the abandoned caves of the Saon people. Accessible only by sonic vibrations, the sophisticated cave system contains messages from the past in a series of astrolabes, powerful amulets whose destructive force is harnessed by the Fulani tribeswomen.
"Nigeria's past and present are threatening to collide in a battle over its own future."
All Systems Red (The Murderbot Diaries #1) by Martha Wells
This series has Murderbot in its name but do not be fooled. This is cozy, character-driven sci-fi at its finest.
"In a corporate-dominated spacefaring future, planetary missions must be approved and supplied by the Company. Exploratory teams are accompanied by Company-supplied security androids, for their own safety.
"But in a society where contracts are awarded to the lowest bidder, safety isn't a primary concern.
"On a distant planet, a team of scientists are conducting surface tests, shadowed by their Company-supplied 'droid — a self-aware SecUnit that has hacked its own governor module, and refers to itself (though never out loud) as "Murderbot." Scornful of humans, all it really wants is to be left alone long enough to figure out who it is.
"But when a neighboring mission goes dark, it's up to the scientists and their Murderbot to get to the truth."
"On a remote, icy planet, the soldier known as Breq is drawing closer to completing her quest. Once, she was the Justice of Toren—a colossal starship with an artificial intelligence linking thousands of soldiers in the service of the Radch, the empire that conquered the galaxy. Now, an act of treachery has ripped it all away, leaving her with one fragile human body, unanswered questions, and a burning desire for vengeance."
Ascension by Jacqueline Koyanagi
Looking for a queer female lead who is also a woman of color, is a brilliant mechanic, and must deal with a chronic illness while helping save her sister and the crew of the spaceship she's stowed away on? Please look no further!
"Alana Quick is the best damned sky surgeon in Heliodor City, but repairing starship engines barely pays the bills. When the desperate crew of a cargo vessel stops by her shipyard looking for her spiritually advanced sister Nova, Alana stows away. Maybe her boldness will land her a long-term gig on the crew. But the Tangled Axon proves to be more than star-watching and plasma coils. The chief engineer thinks he's a wolf. The pilot fades in and out of existence. The captain is all blond hair, boots, and ego…and Alana can't keep her eyes off her. But there's little time for romance: Nova's in danger and someone will do anything—even destroying planets—to get their hands on her."
Binti (Binti #1) by Nnedi Okorafor
"Her name is Binti, and she is the first of the Himba people ever to be offered a place at Oomza University, the finest institution of higher learning in the galaxy. But to accept the offer will mean giving up her place in her family to travel between the stars among strangers who do not share her ways or respect her customs.
"Knowledge comes at a cost, one that Binti is willing to pay, but her journey will not be easy. The world she seeks to enter has long warred with the Meduse, an alien race that has become the stuff of nightmares. Oomza University has wronged the Meduse, and Binti's stellar travel will bring her within their deadly reach.
"If Binti hopes to survive the legacy of a war not of her making, she will need both the gifts of her people and the wisdom enshrined within the University, itself—but first she has to make it there, alive."
"Our universe is ruled by physics and faster than light travel is not possible—until the discovery of The Flow, an extra-dimensional field we can access at certain points in space-time that transport us to other worlds, around other stars.
"Humanity flows away from Earth, into space, and in time forgets our home world and creates a new empire, the Interdependency, whose ethos requires that no one human outpost can survive without the others. It's a hedge against interstellar war—and a system of control for the rulers of the empire.
"The Flow is eternal—but it is not static. Just as a river changes course, The Flow changes as well, cutting off worlds from the rest of humanity. When it's discovered that The Flow is moving, possibly cutting off all human worlds from faster than light travel forever, three individuals—a scientist, a starship captain and the Empress of the Interdependency—are in a race against time to discover what, if anything, can be salvaged from an interstellar empire on the brink of collapse."
If you've never read Iain Banks and enjoy Star Trek, Battlestar Galactica, and/or The Expanse, I cannot recommend highly enough that you start here.
"The war raged across the galaxy. Billions had died, billions more were doomed. Moons, planets, the very stars themselves, faced destruction, cold-blooded, brutal, and worse, random. The Idirans fought for their Faith; the Culture for its moral right to exist. Principles were at stake. There could be no surrender.
"Within the cosmic conflict, an individual crusade. Deep within a fabled labyrinth on a barren world, a Planet of the Dead proscribed to mortals, lay a fugitive Mind. Both the Culture and the Idirans sought it. It was the fate of Horza, the Changer, and his motley crew of unpredictable mercenaries, human and machine, actually to find it, and with it their own destruction."
Dark Mirror (Star Trek: The Next Generation) by Diane Duane
This was the first (and, if I'm honest, only) Star Trek franchise novel I've read, and Duane has convinced me that I need to read more.
"One hundred years ago, four crew members of the U.S.S. Enterprise crossed the dimensional barrier and found just such an empire. A mirror image of their own universe, populated by nightmare duplicates of their shipmates. Barely able to escape with their lives, they returned thankful that the accident that brought them there could not be duplicated. Or so they thought.
"But now the scientists of that empire have found a doorway into our universe. Thier plan: to destroy from within, to replace one of our starships with one of theirs. Their victims: the crew of the U.S.S. Enterprise NCC 1701-D."
Dawn (Lilith's Brood #1) by Octavia Butler
"Lilith Iyapo has just lost her husband and son when atomic fire consumes Earth—the last stage of the planet's final war. Hundreds of years later Lilith awakes, deep in the hold of a massive alien spacecraft piloted by the Oankali—who arrived just in time to save humanity from extinction. They have kept Lilith and other survivors asleep for centuries, as they learned whatever they could about Earth. Now it is time for Lilith to lead them back to her home world, but life among the Oankali on the newly resettled planet will be nothing like it was before.
"The Oankali survive by genetically merging with primitive civilizations—whether their new hosts like it or not. For the first time since the nuclear holocaust, Earth will be inhabited. Grass will grow, animals will run, and people will learn to survive the planet's untamed wilderness. But their children will not be human. Not exactly."
Do you love graphic novels AND getting your heart stomped on? Here's one for you.
"Young Robot boy TIM-21 and his companions struggle to stay alive in a universe where all androids have been outlawed and bounty hunters lurk on every planet. Written by award-winning creator, Jeff Lemire, Descender is a rip-roaring and heart-felt cosmic odyssey. Lemire pits humanity against machine, and world against world, to create a sprawling epic. "
Dune by Frank Herbert
There's no way I could skip listing a book that I reread multiple times as a teenager, and that one day I will finally get around to rereading as an adult.
"Set in the far future amidst a sprawling feudal interstellar empire where planetary dynasties are controlled by noble houses that owe an allegiance to the imperial House Corrino, Dune tells the story of young Paul Atreides (the heir apparent to Duke Leto Atreides and heir of House Atreides) as he and his family accept control of the desert planet Arrakis, the only source of the 'spice' melange, the most important and valuable substance in the cosmos. The story explores the complex, multi-layered interactions of politics, religion, ecology, technology, and human emotion as the forces of the empire confront each other for control of Arrakis."
China Mieville's brain is one of the strangest on the planet, and in this one he's given us aliens that don't understand lies—and so much more.
"In the far future, humans have colonized a distant planet, home to the enigmatic Ariekei, sentient beings famed for a language unique in the universe, one that only a few altered human ambassadors can speak.
"Avice Benner Cho, a human colonist, has returned to Embassytown after years of deep-space adventure. She cannot speak the Ariekei tongue, but she is an indelible part of it, having long ago been made a figure of speech, a living simile in their language.
"When distant political machinations deliver a new ambassador to Arieka, the fragile equilibrium between humans and aliens is violently upset. Catastrophe looms, and Avice is torn between competing loyalties—to a husband she no longer loves, to a system she no longer trusts, and to her place in a language she cannot speak yet speaks through her."
I like to pitch this one as "space princess on the run from assassins," but if you need more here's the actual description.
"The only surviving heir to an ancient Kalusian dynasty, Rhee has spent her life training to destroy the people who killed her family. Now, on the eve of her coronation, the time has finally come for Rhee to claim her throne—and her revenge.
"Alyosha is a Wraetan who has risen above his war refugee origins to find fame as the dashing star of a DroneVision show. Despite his popularity, Aly struggles with anti-Wraetan prejudices and the pressure of being perfect in the public eye.
"Their paths collide with one brutal act of violence: Rhee is attacked, barely escaping with her life. Aly is blamed for her presumed murder.
"The princess and her accused killer are forced to go into hiding—even as a war between planets is waged in Rhee's name. But soon, Rhee and Aly discover that the assassination attempt is just one part of a sinister plot. Bound together by an evil that only they can stop, the two fugitives must join forces to save the galaxy."
Exo (Exo #1) by Fonda Lee
"It's been a century of peace since Earth became a colony of an alien race with far reaches into the galaxy. Some die-hard extremists still oppose alien rule on Earth, but Donovan Reyes isn't one of them. His dad holds the prestigious position of Prime Liaison in the collaborationist government, and Donovan's high social standing along with his exocel (a remarkable alien technology fused to his body) guarantee him a bright future in the security forces. That is, until a routine patrol goes awry and Donovan's abducted by the human revolutionary group Sapience, determined to end alien control.
"When Sapience realizes whose son Donovan is, they think they've found the ultimate bargaining chip . But the Prime Liaison doesn't negotiate with terrorists, not even for his own son. Left in the hands of terrorists who have more uses for him dead than alive, the fate of Earth rests on Donovan's survival. Because if Sapience kills him, it could spark another intergalactic war. And Earth didn't win the last one…"
Feed by M.T. Anderson
"For Titus and his friends, it started out like any ordinary trip to the moon—a chance to party during spring break and play with some stupid low-grav at the Ricochet Lounge. But that was before the crazy hacker caused all their feeds to malfunction, sending them to the hospital to lie around with nothing inside their heads for days. And it was before Titus met Violet, a beautiful, brainy teenage girl who has decided to fight the feed and its omnipresent ability to categorize human thoughts and desires. Following in the footsteps of George Orwell, Anthony Burgess, and Kurt Vonnegut Jr., M. T. Anderson has created a not-so-brave new world—and a smart, savage satire that has captivated readers with its view of an imagined future that veers unnervingly close to the here and now."
"Devi Morris isn't your average mercenary. She has plans. Big ones. And a ton of ambition. It's a combination that's going to get her killed one day—but not just yet.
"That is, until she just gets a job on a tiny trade ship with a nasty reputation for surprises. The Glorious Fool isn't misnamed: it likes to get into trouble, so much so that one year of security work under its captain is equal to five years everywhere else. With odds like that, Devi knows she's found the perfect way to get the jump on the next part of her Plan. But the Fool doesn't give up its secrets without a fight, and one year on this ship might be more than even Devi can handle."
Want a smorgasborg of stories exploring different variations on interstellar empires, written by SF/F luminaries such as Aliette de Bodard, Ann Leckie, Yoon Ha Lee, Naomi Novik, and more? You're welcome!
Particularly for folks looking for an inclusive Ender's Game–esque novel!
"For years, Rafi Delarua saw his family suffer under his father's unethical use of psionic power. Now the government has Rafi under close watch, but, hating their crude attempts to analyse his brain, he escapes to the planet Punartam, where his abilities are the norm, not the exception. Punartam is also the centre for his favourite sport, wallrunning – and thanks to his best friend, he has found a way to train with the elite. But Rafi soon realises he's playing quite a different game, for the galaxy is changing; unrest is spreading and the Zhinuvian cartels are plotting, making the stars a far more dangerous place to aim. There may yet be one solution – involving interstellar travel, galactic power and the love of a beautiful game."
On a personal note, I celebrate Towel Day every year (May 25; mark your calendars!) and will rewatch the 2005 movie at the slightest prompting. In fact, perhaps I should go do that now…
"Seconds before the Earth is demolished to make way for a galactic freeway, Arthur Dent is plucked off the planet by his friend Ford Prefect, a researcher for the revised edition of The Hitchhiker's Guide to the Galaxy who, for the last fifteen years, has been posing as an out-of-work actor.
"Together this dynamic pair begin a journey through space aided by quotes from The Hitchhiker's Guide ("A towel is about the most massively useful thing an interstellar hitchhiker can have") and a galaxy-full of fellow travelers: Zaphod Beeblebrox—the two-headed, three-armed ex-hippie and totally out-to-lunch president of the galaxy; Trillian, Zaphod's girlfriend (formally Tricia McMillan), whom Arthur tried to pick up at a cocktail party once upon a time zone; and Marvin, a paranoid, brilliant, and chronically depressed robot."
Already torn through Becky Chambers's books and need something else with found family and space hijinks? Tada!
"The strange planet known as Tanegawa's World is owned by TransRifts Inc, the company with the absolute monopoly on interstellar travel. Hob landed there ten years ago, a penniless orphan left behind by a rift ship. She was taken in by Nick Ravani and quickly became a member of his mercenary biker troop, the Ghost Wolves.
"Ten years later, she discovers the body of Nick's brother out in the dunes. Worse, his daughter is missing, taken by shady beings called the Weathermen. But there are greater mysteries to be discovered – both about Hob and the strange planet she calls home."
"Everyone in the universe knows his name. Everyone in the universe fears him. But no one realizes that notorious outlaw Ia Cocha is a seventeen-year-old girl.
"A criminal mastermind and unrivaled pilot, Ia has spent her life terrorizing the Olympus Commonwealth, the imperialist nation that destroyed her home. When the Commonwealth captures her and her true identity is exposed, they see Ia's age and talent as an opportunity: by forcing her to serve them, they will prove that no one is beyond their control.
"Soon, Ia is trapped at the Commonwealth's military academy, desperately plotting her escape. But new acquaintances—including Brinn, a seemingly average student with a closely-held secret, and their charming Flight Master, Knives—cause Ia to question her own alliances. Can she find a way to escape the Commonwealth's clutches before these bonds deepen?"
"Todd Hewitt is the only boy in a town of men. Ever since the settlers were infected with the Noise germ, Todd can hear everything the men think, and they hear everything he thinks. Todd is just a month away from becoming a man, but in the midst of the cacophony, he knows that the town is hiding something from him—something so awful Todd is forced to flee with only his dog, whose simple, loyal voice he hears too. With hostile men from the town in pursuit, the two stumble upon a strange and eerily silent creature: a girl. Who is she? Why wasn't she killed by the germ like all the females on New World? Propelled by Todd's gritty narration, readers are in for a white-knuckle journey in which a boy on the cusp of manhood must unlearn everything he knows in order to figure out who he truly is."
Listen, there are A LOT of Star Wars books out there. Take it as read that you should read this one and many others!
"Then: It's one of the galaxy's most dangerous secrets: a mysterious transmitter with unknown power and a reward for its discovery that most could only dream of claiming. But those who fly the Millennium Falcon throughout its infamous history aren't your average scoundrels. Not once, but twice, the crew of the Falcon tries to claim the elusive prize — first, Lando Calrissian and the droid L3-37 at the dawn of an ambitious career, and later, a young and hungry Han Solo with the help of his copilot, Chewbacca. But the device's creator, the volatile criminal Fyzen Gor, isn't interested in sharing. And Gor knows how to hold a grudge…
"Now: It's been ten years since the rebel hero Han Solo last encountered Fyzen Gor. After mounting a successful rebellion against the Empire and starting a family with an Alderaanian princess, Han hasn't given much thought to the mad inventor. But when Lando turns up at Han's doorstep in the middle of the night, it's Fyzen's assassins that he's running from. And without Han's help, Lando — and all life on Cloud City — will be annihilated.
"With the assistance of a young hotshot pilot, an Ewok slicer prodigy, the woman who might be the love of Lando's life, and Han's best and furriest friend, the two most notorious scoundrels in the New Republic are working together once more. They'll have to journey across the stars — and into the past — before Gor uses the device's power to reshape the galaxy."
Leviathan Wakes (Expanse #1) by James S.A. Corey
"Humanity has colonized the solar system – Mars, the Moon, the Asteroid Belt and beyond – but the stars are still out of our reach.
"Jim Holden is XO of an ice miner making runs from the rings of Saturn to the mining stations of the Belt. When he and his crew stumble upon a derelict ship, the Scopuli, they find themselves in possession of a secret they never wanted. A secret that someone is willing to kill for – and kill on a scale unfathomable to Jim and his crew. War is brewing in the system unless he can find out who left the ship and why."
Lightless (Lightless #1) by C.A. Higgins
"Serving aboard the Ananke, an experimental military spacecraft launched by the ruthless organization that rules Earth and its solar system, computer scientist Althea has established an intense emotional bond—not with any of her crewmates, but with the ship's electronic systems, which speak more deeply to her analytical mind than human feelings do. But when a pair of fugitive terrorists gain access to the Ananke, Althea must draw upon her heart and soul for the strength to defend her beloved ship.
"While one of the saboteurs remains at large somewhere on board, his captured partner—the enigmatic Ivan—may prove to be more dangerous. The perversely fascinating criminal whose silver tongue is his most effective weapon has long evaded the authorities' most relentless surveillance—and kept the truth about his methods and motives well hidden.
"As the ship's systems begin to malfunction and the claustrophobic atmosphere is increasingly poisoned by distrust and suspicion, it falls to Althea to penetrate the prisoner's layers of intrigue and deception before all is lost. But when the true nature of Ivan's mission is exposed, it will change Althea forever—if it doesn't kill her first.
"Rosemary Harper doesn't expect much when she joins the crew of the aging Wayfarer. While the patched-up ship has seen better days, it offers her a bed, a chance to explore the far-off corners of the galaxy, and most importantly, some distance from her past. An introspective young woman who learned early to keep to herself, she's never met anyone remotely like the ship's diverse crew, including Sissix, the exotic reptilian pilot, chatty engineers Kizzy and Jenks who keep the ship running, and Ashby, their noble captain.
"Life aboard the Wayfarer is chaotic and crazy—exactly what Rosemary wants. It's also about to get extremely dangerous when the crew is offered the job of a lifetime. Tunneling wormholes through space to a distant planet is definitely lucrative and will keep them comfortable for years. But risking her life wasn't part of the plan. In the far reaches of deep space, the tiny Wayfarer crew will confront a host of unexpected mishaps and thrilling adventures that force them to depend on each other. To survive, Rosemary's got to learn how to rely on this assortment of oddballs—an experience that teaches her about love and trust, and that having a family isn't necessarily the worst thing in the universe."
"Six days ago, astronaut Mark Watney became one of the first people to walk on Mars.
"Now, he's sure he'll be the first person to die there.
"After a dust storm nearly kills him and forces his crew to evacuate while thinking him dead, Mark finds himself stranded and completely alone with no way to even signal Earth that he's alive—and even if he could get word out, his supplies would be gone long before a rescue could arrive.
"Chances are, though, he won't have time to starve to death. The damaged machinery, unforgiving environment, or plain-old "human error" are much more likely to kill him first.
"But Mark isn't ready to give up yet. Drawing on his ingenuity, his engineering skills—and a relentless, dogged refusal to quit—he steadfastly confronts one seemingly insurmountable obstacle after the next. Will his resourcefulness be enough to overcome the impossible odds against him?"
"The Martian Chronicles tells the story of humanity's repeated attempts to colonize the red planet. The first men were few. Most succumbed to a disease they called the Great Loneliness when they saw their home planet dwindle to the size of a fist. They felt they had never been born. Those few that survived found no welcome on Mars. The shape-changing Martians thought they were native lunatics and duly locked them up.
"But more rockets arrived from Earth, and more, piercing the hallucinations projected by the Martians. People brought their old prejudices with them—and their desires and fantasies, tainted dreams. These were soon inhabited by the strange native beings, with their caged flowers and birds of flame."
Medusa Uploaded (The Medusa Cycle #1) by Emily Devenport
"The Executives control Oichi's senses, her voice, her life. Until the day they kill her.
"An executive clan gives the order to shoot Oichi out of an airlock on suspicion of being an insurgent. A sentient AI, a Medusa unit, rescues Oichi and begins to teach her the truth—the Executives are not who they think they are. Oichi, officially dead and now bonded to the Medusa unit, sees a chance to make a better life for everyone on board.
"As she sets things right one assassination at a time, Oichi becomes the very insurgent the Executives feared, and in the process uncovers the shocking truth behind the generation starship that is their home."
Ninefox Gambit (The Machineries of Empire #1) by Yoon Ha Lee
This trilogy is not only mind-blowingly good, it's also complete! All three books are out right now; go forth.
"Captain Kel Cheris of the hexarchate is disgraced for using unconventional methods in a battle against heretics. Kel Command gives her the opportunity to redeem herself by retaking the Fortress of Scattered Needles, a star fortress that has recently been captured by heretics. Cheris's career isn't the only thing at stake. If the fortress falls, the hexarchate itself might be next.
"Cheris's best hope is to ally with the undead tactician Shuos Jedao. The good news is that Jedao has never lost a battle, and he may be the only one who can figure out how to successfully besiege the fortress.
"The bad news is that Jedao went mad in his first life and massacred two armies, one of them his own. As the siege wears on, Cheris must decide how far she can trust Jedao—because she might be his next victim."
Old Man's War (Old Man's War #1) by John Scalzi
I know I already recommended a Scalzi series; you should consider both of them. They're very different!
"John Perry did two things on his 75th birthday. First he visited his wife's grave. Then he joined the army.
"The good news is that humanity finally made it into interstellar space. The bad news is that planets fit to live on are scarce—and alien races willing to fight us for them are common. So: we fight. To defend Earth, and to stake our own claim to planetary real estate. Far from Earth, the war has been going on for decades: brutal, bloody, unyielding.
"Earth itself is a backwater. The bulk of humanity's resources are in the hands of the Colonial Defense Force. Everybody knows that when you reach retirement age, you can join the CDF. They don't want young people; they want people who carry the knowledge and skills of decades of living. You'll be taken off Earth and never allowed to return. You'll serve two years at the front. And if you survive, you'll be given a generous homestead stake of your own, on one of our hard-won colony planets.
"John Perry is taking that deal. He has only the vaguest idea what to expect. Because the actual fight, light-years from home, is far, far harder than he can imagine—and what he will become is far stranger."
Don't have time for a epically long, long-running space opera? These novellas are SO GOOD!
"For generations Prosper Station has thrived under the guidance of its Honoured Ancestress: born of a human womb, the station's artificial intelligence has offered guidance and protection to its human relatives.
"But war has come to the Dai Viet Empire. Prosper's brightest minds have been called away to defend the Emperor; and a flood of disorientated refugees strain the station's resources. As deprivations cause the station's ordinary life to unravel, uncovering old grudges and tearing apart the decimated family, Station Mistress Quyen and the Honoured Ancestress struggle to keep their relatives united and safe.
"What Quyen does not know is that the Honoured Ancestress herself is faltering, her mind eaten away by a disease that seems to have no cure; and that the future of the station itself might hang in the balance…"
Planetfall (Planetfall #1) by Emma Newman
"Renata Ghali believed in Lee Suh-Mi's vision of a world far beyond Earth, calling to humanity. A planet promising to reveal the truth about our place in the cosmos, untainted by overpopulation, pollution, and war. Ren believed in that vision enough to give up everything to follow Suh-Mi into the unknown.
"More than twenty-two years have passed since Ren and the rest of the faithful braved the starry abyss and established a colony at the base of an enigmatic alien structure where Suh-Mi has since resided, alone. All that time, Ren has worked hard as the colony's 3-D printer engineer, creating the tools necessary for human survival in an alien environment, and harboring a devastating secret.
"The truth Ren has concealed since planetfall can no longer be hidden. And its revelation might tear the colony apart…"
While there are ties between Provenance and the Imperial Radch series, Provenance stands beautifully on its own—and is a great introduction to Leckie's work!
"A power-driven young woman has just one chance to secure the status she craves and regain priceless lost artifacts prized by her people. She must free their thief from a prison planet from which no one has ever returned.
"Ingray and her charge will return to her home world to find their planet in political turmoil, at the heart of an escalating interstellar conflict. Together, they must make a new plan to salvage Ingray's future, her family, and her world, before they are lost to her for good."
"A century ago, the Sentience Wars tore the galaxy apart and nearly ended the entire concept of intelligent space-faring life. In the aftermath, a curious tradition was invented—something to cheer up everyone who was left and bring the shattered worlds together in the spirit of peace, unity, and understanding.
"Once every cycle, the civilizations gather for the Metagalactic Grand Prix—part gladiatorial contest, part beauty pageant, part concert extravaganza, and part continuation of the wars of the past. Instead of competing in orbital combat, the powerful species that survived face off in a competition of song, dance, or whatever can be physically performed in an intergalactic talent show. The stakes are high for this new game, and everyone is forced to compete.
"This year, though, humankind has discovered the enormous universe. And while they expected to discover a grand drama of diplomacy, gunships, wormholes, and stoic councils of aliens, they have instead found glitter, lipstick and electric guitars. Mankind will not get to fight for its destiny—they must sing.
"A one-hit-wonder band of human musicians, dancers and roadies from London—Decibel Jones and the Absolute Zeroes—have been chosen to represent Earth on the greatest stage in the galaxy. And the fate of their species lies in their ability to rock."
Saga, Vol. 1 (Saga #1) by Brian K. Vaughan and Fiona Staples
Do you need me to tell you to read Saga? You probably don't, but I will anyway!
"When two soldiers from opposite sides of a never-ending galactic war fall in love, they risk everything to bring a fragile new life into a dangerous old universe.
"From bestselling writer Brian K. Vaughan, Saga is the sweeping tale of one young family fighting to find their place in the worlds. Fantasy and science fiction are wed like never before in this sexy, subversive drama for adults."
Salvage by Alexandra Duncan
"Ava, a teenage girl living aboard the male-dominated, conservative deep space merchant ship Parastrata, faces betrayal, banishment, and death. Taking her fate into her own hands, she flees to the Gyre, a floating continent of garbage and scrap in the Pacific Ocean."
"It was not common to awaken in a cloning vat streaked with drying blood.
"At least, Maria Arena had never experienced it. She had no memory of how she died. That was also new; before, when she had awakened as a new clone, her first memory was of how she died.
"Maria's vat was in the front of six vats, each one holding the clone of a crew member of the starship Dormire, each clone waiting for its previous incarnation to die so it could awaken. And Maria wasn't the only one to die recently…"
"All Jamie Allenby ever wanted was space. Even though she wasn't forced to emigrate from Earth, she willingly left the overpopulated, claustrophobic planet. And when a long relationship devolved into silence and suffocating sadness, she found work on a frontier world on the edges of civilization. Then the virus hit…
"Now Jamie finds herself dreadfully alone, with all that's left of the dead. Until a garbled message from Earth gives her hope that someone from her past might still be alive.
"Soon Jamie finds other survivors, and their ragtag group will travel through the vast reaches of space, drawn to the promise of a new beginning on Earth. But their dream will pit them against those desperately clinging to the old ways. And Jamie's own journey home will help her close the distance between who she has become and who she is meant to be…"
"Orphaned as a boy, raised in the Czech countryside by his doting grandparents, Jakub Procházka has risen from small-time scientist to become the country's first astronaut. When a dangerous solo mission to Venus offers him both the chance at heroism he's dreamt of, and a way to atone for his father's sins as a Communist informer, he ventures boldly into the vast unknown. But in so doing, he leaves behind his devoted wife, Lenka, whose love, he realizes too late, he has sacrificed on the altar of his ambitions.
"Alone in Deep Space, Jakub discovers a possibly imaginary giant alien spider, who becomes his unlikely companion. Over philosophical conversations about the nature of love, life and death, and the deliciousness of bacon, the pair form an intense and emotional bond. Will it be enough to see Jakub through a clash with secret Russian rivals and return him safely to Earth for a second chance with Lenka?"
"In a universe of capricious gods, dark moons, and kingdoms built on the backs of spaceships, a cursed queen sends her infant daughter away, a jealous uncle steals the throne of Kali from his nephew, and an exiled prince vows to take his crown back.
"Raised alone and far away from her home on Kali, Esmae longs to return to her family. When the King of Wychstar offers to gift the unbeatable, sentient warship Titania to a warrior that can win his competition, she sees her way home: she'll enter the competition, reveal her true identity to the world, and help her famous brother win back the crown of Kali.
"It's a great plan. Until it falls apart."
The Sparrow (The Sparrow #1) by Mary Doria Russell
"In 2019, humanity finally finds proof of extraterrestrial life when a listening post in Puerto Rico picks up exquisite singing from a planet that will come to be known as Rakhat. While United Nations diplomats endlessly debate a possible first contact mission, the Society of Jesus quietly organizes an eight-person scientific expedition of its own. What the Jesuits find is a world so beyond comprehension that it will lead them to question what it means to be 'human'."
"Somewhere on the outer rim of the universe, a mass of decaying world-ships known as the Legion is traveling in the seams between the stars. For generations, a war for control of the Legion has been waged, with no clear resolution. As worlds continue to die, a desperate plan is put into motion.
"Zan wakes with no memory, prisoner of a people who say they are her family. She is told she is their salvation—the only person capable of boarding the Mokshi, a world-ship with the power to leave the Legion. But Zan's new family is not the only one desperate to gain control of the prized ship. Zan finds that she must choose sides in a genocidal campaign that will take her from the edges of the Legion's gravity well to the very belly of the world.
"Zan will soon learn that she carries the seeds of the Legion's destruction—and its possible salvation. But can she and her ragtag band of followers survive the horrors of the Legion and its people long enough to deliver it?"
"On a South Asian-settled university planet, tensions are rising, and as they reach the brink of interstellar war, life (and sex) continues. Humans, aliens, and modified humans gather at the University of All Worlds in search of knowledge…and self-knowledge…but the first bomb has fallen and the fate of this multicultural, multispecies mecca is in question. Some people will seek solace in physical contact, some will look for spiritual answers, while others will find their strength in community, family, and love. Some will rush home to make love to their wife. Or wives. Or husbands. Or indeterminate gender human and/or alien partners. Others will be forced to decide where they stand—what is worth fighting for, or maybe even worth dying for."
The Telling (The Hainish Cycle #9) by Ursula Le Guin
Listen. You could start The Hainish Cycle with The Dispossessed, which is #1, or even The Left Hand of Darkness, which is #6. But The Telling is my favorite, and it's going to be a movie soon, and this is my list, so there.
"Once a culturally rich world, the planet Aka has been utterly transformed by technology. Records of the past have been destroyed, and citizens are strictly monitored. But an official observer from Earth named Sutty has learned of a group of outcasts who live in the wilderness. They still believe in the ancient ways and still practice its lost religion—the Telling.
"Intrigued by their beliefs, Sutty joins them on a sacred pilgrimage into the mountains…and into the dangerous terrain of her own heart, mind, and soul."
Tracked (Tracked #1) by Jenny Martin
This series was pitched to me as a teen Fast and Furious set in space, and they were not lying.
"On corporately controlled Castra, rally racing is a high-stakes game that seventeen-year-old Phoebe Van Zant knows all too well. Phee's legendary racer father disappeared mysteriously, but that hasn't stopped her from speeding headlong into trouble. When she and her best friend, Bear, attract the attention of Charles Benroyal, they are blackmailed into racing for Benroyal Corp, a company that represents everything Phee detests. Worse, Phee risks losing Bear as she falls for Cash, her charming new teammate. But when she discovers that Benroyal is controlling more than a corporation, Phee realizes she has a much bigger role in Castra's future than she could ever have imagined. It's up to Phee to take Benroyal down. But even with the help of her team, can a street-rat destroy an empire?"
"Odd-mannered, obsessive, withdrawn, Aster has little to offer folks in the way of rebuttal when they call her ogre and freak. She's used to the names; she only wishes there was more truth to them. If she were truly a monster, as they accuse, she'd be powerful enough to tear down the walls around her until nothing remained of her world, save for stories told around the cookfire.
"Aster lives in the low-deck slums of the HSS Matilda, a space vessel organized much like the antebellum South. For generations, the Matilda has ferried the last of humanity to a mythical Promised Land. On its way, the ship's leaders have imposed harsh moral restrictions and deep indignities on dark-skinned sharecroppers like Aster, who they consider to be less than human.
"When the autopsy of Matilda's sovereign reveals a surprising link between his death and her mother's suicide some quarter-century before, Aster retraces her mother's footsteps. Embroiled in a grudge with a brutal overseer and sowing the seeds of civil war, Aster learns there may be a way off the ship if she's willing to fight for it."
Warchild (Warchild #1) by Karin Lowachee
"The merchant ship Mukudori encompasses the whole of eight-year-old Jos's world, until a notorious pirate destroys the ship, slaughters the adults, and enslaves the children. Thus begins a desperate odyssey of terror and escape that takes Jos beyond known space to the home of the strits, Earth's alien enemies.
"To survive, the boy must become a living weapon and a master spy. But no training will protect Jos in a war where every hope might be a deadly lie, and every friendship might hide a lethal betrayal. And all the while he will face the most grueling trial of his life…becoming his own man."
"Kangaroo isn't your typical spy. Sure, he has extensive agency training, access to bleeding-edge technology, and a ready supply of clever (to him) quips and retorts. But what sets him apart is 'the pocket.' It's a portal that opens into an empty, seemingly infinite, parallel universe, and Kangaroo is the only person in the world who can use it. But he's pretty sure the agency only keeps him around to exploit his superpower.
"After he bungles yet another mission, Kangaroo gets sent away on a mandatory 'vacation': an interplanetary cruise to Mars. While he tries to make the most of his exile, two passengers are found dead, and Kangaroo has to risk blowing his cover. It turns out he isn't the only spy on the ship–and he's just starting to unravel a massive conspiracy which threatens the entire Solar System.
"Now, Kangaroo has to stop a disaster which would shatter the delicate peace that's existed between Earth and Mars ever since the brutal Martian Independence War. A new interplanetary conflict would be devastating for both sides. Millions of lives are at stake.
"Weren't vacations supposed to be relaxing?"
"The shady crew of the White Raven run freight and salvage at the fringes of our solar system. They discover the wreck of a centuries-old exploration vessel floating light years away from its intended destination and revive its sole occupant, who wakes with news of First Alien Contact. When the crew break it to her that humanity has alien allies already, she reveals that these are very different extra-terrestrials… and the gifts they bestowed on her could kill all humanity, or take it out to the most distant stars."
Whew! If you've made it this far, I need to know: what's your favorite space novel that didn't make my list? Explode my TBR, please and thank you!