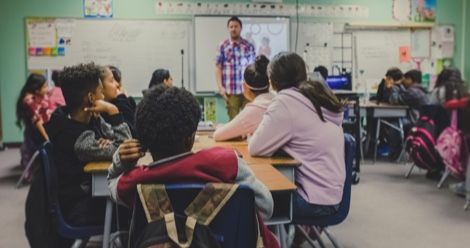 Lists
50 Must-Read Books Set in Schools
This content contains affiliate links. When you buy through these links, we may earn an affiliate commission.
Depending on who you ask, school can be exciting or tortuous, a series of adventures or an endless parade of banalities, a place one looks back on with fond nostalgia or one which they count their lucky stars to have escaped. Schools are rich with characters: students and teachers, principals and administrators, professors and bureaucrats. It is no wonder, then, that there is such a wealth of books set in school. From kindergarten to college campuses, there is no shortage of different stories to tell.
Elementary School
George by Alex Gino
"When people look at George, they think they see a boy. But she knows she's not a boy. She knows she's a girl. George thinks she'll have to keep this a secret forever. Then her teacher announces that their class play is going to be Charlotte's Web. George really, really, REALLY wants to play Charlotte. But the teacher says she can't even try out for the part . . . because she's a boy. With the help of her best friend, Kelly, George comes up with a plan. Not just so she can be Charlotte — but so everyone can know who she is, once and for all."
"There was a terrible mistake – Wayside School was built with one classroom on top of another, thirty stories high (The builder said he was sorry.) Maybe that's why all kinds of funny things happened at Wayside-especially on the thirteenth floor."
Lola Levine is Not Mean! by Monica Brown, Illustrated by Angela Dominguez
"Lola loves writing in her diario and playing soccer with her team, the Orange Smoothies. But when a soccer game during recess gets "too competitive," Lola accidentally hurts her classmate Juan Gomez. Now everyone is calling her Mean Lola Levine! Lola feels horrible, but with the help of her family and her super best friend, Josh Blot, she learns how to navigate the second grade in true Lola fashion–with humor and the power of words."
Harry Potter and the Sorcerer's Stone by J.K. Rowling
"Harry Potter's life is miserable. His parents are dead and he's stuck with his heartless relatives, who force him to live in a tiny closet under the stairs. But his fortune changes when he receives a letter that tells him the truth about himself: he's a wizard. A mysterious visitor rescues him from his relatives and takes him to his new home, Hogwarts School of Witchcraft and Wizardry."
"Stella Diaz loves marine animals, especially her betta fish, Pancho. But Stella Diaz is not a betta fish. Betta fish like to be alone, while Stella loves spending time with her mom and brother and her best friend Jenny. Trouble is, Jenny is in another class this year, and Stella feels very lonely. When a new boy arrives in Stella's class, she really wants to be his friend, but sometimes Stella accidentally speaks Spanish instead of English and pronounces words wrong, which makes her turn roja. Plus, she has to speak in front of her whole class for a big presentation at school! But she better get over her fears soon, because Stella Díaz has something to say!"
Frindle by Andrew Clements
"Is Nick Allen a troublemaker? He really just likes to liven things up at school — and he's always had plenty of great ideas. When Nick learns some interesting information about how words are created, suddenly he's got the inspiration for his best plan ever…the frindle. Who says a pen has to be called a pen? Why not call it a frindle? Things begin innocently enough as Nick gets his friends to use the new word. Then other people in town start saying frindle. Soon the school is in an uproar, and Nick has become a local hero. His teacher wants Nick to put an end to all this nonsense, but the funny thing is frindle doesn't belong to Nick anymore. The new word is spreading across the country, and there's nothing Nick can do to stop it."
"It's the first day of school at Frederick Douglass Elementary and everyone's just a little bit nervous, especially . . . the school."
"Maria is from Guatemala, Jin is from Korea, and Fatima is from Somalia. All three are new to their American elementary school, and each has trouble speaking, writing, and sharing ideas in English. Through self-determination and with encouragement from their peers and teachers, the students learn to feel confident and comfortable in their new school without losing a sense of their home country, language, and identity."
Yasmin the Teacher by Saadia Faruqi, Illustrated by Hatem Aly
"Ms. Alex gets called away and puts Yasmin in charge! Being teacher will be a snap! But when things go wrong, Yasmin must think fast to get the class back on track before Ms. Alex gets back."
Middle School
"'With a bolt of lightning on my kicks . . .The court is SIZZLING. My sweat is DRIZZLING. Stop all that quivering. Cuz tonight I'm delivering,' announces dread-locked, 12-year old Josh Bell. He and his twin brother Jordan are awesome on the court. But Josh has more than basketball in his blood, he's got mad beats, too, that tell his family's story in verse, in this fast and furious middle grade novel of family and brotherhood. Josh and Jordan must come to grips with growing up on and off the court to realize breaking the rules comes at a terrible price, as their story's heart-stopping climax proves a game-changer for the entire family."
"Thirteen-year-old Steven has a totally normal life: he plays drums in the All-Star Jazz band, has a crush on the hottest girl in the school, and is constantly annoyed by his five-year-old brother, Jeffrey. But when Jeffrey is diagnosed with leukemia, Steven's world is turned upside down. He is forced to deal with his brother's illness and his parents' attempts to keep the family in one piece. Salted with humor and peppered with devastating realities, DRUMS, GIRLS, AND DANGEROUS PIE is a heartwarming journey through a year in the life of a family in crisis."
"There are no shortcuts to surviving your first day at a new school–you can't fix it with duct tape like you would your Chuck Taylors. On Day One, twelve-year-old Malú (Maria Luisa, if you want to annoy her) inadvertently upsets Posada Middle School's queen bee, violates the school's dress code with her punk rock look, and disappoints her college-professor mom in the process. Her dad, who now lives a thousand miles away, says things will get better as long as she remembers the first rule of punk: be yourself."
"When the substitute for Mr. 'Fab' Fabiano never shows up and his sixth-grade students are on their own, they set out to prove that they can run the class by themselves. With a little ingenuity and some careful planning, they might just succeed. But when a fight breaks out between Bastian Fauvell and Rachel White over a classmate, Tommy Feathers, who died six months earlier, everything begins to fall apart. Can Rachel deal with the anxieties that plunged her into silence the day Tommy died?"
Harbor Me by Jacqueline Woodson
"It all starts when six kids have to meet for a weekly chat—by themselves, with no adults to listen in. There, in the room they soon dub the ARTT Room (short for "A Room to Talk"), they discover it's safe to talk about what's bothering them—everything from Esteban's father's deportation and Haley's father's incarceration to Amari's fears of racial profiling and Ashton's adjustment to his changing family fortunes. When the six are together, they can express the feelings and fears they have to hide from the rest of the world. And together, they can grow braver and more ready for the rest of their lives."
I, Funny by James Patterson and Chris Grabenstein
"Jamie Grimm is a middle schooler on a mission: he wants to become the world's greatest standup comedian–even if he doesn't have a lot to laugh about these days. He's new in town and stuck living with his aunt, uncle, and their evil son Stevie, a bully who doesn't let Jamie's wheelchair stop him from messing with Jamie as much as possible. But Jamie doesn't let his situation get him down. When his Uncle Frankie mentions a contest called The Planet's Funniest Kid Comic, Jamie knows he has to enter. But are the judges only rewarding him out of pity because of his wheelchair, like Stevie suggests? Will Jamie ever share the secret of his troubled past instead of hiding behind his comedy act?"
Ghost by Jason Reynolds
"Running. That's all that Ghost (real name Castle Cranshaw) has ever known. But never for a track team. Nope, his game has always been ball. But when Ghost impulsively challenges an elite sprinter to a race — and wins — the Olympic medalist track coach sees he has something: crazy natural talent. Thing is, Ghost has something else: a lot of anger, and a past that he is trying to outrun. Can Ghost harness his raw talent for speed and meld with the team, or will his past finally catch up to him?"
"Meet Holling Hoodhood, a seventh-grader at Camillo Junior High, who must spend Wednesday afternoons with his teacher, Mrs. Baker, while the rest of the class has religious instruction. Mrs. Baker doesn't like Holling—he's sure of it. Why else would she make him read the plays of William Shakespeare outside class? But everyone has bigger things to worry about, like Vietnam. His father wants Holling and his sister to be on their best behavior: the success of his business depends on it. But how can Holling stay out of trouble when he has so much to contend with? A bully demanding cream puffs; angry rats; and a baseball hero signing autographs the very same night Holling has to appear in a play in yellow tights! As fate sneaks up on him again and again, Holling finds Motivation—the Big M—in the most unexpected places and musters up the courage to embrace his destiny, in spite of himself. "
Drama by Raina Telgemeier
"Callie loves theater. And while she would totally try out for her middle school's production of Moon Over Mississippi, she can't really sing. Instead she's the set designer for the drama department stage crew, and this year she's determined to create a set worthy of Broadway on a middle-school budget. But how can she, when she doesn't know much about carpentry, ticket sales are down, and the crew members are having trouble working together? Not to mention the onstage AND offstage drama that occurs once the actors are chosen. And when two cute brothers enter the picture, things get even crazier!"
Wonder by R.J. Palacio
"August Pullman was born with a facial difference that, up until now, has prevented him from going to a mainstream school. Starting 5th grade at Beecher Prep, he wants nothing more than to be treated as an ordinary kid—but his new classmates can't get past Auggie's extraordinary face."
"Starting at a new school is scary, even more so with a giant hearing aid strapped to your chest! At her old school, everyone in Cece's class was deaf. Here she is different. She is sure the kids are staring at the Phonic Ear, the powerful aid that will help her hear her teacher. Too bad it also seems certain to repel potential friends. Then Cece makes a startling discovery. With the Phonic Ear she can hear her teacher not just in the classroom, but anywhere her teacher is in school — in the hallway… in the teacher's lounge… in the bathroom! This is power. Maybe even superpower! Cece is on her way to becoming El Deafo, Listener for All. But the funny thing about being a superhero is that it's just another way of feeling different… and lonely. Can Cece channel her powers into finding the thing she wants most, a true friend?"
High School
"Miles 'Pudge' Halter is done with his safe life at home. His whole life has been one big non-event, and his obsession with famous last words has only made him crave "the Great Perhaps" even more (Francois Rabelais, poet). He heads off to the sometimes crazy and anything-but-boring world of Culver Creek Boarding School, and his life becomes the opposite of safe. Because down the hall is Alaska Young. The gorgeous, clever, funny, sexy, self-destructive, screwed up, and utterly fascinating Alaska Young. She is an event unto herself. She pulls Pudge into her world, launches him into the Great Perhaps, and steals his heart."
Hero by S.L. Rottman
"15-year-old Sean's got no one to look up to, and nothing left to lose-until he's arrested. The only way for Sean to pay his dues is to perform community service on Mr. Hassler's farm. He can do just what he has to, or he can confront the mess his life has become. It's his choice?"
"Sixteen-year-old Starr Carter moves between two worlds: the poor neighborhood where she lives and the fancy suburban prep school she attends. The uneasy balance between these worlds is shattered when Starr witnesses the fatal shooting of her childhood best friend Khalil at the hands of a police officer. Khalil was unarmed. Soon afterward, his death is a national headline. Some are calling him a thug, maybe even a drug dealer and a gangbanger. Protesters are taking to the streets in Khalil's name. Some cops and the local drug lord try to intimidate Starr and her family. What everyone wants to know is: what really went down that night? And the only person alive who can answer that is Starr. But what Starr does—or does not—say could upend her community. It could also endanger her life."
"What if you aren't the Chosen One? The one who's supposed to fight the zombies, or the soul-eating ghosts, or whatever the heck this new thing is, with the blue lights and the death? What if you're like Mikey? Who just wants to graduate and go to prom and maybe finally work up the courage to ask Henna out before someone goes and blows up the high school. Again. Because sometimes there are problems bigger than this week's end of the world, and sometimes you just have to find the extraordinary in your ordinary life."
"The only sort of risk 18-year-old Laila Piedra enjoys is the peril she writes for the characters in her stories: epic sci-fi worlds full of quests, forbidden love, and robots. Her creative writing teacher has always told her she has a special talent. But three months before her graduation, he's suddenly replaced—by Nadiya Nazarenko, a Pulitzer Prize–winning novelist who is sadistically critical and perpetually unimpressed. At first, Nazarenko's eccentric assignments seem absurd. But before long, Laila grows obsessed with gaining the woman's approval. Soon Laila is pushing herself far from her comfort zone, discovering the psychedelic highs and perilous lows of nightlife, temporary flings, and instability. Dr. Nazarenko has led Laila to believe that she must choose between perfection and sanity—but rejecting her all-powerful mentor may be the only way for Laila to thrive."
"10:00 a.m. The principal of Opportunity High School finishes her speech, welcoming the entire student body to a new semester and encouraging them to excel and achieve. 10:02 a.m. The students get up to leave the auditorium for their next class. 10:03 a.m. The auditorium doors won't open. 10:05 a.m. Someone starts shooting. Told from four different perspectives over the span of fifty-four harrowing minutes, terror reigns as one student's calculated revenge turns into the ultimate game of survival."
"Seventeen-year-old Bianca Piper is cynical and loyal, and she doesn't think she's the prettiest of her friends by a long shot. She's also way too smart to fall for the charms of … slimy school hottie Wesley Rush. In fact, Bianca hates him. And when he nicknames her 'the Duff,' she throws her Coke in his face. But things aren't so great at home right now, and Bianca is desperate for a distraction. She ends up kissing Wesley. Worse, she likes it. Eager for escape, Bianca throws herself into a closeted enemies-with-benefits relationship with him. Until it all goes horribly awry. It turns out Wesley isn't such a bad listener, and his life is pretty screwed up, too. Suddenly Bianca realizes with absolute horror that she's falling for the guy she thought she hated more than anyone."
"Jerry Renault ponders the question on the poster in his locker: Do I dare disturb the universe? Refusing to sell chocolates in the annual Trinity school fund-raiser may not seem like a radical thing to do. But when Jerry challenges a secret school society called The Vigils, his defiant act turns into an all-out war. Now the only question is: Who will survive?"
"Justyce McAllister is top of his class and set for the Ivy League—but none of that matters to the police officer who just put him in handcuffs. And despite leaving his rough neighborhood behind, he can't escape the scorn of his former peers or the ridicule of his new classmates. Justyce looks to the teachings of Dr. Martin Luther King Jr. for answers. But do they hold up anymore? He starts a journal to Dr. King to find out. Then comes the day Justyce goes driving with his best friend, Manny, windows rolled down, music turned up—way up, sparking the fury of a white off-duty cop beside them. Words fly. Shots are fired. Justyce and Manny are caught in the crosshairs. In the media fallout, it's Justyce who is under attack."
Speak by Laurie Halse Anderson
"Melinda … is friendless, outcast, because she busted an end-of-summer party by calling the cops, so now nobody will talk to her, let alone listen to her. As time passes, she becomes increasingly isolated and practically stops talking altogether. Only her art class offers any solace, and it is through her work on an art project that she is finally able to face what really happened at that terrible party."
Stargirl by Jerry Spinelli
"Leo Borlock follows the unspoken rule at Mica Area High School: don't stand out–under any circumstances! Then Stargirl arrives at Mica High and everything changes–for Leo and for the entire school. After 15 years of home schooling, Stargirl bursts into tenth grade in an explosion of color and a clatter of ukulele music, enchanting the Mica student body. But the delicate scales of popularity suddenly shift, and Stargirl is shunned for everything that makes her different. Somewhere in the midst of Stargirl's arrival and rise and fall, normal Leo Borlock has tumbled into love with her."
"Hailsham seems like a pleasant English boarding school, far from the influences of the city. Its students are well tended and supported, trained in art and literature, and become just the sort of people the world wants them to be. But, curiously, they are taught nothing of the outside world and are allowed little contact with it. Within the grounds of Hailsham, Kathy grows from schoolgirl to young woman, but it's only when she and her friends Ruth and Tommy leave the safe grounds of the school (as they always knew they would) that they realize the full truth of what Hailsham is."
"The critically acclaimed debut novel from Stephen Chbosky, Perks follows observant "wallflower" Charlie as he charts a course through the strange world between adolescence and adulthood. First dates, family drama, and new friends. Sex, drugs, and The Rocky Horror Picture Show. Devastating loss, young love, and life on the fringes. Caught between trying to live his life and trying to run from it, Charlie must learn to navigate those wild and poignant roller-coaster days known as growing up."
The Poet X by Elizabeth Acevedo
"Xiomara Batista feels unheard and unable to hide in her Harlem neighborhood. Ever since her body grew into curves, she has learned to let her fists and her fierceness do the talking. But Xiomara has plenty she wants to say, and she pours all her frustration and passion onto the pages of a leather notebook, reciting the words to herself like prayers—especially after she catches feelings for a boy in her bio class named Aman, who her family can never know about. With Mami's determination to force her daughter to obey the laws of the church, Xiomara understands that her thoughts are best kept to herself. So when she is invited to join her school's slam poetry club, she doesn't know how she could ever attend without her mami finding out, much less speak her words out loud. But still, she can't stop thinking about performing her poems. Because in the face of a world that may not want to hear her, Xiomara refuses to be silent. "
"On Monday afternoon, five students at Bayview High walk into detention. Bronwyn, the brain, is Yale-bound and never breaks a rule. Addy, the beauty, is the picture-perfect homecoming princess. Nate, the criminal, is already on probation for dealing. Cooper, the athlete, is the all-star baseball pitcher. And Simon, the outcast, is the creator of Bayview High's notorious gossip app. Only, Simon never makes it out of that classroom. Before the end of detention, Simon's dead. And according to investigators, his death wasn't an accident. On Monday, he died. But on Tuesday, he'd planned to post juicy reveals about all four of his high-profile classmates, which makes all four of them suspects in his murder. Or are they the perfect patsies for a killer who's still on the loose?"
College
"It's 1993 and Paul Polydoris tends bar at the only gay club in a university town thrumming with politics and partying. He studies queer theory, has a dyke best friend, makes zines, and is a flâneur with a rich dating life. But Paul's also got a secret: he's a shapeshifter. Oscillating wildly from Riot Grrrl to leather cub, Women's Studies major to trade, Paul transforms his body at will in a series of adventures that take him from Iowa City to Boystown to Provincetown and finally to San Francisco—a journey through the deep queer archives of struggle and pleasure."
Level Up by Gene Luen Yang, Illustrated by Thien Pham
"Dennis Ouyang has always struggled in the shadow of his parents' expectations. His path is laid out for him: stay focused in high school, become a gastroenterologist. It may be hard work, but it isn't complicated … until suddenly it is. Between his father's death, his academic burnout, and his deep (and distracting) love of video games, Dennis is nowhere near where his family wanted him to be. In fact, he's just been kicked out of college. And that's when things get … weird. Four adorable—and bossy–angels, straight out of a sappy greeting card, appear and take charge of Dennis's life. And so Dennis finds himself herded back onto the straight and narrow: the path to gastroenterology. But nothing is ever what it seems when life, magic and video games collide."
"At Westish College, a small school on the shore of Lake Michigan, baseball star Henry Skrimshander seems destined for big league stardom. But when a routine throw goes disastrously off course, the fates of five people are upended. Henry's fight against self-doubt threatens to ruin his future. College president Guert Affenlight, a longtime bachelor, has fallen unexpectedly and helplessly in love. Owen Dunne, Henry's gay roommate and teammate, becomes caught up in a dangerous affair. Mike Schwartz, the Harpooners' team captain and Henry's best friend, realizes he has guided Henry's career at the expense of his own. And Pella Affenlight, Guert's daughter, returns to Westish after escaping an ill-fated marriage, determined to start a new life."
"Henry Mulcahy, a literature instructor at progressive Jocelyn College, is informed that his appointment will not be continued. Convinced he is disliked by the president of Jocelyn because of his abilities as a teacher and his independence of mass opinion, Mulcahy believes he is being made the victim of a witch-hunt. Plotting vengeance, Mulcahy battles to fight for justice and, in the process, reveals his true ethical nature."
"At seventeen, Mei should be in high school, but skipping fourth grade was part of her parents' master plan. Now a freshman at MIT, she is on track to fulfill the rest of this predetermined future: become a doctor, marry a preapproved Taiwanese Ivy Leaguer, produce a litter of babies. With everything her parents have sacrificed to make her cushy life a reality, Mei can't bring herself to tell them the truth–that she (1) hates germs, (2) falls asleep in biology lectures, and (3) has a crush on her classmate Darren Takahashi, who is decidedly not Taiwanese. But when Mei reconnects with her brother, Xing, who is estranged from the family for dating the wrong woman, Mei starts to wonder if all the secrets are truly worth it. Can she find a way to be herself, whoever that is, before her web of lies unravels?"
"Gnossus Pappadopoulis weaves his way through the psychedelic landscape [of the Sixties], encountering—among other things—mescaline, women, art, gluttony, falsehood, science, prayer, and, occasionally, truth."
"For Penny Lee high school was a total nonevent. Her friends were okay, her grades were fine, and while she somehow managed to land a boyfriend, he doesn't actually know anything about her. When Penny heads to college in Austin, Texas, to learn how to become a writer, it's seventy-nine miles and a zillion light years away from everything she can't wait to leave behind. Sam's stuck. Literally, figuratively, emotionally, financially. He works at a café and sleeps there too, on a mattress on the floor of an empty storage room upstairs. He knows that this is the god-awful chapter of his life that will serve as inspiration for when he's a famous movie director but right this second the seventeen bucks in his checking account and his dying laptop are really testing him. When Sam and Penny cross paths it's less meet-cute and more a collision of unbearable awkwardness. Still, they swap numbers and stay in touch—via text—and soon become digitally inseparable, sharing their deepest anxieties and secret dreams without the humiliating weirdness of having to see each other."
Fangirl by Rainbow Rowell
"Cath's sister has mostly grown away from fandom, but Cath can't let go. She doesn't want to. Now that they're going to college, Wren has told Cath she doesn't want to be roommates. Cath is on her own, completely outside of her comfort zone. She's got a surly roommate with a charming, always-around boyfriend, a fiction-writing professor who thinks fan fiction is the end of the civilized world, a handsome classmate who only wants to talk about words… And she can't stop worrying about her dad, who's loving and fragile and has never really been alone. For Cath, the question is: Can she do this?"
"Toru, a quiet and preternaturally serious young college student in Tokyo, is devoted to Naoko, a beautiful and introspective young woman, but their mutual passion is marked by the tragic death of their best friend years before. Toru begins to adapt to campus life and the loneliness and isolation he faces there, but Naoko finds the pressures and responsibilities of life unbearable. As she retreats further into her own world, Toru finds himself reaching out to others and drawn to a fiercely independent and sexually liberated young woman."
"Chabon presents a hilarious and heartbreaking work—the story of the friendship between the "wonder boys"—Grady, an aging writer who has lost his way, and Crabtree, whose relentless debauchery is capsizing his career."
"Under the influence of their charismatic classics professor, a group of clever, eccentric misfits at an elite New England college discover a way of thinking and living that is a world away from the humdrum existence of their contemporaries. But when they go beyond the boundaries of normal morality they slip gradually from obsession to corruption and betrayal, and at last – inexorably – into evil."
"Howard Belsey, a Rembrandt scholar who doesn't like Rembrandt, is an Englishman abroad and a long-suffering professor at Wellington, a liberal New England arts college. He has been married for thirty years to Kiki, an American woman who no longer resembles the sexy activist she once was. Their three children passionately pursue their own paths: Levi quests after authentic blackness, Zora believes that intellectuals can redeem everybody, and Jerome struggles to be a believer in a family of strict atheists. Faced with the oppressive enthusiasms of his children, Howard feels that the first two acts of his life are over and he has no clear plans for the finale. Or the encore."
Moo by Jane Smiley
"Nestled in the heart of the Midwest, amid cow pastures and waving fields of grain, lies Moo University, a distinguished institution devoted to the art and science of agriculture. Here, among an atmosphere rife with devious plots, mischievous intrigue, lusty liaisons, and academic one-upmanship, Chairman X of the Horticulture Department harbors a secret fantasy to kill the dean; Mrs. Walker, the provost's right hand and campus information queen, knows where all the bodies are buried; Timothy Nonahan, associate professor of English, advocates eavesdropping for his creative writing assignments; and Bob Carlson, a sophomore, feeds and maintains his only friend: a hog named earl Butz."
"Gaudy Night takes Harriet and her paramour, Lord Peter, to Oxford University, Harriet's alma mater, for a reunion, only to find themselves the targets of a nightmare of harassment and mysterious, murderous threats."
"[This Side of Paradise] traces the early life of Amory Blaine from the end of prep school through Princeton to the start of an uncertain career in New York City. Alternately self-confident and self-effacing, torn between ambition and idleness, the self-absorbed, immature Amory yearns to run with Princeton's rich, fast crowd and become one of the "gods" of the campus. Hopelessly romantic, he learns about love and sex from a series of beautiful young "flappers," women who leave him both exhilarated and devastated. Fitzgerald describes it all in intensely lyrical prose that fills the novel with a heartbreaking sense of longing, as Amory comes to understand that the sweet-scented springtime of his life is fragile and fleeting, disappearing into memory even as he reaches for it."
---
If you're ready to graduate, check out 7 Books That Will Make Your Work-Life Better. Maybe spending this much time thinking about school makes you want to leave the planet. In that case, I'd recommend 50 Must-Read Books Set In Space.
What are your favorite books set in schools? Let us know in the comments!