Lists
50 Must-Read Books for Tackling Fear of Death
This content contains affiliate links. When you buy through these links, we may earn an affiliate commission.
Sure, it's morbid to dwell on the fear of dying. It's also very human.
For those who'd rather read their way through this fear than ignore it (and I think those are equally valid strategies), here's a list of suggested reading. This list has been compiled with the help of Jaime Herndon, Heather Bottoms, Dana Staves, and Liberty Hardy. Blurbs are adapted from Goodreads.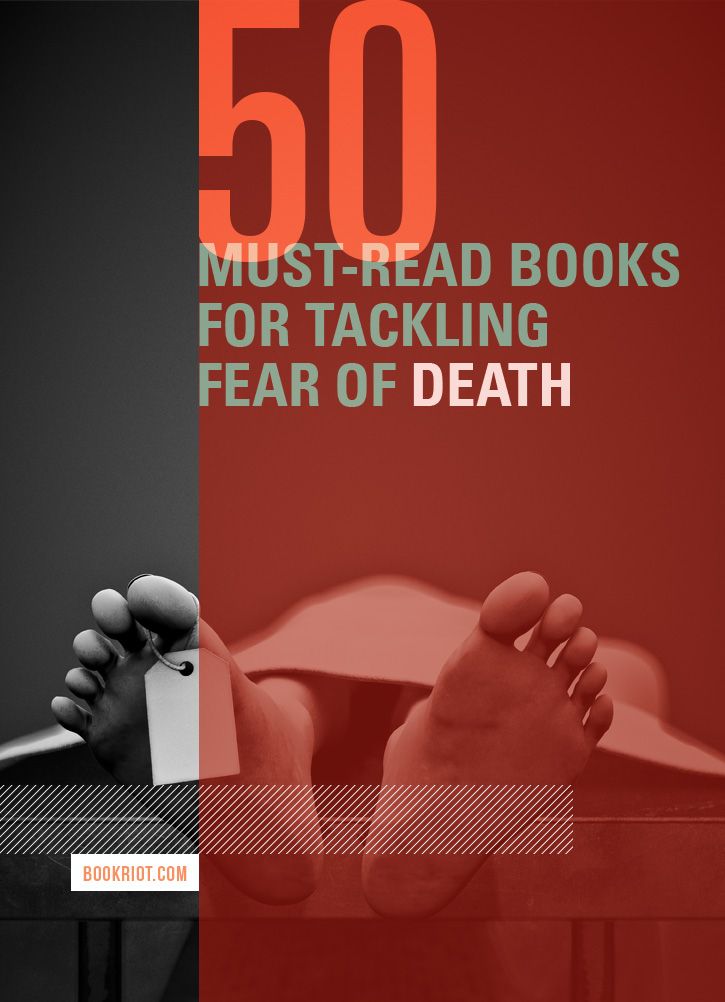 Novels About Death
"In late 1950s London, something uncanny besets a group of elderly friends: an insinuating voice on the telephone informs each, "Remember you must die." Their geriatric feathers are soon thoroughly ruffled by these seemingly supernatural phone calls, and in the resulting flurry many old secrets are dusted off."
"Winner of the 1985 National Book Award, White Noise tells the story of Jack Gladney, his fourth wife, Babette, and their four ultramodern offspring, as they navigate the rocky passages of family life to the background babble of brand-name consumerism."
"Written in his distinctively dazzling manner, Oscar Wilde's story of a fashionable young man who sells his soul for eternal youth and beauty is the author's most popular work."
"In four distinct and riveting first-person voices, Nick Hornby tells a story of four individuals confronting the limits of choice, circumstance, and their own mortality. This is a tale of connections made and missed, punishing regrets, and the grace of second chances."
"This disarmingly intimate and candid novel follows Ruby through a coming-of-age marked by excruciating loss, one in which the thrills, confusion, and longing of adolescence are heightened by the devastating events that accompany them."
"A moving and profound story that asks us to investigate who we are—as children and parents, immigrants and citizens, and ultimately, humans looking for vital connectivity."
"Our narrator's days are numbered. Estranged from his family, living alone with only his cat Cabbage for company, he was unprepared for the doctor's diagnosis that he has only months to live. But before he can set about tackling his bucket list, the Devil appears with a special offer: in exchange for making one thing in the world disappear, he can have one extra day of life. And so begins a very bizarre week…"
"The brilliant, bestselling, landmark novel that tells the story of the Buendia family, and chronicles the irreconcilable conflict between the desire for solitude and the need for love."
The Heart by Maylis de Kerangal
"The Heart takes place over the twenty-four hours surrounding a heart transplant, as life is taken from a young man and given to a woman close to death. In gorgeous, ruminative prose, it examines the deepest feelings of everyone involved as they navigate decisions of life and death."
"A provocative novel that raises some important ethical issues, My Sister's Keeper is the story of one family's struggle for survival at all human costs and a stunning parable for all time."
"In simple but vivid detail, Velma Wallis depicts a landscape and way of life that are at once merciless and starkly beautiful. In her old women, she has created two heroines of steely determination."
"The Buried Giant begins as a couple set off across a troubled land of mist and rain in the hope of finding a son they have not seen in years."
"Set in the rich farmland of California's Salinas Valley, this sprawling and often brutal novel follows the intertwined destinies of two families—the Trasks and the Hamiltons—whose generations helplessly reenact the fall of Adam and Eve and the poisonous rivalry of Cain and Abel."
Beloved by Toni Morrison
"Staring unflinchingly into the abyss of slavery, this spellbinding novel transforms history into a story as powerful as Exodus and as intimate as a lullaby."
"A Hollywood millionaire with a terror of death, whose personal physician happens to be working on a theory of longevity-these are the elements of Aldous Huxley's caustic and entertaining satire on man's desire to live indefinitely."
"Told with deadpan humour and bitter irony, Kurt Vonnegut's cult tale of global destruction preys on our deepest fears of witnessing Armageddon and, worse still, surviving it…"
The Road by Cormac McCarthy
"The Road is the profoundly moving story of a journey. It boldly imagines a future in which no hope remains, but in which the father and his son, "each the other's world entire," are sustained by love."
"At the age of seventy-nine, Nariman Vakeel, already suffering from Parkinson's disease, breaks an ankle and finds himself wholly dependent on his family. His step-children, Coomy and Jal, have a spacious apartment (in the inaptly named Chateau Felicity), but are too squeamish and resentful to tend to his physical needs. Nariman must now turn to his younger daughter, Roxana, her husband, Yezad, and their two sons, who share a small, crowded home. Their decision will test not only their material resources but, in surprising ways, all their tolerance, compassion, integrity, and faith."
Plays About Death
"As an imperious, acerbic old woman lies dying, she is tended by two other women and visited by a young man. Albee's frank dialogue about everything from incontinence to infidelity portrays aging without sentimentality."
No Exit by Jean-Paul Sartre
"The play is a depiction of the afterlife in which three deceased characters are punished by being locked into a room together for eternity."
"The Iceman Cometh focuses on a group of alcoholics who endlessly discuss but never act on their dreams, and Hickey, the traveling salesman determined to strip them of their pipe dreams."
"Armagh, 1981. The Carney farmhouse is a hive of activity with preparations for the annual harvest. A day of hard work on the land and a traditional night of feasting and celebrations lie ahead. But this year they will be interrupted by a visitor."
Science and Medicine
"In Being Mortal, bestselling author Atul Gawande tackles the hardest challenge of his profession: how medicine can not only improve life but also the process of its ending.
"A magnificent, profoundly humane "biography" of cancer—from its first documented appearances thousands of years ago through the epic battles in the twentieth century to cure, control, and conquer it to a radical new understanding of its essence."
"Could psychedelic drugs change our worldview? One of America's most admired writers takes us on a mind-altering journey to the frontiers of human consciousness."
"A runaway bestseller and National Book Award winner, Sherwin Nuland's How We Die has become the definitive text on perhaps the single most universal human concern: death."
"A brilliant young transplant surgeon brings moral intensity and narrative drama to the most powerful and vexing questions of medicine and the human condition."
"Fascinated by our pervasive fear of dead bodies, mortician Caitlin Doughty embarks on a global expedition to discover how other cultures care for the dead."
"Since 2008, the Morbid Anatomy Library of Brooklyn, New York, has hosted some of the best scholars, artists and writers working along the intersections of the history of anatomy and medicine, death and the macabre, religion and spectacle. The Morbid Anatomy Anthology collects some of the best of this work in 28 lavishly illustrated essays."
"Biologist Lewis Wolpert eloquently narrates the basics of human life through the lens of its smallest component—the cell."
"A hauntingly moving memoir of the relationship between a cadaver named Eve and the first-year medical student who cuts her open."
"A lyrical, thought-provoking yet practical perspective on death and dying in this frank, direct and compassionate meditation on the inevitable.
Memoirs About Death
"A memoir on mortality that touches on faith and science and family as well as a rich array of exemplary figures who over the centuries have confronted the same questions he now poses about the most basic fact of life: its inevitable extinction."
"A profoundly moving, exquisitely observed memoir by a young neurosurgeon faced with a terminal cancer diagnosis who attempts to answer the question: What makes a life worth living?"
"From one of America's iconic writers, a stunning book of electric honesty and passion. Joan Didion explores an intensely personal yet universal experience: a portrait of a marriage–and a life, in good times and bad–that will speak to anyone who has ever loved a husband or wife or child."
"An exquisite memoir about how to live–and love–every day with "death in the room," from poet Nina Riggs, mother of two young sons and the direct descendant of Ralph Waldo Emerson."
"In this dual memoir, Sue Monk Kidd and her daughter, Ann, chronicle their travels together through Greece and France at a time when each was on a quest to redefine herself and rediscover each other."
"As a young mother facing a terminal diagnosis, Julie Yip-Williams began to write her story, a story like no other. What began as the chronicle of an imminent and early death became something much more–a powerful exhortation to the living."
"Written in the space of a few weeks, in a tremendous creative surge, this powerful and beautifully written book is a clear-eyed account of what dying has taught Cory."
"A divinity professor and young mother with a Stage IV cancer diagnosis explores the pain and joy of living without certainty."
"The inspiring story of a son and his dying mother, who form a "book club" that brings them together as her life comes to a close."
"A searing memoir about one woman's road to hope following the death of her troubled brother, told through the series of cars that accompanied her."
Religious
Quran
"The words of Muhammad who claimed to get them from the angel Gabriel."
The Tibetan Book of the Dead
"It includes one of the most detailed and compelling descriptions of the after-death state in world literature, practices that can transform our experience of daily life, guidance on helping those who are dying, and an inspirational perspective on coping with bereavement."
The Bhagavad Gita
"The Bhagavad Gita is an intensely spiritual work that forms the cornerstone of the Hindu faith, and is also one of the masterpieces of Sanskrit poetry."
Holy Bible
Old Testament + New Testament
Children's Books About Death
Ghosts by Raina Telgemeier
"As the time of year when ghosts reunite with their loved ones approaches, Cat must figure out how to put aside her fears for her sister's sake – and her own."
"This is not a fairy-tale. This is about real witches."
"When Astrid learns that her cancer has returned, she hears about a radical technology called cryopreservation that may allow her to have her body frozen until a future time when–and if–a cure is available."
"Doomed to – or blessed with – eternal life after drinking from a magic spring, the Tuck family wanders about trying to live as inconspicuously and comfortably as they can. When ten-year-old Winnie Foster stumbles on their secret, the Tucks take her home and explain why living forever at one age is less a blessing that it might seem."