Lists
50 Must-Read Books About Actors
This content contains affiliate links. When you buy through these links, we may earn an affiliate commission.
For those of us sitting in the darkened theatre, actors can seem mysterious and fascinating. We are captivated, watching them transform into each new character, unrecognizable from film to film. We are dazzled to see our favorite stars work their magic live on stage. We wonder about their personal lives, their families, and how they work. And for those of us that pursue acting, we often search for new insights and expertise to help hone our craft and improve our performances. This list of books about actors aims to tackle every angle of the acting biz.
So whether you are an avid film buff, a musical theatre nerd, or an audition-weary working actor, you are bound to find some terrific books on this list that will entertain, inspire, and reveal everything you ever wanted to know about the acting life.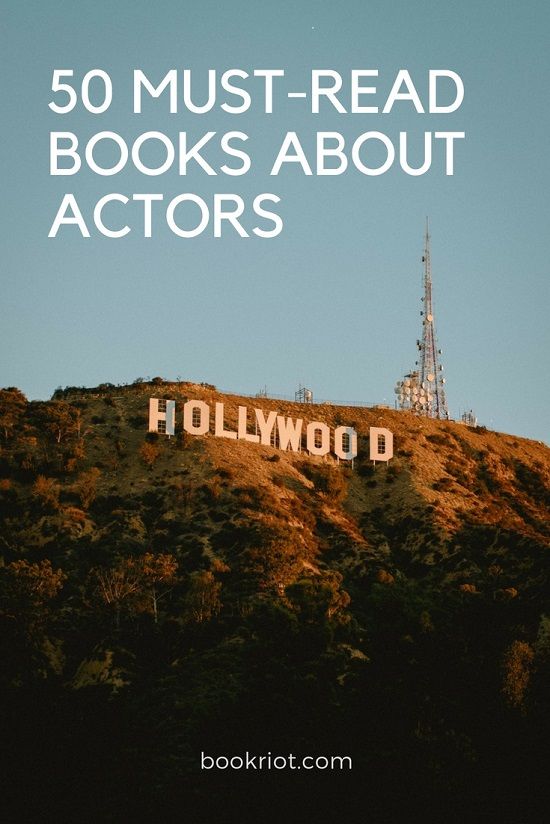 The following list draws from fiction, memoir, biography, and nonfiction. All descriptions in quotes are from the publishers.
Fiction Books About Actors
"A dazzling, yet deeply human, roller coaster of a novel, spanning fifty years and nearly as many lives. From the lavish set of Cleopatra to the shabby revelry of the Edinburgh Fringe Festival, Walter introduces us to the tangled lives of a dozen unforgettable characters."
Blonde by Joyce Carol Oates
"Joyce Carol Oates boldly reimagines the inner, poetic, and spiritual life of Norma Jeane Baker—the child, the woman, the fated celebrity and idolized blonde the world came to know as Marilyn Monroe. In a voice startlingly intimate and rich, Norma Jeane tells her own story of an emblematic American artist—intensely conflicted and driven—who had lost her way."
"A wunderkind young set designer, Emi has already started to find her way in the competitive Hollywood film world. Emi is a film buff and a true romantic, but her real-life relationships are a mess. But then a mysterious letter from a silver screen legend leads Emi to Ava. Ava is unlike anyone Emi has ever met."
"Set in 1960s London, Funny Girl is a lively account of the adventures of the intrepid young Sophie Straw as she navigates her transformation from provincial ingénue to television starlet amid a constellation of delightful characters."
"Dayna Anderson doesn't set out to solve a murder. All the semi-famous, mega-broke black actress wants is to help her parents keep their house. After witnessing a deadly hit-and-run, she figures pursuing the fifteen-grand reward isn't the craziest thing a Hollywood actress has done for some cash."
"The summer that Nixon resigns, six teenagers at a summer camp for the arts become inseparable. Decades later the bond remains powerful, but so much else has changed. In The Interestings, Wolitzer follows these characters from the height of youth through middle age, as their talents, fortunes, and degrees of satisfaction diverge."
"Lilliet Berne is a sensation of the Paris Opera, a legendary soprano with every accolade except an original role, every singer's chance at immortality. When one is finally offered to her, she realizes with alarm that the libretto is based on a hidden piece of her past."
"Evelyn Hugo is finally ready to tell the truth about her glamorous and scandalous life. She chooses unknown magazine reporter Monique Grant for the job. Monique listens as Evelyn unfurls her story: from making her way to Los Angeles in the 1950s to her decision to leave show business in the late '80s, and, of course, the seven husbands along the way."
"The tale of Carrie Meeber's rise to stardom in the theatre and George Hurstwood's slow decline captures the twin poles of exuberance and exhaustion in modern city life as never before. The premier example of American naturalism, Dreiser's remarkable first novel has deeply influenced such key writers as William Faulkner, F. Scott Fitzgerald, Saul Bellow, and Joyce Carol Oates."
"An audacious, darkly glittering novel set in the eerie days of civilization's collapse, Station Eleven tells the spellbinding story of a Hollywood star, his would-be savior, and a nomadic group of actors roaming the scattered outposts of the Great Lakes region, risking everything for art and humanity."
Theatre actress Erin Javier has yet to fall in love. But when two (two!) men enter from stage left and right, Erin is confused. Who deserves to take center stage in her heart—Mr. Theatre Royalty whose attention and displays of affection make her pulse race, or a good friend whose steady support has helped steer her to success and fulfill her dream?
"Once an acclaimed child star of vaudeville, Baby Jane Hudson performed for adoring crowds before a move to Hollywood thrust her sister, Blanche, into the spotlight. As Blanche's film career took off, a resentful Jane watched from the shadows as her own career faded into obscurity—until a tragic accident changed everything."
"Dora and Nora Chance are a famous song-and-dance team of the British music halls. Billed as The Lucky Chances, the sisters are the illegitimate and unacknowledged daughters of Sir Melchior Hazard, the greatest Shakespearean actor of his day. At once ribald and sentimental, glittery and tender, this rambunctious family saga is Angela Carter at her bewitching best."
Memoirs and Biographies About Actors
"From her youthful days as a vicious nerd to her tour of duty on Saturday Night Live; from her passionately half hearted pursuit of physical beauty to her life as a mother eating things off the floor; from her one-sided college romance to her nearly fatal honeymoon. Tina Fey reveals all, and proves what we've all suspected: you're no one until someone calls you bossy."
"Lithgow brings the theatre worlds of New York and London to life as he relives his collaborations with renowned performers and directors including Mike Nichols, Bob Fosse, Liv Ullmann, Meryl Streep, and Brian De Palma. At once hilarious and reflective, Drama pulls back the curtain on the making of one of our most beloved actors."
"In this meticulously researched gem of a book, Wasson delivers us from the penthouses of the Upper East Side to the pools of Beverly Hills, presenting Breakfast at Tiffany's as we have never seen it before—through the eyes of those who made it. Written with delicious prose and considerable wit, Fifth Avenue, 5 A.M. shines new light on a beloved film and its incomparable star."
"The brightest star of the Hollywood musical and an entertainer of almost magical power. The woman of a half-dozen comebacks, a hundred heartbreaks, and thousands of headlines. Yet much of what has been written about her is either inaccurate or incomplete, and the Garland the world thought it knew was merely a sketch for the astonishing woman Gerald Clarke portrays."
"His father was a drug addict who was in and out of jail. His brother was a crack dealer and petty thief. And his mother was overwhelmingly strict. The odds, in short, were stacked against our young hero. In his literary debut, he takes the reader on a journey through what his life was, what it is today, and how he's overcome each challenge to become the man he is today."
In 2012, Tig Notaro was hospitalized for a debilitating intestinal disease called C.Diff, her mother unexpectedly died, she went through a breakup, and was diagnosed with bilateral breast cancer. Now, the wildly popular star takes stock of that no good, very bad year—a difficult yet astonishing period in which tragedy turned into absurdity and despair into joy."
"Diane Guerrero was just fourteen years old on the day her parents and brother were arrested and deported while she was at school. Born in the U.S., Guerrero was able to remain in the country and continue her education, depending on the kindness of family friends who took her in and helped her build a life and a successful acting career for herself, without the support system of her family."
"Discussing his life as few men do, describing his art as few actors can, Cranston has much to say about creativity, devotion, and craft, as well as innate talent and its challenges and benefits and proper maintenance. But ultimately A Life in Parts is a story about the joy, the necessity, and the transformative power of simple hard work."
"Admired and beloved by movie audiences for over sixty years, four-time Academy Award–winner Katharine Hepburn is an American classic. Miss Hepburn breaks her long-kept silence about her private life in this absorbing and provocative memoir."
"Here, finally, is Poitier's own introspective look at what has informed his performances and his life. Poitier explores the nature of sacrifice and commitment, pride and humility, rage and forgiveness, and paying the price for artistic integrity. What emerges is a picture of a man seeking truth, passion, and balance in the face of limits his own and the world's."
"From her first taste of applause at five years old to landing on Broadway within eleven days of graduation and ultimately achieving success in movies, television and global concert halls, Jenifer reveals her outrageous life story with lots of humor, a few regrets and most importantly, unbridled joy."
"With ribald humor, wit, and incredible insight, Alan seamlessly moves back and forth in time, integrating stories from his childhood in Scotland and his experiences today as the celebrated actor of film, television, and stage. At times suspenseful, at times deeply moving, but always incredibly brave and honest, Not My Father's Son is a powerful story of embracing the best aspects of the past and triumphantly pushing the darkness aside."
"Her remarkable journey from a young girl with simple beginnings in Puerto Rico to Hollywood legend—and one of the few performers, and the only Hispanic, to win an Oscar, Grammy, Tony and two Emmys. Infused with Rita Moreno's quick wit and deep insight, this memoir is the dazzling portrait of a stage and screen star who longed to become who she really is—and triumphed."
Robin by Dave Itzkoff
"The definitive biography of Robin Williams—a compelling portrait of one of America's most beloved and misunderstood entertainers. Williams's comic brilliance masked a deep well of conflicting emotions and self-doubt. Itzkoff also shows how Williams struggled mightily with addiction and depression…and with a debilitating condition at the end of his life that affected him in ways his fans never knew."
"Parks and Recreation star Retta takes us on her not-so-meteoric rise from roaches to riches. Throwing her hard-working Liberian parents for a loop, Retta abandons her plan to attend med school after graduating Duke University to move to Hollywood. Retta's unique voice and refreshing honesty will make you laugh, cry, and laugh so hard you'll cry."
"Sidibe's memoir hits hard with self-knowing dispatches on friendship, depression, celebrity, haters, fashion, race, and weight. Irreverent, hilarious, and untraditional, This Is Just My Face takes its place and fills a void on the shelf of writers from Mindy Kaling to David Sedaris to Lena Dunham."
"The outspoken actress, talk show host, and reality television star offers up a no-holds-barred memoir, including an eye-opening insider account of her tumultuous and heart-wrenching thirty-year-plus association with the Church of Scientology."
"Astonishingly personal and true stories about power, color, gender, feminism, and fame. Genuine and perceptive, Union bravely lays herself bare, uncovering a complex and courageous life of self-doubt and self-discovery with incredible poise and brutal honesty."
"Kaling shares her ongoing journey to find contentment and excitement in her adult life, whether it's falling in love at work, seeking new friendships in lonely places, attempting to be the first person in history to lose weight without any behavior modification whatsoever, or most important, believing that you have a place in Hollywood when you're constantly reminded that no one looks like you."
"Carrie Fisher tells the true and intoxicating story of her life with inimitable wit. Aside from a demanding career and her role as a single mother, Carrie also spends her free time battling addiction, weathering the wild ride of manic depression and lounging around various mental institutions. It's an incredible tale."
"Full of the comedic skill that makes us all love Amy, Yes Please is a rich and varied collection of stories, lists, poetry (Plastic Surgery Haiku, to be specific), photographs, mantras and advice. Honest, personal, real, and righteous, Yes Please is full of words to live by."
"A hilarious and affecting essay collection about race, gender, and pop culture from celebrated stand-up comedian and WNYC podcaster Phoebe Robinson. As personal as it is political, You Can't Touch My Hair examines our cultural climate and skewers our biases with humor and heart, announcing Robinson as a writer on the rise."
Nonfiction Books About Actors
"The man who's hypnotized the camera lenses for a quarter of a century reveals the most closely guarded secrets on script preparation, working with the director, forming a character, voice, sound, and movement. Pearl by pearl he lays out the Caine wisdom on everything from set politics to set decorum."
"Stanislavski's simple exercises fire the imagination, and help readers not only discover their own conception of reality but how to reproduce it as well. Stanislavski's innovative contribution to modern European and American realistic acting has remained at the core of mainstream western performance training for much of the last century."
"With candor and wit, Fischer lays out what it takes to establish yourself in the profession. Fischer's inspiring guidance will make you feel like you have a trusted friend who's made the journey and has now returned to walk beside you, pointing out the pitfalls as you blaze your own path toward the life of a professional actor."
"Over her long career, both in New York and Hollywood, she offered her vast acting knowledge to generations of actors, including Marlon Brando, Warren Beatty, and Robert De Niro. Her decades of experience and teaching have been brilliantly caught and encapsulated by Howard Kissel in the twenty-two lessons in this book."
"With personal stories from his life, Odom asks the questions that will help you unlock your true potential and achieve your goals even when they seem impossible. These stories will inspire you, motivate you, and empower you for the greatness that lies ahead, whether you're graduating from college, starting a new job, or just looking to live each day to the fullest."
"She addresses the full spectrum of issues that people starting out will face: from questions of confidence, discipline, and self-esteem, to fame, failure, and fear, to staying healthy, presenting yourself effectively, building a diverse social and professional network, and using your art to promote social change. Letters to a Young Artist will challenge you, motivate you, and set you on a course to pursue your art without compromise."
"Before Tim Federle became a bestselling author and a Broadway playwright, he worked as a back-up dancer at the Super Bowl, a polar bear at Radio City, and a card-carrying chorus boy on Broadway. This charming and clever guide will appeal to all ages and inspire readers to step into the lead role of their own life."
"This book merges basic improvisation techniques with Zen philosophy in order to create a new way of performing scenes and shows. Based on decades of work with the art form, Jason R. Chin strips away pretense and creates a simple, yet elegant method of improvising longer, more rich scenes and characters."
"Countering the misperceptions about Broadway performers leading glamorous lives, the words of more than 150 Broadway stars provide unprecedented insight into their struggle for stardom. This book shares firsthand accounts of professional actors' difficult yet fulfilling journeys to Broadway."
"Michael Riedel tells the stories of the Shubert Organization and the shows that re-built a city in grand style, revealing the backstage drama that often rivaled what transpired onstage, exposing bitter rivalries, unlikely alliances, and—of course—scintillating gossip. This is a great story, told with wit and passion."
"This book not only conveys the harsh realities of racial inequality in Hollywood, but also provides vital insights from actors who have succeeded on their own terms, whether by sidestepping the system or subverting it from within. Reel Inequality follows actors of color as they suffer, strive, and thrive in Hollywood."
"This classic book has helped generations of actors hone their craft, and its advice is as useful now as it was when it was first published. Hagen draws on her own struggle with the techniques of acting as well as her decades of teaching experience to break down the areas in which actors can work and search for realities in themselves that serve the character and the play."
"Follows an acting class of eight men and eight women for fifteen months, beginning with the most rudimentary exercises and ending with affecting and polished scenes from contemporary American plays. Throughout these pages Meisner is delight—always empathizing with his students and urging them onward, provoking emotion, laughter, and growing technical mastery from his charges."
"This book generously offers a delightful, practical, and digestible approach to mastering the entertainment industry one day at a time. Readers gain out-of-the-box strategies for business mastery along with powerful exercises for personal growth."
"While the manual is written to be understood by beginners with no previous exposure to improvisational comedy, experienced improvisors will find it to be an excellent resource for honing their skills, clarifying concepts, and generally taking their work to a higher level."
If you liked these books about actors, be sure to check out this list of 50 Must-Read Books for Musical Theatre Fans and 13 Awesome Audiobooks Read by Actors.