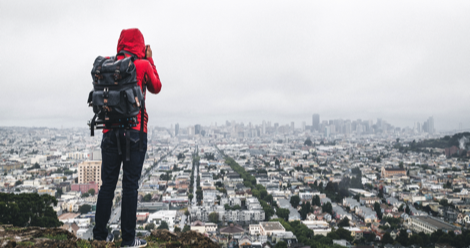 Fiction
50 Must-Read Adventure Novels
This content contains affiliate links. When you buy through these links, we may earn an affiliate commission.
Some adventure novels involve spaceship chases, some a scavenger hunt of tasks, and others deep dives into history and magic. Set in a fantasy, historical, futuristic, or modern land, action adventure novels lend a note of excitement and urgency to our lives. This list of fifty action adventure novels features stories all over the adventure spectrum, for those who want to be lost in a high-stakes fantasy and those who like the idea of the everyday adventure in which they could perhaps find themselves.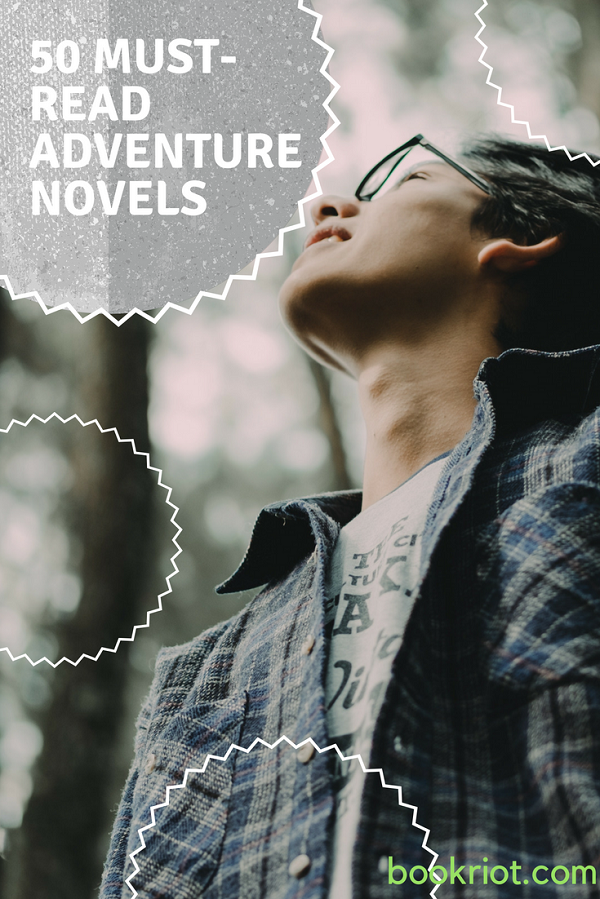 "Two down on their luck black-marketeers, Dagr and Kinza, have inherited a very important prisoner: the former star torturer of Saddam's recently collapsed Ba'athist regime, Captain Hamid, who promises them untold riches if they smuggle him to Mosul. With the heat on, they enlist the help of Private Hoffman, their partner in crime and a U.S. Marine, who undertakes to help them escape the authorities."
"Hazel and her brother, Ben, live in Fairfold, where humans and the Folk exist side by side. Since they were children, Hazel and Ben have been telling each other stories about the boy in the glass coffin, that he is a prince and they are valiant knights, pretending their prince would be different from other faeries, the ones who made cruel bargains, lurked in the shadows of trees, and doomed tourists. But as Hazel grows up and puts aside these stories, Hazel knows the horned boy will never wake. Until one day, he does…As the world turns upside down, Hazel has to become the knight she once pretended to be."
"When Taggert's adopted daughter goes missing he suspects the hand of an old enemy. He gathers friends, family, and even those who don't quite trust that he has left his violent past behind. But their search leads them to an unexpected place, the past, and the consequences of their journey have a price that is higher than they can afford."
"In the year 2045, reality is an ugly place. The only time teenage Wade Watts really feels alive is when he's jacked into the virtual utopia known as the OASIS. Wade's devoted his life to studying the puzzles hidden within this world's digital confines—puzzles that are based on their creator's obsession with the pop culture of decades past and that promise massive power and fortune to whoever can unlock them. But when Wade stumbles upon the first clue, he finds himself beset by players willing to kill to take this ultimate prize. The race is on, and if Wade's going to survive, he'll have to win—and confront the real world he's always been so desperate to escape."
"After the sinking of a cargo ship, a solitary lifeboat remains bobbing on the wild blue Pacific. The only survivors from the wreck are a sixteen-year-old boy named Pi, a hyena, a wounded zebra, an orangutan—and a 450-pound royal bengal tiger."
"The Great Recession has shuffled Clay Jannon out of his life as a San Francisco Web-design drone—and serendipity, sheer curiosity, and the ability to climb a ladder like a monkey has landed him a new gig working the night shift at Mr. Penumbra's 24-Hour Bookstore. But after just a few days on the job, Clay begins to realize that this store is even more curious than the name suggests. There are only a few customers, but they come in repeatedly and never seem to actually buy anything, instead "checking out" impossibly obscure volumes from strange corners of the store, all according to some elaborate, long-standing arrangement with the gnomic Mr. Penumbra. The store must be a front for something larger, Clay concludes, and soon he's embarked on a complex analysis of the customers' behavior and roped his friends into helping to figure out just what's going on. But once they bring their findings to Mr. Penumbra, it turns out the secrets extend far outside the walls of the bookstore."
"Life as Wednesday's bodyguard, driver, and errand boy is far more interesting and dangerous than Shadow ever imagined—it is a job that takes him on a dark and strange road trip and introduces him to a host of eccentric characters whose fates are mysteriously intertwined with his own. Along the way Shadow will learn that the past never dies; that everyone, including his beloved Laura, harbors secrets; and that dreams, totems, legends, and myths are more real than we know. Ultimately, he will discover that beneath the placid surface of everyday life a storm is brewing—an epic war for the very soul of America—and that he is standing squarely in its path."
"Sierra Santiago planned an easy summer of making art and hanging with her friends. But then a corpse crashes their first party. Her stroke-ridden grandfather starts apologizing non-stop. And when the murals in her neighborhood start to weep tears…Well, something more sinister than the usual Brooklyn ruckus is going on. With the help of a fellow artist named Robbie, Sierra discovers shadowshaping, a magic that infuses ancestral spirits into paintings, music, and stories. But someone is killing the shadowshapers one by one. Now Sierra must unravel her family's past, take down the killer in the present, and save the future of shadowshaping for generations to come."
"Finnikin was only a child during the five days of the unspeakable, when the royal family of Lumatere were brutally murdered, and an imposter seized the throne. Now a curse binds all who remain inside Lumatere's walls, and those who escaped roam the surrounding lands as exiles, persecuted and despairing, dying by the thousands in fever camps. In a narrative crackling with the tension of an imminent storm, Finnikin, now on the cusp of manhood, is compelled to join forces with an arrogant and enigmatic young novice named Evanjalin, who claims that her dark dreams will lead the exiles to a surviving royal child and a way to pierce the cursed barrier and regain the land of Lumatere. But Evanjalin's unpredictable behavior suggests that she is not what she seems—and the startling truth will test Finnikin's faith not only in her, but in all he knows to be true about himself and his destiny."
"Every year, Blue Sargent stands next to her clairvoyant mother as the soon-to-be dead walk past. Blue never sees them—until this year, when a boy emerges from the dark and speaks to her. His name is Gansey, a rich student at Aglionby, the local private school…Blue has a policy of staying away from Aglionby boys. Known as Raven Boys, they can only mean trouble."
"Alex is a bruja, the most powerful witch in a generation…and she hates magic. At her Deathday celebration, Alex performs a spell to rid herself of her power. But it backfires. Her whole family vanishes into thin air, leaving her alone with Nova, a brujo boy she's not sure she can trust, but who may be Alex's only chance at saving her family."
"Haly is a Libyrarian, one of a group of people dedicated to preserving and protecting the knowledge passed down from the Ancients and stored in the endless maze of books known as the Libyrinth. But Haly has a secret: The books speak to her. When the threat of the rival Eradicants drives her from her home, Haly learns that things are not all she thinks they are. Taken prisoner by the Eradicants, who believe the written word to be evil, she sees the world through their eyes and comes to understand that they are not the book-burning monsters that she has known her entire life."
"Rail and Moa are two teenage thieves. Vago is a golem of metal and flesh. All three are denizens of Orokos, a city scoured by chaotic storms that rearrange streets and turn children into glass. No one can enter the city, or leave. Until one day Rail finds a mysterious artifact that may hold the key to the secrets of the city—and the chance of escape. And so begins an impossible quest. Get ready for a breathtaking adventure."
"In 1527, the conquistador Pánfilo de Narváez sailed from the port of Sanlúcar de Barrameda with a crew of six hundred men and nearly a hundred horses. His goal was to claim what is now the Gulf Coast of the United States for the Spanish crown and, in the process, become as wealthy and famous as Hernán Cortés. But from the moment the Narváez expedition landed in Florida, it faced peril—navigational errors, disease, starvation, as well as resistance from indigenous tribes. Within a year there were only four survivors: the expedition's treasurer, Álvar Núñez Cabeza de Vaca; a Spanish nobleman named Alonso del Castillo Maldonado; a young explorer named Andrés Dorantes de Carranza; and Dorantes's Moroccan slave, Mustafa al-Zamori, whom the three Spaniards called Estebanico. These four survivors would go on to make a journey across America that would transform them from proud conquistadores to humble servants, from fearful outcasts to faith healers."
"Nancy Kington, daughter of a rich merchant, suddenly orphaned when her father dies, is sent to live on her family's plantation in Jamaica. Disgusted by the treatment of the slaves and her brother's willingness to marry her off, she and one of the slaves, Minerva, run away and join a band of pirates. For both girls the pirate life is their only chance for freedom in a society where both are treated like property, rather than individuals. Together they go in search of adventure, love, and a new life that breaks all restrictions of gender, race, and position. Told through Nancy's writings, their adventures will appeal to readers across the spectrum and around the world."
"Ed Kennedy is an underage cabdriver without much of a future. He's pathetic at playing cards, hopelessly in love with his best friend, Audrey, and utterly devoted to his coffee-drinking dog, the Doorman. His life is one of peaceful routine and incompetence until he inadvertently stops a bank robbery. That's when the first ace arrives in the mail. That's when Ed becomes the messenger. Chosen to care, he makes his way through town helping and hurting (when necessary) until only one question remains: Who's behind Ed's mission?"
"All Samantha wanted was to move back to New York and pursue her music, which was difficult enough being a Chinese girl in Missouri, 1849. Then her fate takes a turn for the worse after a tragic accident leaves her with nothing and she breaks the law in self-defense. With help from Annamae, a runaway slave she met at the scene of her crime, the two flee town for the unknown frontier. But life on the Oregon Trail is unsafe for two girls. Disguised as Sammy and Andy, two boys heading for the California gold rush, each search for a link to their past and struggle to avoid any unwanted attention. Until they merge paths with a band of cowboys turned allies, and Samantha can't stop herself from falling for one. But the law is closing in on them and new setbacks come each day, and the girls will quickly learn there are not many places one can hide on the open trail."
"Morgan's boyfriend dumped her on the last day of school-it seemed the only thing to do was to hack off her hair and dye the stubble orange. Unfortunately, Morgan's parents freaked and decided a change of scenery would do her good. So they're sending her off on a bike tour of Ireland. But Morgan gets more than she bargained for on the Emerald Isle—including a strange journey into some crazy, once upon a time corner of the past. There, she meets fairies, weefolk, and a hunky warrior-dude named Fergus, and figures out that she's got some growing to do—and she doesn't just mean her hair."
"Once upon a time, a young boy called "Wart" was tutored by a magician named Merlyn in preparation for a future he couldn't possibly imagine. A future in which he would ally himself with the greatest knights, love a legendary queen and unite a country dedicated to chivalrous values. A future that would see him crowned and known for all time as Arthur, King of the Britons. During Arthur's reign, the kingdom of Camelot was founded to cast enlightenment on the Dark Ages, while the knights of the Round Table embarked on many a noble quest. But Merlyn foresaw the treachery that awaited his liege: the forbidden love between Queen Guenever and Lancelot, the wicked plots of Arthur's half-sister Morgause and the hatred she fostered in Mordred that would bring an end to the king's dreams for Britain—and to the king himself."
"Present day: When a young anthropologist specializing in ancient technology uncovers a terrible secret concealed in the workings of a three-hundred-year-old mechanical doll, she is thrown into a hidden world that lurks just under the surface of our own. With her career and her life at stake, June Stefanov will ally with a remarkable traveler who exposes her to a reality she never imagined, as they embark on an around-the-world adventure and discover breathtaking secrets of the past…Russia, 1725: In the depths of the Kremlin, the tsar's loyal mechanician brings to life two astonishingly humanlike mechanical beings. Peter and Elena are a brother and sister fallen out of time, possessed with uncanny power, and destined to serve great empires. Struggling to blend into pre-Victorian society, they are pulled into a legendary war that has raged for centuries."
"I'm not your average hero. I actually wasn't your average anything. Just a poor guy working an after-school job at a South Beach shoe repair shop to help his mom make ends meet. But a little magic changed it all. It all started with a curse. And a frognapping. And one hot-looking princess, who asked me to lead a rescue mission. There wasn't a fairy godmother or any of that. And even though I fell in love along the way, what happened to me is unlike any fairy tale I've ever heard. Before I knew it, I was spying with a flock of enchanted swans, talking (yes, talking!) to a fox named Todd, and nearly trampled by giants in the Everglades. Don't believe me? I didn't believe it either. But you'll see. Because I knew it all was true, the second I got cloaked."
"A dependent girl without money or status has few options in Victorian England, and sixteen-year-old Charlotte Campion-who knows little about the world beyond her stultifying vicarage childhood-is no exception. But when her grandfather arranges to have her marry a man who repels her, Charlotte determines she must find not only excitement in her life, but freedom, too. In an engaging novel of adventure and romance, K.M. Peyton presents a cast of fully-realized, finely-drawn characters who choose not to be bound by convention. As they hike in the Swiss Alps and restore an English country estate, they confront British class divisions, fall in and out of love, grow older, have a marvelous time, and become life-long friends."
"Laia is a slave. Elias is a soldier. Neither is free. Under the Martial Empire, defiance is met with death. Those who do not vow their blood and bodies to the Emperor risk the execution of their loved ones and the destruction of all they hold dear. It is in this brutal world, inspired by ancient Rome, that Laia lives with her grandparents and older brother. The family ekes out an existence in the Empire's impoverished backstreets. They do not challenge the Empire. They've seen what happens to those who do. But when Laia's brother is arrested for treason, Laia is forced to make a decision. In exchange for help from rebels who promise to rescue her brother, she will risk her life to spy for them from within the Empire's greatest military academy. There, Laia meets Elias, the school's finest soldier—and secretly, its most unwilling. Elias wants only to be free of the tyranny he's being trained to enforce. He and Laia will soon realize that their destinies are intertwined—and that their choices will change the fate of the Empire itself."
"Lady Jeanette Avenel is the free-spirited second daughter of a nobleman in twelfth-century Scotland. When her elder sister, Isabel, is dishonored, Jenny is asked to relinquish her freedom in an attempt to save the good name of her father's house. But will the affection of a mysterious young man lead to Jenny's ruin as well?"
"The struggle to get into a top-tier college consumes sixteen-year-old Genie's every waking thought. But when she discovers she's a celestial spirit who's powerful enough to bash through the gates of heaven with her fists, her perfectionist existence is shattered. Enter Quentin, a transfer student from China whose tone-deaf assertiveness beguiles Genie to the brink of madness. Quentin nurtures Genie's outrageous transformation—sometimes gently, sometimes aggressively—as her sleepy suburb in the Bay Area comes under siege from hell-spawn."
"Late one night, exploring her father's library, a young woman finds an ancient book and a cache of yellowing letters addressed ominously to "My dear and unfortunate successor." Her discovery plunges her into a world she never dreamed of—a labyrinth where the secrets of her father's past and her mother's mysterious fate connect to an evil hidden in the depths of history."
"In the summer of 2011, just after Nour loses her father to cancer, her mother moves Nour and her sisters from New York City back to Syria to be closer to their family. In order to keep her father's spirit as she adjusts to her new home, Nour tells herself their favorite story—the tale of Rawiya, a twelfth-century girl who disguised herself as a boy in order to apprentice herself to a famous mapmaker. But the Syria Nour's parents knew is changing, and it isn't long before the war reaches their quiet Homs neighborhood. When a stray shell destroys Nour's house and almost takes her life, she and her family are forced to choose: stay and risk more violence or flee across seven countries of the Middle East and North Africa in search of safety—along the very route Rawiya and her mapmaker took eight hundred years before in their quest to chart the world. As Nour's family decides to take the risk, their journey becomes more and more dangerous, until they face a choice that could mean the family will be separated forever."
"In the late seventeenth century, famed teenage pirate Emer Morrisey was on the cusp of escaping the pirate life with her one true love and unfathomable riches when she was slain and cursed with "the dust of one hundred dogs," dooming her to one hundred lives as a dog before returning to a human body-with her memories intact. Now she's a contemporary American teenager and all she needs to escape her no-good family and establish a luxurious life of her own is a shovel and a ride to Jamaica…"
"Since leaving his homeland, the earthbound demigod Demane has been labeled a sorcerer. With his ancestors' artifacts in hand, the Sorcerer follows the Captain, a beautiful man with song for a voice and hair that drinks the sunlight. The two of them are the descendants of the gods who abandoned the Earth for Heaven, and they will need all the gifts those divine ancestors left to them to keep their caravan brothers alive. The one safe road between the northern oasis and southern kingdom is stalked by a necromantic terror. Demane may have to master his wild powers and trade humanity for godhood if he is to keep his brothers and his beloved captain alive."
"Teenagers are mysteriously disappearing in Tucson, Arizona, and other cities. One night, seventeen-year-old Taryn nearly becomes one of them when a revolting, unearthly creature attacks her. The touch of a Zumar warrior should render her unconscious, but Taryn has the strength to fight until a young man with a sword comes to her rescue. This is how Taryn, an orphan with Meniere's disease, meets Erick, a Haro Knight from another world. His job is fighting the Zumar who are kidnapping and enslaving oldworlders (Earth people). It is forbidden for Erick to socialize with oldworlders, but he can't ignore the strong attraction between them…and Taryn seems different from other Earth people. When she's abducted by the Zumar and taken to their evil sorcerer leader, Taryn is confronted with shocking truths that explain her strange dreams and special powers."
"After serving out a year of hard labor in the salt mines of Endovier for her crimes, 18-year-old assassin Celaena Sardothien is dragged before the Crown Prince. Prince Dorian offers her her freedom on one condition: she must act as his champion in a competition to find a new royal assassin."
"What was once the western United States is now home to the Republic, a nation perpetually at war with its neighbors. Born into an elite family in one of the Republic's wealthiest districts, fifteen-year-old June is a prodigy being groomed for success in the Republic's highest military circles. Born into the slums, fifteen-year-old Day is the country's most wanted criminal. But his motives may not be as malicious as they seem. From very different worlds, June and Day have no reason to cross paths—until the day June's brother, Metias, is murdered and Day becomes the prime suspect. Caught in the ultimate game of cat and mouse, Day is in a race for his family's survival, while June seeks to avenge Metias's death. But in a shocking turn of events, the two uncover the truth of what has really brought them together, and the sinister lengths their country will go to keep its secrets."
"Jonah Wish, a brilliant computer hacker, is the newest addition to an elite group of teen outlaws all hired by the same mysterious benefactor, Nathaniel Coldhardt. Each of them offers a unique talent: Patch is a one-eyed locksmith; Motti can dismantle any electrical system; Con's charm is truly mesmerizing; and Tye can detect a lie with more precision than a polygraph. Under Coldhart's watchful eye, this motley crew races from a high-tech underground conference centre to exotic locations where they hunt for priceless ancient artifacts that may bring riches…or the secret to eternal life."
Monster by Michael Grant
"In the stunning follow-up to the globally bestselling Gone series, Michael Grant continues the story of the teens who morph into superheroes—and supermonsters—when they ingest an alien virus. Four years after the events of the FAYZ, new meteorites are hitting Earth, and the whole world is exposed to a strange alien virus that gives humans unique superpowers. As some teens become heroes and others become dangerously out of control with their new powers, the world will become more terrifying than the FAYZ—and only a monstrous battle between good and evil can save them."
Monster is a sort-of spin-off of Gone series; start there for more pseudo-apocalyptic adventure.
Binti by Nnedi Okorafor
"Her name is Binti, and she is the first of the Himba people ever to be offered a place at Oomza University, the finest institution of higher learning in the galaxy. But to accept the offer will mean giving up her place in her family to travel between the stars among strangers who do not share her ways or respect her customs. Knowledge comes at a cost, one that Binti is willing to pay, but her journey will not be easy. The world she seeks to enter has long warred with the Meduse, an alien race that has become the stuff of nightmares. Oomza University has wronged the Meduse, and Binti's stellar travel will bring her within their deadly reach. If Binti hopes to survive the legacy of a war not of her making, she will need both the gifts of her people and the wisdom enshrined within the University, itself—but first she has to make it there, alive."
"Once upon a time there was a very nice but very plain princess named Jennifer, who, following proper fairy-tale protocol, fell for a very handsome but very conceited prince named Alexander. When Alexander offends a powerful witch, it falls to Jennifer to save him. In the course of doing so, she meets a wizard and soon wonders if she's such a proper fairy-tale princess after all—a good little princess would love Alexander, but does she?"
"Ketterdam: a bustling hub of international trade where anything can be had for the right price—and no one knows that better than criminal prodigy Kaz Brekker. Kaz is offered a chance at a deadly heist that could make him rich beyond his wildest dreams. But he can't pull it off alone…A convict with a thirst for revenge. A sharpshooter who can't walk away from a wager. A runaway with a privileged past. A spy known as the Wraith. A Heartrender using her magic to survive the slums. A thief with a gift for unlikely escapes. Six dangerous outcasts. One impossible heist. Kaz's crew is the only thing that might stand between the world and destruction—if they don't kill each other first."
"Something has always felt slightly off in Meghan's life, ever since her father disappeared before her eyes when she was six. She has never quite fit in at school or at home. When a dark stranger begins watching her from afar, and her prankster best friend becomes strangely protective of her, Meghan senses that everything she's known is about to change. But she could never have guessed the truth – that she is the daughter of a mythical faery king and is a pawn in a deadly war. Now Meghan will learn just how far she'll go to save someone she cares about, to stop a mysterious evil, no faery creature dare face; and to find love with a young prince who might rather see her dead than let her touch his icy heart."
"What's it about? Fencing. Fighting. True Love. Strong Hate. Harsh Revenge. A Few Giants. Lots of Bad Men. Lots of Good Men. Five or Six Beautiful Women. Beasties Monstrous and Gentle. Some Swell Escapes and Captures. Death, Lies, Truth, Miracles, and a Little Sex. In short, it's about everything."
"Juliette hasn't touched anyone in exactly 264 days. The last time she did, it was an accident, but The Reestablishment locked her up for murder. No one knows why Juliette's touch is fatal. As long as she doesn't hurt anyone else, no one really cares. The world is too busy crumbling to pieces to pay attention to a 17-year-old girl. Diseases are destroying the population, food is hard to find, birds don't fly anymore, and the clouds are the wrong color. The Reestablishment said their way was the only way to fix things, so they threw Juliette in a cell. Now so many people are dead that the survivors are whispering war—and The Reestablishment has changed its mind. Maybe Juliette is more than a tortured soul stuffed into a poisonous body. Maybe she's exactly what they need right now. Juliette has to make a choice: Be a weapon. Or be a warrior."
"When Rona Blackburn landed on Anathema Island more than a century ago, her otherworldly skills might have benefited friendlier neighbors. Guilt and fear instead led the island's original eight settlers to burn 'the witch' out of her home. So Rona cursed them. Fast-forward one hundred–some years: All Nor Blackburn wants is to live an unremarkable teenage life. She has reason to hope: First, her supernatural powers, if they can be called that, are unexceptional. Second, her love life is nonexistent, which means she might escape the other perverse side effect of the matriarch's backfiring curse, too. But then a mysterious book comes out, promising to cast any spell for the right price. Nor senses a storm coming and is pretty sure she'll be smack in the eye of it. In her second novel, Leslye Walton spins a dark, mesmerizing tale of a girl stumbling along the path toward self-acceptance and first love, even as the Price Guide's malevolent author—Nor's own mother—looms and threatens to strangle any hope for happiness."
"This is the way the world ends. Again. Three terrible things happen in a single day. Essun, a woman living an ordinary life in a small town, comes home to find that her husband has brutally murdered their son and kidnapped their daughter. Meanwhile, mighty Sanze—the world-spanning empire whose innovations have been civilization's bedrock for a thousand years—collapses as most of its citizens are murdered to serve a madman's vengeance. And worst of all, across the heart of the vast continent known as the Stillness, a great red rift has been torn into the heart of the earth, spewing ash enough to darken the sky for years. Or centuries. Now Essun must pursue the wreckage of her family through a deadly, dying land. Without sunlight, clean water, or arable land, and with limited stockpiles of supplies, there will be war all across the Stillness: a battle royale of nations not for power or territory, but simply for the basic resources necessary to get through the long dark night. Essun does not care if the world falls apart around her. She'll break it herself, if she must, to save her daughter."
"It is the autumn term and Greer MacDonald is struggling to settle into the sixth form at the exclusive St. Aidan the Great boarding school, known to its privileged pupils as S.T.A.G.S. Just when she despairs of making friends Greer receives a mysterious invitation with three words embossed upon on it: huntin' shootin' fishin'. When Greer learns that the invitation is to spend the half term weekend at the country manor of Henry de Warlencourt, the most popular and wealthy boy at S.T.A.G.S., she is as surprised as she is flattered. But when Greer joins the other chosen few at the ancient and sprawling Longcross Hall, she realises that Henry's parents are not at home; the only adults present are a cohort of eerily compliant servants. The students are at the mercy of their capricious host, and, over the next three days, as the three bloodsports—hunting, shooting and fishing—become increasingly dark and twisted, Greer comes to the horrifying realisation that those being hunted are not wild game, but the very misfits Henry has brought with him from school…"
"Mari Turner's life is perfect. That is, at least to her thousands of followers who have helped her become an internet starlet. But when she breaks down and posts a video confessing she's been living a lie—that she isn't the happy, in-love, inspirational online personality she's been trying so hard to portray—it goes viral and she receives major backlash. To get away from it all, she makes an impulsive decision: to hike the entire John Muir trail. Mari and her late cousin, Bri, were supposed to do it together, to celebrate their shared eighteenth birthday. But that was before Mari got so wrapped up in her online world that she shut anyone out who questioned its worth—like Bri. With Bri's boots and trail diary, a heart full of regret, and a group of strangers that she meets along the way, Mari tries to navigate the difficult terrain of the hike. But the true challenge lies within, as she searches for the way back to the girl she fears may be too lost to find: herself."
"Charles Wang is mad at America. A brash, lovable immigrant businessman who built a cosmetics empire and made a fortune, he's just been ruined by the financial crisis. Now all Charles wants is to get his kids safely stowed away so that he can go to China and attempt to reclaim his family's ancestral lands—and his pride. Charles pulls Andrew, his aspiring comedian son, and Grace, his style-obsessed daughter, out of schools he can no longer afford. Together with their stepmother, Barbra, they embark on a cross-country road trip from their foreclosed Bel-Air home to the upstate New York hideout of the eldest daughter, disgraced art world it-girl Saina. But with his son waylaid by a temptress in New Orleans, his wife ready to defect for a set of 1,000-thread-count sheets, and an epic smash-up in North Carolina, Charles may have to choose between the old world and the new, between keeping his family intact and finally fulfilling his dream of starting anew in China. "
"It was Sloane who yanked Emily out of her shell and made life 100% interesting. But right before what should have been the most epic summer, Sloane just…disappears. All she leaves behind is a to-do list. On it, thirteen Sloane-inspired tasks that Emily would normally never try. But what if they could bring her best friend back? Apple picking at night? Okay, easy enough. Dance until dawn? Sure. Why not? Kiss a stranger? Um…Emily now has this unexpected summer, and the help of Frank Porter (totally unexpected), to check things off Sloane's list. Who knows what she'll find? Go skinny-dipping? Wait…what?"
"Quentin Jacobsen has spent a lifetime loving the magnificently adventurous Margo Roth Spiegelman from afar. So when she cracks open a window and climbs into his life—dressed like a ninja and summoning him for an ingenious campaign of revenge—he follows. After their all-nighter ends, and a new day breaks, Q arrives at school to discover that Margo, always an enigma, has now become a mystery. But Q soon learns that there are clues—and they're for him. Urged down a disconnected path, the closer he gets, the less Q sees the girl he thought he knew…"
"Jane McKeene was born two days before the dead began to walk the battlefields of Gettysburg and Chancellorsville—derailing the War Between the States and changing America forever. In this new nation, safety for all depends on the work of a few, and laws like the Native and Negro Reeducation Act require certain children attend combat schools to learn to put down the dead. But there are also opportunities—and Jane is studying to become an Attendant, trained in both weaponry and etiquette to protect the well-to-do. It's a chance for a better life for Negro girls like Jane. After all, not even being the daughter of a wealthy white Southern woman could save her from society's expectations. But that's not a life Jane wants. Almost finished with her education at Miss Preston's School of Combat in Baltimore, Jane is set on returning to her Kentucky home and doesn't pay much mind to the politics of the eastern cities, with their talk of returning America to the glory of its days before the dead rose. But when families around Baltimore County begin to go missing, Jane is caught in the middle of a conspiracy, one that finds her in a desperate fight for her life against some powerful enemies. And the restless dead, it would seem, are the least of her problems."
Belzhar by Meg Wolitzer
"If life were fair, Jam Gallahue would still be at home in New Jersey with her sweet British boyfriend, Reeve Maxfield. She'd be watching old comedy sketches with him. She'd be kissing him in the library stacks. She certainly wouldn't be at The Wooden Barn, a therapeutic boarding school in rural Vermont, living with a weird roommate, and signed up for an exclusive, mysterious class called Special Topics in English. But life isn't fair, and Reeve Maxfield is dead. Until a journal-writing assignment leads Jam to Belzhar, where the untainted past is restored, and Jam can feel Reeve's arms around her once again. But there are hidden truths on Jam's path to reclaim her loss."
"Barcelona, 1945—just after the war, a great world city lies in shadow, nursing its wounds, and a boy named Daniel awakes on his eleventh birthday to find that he can no longer remember his mother's face. To console his only child, Daniel's widowed father, an antiquarian book dealer, initiates him into the secret of the Cemetery of Forgotten Books, a library tended by Barcelona's guild of rare-book dealers as a repository for books forgotten by the world, waiting for someone who will care about them again. Daniel's father coaxes him to choose a volume from the spiraling labyrinth of shelves, one that, it is said, will have a special meaning for him. And Daniel so loves the novel he selects, The Shadow of the Wind by one Julian Carax, that he sets out to find the rest of Carax's work. To his shock, he discovers that someone has been systematically destroying every copy of every book this author has written. In fact, he may have the last one in existence. Before Daniel knows it his seemingly innocent quest has opened a door into one of Barcelona's darkest secrets, an epic story of murder, magic, madness and doomed love. And before long he realizes that if he doesn't find out the truth about Julian Carax, he and those closest to him will suffer horribly."
If you're interested in adventure novels with a romantic lean, try these. Or, try this list for adventure in nonfiction. Wondering what's out there for the action-adventure kid in your life? Check out this list.