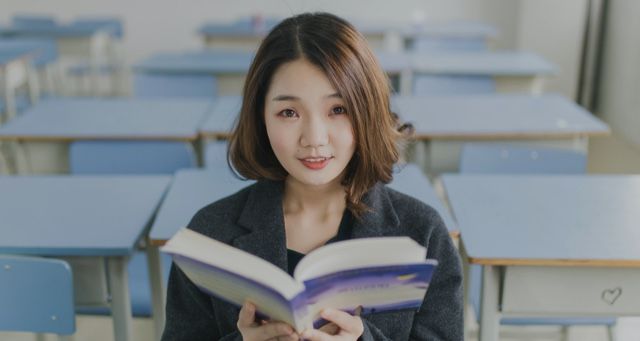 Lists
25 Must-Read 2019 YA and Middle Grade Books With Asians on the Cover
This content contains affiliate links. When you buy through these links, we may earn an affiliate commission.
When I sat down to make this list last year, I focused on East Asian representation on book covers because, well, I'm Korean-American and I was desperate to find myself on a cover. This year, I am including everyone who falls under the "umbrella" of being Asian because everyone deserves feel represented in books and on the covers. And also I'm extremely happy to report that there are so many more than these 25!
These are all 2019 young adult or middle grade releases and feature a person of Asian descent on the cover. All of the authors are authors of color and are women!
This book takes place in 1969 during the race riots between the Chinese and the Malays. Melati believes that there is a djinn inside of her and she is plagued by images of her mother's death. She only finds relief when she adheres to a strict ritual of counting and tapping to keep the djinn happy. The Weight of Our Sky is a beautiful historical fiction novel with great mental health (OCD) representation.
In this heartbreakingly timely novel, our story is set in a dystopian United States, where Muslim-American citizens are being rounded up and sent to internment camps. When Layla and her family are forced into one of these camps, she is forced to deal with a new reality and becomes involved in a revolution movement against the guards of the camp.
Zayneb is fed up. As the only Muslim in her class, she has to experience her teachers reminding her classmates how bad and dangerous Muslims are. Zayneb confronts her teacher and gets suspended and decides to visit her aunt in Qatar to try to relax. It's there that she meets Adam, who has recently been diagnosed when multiple sclerosis and is hiding the secret from his family.
Along the Silk Road is the city of Noor, which is still struggling to escape the pains of its past – where a djinn tribe annihilated the entire population, minus Fatima and two others. Now, the city is ruled by a new maharajah and is protected by the Ifrit, a djinn tribe of order and reason. But when a prominent Ifrit dies, Fatima is forever changed and is quickly sucked into the power of the maharajah and the djinn.
Simi comes from a long line from Indian matchmakers and when she successfully sets up her cousin with the perfect match—her family is convinced she is the next big family matchmaker. Even though Simi wants nothing to do with her family practice, she realizes it may help improve her social status and creates a matchmaking app that quickly takes her school by storm.
On the surface, Susan and Malcolm are polar opposites. She's the driven overachiever and he's the bad boy with a reputation to match. Despite their differences, Susan and Malcolm are drawn to each other and eventually fall in love. Together, they navigate culture, family and self-acceptance all while continuously falling apart and coming together.
Ali Chu is used to being the only Asian person at her school so when Chase Yu transfers and is also Taiwanese, Ali must suddenly deal with people wanting them to be together just because they are both Asian. Despite her misgivings, Ali begins to really like Chase and thinks her parents will be thrilled about her dating a Taiwanese boy…but they're not. In fact, she's forced to end their relationship. Ali wants to know why.
When Kaede Hirano's mother dies in a car crash, he is sent to live with his estranged grandmother. Unable to truly heal, Kaede begins acting out at school and develops an anger problem. Learning that he is in danger of having to repeat the 7th grade, Kaede is given a special summer assignment: to write an essay on what home means to him. As Kaede journeys to Japan to stay with his father and older half-brother, he learns what home really is and that it means different things to everyone.
Gu Miyoung is hiding a pretty big secret—she's a mystical gumiho, aka a nine-tailed fox that takes its energy from men. When she decides to save instead of hunting one night, she rescues Jihoon and loses her gumiho soul. Jihoon knows what he saw and is drawn to Miyoung anyways. Miyoung is desperate to be reunited with her gumiho, but doing so may be dangerous and come with a price.
Zafira is masquerading as a male hunter in order to be recognized as a hero among her people, while Nasir is the son of a blood-hungry king who works behind the scenes to assassinate those who defy his father…but also holds a deep compassion for others. Zafira and Nasir cross paths while both on a mission to retrieve an ancient artifact that will restore magic to the land, but with one hitch: Nasir has also been assigned the task of killing the famed Hunter, who just happens to be Zafira's alter ego.
Lucky is currently the biggest K-pop star and is on the verge of breaking into the American market. After a performance in Hong Kong, she escapes her hotel room in search of a hamburger. It's there that she meets Jack, a tabloid reporter looking for the next big story that will make him millions. Enter Lucky and the opportunity he needs.
This book is based off of Filipino mythology and folklore and focuses on Lalani, a young Sanlagitan girl who must go on a journey to save her family and her village. And although Lalani is an "ordinary" 12-year-old, she finds within herself that she is in fact extraordinary and capable of conquering evil and going on great adventures.
Rukhsana is caught between two worlds: the conservative, traditional Muslim one of her family and the world she wants to live in where she can wear crop tops and kiss her girlfriend. After her parents catch her with Ariana, they send Rukhsana to Bangladesh so she can be immersed in the culture they desperately want her to assimilate to.
Jo Kuan is leading a double life—during the day, she's a maid to a spoiled daughter of one of Atlanta's wealthiest families, but at night she's penning the local newspaper's advice column, "Dear Miss Sweetie." Jo is surprised when her column becomes extremely popular and decides to use the platform to address wrongs in their current society. This, unsurprisingly, is not well received.
Min's family has the gift of fox spirits, but they are forbidden to use their powers in order to keep them safe. Min dreams of leaving her strict household and escaping like her older brother, Jun, who joined the Space Forces and never looked back. When Min and her family learn that Jun has abandoned his post to go searching for the mystical object, the Dragon Pearl, it's so out of character for Jun that Min knows that something is wrong.
Maia, the daughter of a renowned tailor, has similar dreams of becoming the greatest tailor in the land. But similarly to Flame in the Mist, because she is a girl, the only thing she's supposed to do in her life is get married. But when her father is summoned by the emperor to compete for a chance to be the royal tailor, she takes his place and heads off with the hope of accomplishing her dreams.
When Ashish Patel gets dumped, his parents insist it's because he needs to date an Indian American girl. Annoyed of their attempts to control his relationships, Ashish challenges them to find him the "perfect girl." Enter Sweetie Nair, who is equally keen to get her parents off of her back, who think that her being fat will prevent her from ever finding a relationship.
Ia Cocha, once an infamous criminal mastermind has found herself working for the commonwealth she once acted out against. After an altercation with her brother, Einn, nearly killing her in the process, Ia learns that Einn is attempting to tear apart their universe, she teams up with the Royal Star Force under one condition: that she gets to kill Einn herself. With the help of her friends Brinn and Knives, Ia embarks on an adventure to save the commonwealth she now represents.
Told in verse, this book focuses on Natsu and her younger sister, Cricket, who are orphaned when her father is recruited to the Japanese army during World War II. In order to keep Cricket safe and alive, Natsu sells her to a Russian family but greatly regrets her decision and sets off to get her sister back.
The sequel to Ngan's bestselling debut, Girls of Storm and Shadow picks up where the first book left off—with Lei and Wren having escaped the palace of the Demon King. Their journey to find support to overthrow the oppressive monarchy takes them to the rebel clans where they must make difficult alliances to protect their friends, their family and most important, their relationship.
Ever since birth, Mia and Jake's mothers have hoped that they would fall in love and unite their families. There's just one hitch: Mia and Jake do not get along. Annoyed with their mothers' constant ploys to get them together, Mia and Jake hatch a plan: pretend to date, appease their mothers, and then stage a horrific breakup that will get their mothers off their backs. I think you know where this is going…
In this follow up to Rebel Seoul, we travel from Neo Seoul to Neo Beijing, where Ama is keeping a low profile by working in a bakery and moonlighting as a lounge singer. But she soon learns she cannot escape her past when she's recruited by a resistance group called PHNX—but it will involve her facing her past and Commander Alex Kim, the boy who horribly broke her heart.
Ruse By Cindy Pon
In the sequel to Want, Jason Zhou is back and is recovering from the bombing of Jin Corp that happened in the first book. When Jany Tsai refuses to sell Jin a super secret encrypted tech, he kills her and sets out to the find the next person who has the information. That person is Lingyi and she is the only one who has access to the encrypted info that Jin needs. Jason sets off to find Lingyi and prevent Jin from winning.
Rachel Recht was the first girl that Sana Khan, a popular cheerleader, ever asked out. Rachel, however, thought Sana was playing a cruel joke and has hated her ever since. But when Rachel is needs a lead for her senior film project, she knows the perfect person: Sana. But that means they'll have to get along.
Sisters Lu and Min know their places within the empire. Lu will become the first female ruler and Min will forever be considered number two. On his deathbed, their father names their male cousin, Set, his heir and next king. Betrayed, both girls are hell-bent on revenge.