This content contains affiliate links. When you buy through these links, we may earn an affiliate commission.
"An Audiobooks App I Can't Live Without" was originally published in our Audiobooks newsletter. Sign up for it here to receive the latest from the audiobooks world!
After a winter of cold, rainy weather, the corgis were clamoring for adventure, so my spouse and I ventured out into the beautiful early spring weather here in South Carolina. We wandered around the historic parts of our little town, stopped to get coffee, and visited the waterfront. Gwen's still learning how to greet new people without jumping on them, but, thankfully, we found many volunteers to help her practice.
Corgis are herding dogs and need a ridiculous amount of exercise, so I listen to a lot of audiobooks while walking them. But it was nice to unplug and take them on adventures into the wider world.
I've also been cleaning out several closets in my house. While marathoning through A House of Earth and Blood by Sarah J. Maas, I reorganized my entire pantry. That's one of my favorite parts of being an audiobook listener; I've developed an intense ability to multitask.
I've also been listening to A LOT of articles, which bring me to today's main feature—the next audiobook app that I can't live without!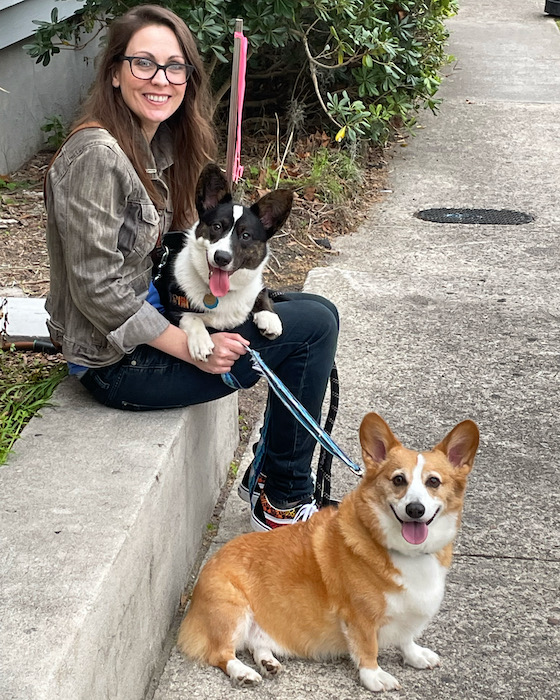 An Audiobooks App I Can't Live Without
For this series, I've shared my top five favorite audiobooks apps—Overdrive, hoopla, Libro.fm, Audible, and Scribd—all of which I've used and loved for several years. But I have to tell you about my latest audio app, Audm ($4.99/month).
For many audiobook lovers, they listen to audiobooks because they love them, but can always pick up the print copy of a book if they can't get their hands on the audiobook edition. But for disabled people like me, print isn't an option. Audiobook apps make reading full-length books possible for me. But what about literary journals, short stories, or news articles?
While my screenreader CAN read these shorter pieces, I don't enjoy the listening experience. At this point, my screenreader still very much sounds like a robot. So when I learned about Audm, I knew I had to try it out.
Audm is a subscription service that allows people to listen to a selection of articles from over two dozen publications, including The Atlantic, The Bitter Southerner, The New York Times, the Republic, The Millions, and Rolling Stone, just to name a few. Today I listened to "Profiles: Late Harvest" by Dorothy Wickenden in The New Yorker, a beautifully written profile on Wendall Berry, the Appalachian writer and environmentalist. Holly Palance narrated the article, which comes in at over an hour.
Since I subscribed a few months ago, I've listened to dozens of incredible pieces by today's top writers, reveling in this whole new world that's been opened up to me. The app is incredibly easy to navigate, allowing users to filter what publications they want to see articles from. Then, simply add the article to your playlist and use their wide range of listening speeds to choose how quickly you want the article to playback for you.
Authors often narrate their articles, and when professionals perform them, the talent is top notch, including Emily Woo Zeller, Janina Edwards, Julia Whelan, and Prentice Onayemi.
Do you subscribe to Audm? What do you think of it? Let me know at kendra.d.winchester@gmail.com.