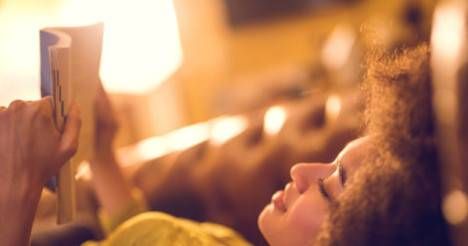 Feminism
Does a Book Need Feminist Characters to be a Feminist Book?
This content contains affiliate links. When you buy through these links, we may earn an affiliate commission.
I will click on literally any feminist book list I see on the Internet. It's like my own version of clickbait – except not annoying or sensationalist.
I'll click on lists featuring YA novels: my favorites. But I'll also devour feminist lists highlighting genres I rarely read, like comics, science fiction, or picture books. Memoir, fantasy, short stories, poetry, etc. – I love feminist literature, and my TBR grows with every list I can't resist reading.
As much as I love these lists, I have a personal definition for feminist lit that transcends the books that most often appear on them. With an emphasis on the term personal definition, I consider all books that treat the concerns, thoughts, desires, and experiences of girls and women to be feminist in nature.
There are probably a million different ways to define feminism, so I'm not surprised when people don't always agree. However, I am surprised by one objection that people often raise: that books cannot be feminist when they're about characters who aren't feminists or who don't make feminist choices.
This statement is often followed by a reference to Bella from Twilight. Which makes me think (1) Ugh, I didn't even bring up Twilight, but feminists have very different opinions about that book and (2) what exactly is a feminist choice? For example, I decided to paint my nails pink this morning and I'm a feminist. But was it a feminist choice?
I think this objection most relevantly pertains to young adult literature (hence the persistent Bella reference) because it's a category filled with female authors and characters – even if sales figures and recognition don't always reflect this. Also, the habits of teenage girls tend to be judged harshly by all of society, misogynists and, at times, feminists alike.
I love that in YA the kick-ass heroine character is common enough that it's become a trope. And I highly value contemporary stories with feminist role models like Willowdean from Dumplin', by Julie Murphy, who takes a stand for body positivity, or Maya from This Side of Home, by Renée Watson, a student council president who helps organize protests and boycotts. These books and these characters are important.
But must a book feature a strong role model to be feminist?
Bette, June, and Gigi are definitely not role models in the diverse, ballet drama Tiny Pretty Things, by Sona Charaipotra and Dhonielle Clayton. They steal boyfriends, obsess about their appearances, and sabotage each other to the extreme. But, it also seems feminist to me to tell the story of flawed and often unlikable female characters. There are lots of stories about unlikeable male characters after all. The story also pretty clearly condemns the unattainable standards placed on girls, which create situations of such intense competition.
Lia from Wintergirls, by Laurie Halse Anderson, doesn't seem to be particularly interested in equality between genders either. However, portraying her struggle with anorexia and self-harm through a serious and unglamorous lens helps validate these experiences that disproportionately affect women.
Even less serious books often seem feminist to me when written with specificity and nuance. I don't know if characters like Laura Jean from To All the Boys I've Loved Before, by Jenny Han, or Isla from Isla and the Happily Ever After, by Stephanie Perkins, are feminists or not. It's never addressed directly. Both are shy and prone to crushes. Both enjoy fashion and makeup and other femme pursuits. But by justifying these interests, I read these stories as feminist.
Because as a teenager, even though I was a founding member of my high school's feminism club, I spent half my time trying on different lip gloss colors at the mall and 99% of my diary writing about wanting to hold hands with (name redacted to protect the cute). Reading about characters who also found these things important was empowering, not regressive.
Beyond YA, I can't help thinking about Emma Bovary from Madame Bovary, by Gustave Flaubert. Emma's ambition is funneled into a desire for social status and fashionable clothing. But the book is widely considered a feminist text because it functions as a critique of patriarchy. And what about Little Women? Do Amy and Meg's traditionally feminine behavior cancel out Jo March as a literary feminist icon?
As I type the word feminist over and over again in this post, with my freshly painted pink fingernails, I am grateful for Maya and Willowdean. I sympathize with Emma Bovary and delight in Jo March. And as excited as I am to have Katniss and Hermoine in the cannon of YA literature, I also kind of like Bella.
And I don't think, emphasis on I and think, that a book needs to be about feminist characters in order to be feminist.