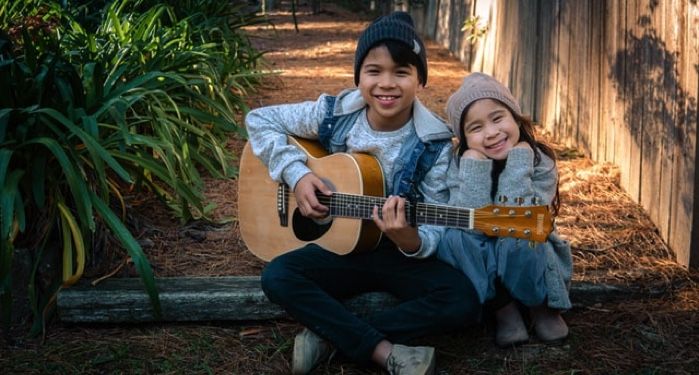 Children's
Music Books for Kids: 14 Titles to Teach and Inspire
This content contains affiliate links. When you buy through these links, we may earn an affiliate commission.
"I loved this book when I was a kid!" I plucked The Philharmonic Gets Dressed — one of my favorite music books for kids — from my friend's shelf and flipped through its colorful pages.
My friend agreed. We'd met at a music conservatory when we were both violin performance majors. We looked through the book together, reminiscing about how we used to read it over and over when we were just beginning to dream about being musicians one day. Although my friend is currently an active performing violinist and I am not, both of us recognize the power music had on our work ethics and our creative, emotional, and intellectual lives.
In fact, research from the National Association of Music Merchants Foundation confirms the conventional wisdom that learning music benefits children educationally, cognitively, and socially. Some of the skills kids may pick up from their experiences with music include pre-reading abilities in toddlers, gains in auditory and motor function, critical thinking, compromise, creativity, cooperation, and concentration.
So, how can adults get the children they love interested in music as early as possible? One great way is by using music books written just for kids. In addition to doing a little of my own research, I talked to four musicians who are also parents to get their recommendations and experiences as well. Many of the books listed below are available in audio versions, produced specifically to enhance the story and experience.
Music Books for Kids: Fiction
Music Books for Kids: Nonfiction
Music Books for Kids: Interactive Experiences
The following two books aren't traditionally interactive music books for kids, but were enhanced with multimedia experiences by some of the musicians and parents I talked to:
---
Clearly, music books for kids are more than just words on a page. They're multi-sensory experiences that inspire playing or singing along, taking in visuals, and, of course, listening. But most importantly, these books help kids discover the joy of music and the power it can bring to their lives.
Looking for more books about music? Book Riot has lots of recommendations, from murder mysteries that revolve around classical works to novels inspired by heavy metal.