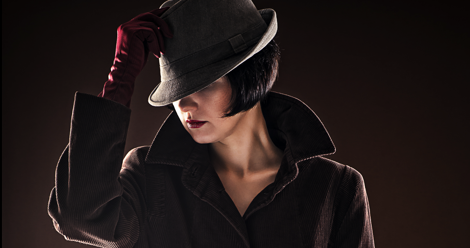 This content contains affiliate links. When you buy through these links, we may earn an affiliate commission.
Today's Free Comic Book Day coverage is sponsored by All Summer Long by Hope Larson, published by First Second.
Thirteen-year-old Bina has a long summer ahead of her. She and her best friend, Austin, usually do everything together, but he's off to soccer camp for a month, and he's been acting kind of weird lately anyway. So it's up to Bina to see how much fun she can have on her own. At first it's a lot of guitar playing, boredom, and bad TV, but things look up when she finds an unlikely companion in Austin's older sister, who enjoys music just as much as Bina. But then Austin comes home from camp, and he's acting even weirder than when he left. How Bina and Austin rise above their growing pains and reestablish their friendship and respect for their differences makes for a touching and funny coming-of-age story.
---
Free Comic Book Day is upon us! Hurray for free comics! In honor of Free Comic Book day, I am going to bring together two of my lives: murder mysteries and comics. Most of the books on this list are murder mystery comics, because as New York Times Book Review Crime Reviewer Marilyn Stasio says, "I keep saying 'where's the body? Kill someone.'"(1) But there may be an exception to the rule. I've elected to only discuss non-superhero murder mysteries because I feel that there could be a list of just superhero murder mystery plots.
Blacksad
written by Juan Díaz Canales and Drawn by Juanjo Guarnido
This comic is a traditional noir but with anthropomorphized characters. John Blacksad is the hardboiled detective who has led a hard life. He is everything you want your noir detective to be. He tries to solve crimes but is broken by love. Beautifully drawn, this is a must for any mystery lover.
Clue
written by Paul Allor;
drawn and colored by
Nelson Daniel
Yes, it's that Clue. It's a franchise that I'll never get sick of. However, it's not based on the movie we have all come to love. This Clue is an updated version of the world with characters who are pop stars, mad scientists and much more. The butler narrates the entire series, which honestly is a little grating, but it's still worth a read.
This nine volume series is older than the other ones but well-worth checking out. Courtney moves with her parents to live with her Great Uncle Aloysius in his creepy house. She learns that there is much more than meets the eye in the area. I love Courtney because she's a bitter, angry child who discovers magic. The series is made of interconnected stories, many of which are mysteries. And sometimes there's even murder.
The Fade Out
written by Ed Brubaker, drawn by Sean Phillips and Colored by Elizabeth Breitweiser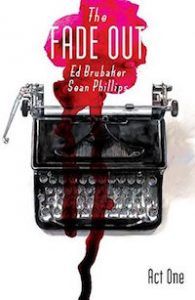 Set in late 1940s gritty Hollywood, writer Charlie wakes up in a bathtub with few memories of the night before. He discovers that he's in the apartment of an up-and-coming starlet who has been killed in the next room. He leaves, erasing all traces of his presence, and watches the Hollywood system cover up her murder. It's noirish with sordid details but with a writer as the detective.
Goldie Vance
written by Hope Larson and drawn by Brittney Williams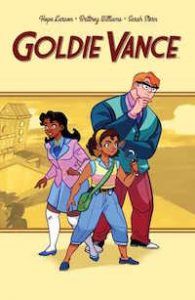 This YA series is simply delightful. Goldie Vance and her father work for the Crossed Palms Resort in Florida. She's a valet but is training to be a detective. When a guest's necklace goes missing, Goldie is on the case. This series isn't a murder mystery series per se, but Goldie is such a fun character, I'll look past it.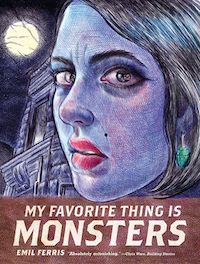 I had to include this work even though it's more than just a murder mystery. Plus it has an amazing backstory. It's a coming-of-age story about Karen Reyes in Uptown, Chicago. Part of the story involves Karen trying to investigate the murder of her upstairs neighbor. But there's so much going on in this work. Karen feels like an outcast and throws herself into the world of pulpy monster movies. It's simply a beautiful and bold work to read. Art Spiegelman said, "Emil Ferris is one of the most important comics artists of our time."(2) Volume 2 is coming out in August.
The Private Eye by
Brian K. Vaughan, drawn by Marcos Martín and colored by Muntsa Vicente.
This comic takes place in 2076 after the cloud exploded and everything on the internet became visible to everyone. Society has taken a very firm stance about the importance of privacy. Journalists are the police in this world. The main character is a unlicensed private eye known as PI who is asked to investigate a woman's past. But everything gets hairy. It's an interesting world with fun characters. PI's grandfather is a 80-year-old millennial who misses social media and online video games. This comic is available online or as a large, beautiful hardcover book.
Warm Blood written by
Josh Tierney
and Drawn by various
I just started this webcomic about Penny, who starts at Greenwood High and tries to uncover the mystery there. The comic has a different illustrator every 3 pages; it's a fascinating compendium of many different styles. The world seems to be set in the present day but something is off. Something is uncanny. Lobsters go to school with human students. The identity of the murderer is revealed but it's evident that there is much more than meets the eye.
Watson and Holmes A Study in Black
written by Karl Bollers and drawn by Rick Leonardi and Larry Stroman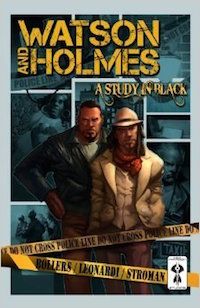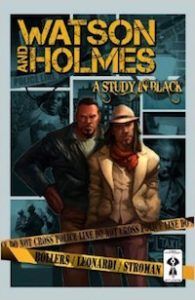 This comic is new conception of Sherlock Holmes with both the titular characters as African Americans in present day Harlem. Watson is a Afghanistan war vet who works as a medical intern at an inner city emergency room and Holmes is a private investigator. They meet up by accident to find a missing girl. One of the things I like about this version is that Holmes is portrayed as a human, and not an unfeeling robot.
Whiteout
written by Greg Rucka and Drawn by Steve Lieber
I can't resist anything about Antarctica, despite hating cold weather. Something about the continent is extraordinarily compelling to me. So when I learned of a murder mystery that takes place there, I naturally had to read it. And it was well worth. Black and white panels help to establish the bleakness and harshness of the landscape. U.S. Marshall Carrie Stetko has to solve the murder of a man before everyone leaves the continent for the winter. It's a race against time and the place itself.
Ok as a bonus, I'm adding this one because it is delightful. Again, no murder but worth the read anyway.
Eleanor and the Egret
written by John Layman and Drawn by Sam Kieth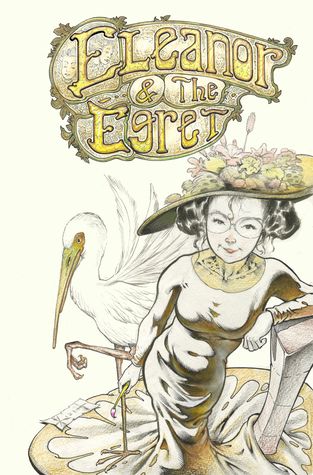 A museum is mysteriously robbed of a single painting. The only clue? A feather. I'm a sucker for anything with an art heist. Plus this delightful comic is beautifully drawn, resembling something out of a Mucha painting at times. The characters are sweet and quirky. And the mystery might not be the one you think it is.
Want more murder mysteries? Check out 8 Murder Mystery Books That Will Keep You Up All Night and 8 Great Reads with Unusual Detectives.
(1) Criminal podcast—The Gatekeeper – https://www.thisiscriminal.com/episode-75-the-gatekeeper-9-22-2017/
(2) Dana Jennings. New York Times. First, Emil Ferris was Paralyzed. Then Her Book Got Lost at Sea. https://www.nytimes.com/2017/02/17/arts/design/first-emil-ferris-was-paralyzed-then-her-book-got-lost-at-sea.html