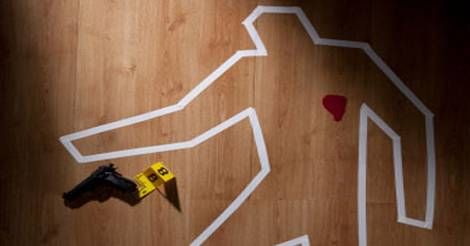 Lists
20 Murder Mystery Book Series to Intrigue and Delight
This content contains affiliate links. When you buy through these links, we may earn an affiliate commission.
There's nothing quite exciting as finding out a new murder mystery series. Here is a list of 20 books from great mystery book series that you should check out. Some are new series that have a few books out, others are more established, and some are classics. The format is: First Book Title by Author Name, Detective Name.
Classic Mystery Book Series
Let's start with the classic writers, the royalty of the genre, typically in the first part of the 20th century. I have left off Agatha Christie and Sir Arthur Conan Doyle since I feel that they are well-known and popular.
Whose Body? by Dorothy Sayers, Lord Peter Wimsey
Sayers should be up there with Agatha Christie. Her characters, Lord Peter Wimsey and Harriet Vane, are well written; the mysteries well conceived. There's a lot to love. Also, she's writing about the 1910s+ so she's dealing with revolutionary issues at the time, like PTSD and WWI.
Fer-de-Lance by Rex Stout, Nero Wolfe
Stout is one of the great American detective writers. Nero Wolfe is a reclusive genius and gourmand who refuses to leave his brownstone and relies on the work of brilliant and dapper Archie Goodwin to bring clues and suspects to the home.
Writing at the same time as Christie and Sayers, she really pushed the medium. Daughter of Time is the best book about someone reading; her detective is laid up with a broken leg and decides to look into the mystery of Richard III and the two missing princes. Her books go to interesting places. Well worth checking out.
The Big Sleep by Raymond Chandler, Philip Marlowe
Chandler's sparse but beautiful language helps to make L.A. seem alive. While in the vein of noir, Philip Marlowe is more of a damaged angel, doing what he can to make the world a little less terrible while drinking a few gin gimlets along the way. Gritty and sparkling.
Magic and Murder? Sign me up! This 1930s series features the Great Merlini, magician extraordinaire who works with police to solve seemingly impossible murders. It's part of a new reprint series: Otto Penzler Presents American Mystery Classics.
Historical Murder Mystery Book Series
Since we've started with classic murders, now we're moving on to historical murder mysteries.
Roman Blood by Steven Saylor, Gordianus the Finder
This series takes place in Ancient Rome with Cicero as a major character. Gordianus the Finder is hired by Cicero and others, and he ends up finding himself embroiled with the latest political intrigue. Delightful and informative.
This sweet series taking place during the 12th century features a kindly monk who has detective skills he uses to help people out of trouble. Usually each book features a pair of lovers who have an impediment of some kind and he helps them out. It takes place amidst an anarchic period of England.
This new series features Perveen Mistry, a lawyer in her father's law firm in 1921 Bombay, with her own tragic history. The firm is hired to execute the will of Mr. Omar Farid, a wealthy Muslim man with three wives. However, she soon realizes that the silent secluded house has a lot of intrigue happening behind its walls. The next book should be out this year.
If I Should Die by Grace Edwards, Mali Anderson
In the first book, Mali Anderson has left the police force and is working on her sociology masters while living with her jazz musician father. She ends up witnesses an attempted abduction of a child and encounters a dead body, a friend of hers. Again, it hits all my areas! Murder! Jazz!
Maisie Dobbs by Jacqueline Winspear, Maisie Dobbs
Taking place in 1920s–30s England, Maisie Dobbs is quite a compelling lead as an investigator and psychologist. A servant, she is caught reading in the library, but instead of dismissal and punishment, she is encouraged. She eventually joins up in WWI. After an apprenticeship with another detective, Maurice Blanche, she opens her own business and finds the war is not too far behind her.
Art Murder Mystery Book Series
The next group are murder mysteries that have to do with the world of art including fine art, music, and even books. Or series based on famous art pieces.
The Raphael Affair by Iain Pears, Jonathan Argyll and Flavia di Stefano
The Art History Mysteries are splendid. The two "detectives," art historian/dealer Jonathan Argyll and Flavia di Stefano, art theft officer, solve mysteries of art and murder in Italy and Europe.
Murder in G Major by Alexia Gordon, Gethsemane Brown
I don't normally go for supernatural murder mysteries, but Gethsemane Brown is such a compelling character. She's a talented African American classically trained musician who has taken a job in a remote Irish village to teach at a boy's school. However, she soon learns that the cottage is haunted by former owner Eamon McCarthy, who begs her to help clear his name from allegedly murdering his wife. Hijinks ensue. There are three books in the series, hopefully more to come.
Booked to Die by John Dunning, Cliff Janeway
This series is about a former cop turned book dealer, Cliff Janeway, who finds himself embroiled in various antiquarian book mysteries with a side of murder. In Booked to Die, he opens up his own bookstore, Twice Told Books, in Denver, and ends up helping in a case of a murdered book scout.
For those of you who wanted more Shakespeare's Twelfth Night, this is the series for you. Word returns that Duke Orsino of Illyria is dead and Feste returns to find out what is happening. Feste is part of the Fool's Guild, an organization of fools and troubadours who try to influence politics. Many wondrous books await!
Cloche and Dagger
by Jenn McKinlay, Scarlett Elizabeth Parker

This is a whole cozy murder mystery based around a London hat shop. I include it with art section because hat-making is an art form. After Scarlett Parker has a very embarrassing and very public breakup with her married boyfriend in the U.S., she joins her cousin, Vivian Tremont, in London at their hat show, Mim's Whims. However, nothing is simple for Scarlett when one of their customers is found dead, naked and wearing one of Vivian's hats. A fun, good natured series.
Food Mystery Book Series
I've written before about some food based series but here are two notable ones.
Aunty Lee's Delights: A Singaporean Mystery by Olivia Yu, Aunty Lee
After the death of her husband, Aunty Lee flaunts tradition and decides that she wants to open up her own restaurant to serve delicious Singaporean foods to tourists and locals. She holds special dinner parties for her stepson; however, one of the guests fails to turn up to one party. She soon learns there is more to this missed meal than meets the eye. Aunty Lee is a quirky, spirited woman who paves her own way.
This relatively new series is about the spirited Lana Lee, who finds herself working at her parent's Chinese restaurant after rage quitting her job. She's trying to pull together her life. However, when people start to die around her, she finds herself putting on the sleuthing hat to save herself and the people she love from suspicion. Book 3 appears to be expected in August 2019.
Other Mystery Book Series
These books don't fall in the above categories but are all worth a read!
I don't buy a lot of hardbacks, but I always buy the newest mystery by Donna Leon when it comes out. In modern-day Venice, Commissario Brunetti works to find justice in his cases that cover the complicated world of Venice. Books typically focus on a particular part of Venetian society, like the glassblowers or casino. The best parts are the quiet moments with Brunetti and his family. Also, the book titles often have clues to the mystery that are not obvious until the work is over. She's still writing these books and I can't wait for 2019's book.
Even though Inspector Chopra is forced into retirement, he's still keen to solve mysteries in Mumbai. He ends up with an unexpected inheritance in the form of an elephant. It's a delightful series with book 5 projected to come out later this year.
The Cuckoo's Calling by Robert Galbraith (aka J.K. Rowling), Cormoran Strike
I have to put this mystery book series on the list. Reading Harry Potter, I remember saying that J.K. Rowling would be a great murder mystery writer. And she is, under the pseudonym. Cormoran Strike is a wounded, down on his luck, private investigator who you want to see succeed. There's a TV series that I have been meaning to see as well!
---
If you are interested in reading more murder mystery book series, check out this great Read Harder list of Murder Mysteries by a Person of Color or LGBTQ+ author. Also, share your favorite mystery book series in the comments!