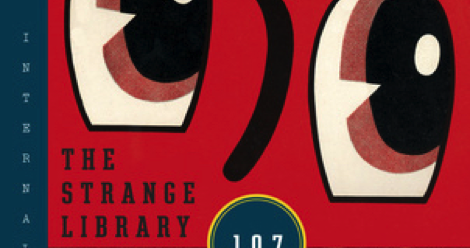 Fiction
Exploring the Art of the Short Story Through Murakami's THE STRANGE LIBRARY
This content contains affiliate links. When you buy through these links, we may earn an affiliate commission.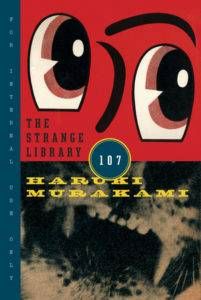 On the day of a book club meeting with a few women I went to grad school with, our book pick, The Strange Library by Haruki Murakami, finally arrived on an inter-library loan. I figured I wouldn't have time to read the whole thing, but I would try to get the gist of it within the hour I had before the meeting. I mean, I went to grad school, right? I sat down with my son at the kids table while he played with some puzzles and got started. As I foraged through the book, I couldn't believe how fast it was moving. Was I really going to read this whole book in the library, with my kid occupied, right before I had to show up to talk about? Yes, I was.
The first thing we discussed that night was the composition of the book. It was pretty and colorful. The front cover had an interesting flap. The story was so good that you almost didn't need the pictures at all. What was this book? It felt like a short story, but I don't think I've even seen one short story by itself as a book before. It wasn't cheaply made either, so it was also an expensive single short story. Murakami's graphic story about a boy getting trapped in a creepy library basement is good enough to stand alone, though. We wondered what would have made Murakami put out a book like this.
I thought back to a Junot Díaz essay on short stories. In "On My Way to the Novel, I Fell in Love with the Short Story," he details his experience with the genre as an introduction for The Best American Short Stories 2016. Díaz argues that there's something special about short stories because, "stories strike like life and end with its merciless abruptness as well… This form captures better than any other what it is to be human—the brevity of our moments, the cruel irrevocability when those times places and people we hold the most dear slip through our fingers." What feels most abrupt about The Strange Library is the satisfaction of a single story. When you read from a book of short stories, you know another story is coming. Collections of short stories almost mimic that "deeply consoling" thing that Díaz describes novels as doing by lasting the length of a book. Murakami's book seems to exaggerate "the brevity of our moments" by taking away the privilege of the next story.
When I finally got my hands on Leslie Nneka Arimah's What It Means When a Man Falls from the Sky soon after, I told myself that I would slow down and give each short story their own time, which is what, it seems, Murakami wants for his story. I wouldn't rush through the book in a day or two, like I had been doing with novels lately. The standout stories for me were definitely "Windfalls," "Wild," and "Light." Even in the middle of them I was consciously fearful that I was getting closer to the end. When they did end, I fantacized about each one being optioned for a book or movie. Díaz describes this jolted feeling: "Just as you're settling into the world of a story, that's usually when the narrative closes, ejecting you from its embrace, typically forever." Even though I knew what was going to happen—each story would end in ten or twenty pages—I was still a little upset about letting them go.
I had a similar feeling when I read Alex Haley's Roots or Yaa Gyasi's Homegoing because I couldn't stand to leave some of their characters behind, especially Kunta Kinte. It made sense why Haley and Gyasi would tear readers away from people because of the context of slavery in their books, and in using the traditional short story device of "ejecting you from its embrace," the human loss becomes palpable. In books of short stories, there's less surprise about the fate of the stories, and yet the anticipation of loss adds another dimension to the experience of reading them.
Then there's the emptiness of having no new books to read. After Arimah's book, I looked to my bookshelf for something I maybe hadn't read yet or that I felt like rereading. My son's dad dropped off a stack of hood books that he found in a box on the street a while ago. I thought of them as his so I never really touched them. I picked out Street Chronicles: Girls in the Game, a short story collection edited by Nikki Turner, and after just a few pages I couldn't believe it had been sitting around my house all these months. The first story, "Crowning Miss Baby Mama" by Chunichi, is about a young woman's experiences with motherhood, social climbing, and the prison industrial complex. It was so good that requested some of Chunichi's books right after. It was like when you start watching a show that already has five seasons, so you don't have to wait weeks or months in between episodes. Unlike reading a brand new collection of stories that I wanted to make last, these stories made me want to finish up and read more books by these writers.
We talked a lot about whether short stories should be read one after another or not during our Murakami meeting. I think we all started agreeing that maybe there was something valuable about just reading one by itself. It challenges the discomfort that comes along with switching characters and plotlines immediately after each story, which keeps a lot of readers away from story collections. In reading a single short story, there's a different type of discomfort—one that forces you to accept that it's alone.