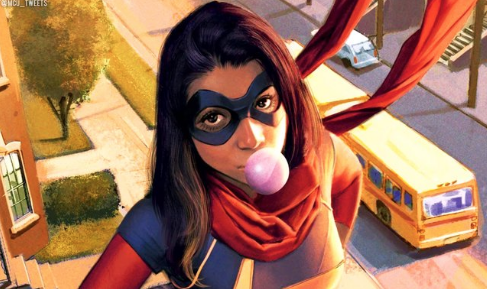 Fans of Kamala Khan will be excited to know that Marvel Studios has said that a Ms. Marvel movie is a definite maybe. While the studio is currently shooting Captain Marvel, starring Brie Larson, they are not ignorant of the fact that Ms. Marvel has a huge fan base. And since Ms. Marvel first appears in the Captain Marvel comics, and is inspired by Captain Marvel, what better spin-off to start next?
What do we want? A Ms. Marvel movie! When will we get it? Well…
BREAKING: @MarvelStudios is planning to add Ms. Marvel / Kamala Khan into the Marvel Cinematic Universe "once we've introduced Captain Marvel to the world," says producer @Kevfeige!

(Source: @BBC via @StaarksHeart) pic.twitter.com/z4P0BN7Jsh

— MCU Direct (@MCU_Direct) May 12, 2018
According to Marvel Studios president Kevin Feige, "Ms. Marvel [the movie] is definitely sort of in the works. We have plans for that after we've introduced Captain Marvel to the world."
Fans might be a bit disheartened by the "definitely sort of" qualifier, but it does seem Marvel Studios knows that Kamala Khan is important to readers, and we would love to see her on the screen. And it's not lost on any of us that a film headed by a female Muslim superhero would be a huge step forward for Muslim representation in movies.
While there is speculation that Ms. Marvel could appear as a part of a Netflix series spin-off or in a Captain Marvel sequel, we hope that Ms. Marvel will go the way of Wonder Woman and Captain Marvel; with such a rich storyline, and such a loyal readership, Kamala Khan can carry her own movie (movies? dare we dream?), thank you very much.
Read more about where to start with Captain Marvel, 20 Things I Learned From Ms. Marvel, and get more superpowered ladies to read!