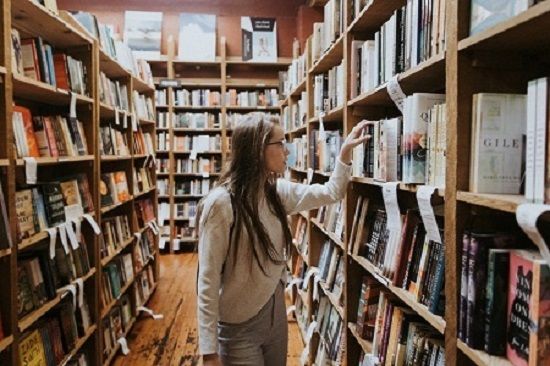 It's not easy to move away from your favorite bookstore, whether it's an old childhood haunt or a place of comfort through major #adulting milestones. The latter has to do with my own experience. Last December, I moved from Chicago to a suburb of Indianapolis. Overall, it's been a great transition; we're closer to my husband's family and it's so nice to live in a more affordable and quiet area. One of the hardest parts about moving, in addition to moving away from my own family, was that I had to leave behind my favorite place: Unabridged Bookstore.
Unabridged Bookstore was opened by Ed Devereux on November 1, 1980. Ever since, it's been a staple of the Lakeview community. In addition to its excellent sales and travel section, Unabridged offers and features an extensive LGBTQ+ literature section. The bookstore is known for supporting the LGBTQ+ community as well as its fellow small businesses.
Unabridged was a fixed point for me in times of change. Anytime my life became unmoored, I went to Unabridged to feel balanced. I had a pattern of browsing that remained the same. I'd begin at the front of the story and work my back to my favorite sections, ending with a brief peek at their sale shelves to see if I could scoop any last-minute purchases.
I'm pretty sure I went through every emotion in Unabridged. It was a safe space for me to feel. I wept (quietly, I hope) and celebrated among its shelves. I walked with friends and family there. My husband proposed to me there! And last year, I wheeled a stroller through its door to buy books for my infant daughter. For every big milestone in my adult life, there was a visit to Unabridged. Unabridged Bookstore, and its wonderful, friendly staff, was as much a home to me as my apartment down the road.
While it was initially a shock to move away, it was by no means the end. It's important to note that moving away from a favorite bookstore doesn't break the bookseller-customer relationship. Distance makes the heart grow fonder, after all, and there are a few things you can do if you find yourself pining for a bookstore that's no longer within physical reach:
Order Online
Distance is no excuse, there is more than one way to support independent bookstores. Many independent bookstores have their own websites and order forms. I've ordered from Unabridged a few times already, and the staff has been absolutely wonderful (and quick!) in shipping books to my doorstep.
Find New Friends
Unabridged will always have my heart, but being in a new town motivated me to find new independent bookstores. What's especially great about independent bookstores is they support each other. I know Unabridged would be happy to know I've found new bookstores to haunt. Wild Geese Bookshop in Franklin, Indiana, has already welcomed me with open arms, and I plan to frequent their adorable shop many times in the near future.
Use the Library
If this isn't already a given! Admittedly and shamefully, I wasn't much of a library-goer in Chicago. Unabridged was within short walking distance, and I had the privilege of having some money to spare to buy new books. At our new home in Indiana, my husband and I share a car and I freelance while staying home with my daughter. This led me to Greenwood Public Library and Johnson County Public Library, both of which have amazing programs, resources, and friendly staff. Greenwood Public Library also has a fantastic children's area. My daughter is extremely interested in the dinosaur toys they have. I try to make a library trip every other week if I can.
Visit Often
As I said, it isn't the end! Chicago is only three hours away, and I have family there who want to hang out with my cute baby. Therefore, I can leave the kid with them and race to Unabridged for a quick trip (right, Mom?). But of course, I also plan to bring my daughter to Unabridged as often as possible, because I'd like for her to grow up knowing and loving bookstores as much as I do. I hope she will have her own browse pattern when she grows older. I hope she finds a piece of home in a bookstore. And I hope that, wherever she travels and lives, she has a bookstore close by that feels warm, inviting, and safe.